What are the most comfortable bras for seniors? Old age comes with changes galore in our bodies. Not even your breasts are spared- your melons lose their firmness, shrink in size, and generally change shape.
As a result, many elderly women have to adapt to wearing bras for older women.
We thought of compiling a comprehensive guide for seniors after our editorial team realized that a lot of seniors aren't familiar with these types of bras.
In this guide you'll learn:
The difference between regular bras and bras for older women.
Why you should wear bras despite your advancing years and specifically.
The leading easy bras for seniors brands.
How to select the best for seniors
I shall also review the best 5 bras for seniors in the market today.
Shall we start?
What are Bras for Older Women?
Bras for older women are simply customized to support the changed cup size and shape of aged women's breasts.
There are specifically tailored to be exceptionally supportive- remember that at this age your breasts may be somewhat saggy and infirm.
Additionally, some of these bras boast of wide back panels for extra comfort as well as easy front and back closures for ease of wearing/removing.
The latter is significant since most elderly women struggle to close regular bras.
In short, we are looking at a special class of bras that deliver essential support (and lift where necessary), comfort, and convenience to the 50+ woman.
In fact, these are the bras most recommended if you suffer age-related issues like arthritis, back pain, or reduced upper body dexterity.
What Makes Bras for Older Women Special?
We all know that we are faced with some rather sobering realities when we enter our golden years.
For example, you bid farewell to the carefree, sexy you and welcome a more conscious lifestyle where you have to adapt practically everything, starting with your dressing.
As I hinted earlier, that's because nature drastically alters your physical state.
Subsequently:
You may suffer chronic issues like Arthritis and consequently joint pain.
You might experience limited arm/hand movements due to old-age related ailments like stroke.
Your upper body dexterity diminishes as a result of issues such as fibromyalgia and torn rotator cuff.
Such developments certainly mean you will struggle to wear a bra independently.
And so you need an undergarment that's effortless to slip on/off.
Now, bras for seniors are your best bet here since they're built to be worn/removed without assistance…
Let us now narrow down to your chest and see how else these bras come in….
First, your boobies lack support because of weakened breast tissue, tendons, muscles, and skin.
Thankfully, certain older women Bras come with well-cushioned supportive bands to help in supporting your charlies.
Even their side panels commit lots of supporting and lifting.
The uplifted breast thus yields a sweet appearance- your advanced age notwithstanding.
Secondly, some of us are endowed with big breasts.
What's more, if you put on weight- it can happen because of hormonal changes and changed eating habits- your breasts may grow bigger.
The thing is there's a dearth of good bras for seniors with big boobs.
But a couple of models in this category of bras for heavy breasts are engineered wide enough and provides a flexible fit for the plus-sized bust.
Some actually come with stretchable cups and are wonderful for enlarged globes.
Can you now see why I am insisting that these are very special for older women?
Types of Bras for Older Women
You have good variety when it comes to selecting senior citizens bras. 
Take a look…
Wired Bras for older Women
These have a rigid material – the wire can be plastic, metal, or resin- fitted inside their fabric to help lift, shape, and support your breasts.
This class is typically worn by bigger bust elderly women. (A good example is the DELIMIRA Women's Comfort Underwire Full Coverage Non-Foam Racerback Front Closure Bra)
You can also wear a couple of them during exercise like walking, etc.
Immense options await you under this group if you're searching for a bra for older sagging breasts.
Wireless Bras for older Women
These have wire-free cups and are a good choice if you hate underwire bras because of the underwire-associated discomforts.
Fabric technology has greatly advanced so contemporary models still deliver the support that's common with underwire bras.
They're especially good if you've just undergone ribcage surgery or any surgical operation as they don't hurt and additionally help you breathe more easily.
As you will learn shortly, some of the best bras for support are actually wireless….
Another way of classifying these is by looking at their construction, purposes, and general features.
If you take this route, you'll arrive at types such as:
Front Closure Bras for Elderly Women
These bras have a front closure meaning you don't have to stretch or strain when wearing your lingerie.
The larger clasps and zippers further make them easier to fasten even if you've got an aching arm (Ouch!). (A good example is the Carole Martin Full-Freedom Front Closure Wireless Comfort Bra for Women)
Likewise, the front fastening bras elderly are kind for older women with arthritis.
Older women sports bra
These bra's construction focuses on preventing your girls from bouncing around uncontrollably during strenuous workouts (That can cause pain).
Such secure bras make your gym time fun and a time to look forward to.
You can choose a model for high-impact exercise (if you're into jogging and such intensive exercises) or low-impact sports' bra (If you're into easier sports like golf).
Lift Bras for aged women
These include Push Up bras whose chief role is to prop up your sagging breasts and give them a sexy shape.
This category has variations that accommodate larger sagging breasts too.
Bra vests for older women
The name tells it all…
These look like a vest and offer generous support without the usual restrictions of traditional bras. 
They're also effortless to put in thanks to their pull-on design.
Convertible Bras for elderly women
Arguably the most versatile class for older women, these allow you to switch between different wearing styles depending on your outfit.
You can detach the straps if you so wish to make it strapless or set it as a standard strap bra.
They make your wardrobe more versatile.
Supportive Senior woman Bras
These are built to assist keeping your breasts in their natural shape and are extremely tender on your body.
Above all, their underband supplies abundant side and back support and can help alleviate back pain.
Best Bras for Older Women Buying Guide
More brands have entered the Bras for Older Women segment and this is both good and bad for shoppers.
The good news is that you now enjoy more choice and it will be difficult to miss a good fit.
The bad news is that some of the bras aren't really elder's specific and you may end up with a bra that you'll never wear.
Here is what to look out for to avoid such an outcome…
Sizing
Your bra must be snug (in the band) and with cups that contain your breasts properly.
An under-sized bra makes your breasts overflow on the sides and over the top.
At the same time, your breasts fall out around the bottoms of your bra cups if it is oversize.
Both scenarios can be embarrassing and pretty awkward.
Still there, look out for bras for plus-sized breasts if you have a large chest.
Special Conditions
In case you suffer sensitive skin (or you're allergic), putting on the wrong bra brand can originate dozens of problems.
Fortunately, most of the bras intended for your mom and grandparents are nowadays made of safe fabric such as cotton-it's soft and pleasant on your skin.
Similarly, if you suffer chronic arthritis or such painful conditions, designs have been released with easy fastening closures.
These are also brilliant for women with general dexterity issues.
Your lifestyle
Your lifestyle also plays a role.
For instance, if you are passionate about working out, you need a comfy sports bra that holds tight as you work out.
By the same token, if you long for a full-freedom feeling because you participate in involving activities like gardening to keep fit, you require a lightweight bra- the best are such smooth that you forget you're wearing it.
In short, pick a bra that matches your precise needs.
Comfort features
Tales have been told of elderly women who avoid bras.
Reason?
The biggest culprit is discomfort.
You don't want to be the next victim especially considering that wearing a bra is recommended as one of the best ways to care for your breasts.
The way out is to inspect the bra's collection of comfort features.
Start by checking that the cups have your desired padding.
Moving on, the material shouldn't be the type that makes your breasts to feel sweaty because you will curse the day you wear it.
You as well need to keep off those whose straps dig uncomfortably into your shoulders.
Back support
Again, if the bra your pick lacks adequate support, it will bring unnerving effects like a painful spine because of poor posture.
A bra with great back support helps to improve posture and blocks back pain even after a long day out.
Other welcome qualities include full cusp slings – found in certain brands- to separate breasts and hence diminish backache.
As you will learn in our reviews, you have countless alternatives out there- some with and others without underwire support so you shouldn't blunder here.
Adjustable Straps
You want a bra that you can easily adjust. As you age, you breasts decrease in firmness and size. A bra that would perfectly fit last month may be too big this month. With a bra that has adjustable straps, all you need to do is adjust till it can fit well.
Front Closing Feature
As you age, you want a bra that you can easily wear. The easiest bras to wear for elderly women are front closure bras.
 The next time you go shopping for a bra, consider the front closing feature.      
Price and value for money
Always go for affordable bras. Don't go for expensive brands that don't offer anything extra other than the brand name.
How does it look like?
There's no denying that a bra that shows under your garments is a bad idea.
You should hence test to see whether it shows up under your outfits.
I intentionally wear or carry a thin T-shirt to my favorite store to help me compare how each brassiere looks like under clothing. 
Best Bras for Older Women Reviewed 2020
I had promised to introduce you to the most popular bras for seniors to help you make a smart choice.
Here they are…
Front Closure Bras for Seniors
Carole Martin Front Closure Full-Freedom Wireless Comfort Bra for older Women
A charming and super supportive women's bra, Carole Martin Full-freedom bra feels delightful whatever you choose to wear it with.
As a matter of fact, the rare multi-directional stretch fabric intimately cradles your chest from all angles and it's absolutely comfortable.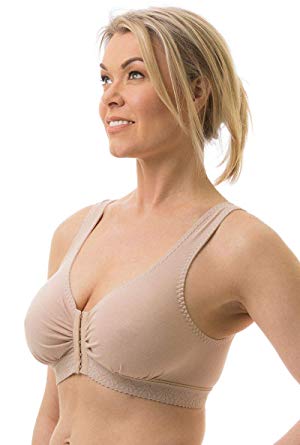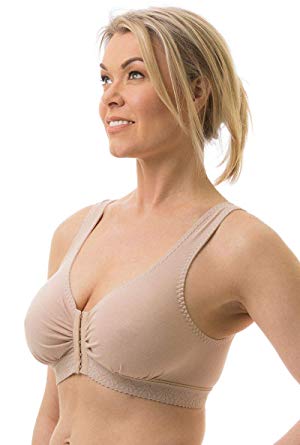 It doesn't stop there….
The wider straps stay put on your shoulders to help ease back strain. This makes them one of the best front closure bras for seniors.
As I hinted earlier on, bras with front closures are the easiest to slip on/off.
Accordingly, this bra comes with a well-built hook and eye clasp and is a breeze to put on.
Importantly, it's not the kind that has your boobs bouncing annoyingly all over the place so you will confidently carry out your daily chores.
The stretchy, quilted fabric (Nylon/Spandex blend) fits cups B, C, D, plus DD just right so your cup size need not worry you.
Lastly, it suits every clothing type -from your casual and leisure garments and all the way to your business attire.
Features
Fabric : 85% Nylon/15% Spandex
Light-medium support
Cup size: B, C, D, DD
Front hook & eye closure
Extra-wide straps
Wireless bra
Pros
Remarkable support.
A breeze to wear.
Stays firmly in place.
It looks silky smooth.
Cons
The seams may show under certain T-shirts.
DELIMIRA Women's Comfort Full Coverage Underwire Non-Foam Racerback Bra -Front Closure
As its name suggests, the Delimira comfort bra goes the None-padded way. For starters, having no padding in the dual-layered cups allows your bust to rest in a natural manner.
The company seems to have put a lot of thought into this underwire bra, focusing on a custom construction that conceals your nipples well.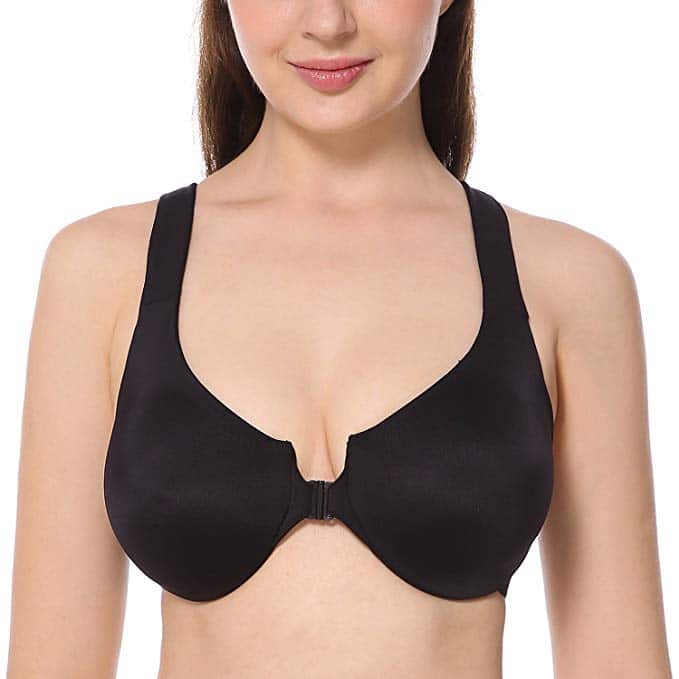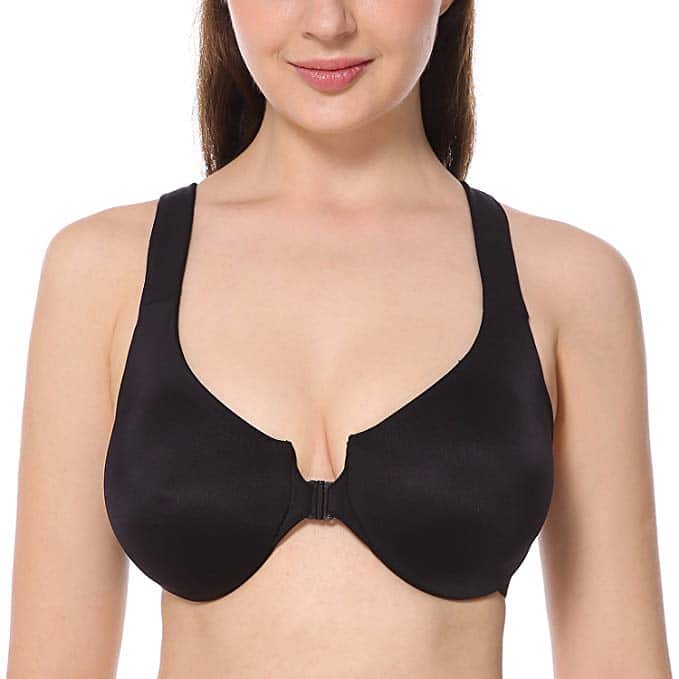 The manufacturer adopts the racerback design and lines it with an underwire for more consistent support.
The large underwire in reality also lifts your girls perfectly all day long.
Then, as it is common in this class of bras, the straps are wide (and by the way padded) to sustain your comfort.
A tender and breathable fabric and a convenient to fasten/unfasten front closure completes what is an impressive fashionable and practical bra.
Features
Fabric: Polyamide, Spandex
Front closure
Non-padded, dual-layered cups (Seamless)
Underwire
Racerback design
Pros
Very soft and breathing bra.
Precise coverage- no boobs spilling over.
Nice pricing.
Available in cute colors.
Cons
Some have complained of sizing inconsistencies.
You Might Also Like: What are the Best Shoes for Elderly with Swollen Feet?
Playtex Plus Size Women's Front-Close Bra -with Flex Back
This has meticulously built lightly-lined full inner cups so we're not just talking about minimal friction but abundant comfort.
The bottom line for bras at this level is support and this one has a great deal of it- the engineering of the wire-free M-shaped frame sees to it.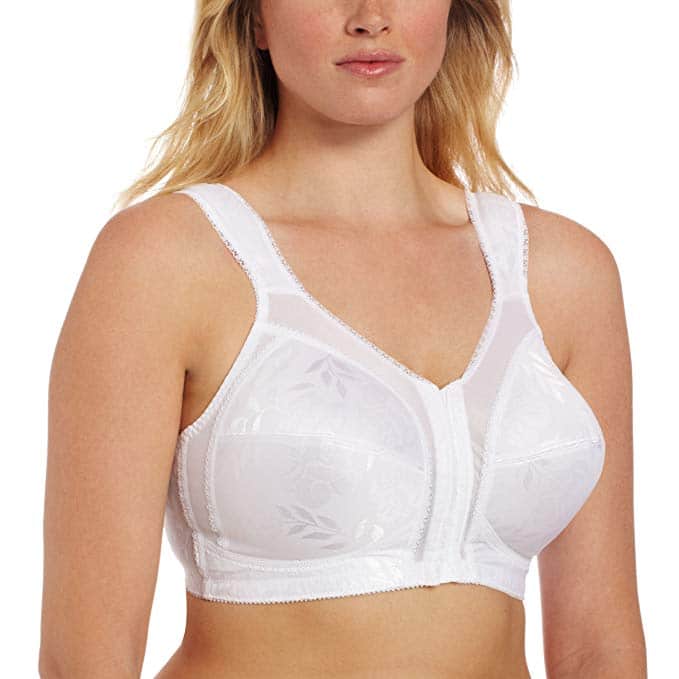 Again, the full cups fit extraordinarily not forgetting it has easy-to-adjust cushioned straps for good measure.
The seamed bra's front closure is equipped with larger hooks for even more fastening ease just in case you're hampered by conditions like arthritis.
And this bra lasts because of the sturdy materials and standout construction.
Features
Materials: Polyester, Natural Rubber Latex, Cotton,  Nylon
Hook & Eye closure
1″ high x 8″ wide
floral-pattern microfiber cups
breathable mesh paneling
Wire-free (M-frame design)
Padded adjustable straps
Crisscross elastic back
TruSUPPORT 4-way support
Pros
Easy to slip on/off.
Provides customizable fit
Top, top quality.
Breathable bra.
Cons
Seamless Bras for Seniors
Playtex Women's Seamless 18-Hour Smoothing Full-Coverage Bra
Unlike the sometimes visible Carole Martin Full-freedom bra, this is seamless and accordingly, totally invisible under clothes.
Sure, I agree that it's not as sexy as Carole Martin or even Hanes comfort bra (reviewed next) but they're up there with the best as far as the wearer's comfort is concerned.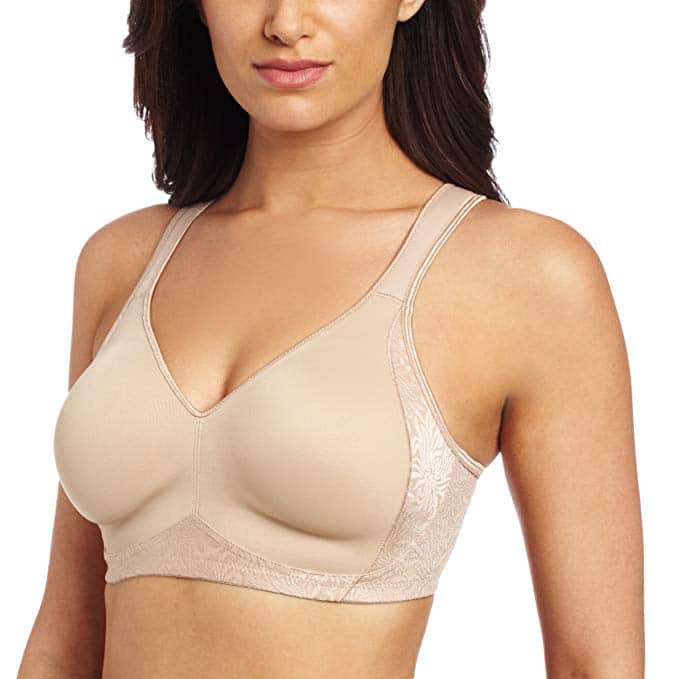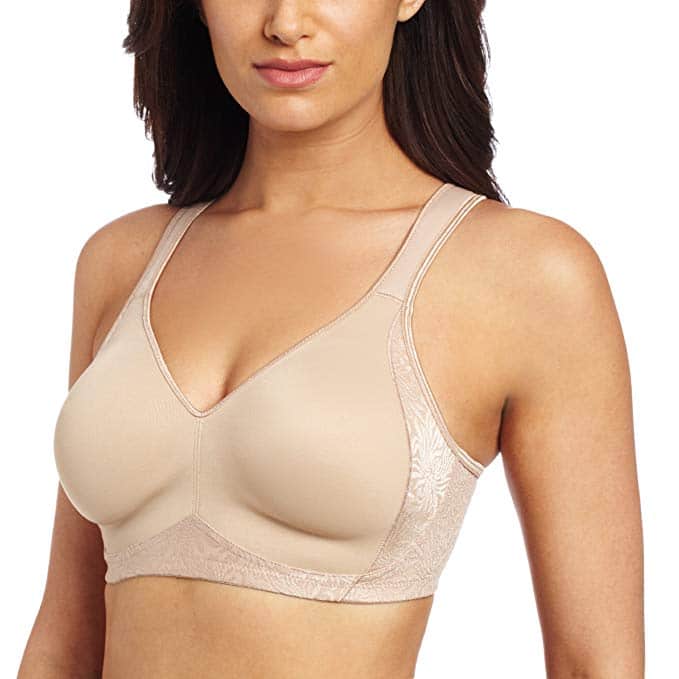 Do you know the reason?
Well, it's because of what the company calls a 4-way support system…
To begin with, the wider straps guarantee you a comfy fit.
Secondly, the frame separates your boobs (rather than pushing them together) meaning that they're naturally more relaxed.
Moving on, the Spanette-like fabric is not only stretchy but also extremely soft on your skin.
Finally, the fabric is also to thank for the luxurious continuous-smoothing support (starts from just behind your cup and progresses up to the back of your bra).
You Might Also Like: Shoes for Elderly with Balance Problems – Balance Shoes for Elderly
Interestingly, this is one of the most affordable bras for seniors.
Take it from me: This will soon become your best friend!
Features
Fabric: Nylon, Spandex, Polyester, Cotton
Hook / Eye closure
1.5″ high and 5″ wide
Wireless bra
Seamless 2-ply cups
Moisture-wicking lining
Cushioned Comfort Straps
Pros
One of the best smoothing full-coverage bras
Stretches wonderfully depending on your activity.
Comfy all-day long.
Fits marvelously.
Cons
The sizing charts are a bit confusing.
Hanes Women's Cozy Wire-Free Seamless Bra
Hanes built its heroic reputation by making top-drawer bras for older women with lavish support.
The Hanes seamless wire-free bra introduces a welcome flex fit, yet still retains Hanes' renowned comfort with the wide bottom band as well as straps.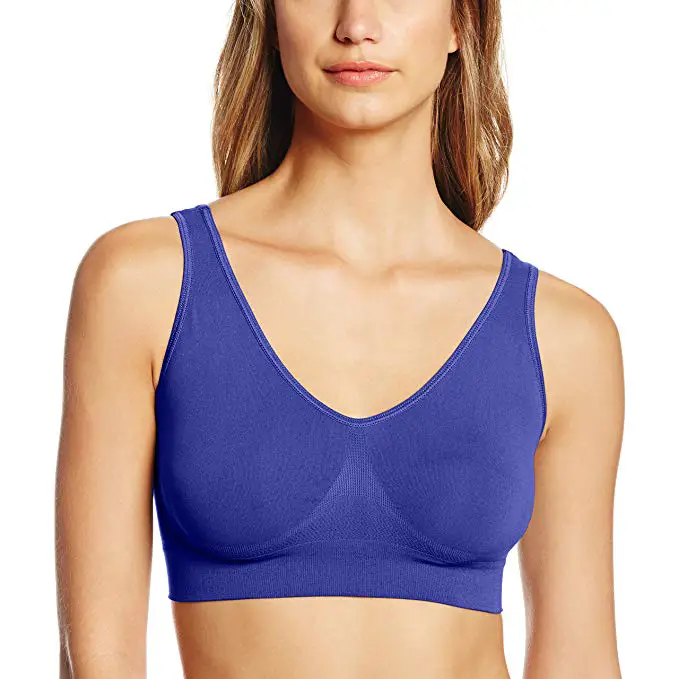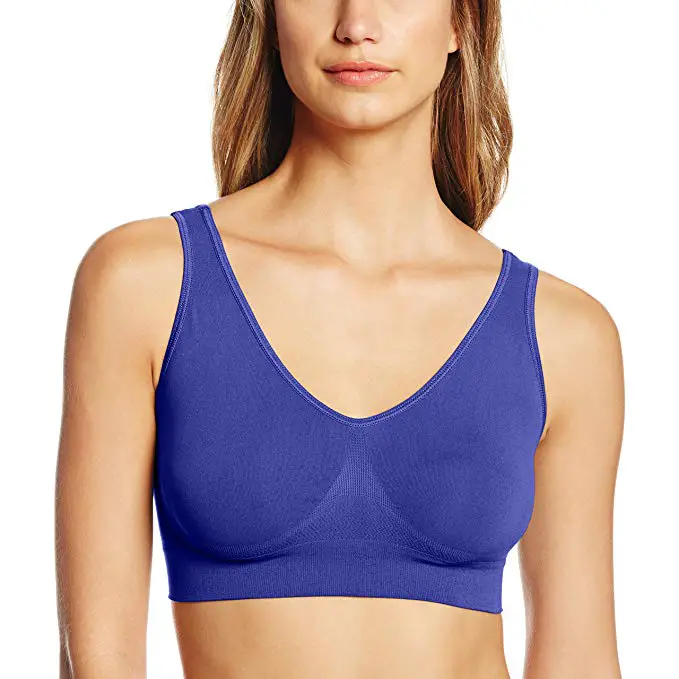 The racerback style bra also helps showcase your natural flattering looks by utilizing the wide center gore and stretch band.
This bra adopts a clasp-free design and has full coverage cups to further smoothen your looks.
All this goodness, nevertheless, comes at a cost -the material may feel a bit heavy at the beginning.
You Might Also Like: What are the Best and Safe Slippers for the Elderly?
However, for diehard Hanes fans, this is a non-issue since you'll forget it as soon as you get used to wearing it.
Features
Material: Nylon/Spandex; Pull-On closure; 1″ high x 8″ wide; 4-way stretching fabric; Full coverage cups; Seamless pullover bra; Wide bottom band.
Pros
Easy to wear/get off.
Super cozy.
Fantastic quality.
It allows you to move freely.
Cons
Wrapping it up
Because of their special construction Bras for Older Women negate sagging and greatly support your changed breasts.
And it's a good thing that there's now more variety compared to days gone by.
You Might Also Like: What are the Best Lightweight Velcro Shoes for Elderly?
Be sure to factor in the critical features such as support and comfort as highlighted above when evaluating the various options.
Also, check out my reviews of the best-selling old women bra and see if anyone of them fits the bill.
All in all, this has been a detailed discussion about these specialized bras and I hope it helps your decision making.