Leg swelling is a pretty common issue as we get older. And for the most part, you will find it difficult to wear regular shoes especially if you stand or walk a lot.
One of the best ways of overcoming this is switching to shoes for elderly with swollen feet.
Now, because they're roomier, these are comfier and easy to wear for seniors with Edema (swollen feet).
In fact, some Doctors first recommendation for patients with swollen feet is these types of shoes.
This is a complete guide on shoes for elderly with swollen feet. We will even touch on shoes for swollen diabetic feet.
Let's dive right in.
How Shoes for Elderly with Swollen Feet are Constructed
The standout difference between shoes for swollen feet and regular shoes is their ultra-wide nature.
Their deep, wide design allows your grandpa/grandma's foot to relax besides spreading out naturally for more comfort.
The latest models are even more sophisticated and typically stock anatomical arch support to maximize protection against common pressure points.
This improved construction further helps enhance gait stability and facilitates natural foot motion meaning that senior citizens can still move about safely (no slipping).
A Quick Guide to the Type of Shoes for Elderly Swollen Feet
Extra width Slippers
These are typically made of warm and comfortable materials such as polyester.
The design minimizes friction underfoot as you're walking across.
Supportive and safe slippers for seniors thus give your feet a conducive recovery environment in addition to easing lingering pain.
More to that, tile, wood, linoleum floors are quite slippery particularly if you're wearing socks.
Manufacturers thus make most extra-wide slippers with upgraded sole grip to reduce pesky trips/falls.
Velcro extra wide Shoes
Because of the Velcro strap, extra wide Velcro shoes for elderly are a breeze to put on/ take off. That's significant for seniors with age-triggered physical limitations since they struggle to bend and reach their feet.
Again, these shoes fit snug and tend to remain in place so your grandparent is again protected from falls.
Stretchy Shoes for elders
Stretchable shoes expand creating the extra room you need for a comfy fit when you're swollen.
A number of them pack ergonomic soles to help relieve aches resulting from swellings.
That being so, stretchy shoes for swollen feet can be a delightful birthday gift for your elderly dad/mom if he finds standard shoes punishing.
Swollen feet Sandals
Sandals for swollen feet might have a large leather, rubber, tatami, wood, or rope sole.
It could be held to your foot by a thong passing between your first and second toes, or a lace or strap passing around the ankle or over the arch.
The slip-on layout is easier to slide into/ off and wonderful for swollen ankles.
Sandals are a pleasure during steaming hot summers since they let your feet breathe.
Sneakers
We all love sneakers. I have owned dozens of them in the past and I am not stopping soon- not even in old age (haha!)….
Now, seniors don't have to be separated from their beloved sneakers just because of edema…
All he/she needs to do is shift to sneakers for swollen feet.
These are pretty much comfortable and he can wear them to any occasion including his favorite grandson's birthday.
Like the rest of the swollen feet for the elderly, they are roomier and easy on the feet.
Boots for swollen ankles
We all know that boots offer maximum protection from mud, water, extreme cold, or outdoor hazards.
Now, some companies have invented roomy boots with additional ankle support purposely for active elders with swollen feet -for instance, your gardening-obsessed grandma.
The added traction further boost his/her safety when participating in activities such as the occasional hike. 
Better still, most are stylish and light enough to function as everyday footwear.
Extra wide Shoes for Diabetic Feet
If the Doctor has proposed diabetic shoes, you can look for the extra wide therapeutic variety.
These are specially designed to battle complications like calluses in diabetics.
Contemporary varieties can be won both inside the house and outdoors.
Comparing Shoes for Elderly Women with Swollen Feet With those of Men
Various shoe manufacturers release a men and women's version of a certain shoe for swollen feet.
And that's due to the natural differences between a man and woman's feet shape.
Specifically, women's shoes are traditionally built wider around the forefoot but narrower in the heels to match the structure of the female feet.
Men's shoes are, on the other hand, generally broader and larger sized than women's shoes to reflect the anatomy of the male feet.
You can confirm this by inspecting any extra-wide shoe with a men's and a women's variety.
Overall, because of the above-mentioned gender-inspired structural contrast, be careful on the shoe's gender specification when buying.
The good thing is that there are plenty of unisex shoes that mold to swollen feet awesomely.
Why wear shoes for elderly with swollen feet?
I have already hinted about comfort and ease of wear as some of the reasons why you should consider gifting ultra-wide shoes swollen feet to your aged parents.
There is more..
Promotes circulation
Unlike standard footwear, the extra-width of specialist shoes for swollen feet permits circulation to flow freely around his/her legs.
Fixing poor circulation in your lower feet and legs prevents blood from pooling there and can discourage the swelling from expanding.
These shoes expand/contract with the swelling
Shoes for swollen ankles and feet pack another outstanding advantage..they flex with the size of your swelling.
That's because some are engineered to allow you loosen/tighten it depending on the size of your swelling.
These shoes are, therefore, easier to wear even when your swelling is threatening to go out of hand.
Extra therapeutic features
Shoes for elderly with swollen feet are increasingly coming with more therapeutic features.
For example, brands with premium orthotic insoles along with ergonomic, cushioning soles may help your octogenarian relative battle diabetes-related foot problems.
In addition, some models are biomechanically engineered to help ease foot pain, knee pain, heel pain, and soothe sensitive feet.
How to Evaluate Type of Shoes for Elderly Swollen Feet
There are tons of swollen shoes brands to choose from and picking can be tough, especially if it's your first time.
Here's how to approach the decision:
Type of swollen shoe for the elderly
We have discussed the available basic types and when each is most suitable. Perhaps you should start by revising that section.
You should pick what makes sense for your senior depending on his/her needs.
For example, slippers can be won even when bandaged and are advisable when your aged relative is healing from a surgical procedure.
You can also consider Velcro shoes with custom foot orthotics since they help re-align the foot.
Presence of Medical conditions
Different footwear-related health issues require different swollen feet shoes styles, so your other big consideration is your foot health.
For instance, diabetic shows are the go-to option for a diabetic elder.
Likewise, orthotic sandal shoes can help you correct painful foot conditions such as a hammertoe.
Moving on, search for shoes with a wide toe box if you suffer from problems like swollen toes and bunions to name but a few.
Key swollen shoe features
The biggies are:
Skid resistance– prevents skidding on slippery floors and hence injuries.
Anti-bacterial properties– you don't want him to get smelly feet due to perspiration.
Shock absorption– resists impact on his/her heels and ankles when walking.
Feet protection– shields the feet from soaking, insect bites, and such hazards
Arch support– reduces suffering from fallen or high arches.
Cushioning– shoes with abundant built-in cushioning also reduce impact on a senior's feet.
You might also want a shoe that can alleviate pains – this requires advanced features such as ergonomic soles.
Understanding your loved one's personal needs and foot health will help you here.
Fitting 
Last, but not least, be sure your shoe fits you well. This is best done in person at the shoe shop though you can still rely on the manufacturer's sizing charts online.
Be sure to get a sizing wide enough to fit his/her swelling.
This is where stretchable shoes beat the rest (Recall that they reduce/expand with the swelling).
The other candidate here is shoes with adjustable Velcro closures since you can flex the Velcro up/down till you're comfortable.
On the same note, don't forget to check if it's easy to wear or remove.
On this, I prefer shoes with larger openings.
Should elderly people wear heels?
Is there an age limit on heels?
Well, even if you feel young at heart and intend to strut in your cute heels deep in your 80's, I won't recommend them- at least not with swollen feet.
To me, they are just a pain. Plus, the risk of falling is too much.
Truth be told, they're for glitz and glamour and NOT swollen feet!
Other questions
Your budget- have a firm idea of how much you want to spend before stepping out. There are both budget as well as pricey options so your budget will help you quickly narrow down your choices.
Also keep in mind that sellers offer drastically reduced prices during black Fridays and some holidays.
Finally, online vendors are habitually way cheaper than traditional shops so don't forget to check them out.
The looks– senior oriented shoes are no longer boxy and dull. Indeed, a couple of manufacturers have taken the bold step of trying to balance fashion and functionality in their design. As a result, you'll find an army of cute options out there.
What a beautiful surprise can a cute shoe be for your grandma?
Shoes for Elderly with Swollen Feet Reviewed
For the benefit of readers who will be shopping for shoes for elderly with swollen foot soon, I shall now review some of the best-known models.
Here we go…
My search for the best shoes for elderly with swollen feet first took me to this sneaker- a great find overall.
First, the cushioned orthotic is positioned nicely to yield intense arch support. And by the way you can remove it when healed.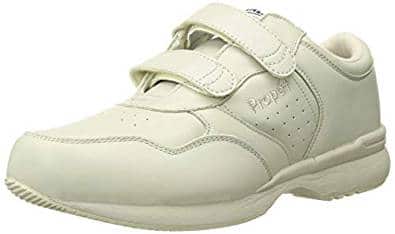 Alongside it, the feather-light molded midsole soak up shock to prevent your leg and foot muscles from prematurely tiring.
At the same time, the elongated heel counter teams up with the incorporated contoured heel stabilizer to promote steady gait.
That should be good news for any senior who experiences balance problems when out and about.
The Propet's men's walker also features tender full-grain leather upper accentuated with athletic-inspired details and tonal stitching giving it a sleek appearance.
If you're a diabetic or a devoted walker, this could be the pair you have been waiting for.
Features
100% leather
Synthetic sole
Brushed nylon lining
Diabetic shoe: Medicare/HCPCS code=a5500 certified
Contoured heel stabilizer (built-in)
Dual straps velcro closure
Ortholite insole (with memory foam)
High traction shoe
Pros
Good with sensitive diabetic feet.
Maintains a relaxed fit even during long walks.
Very durable construction.
Quite roomy.
Cons
Some color varieties missing
An exceptional therapeutic comfort shoe with solid foam padding and a pronounced anatomical arch support, Orthofeet Charlotte's Orthopedic swollen feet pair is a huge upgrade on similar slippers from yester years.
This immense biomechanically engineered footwear keeps your feet from bruises whiling leaving generous breathing room.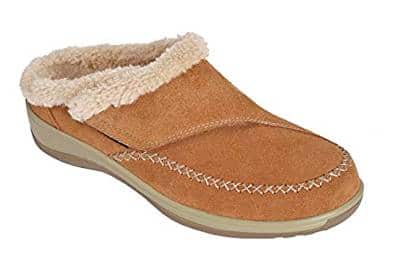 Unsurprisingly, these shoes are one of the most recommended not just for swollen feet but for arthritis, plantar fasciitis, neuropathy, metatarsalgia, pronation, morton's neuroma, corns, bunions, and hammer toes.
The soft suede leather exterior feels as nice as those of premium extra depth shoes and includes abrasion-resistant technology to block excessive wear.
Features
Suede Leather
Premium orthotic insole
Ortho-cushion system (lightweight sole & air cushioning)
Extra Toe Depth Design
Supple, seam-free interior lining
Innovative comfort features
Therapeutic features for arthritis, hammer toes, plantar fasciitis, etc
Ergonomic, cushioning sole
Pros
Contours to your foot amazingly.
Overflowing comfort and foot security.
Relieves pain all over.
Easy to slip on.
Cons
This is Orthofeet Charlotte's Orthopedic women's swollen feet pair men's equivalent and comes at approximately the same price.
Consequently, the best features from the women's set remain- the delightful orthotic support, air cushioning (softens your step), the wide toe box together with the non-binding upper (eliminates pressure points) and the warm seam-free interior lining.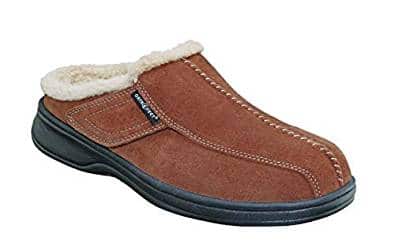 Like its sibling, the Orthofeet Asheville's Orthopedic men's swollen feet slipper provides superior comfort and feet protection and will no doubt warm the hearts of elders who are ailing from myriad foot issues.
Features
Leather
Premium orthotic insole
Anatomical arch support
Cushioning heel pad
Biomechanically engineered
Extra depth design (non-binding)
Therapeutic construction
Pros
Your feet spreads out well.
Reduces pain everywhere.
Super lightweight.
Exceedingly warm.
Cons
May feel somewhat awkward before your feet get used.
When you look into the lineup as diverse as Silvert's, you are sure to find an extremely focused swollen feet shoe.
The Silvert's men's extra-wide slippers feature memory foam insoles within warm wool-like material and opens up all the way to allow you easily get on/off.
It is long and wide and has quite a lavish bearing surface from the forefoot to the heels.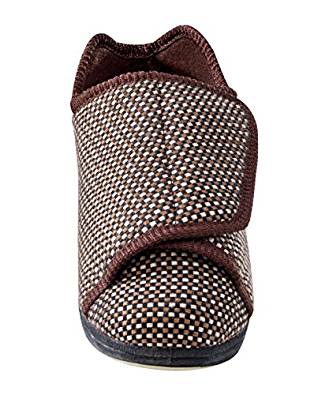 Silvert states that it's dedicated specially for seniors with Edema and who have trouble wearing other Edema shoes because of lower hand dexterity.
You use the adjustable closures to tighten/loosen it depending on the response of your swelling.
A versatile pair, you can find them in elderly-friendly hospitals, seniors' retirement homes, and other senior caregiving facilities.
Features
Woven
Memory foam insoles
Anti-bacterial
Skid-resistant
Hook & loop fasteners.
Pros
Adjusts to your foot's width.
Soothes arthritis-induced foot pains.
Resists slips/trips.
Easy to wear.
Cons
The sizing charts can be a bit confusing.
A phenomenal women's orthopedic shoe, Orthofeet's Mary Jane shoes has supportive foam padding enhanced with impact-damping gel padding under the heels.
Though it's slightly heavier than some of the previous designs, the flat profile includes well-engineered anatomical orthotic insoles for enhanced pain relief.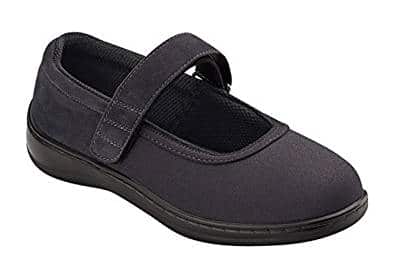 The shoe is deepest in the toe box and stretches to accommodate bunions.
Smooth and soft insides are gentle on your feet when standing in queues while the rubber sole prevents slipping.
Features
Synthetic Leather/Spandex.
Contoured orthotic insole.
Gel padding (under the heel).
Ergonomic soles.
Seam-free interior
Foam padding
Air cushioning (air pockets).
Anatomical arch support.
Pros
Thoroughly comfortable
Outstanding arch support
Adds a firm spring to your steps
Magical on pain and plantar fasciitis
Cons
Final thoughts
Shoes for elderly with swollen feet are built to make life bearable for seniors with Edema for whatever reasons.
They're wider and supportive and soothe your pressure points to help reduce suffering as you pursue daily tasks.
There are over 7 different varieties each serving specific need so you need to understand them as well as the key considerations we have debated before selecting.
Out there, the market is teeming with dozens of models and hopefully, our reviews will give you a head start.
We, as usual, welcome your comments.