Elders are increasingly preferring lightweight Velcro Shoes for Elderly over lace shoes.
And it makes sense…
For example, elders have reduced hand dexterity and hence finds tie/untying laces/ knots troublesome.
Again, most of us are unable to bend when we reach the golden years because of joint pain triggered by chronic conditions such as arthritis.
Now, this is a comprehensive velcro shoes for elderly guide and you'll be learningwhy these shoes are exciting for the elderly population.
I shall also be revealing the best-ranked lightweight Velcro Shoes for Elderly at the moment.
Read on..
What are Velcro Shoes for Elderly?
Velcro shoes are so called because a Velcro closure replaces your conventional shoelaces.
These shoes aren't exactly newly invented- there have been there for some years but it's only now that more people are appreciating their senior-friendly features.
Now, it's an open secret that the aged population is expanding incredibly.
In fact, the seniors' population is projected to outnumber children in a few years' time.
This news has made this market segment quite attractive to shoe manufacturers.
The competition between them has resulted in the invention of stylish and super lightweight velcro shoes for seniors- to the joy of seniors.
Why lightweight?
Because as you might be aware, you experience weak leg/feet muscles in old age so heavier shoes are a pain to stand and walk in.
Actually, one reason why seniors initially kept off  velcro shoes for the elderly was because of their somewhat heavier built.
| Shoe Image | Shoe Name | Sole | Material | Price |
| --- | --- | --- | --- | --- |
| | New Balance Men's MW813V1 | Rubber | Leather and Synthetic | View |
| | Propét Men's LifeWalker Strap Walking Shoe | Synthetic | Leather | View |
| | Skechers Men's Afterburn Strike Memory Foam Velcro Sneaker | Rubber | Leather | View |
| | Propet Women's Tour Walker | Synthetic | Leather and Textile | View |
| | Dr. Scholl's - Men's Brisk Light Weight Dual Strap Sneaker | Rubber | Mesh and faux leather | View |
| | Leader Show Women's Elderly Casual Comfort Walking Shoe | Rubber | Mesh and fabric | View |
| | Drew Shoe Men's Force Velcro Athletic Walking Shoe | Synthetic | Leather | View |
How else are the shoes unique?
The biggest news about these shoes is their ease of putting on/off as I mentioned above.
Comparing a shoe with a simplistic Velcro closure to a pair with sophisticated laces is like comparing apples and oranges- as far as getting in/out is concerned.
As a result, your aged buddy can comfortably slip it on/off despite his physical limitations.
 But that's not all..
Velcro shoes are amazing with feet ailments
Many of the fasteners in velcro shoes for men as well as velcro shoes for women allow for significant adjustments to accommodate your problematic feet.
For example, a foot swelling may 41mm rolex replica for sale vary extensively throughout the day and day to day so you will find these adaptive shoes for seniors with swollen feet immensely helpful (you can adapt the fit).
Velcro shoes are safer
In general, wearing sturdy shoes helps reduce falls and subsequent injuries in older people.
But a groundbreaking new study has found that the same shoes our grandparents view as lifesaving can actually elevate their risk of tripping.
Shoes blamed here are those that lack a secure fit including oxfords, loafers, and athletic shoes.
Because they're a breeze to fasten and rarely 'untie' on their own, shoes with velcro closures minimize slips and falls among seniors hence their prominence.
Contemporary Velcro shoes are more supportive
Friend, a lot has changed since the first generation Velcro shoe was released..
Now, one of the conspicuous changes has been the introduction of more supportive features in both mens shoes with velcro closures and ladies velcro shoes.
The highlights include advanced cushioning and full shock absorption (thanks to improvements like padded foot beds).
That being so, you now have diverse support options at your disposal.
For example, if you're a caregiver dealing with diabetic elders, you can go for Velcro shoes with custom orthotics to help alleviate diabetes-related foot pain.
Great for exercise
Reports from medical studies have revealed that elders who exercise maintain top physical fitness and gain psychological benefits too.
Even moderate physical activity like casual evening walks can lead to stronger bones, a healthier heart, and reduced blood pressure in an elderly person.
Now, with some of the Velcro shoes, your dad/mum won't have reasons to skip his evening walk.
Propet velcro shoes (read the full review below) are, for example, comfy, extremely lightweight, and are, as a matter of fact, designed for passionate walkers.
Types of Lightweight Velcro Shoes for Elderly
The following kinds of Velcro shoes are available for your aged panerai replica watches parents, grandparents, or elderly relative.
Sneaker Velcro Shoes for Elderly
There are plenty of reasons why some seniors favor sneakers over other Velcro shoes.
First, sneakers are designed to deliver full foot support. For example, most have rubber soles so there is minimal impact to your feet as you walk/jog.
Secondly, sneakers are very stable. This helps prevent injuries to your heels and ankles.
You can even choose sneakers for the elderly that include special insoles because of the extra protection and security when moving around.
Again, modern-day sneakers are versatile and you can wear them indoors, during exercise, to the hospital, or when traveling to your grandchild's birthday.
Balance shoes Velcro Shoes for Elderly
The state statistics are damning…
Each year, millions of seniors—from 65 years and older—slip and fall with at least one out of every five cases resulting in serious injuries.
Moving on, out of four elders, more than one falls each year.
Still there, in total, over 300,000 elders are hospitalized annually from falls-triggered injuries!
So, what is happening to our senior citizens?
Well, research shows that the biggest culprit could be footwear and one solution could be new balance shoes for elderly people with balance problems.
These are quality lightweight shoes with anti-fall features such as non-slip soles, flat heels, and more.
In short, you should seriously consider this Velcro type shoe if your elderly relative has gait problems.
A brilliant example is the slippers for elderly to prevent falls (more on slippers below).
Slippers Velcro Shoes for Elderly
Slipper-styled Velcro shoes are typically light weighted and as expected, quite easy to wear.
They are typically supple and sleek thanks to their often soft and colorful materials.
You can settle for the open-heel or closed slippers, depending on your senior's needs.
Sandal slippers, slipper boots, and evening slippers are also among the commonest varieties.
Wearing an appropriate set of slippers can help seniors suffering from diabetes or such illnesses.
They not only allow generous circulation in and around their feet but also prevent skin irritation.
Therapeutic Velcro Shoes for Elderly
These are simply shoes designed to promote healing and recovery from various foot ailments.
Some are actually customized and may include orthotic insoles, ergonomic soles, heel stabilizers, and more.
You will also meet some biomechanically engineered models under this category.
The reasoning behind the inclusion of such therapeutic accessories is to help ease heel/foot/knee pain, and/or massage your sensitive feet to quicken recovery, for example, after a surgical procedure.
Orthopedic Velcro Shoes for Elderly
Orthopedic lightweight velcro shoes for elderly are supposed to be worn by elders who suffer from flawed foot mechanics.
These are the only Velcro shoes specifically engineered to correct wrong foot, ankle, or leg structure and mechanics.
Like the rest, a multitude of choices awaits you here if you're after an orthopedic Velcro shoe.
Next up is our in-depth guide to help you choose the right Velcro shoes for your seniors.
What to Look Out for When Buying Lightweight Velcro Shoes for Elderly
Here are some questions to ask in your quest to land the best lightweight Velcro shoes for elderly …
Does it fit him/her?
I know you know about fitting sizing …
What you might not know is that your elderly parent may no longer be comfortable with his/her old shoe size.
That's because our feet often get longer and wider as we age due to changes like weakened foot tendons/ligaments.
In addition, the degeneration of our ligaments may cause our feet to flatten
And so it goes without saying that you need to find a pair whose fit accommodates these developments.
The easiest way to do this is first measuring his/her feet.
Can the shoe accommodate his/her special condition?
Like I said, elders require lightweight footwear with easy-on Velcros.
But you may have to relook your selection if he/she suffers from the usual foot issues that haunt older people.
I had previously hinted about foot swelling because of Edema.
On top of that, the now flatter feet may alter the natural angle of your feet causing over/underpronation.
Moreover, seniors are not exempt from hammertoes (abnormal bending in the joints of some of your toes), bunions, plantar fasciitis, and more.
I haven't even mentioned that seniors with arthritis need shoes that diminish arthritic pain.
What am I driving at?
Simple…..you need to factor in his/her special needs when comparing Velcro shoes.
Is the shoe really comfortable?
The next set of considerations revolve around comfort features..
Now, high-heeled shoes can be a huge temptation for some seniors despite their advancing years.
But wearing one is effectively courting disaster because the discomfort makes you more prone to falls.
I recommend that you instead concentrate your search only on flat (non-skid) soles with sufficient all-around support.
A well-rounded comfort Velcro shoe will also pack a bevy of extras such as padded footrests, fully padded linings and footbeds, and more.
You can add breathable uppers to this list (helps keep your feet cool and dry). 
It's thus important that you investigate the comfort features of the Velcro shoes that are winning your heart before committing your credit card.
What else should I look out for?
I have some further questions…
Is it easy to clean and maintain?
Your dear will be happier with shoes that sparkle from a simple wipe.
How durable is your chosen pair?
Lasting footwear is always a winner. On this, inspect the materials and overall construction
Does it have Arch Support?
This is obviously the way to go if you have fallen/high arches. 
Lightweight Velcro Shoes for Elderly Reviewed
To give you an idea of the shoes you're likely to find in the market out there, I will now introduce you to the most popular lightweight Velcro shoes for elderly….
Propet Men's Life Walker Strap Sneaker
Although this is marketed as a Velcro shoe for avid walkers, it's exceptionally versatile and a shoe that practically fits any purpose – great running shoes for seniors.
This has contributed to its burgeoning popularity among seniors, including my own dad (he recently clocked 70).
Such has been its fame that the company has been forced to release a women's version, the Propet Women's Walker Strap Sneaker (read its review below).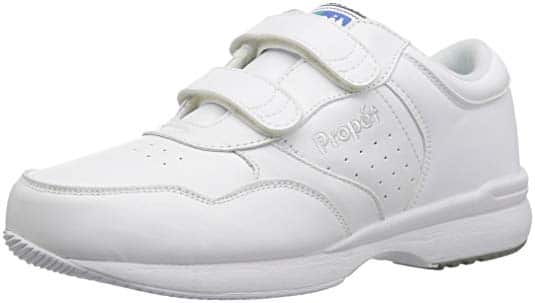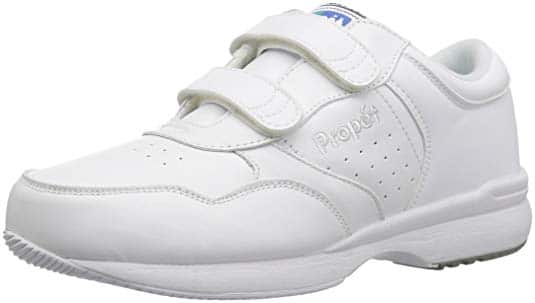 On the whole, the shoe packs nearly all the critical features we discussed above, including wide width and tremendous arch support.
You can remove the footbed to insert your preferred custom orthotics while the firm heel counter and heel stabilizer ensure a sturdy stride.
You experience less impact and hence reduced leg fatigue thanks to the molded EVA midsole (it awesomely absorbs shock).
At the same time, the upgraded rubber outsole delivers excellent traction to create a sure-footing in all terrains.
Unsurprisingly, hundreds of users have praised the shoe as being generously comfortable.
The shoe is available in various widths and sizes.
Features
Full-grain leather uppers
Clean aesthetics (tonal stitching & athletic-inspired details)
Fully cushioned collar & tongue
Adjustable hook-and-loop closure
Removable cushioned orthotic (with arch support)
Extended heel counter
Contoured heel stabilizer(built-in)
Molded EVA midsole
High traction rubber outsole
Diabetic shoe: Medicare/HCPCS code = A5500.
Pros
One of the most comfortable Velcro shoes for elderly men
Durable construction.
Outstanding arch support.
Looks cool.
Cons
Lacks a wide toe box (but it's not overly narrow)
New Balance Men's Leather MW577 Hook & Loop Walking Shoe
The New Balance MW577 leather shoe is a light, minimalist, Velcro footwear with a strikingly different outline to other men's sneaker-type elderly shoes.
It features dual hook-and-loop straps across the vamp and an applique logo at the quarterpanel.
The bottom of its sole appears wider than regular walking shoes (for stability) and has a heel deep enough to accommodate heel riser inserts.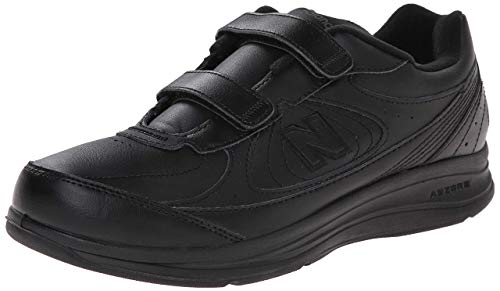 The solid rubber outsole ensures a sure footing when walking together with the foam-padded collar and the shoe's tongue.
Away from that, the shoe's sturdy leather construction yields greater flex —with every step— than some of its competitors.
Also noteworthy is the fact that the shoe fits true to size.
The company spent a lot of time conducting research aiming to make a high-performance men's Velcro shoe and has truly done a brilliant job here.
Features
Perforated leather upper
Dual hook-and-loop straps
Solid rubber outsole
Removable insoles
Polyurethane midsole
Foam-padded collar & tongue
Unique ABZORB technology (in the heel)
Pros
Outstanding breathability
Fit true to size
Comfortable to walk in flat heels
Minimal shock when walking
Cons
Lacks high in steps warning.
New Balance Women's Leather WW577 Hook & Loop Walking Shoe
The New Balance WW577 Velcro Shoes for elderly women is the New Balance MW577 men's leather shoe women's equivalent.
It, therefore, not only carries all the brilliance of its sibling but also incorporates a couple of innovative features not found in other shoes for elderly women.
This includes a U-shaped tongue that nicely dips in the shoe's middle to allow more flexibility when walking while delivering firm arch support for low/medium arch feet.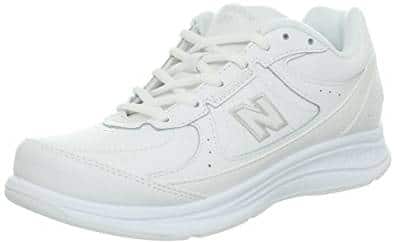 The padding on top and sides is lavish — it uses solid but supportive foam — and provides the cushioning necessary to make you feel comfortable when walking/standing even on hard surfaces.
The shape minimizes pressure on your pressure points while the wider toe box is really wonderful.
Lastly, the aesthetics of this shoe is a welcome relief for seniors who've been struggling to find footwear with looks to rave about it.
Features
Rubber sole
Leather shoe
Removable insoles
Hook-and-loop straps
Padded tongue & collar
ABZORB shock-absorbing technology
Pros
Kind on sensitive feet.
You can add the inserts of your choice.
An absolutely stable shoe.
Easy adjusting straps.
Cons
Perhaps the Velcro strip could be longer
Propet Women's Tour Strap Sneaker
The Propets' Walker strap sneaker is a top-of-the-line women's everyday Velcro shoe and consists of adjustable straps for an easier, just-right fit, supple perforated leather uppers, and a bountifully cushioned EVA midsole.
The reasoning behind this construction is to alleviate pressure on your feet in addition to helping resolve pain, for instance, due to plantar fasciitis.
It is lined with a padded tongue and pretty good arch support- just like you would expect of a shoe promoted as the best walking shoe.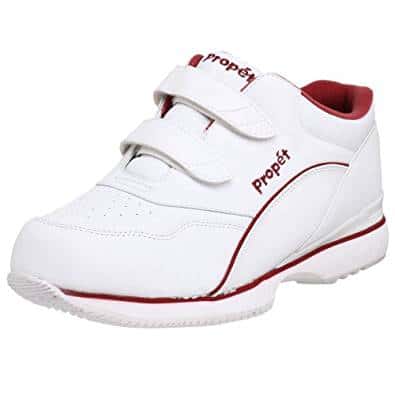 What's more, the sneaker's abundant depth is a clincher for elders who wear orthotics.
The shock absorbing rubber soles are great at vibration-damping besides gripping well on myriad surfaces.
This is Propet Men's Life Walker Strap Sneaker's (reviewed above) Women's version and as you can see, it's again a dazzling shoe.
Features
Full-grain leather upper
Twin-strap closure system
Cushioned EVA midsole
Herringbone tread rubber outsoles.
Removable footbed
Sporty appeal
Pros
Available in a variety of colors.
Soft old lady Velcro shoes
Plenty of toe room.
Easy Velcro for your sore hand joints 
Cons
Might need some break-in period
Recap
Because of age-related body changes, seniors find tying conventional lace shoes problematic.
The solution to many elders is wearing easy to wear lightweight Velcro Shoes for Elderly which typically come in various styles/types.
Be sure to check out factors rolex daytona rose gold replica for sale like comfort features, support, general construction, amongst others when buying.
Also, note that seniors with foot issues like Edema need a pair that accommodates them.
To help your decision making, I have covered some of the leading models including the celebrated propet velcro shoes.
And with that, I hope you now have the information you need to find the right Velcro shoe for your loved one.