It is hard choosing the best three wheel bikes for seniors – they come in a variety of shapes and sizes.
I have written this comprehensive guide to help you get your hands on the best and most reliable 3 wheel bicycles for seniors.
Old age brings with it many blessings but also a couple of challenges with mobility being one of the biggest.
You see, the generally weakened body may force you to turn to mobility aids such as three wheel bikes for seniors as the advancing years take their toll on your agility and balance.
What do I mean?
As the years advance, your body naturally undergoes hefty physical, psychological, and lifestyle changes.
This will cause, among other things, limited mobility.
Yet, it's so difficult to live independently if you can't get from point A to B.
Now, while there are other possible solutions, 3 wheel bikes for adults have been hailed as one of the best.
In this article, I will look at how these handy aids can help you rediscover your natural mobility and improve your lifestyle.
You Might Also Like: Best Heavy Duty Scooters for Adults
Let's go:
| Product Name | Weight | Height | Frame | Price |
| --- | --- | --- | --- | --- |
| Raleigh Bikes Tristar 3-Speed Trike | 65 lbs | 20" | Steel | View |
| Kent Alameda Adult Tricycle | 55 lbs | 26" | Aluminum | View |
| ​Ridgeyard 24" 6 Speed 3 Wheel Adult Trike | 59 lbs | 24" | Stainless Steel | View |
| Iglobalbuy Yellow 3 Wheel Adult Bicycle Tricycle | 59 lbs | 24" | Carbon Steel | View |
| Schwinn Meridian Adult 26-Inch 3-Wheel Bike | 73 lbs | 26" | Aluminum | View |
| Schwinn 24" Wheel Meridian Adult Tricycle | 70 lbs | 24" | Aluminum | View |
| Mantis Tri-Rad Folding Adult Tricycle | 45 lbs | 20" | Steel | View |
Types of three wheel bikes for seniors
According to estimates, about 40% of all seniors (65 years and above) suffer some form of disability with mobility problems being the most common.
This has prompted manufacturers to design dozens of different three wheel bicycles for adults to ensure a good fit for everyone.
Here are the common types:
Upright Three-Wheeled Seniors Bikes
The senior citizen tricycle has an open frame or the conventional diamond frame. When riding, the elder sits upright, almost like in the two-wheeled bikes though it feels heavier. (A good example is the Schwinn Meridian Full Size Adult Tricycle 26 wheel size Bike Trike)
These tricycles have the highest center of gravity and tend to tip over easily in corners or sloping surfaces.
Recumbent 3-wheeled bikes can have the two wheels either at the back (called deltas) or in front (technically called tadpoles) with the other wheel front/back.
They have a comfortable chair-like seat, lower center of gravity, and fantastic aerodynamics.
For many elders, these are the safest and most stable but one has to contend with their higher pricing. (A good example is the Mobo Triton Pro Adult Tricycle for Men & Women)
While riding in traffic, senior citizens should wear bright colors as the bikes are typically less visible.
Most tandem trikes sit two people and adopt the recumbent design. As you would expect, they carry more weight thanks to their reinforced frames and even allow each of the cyclists to pedal at differing speeds.
These tricycles are suited to elders who want to bring their care givers or partners along.
These 3 wheel bikes are mostly used for transport. They have the typical front steering wheel, two rear wheels, and a canopy covered passenger area.
They are not that common among seniors and are used in some countries for public transport.
This is simply an adult three-wheeled bike that is beefed to hold heavier users and/or carry larger loads. They are definitely significantly larger than standard adult trikes and use bigger wheels, just like bicycles for overweight people.
Drift three wheeled trikes
This group of 3-wheel bicycles is specially built to easily navigate corners and around obstacles.
You will notice their slick rear wheels which enable them to easily drift while being counter-steered around corners.
I recommend these for fun-loving seniors who are not afraid of tackling paved, steeper roads.
These have batteries and compact electric motors that rotate the tire forcing the bike to go along without pedaling it.
You can imagine how helpful these trikes are for seniors who find pedaling impossible. They're also the go-to trikes for a good number of disabled users and are fun and one of the easiest to ride.
Interestingly, the user can choose to pedal when they want to exercise or when feeling better.
You Might Also Like: Best Electric Bikes for Seniors
These trikes collapse for storage so they're perfect if you live in a small apartment where space is an issue.
This design makes them transport friendly as you can park it into your car trunk, bus, or even in a train. (A good example is the Tri-Rad Adult Unisex Folding Tricycle)
These are built to handle the toughest terrains and will roll over mud, snow, sand, and every rough trail quickly and safely, giving your aged relative more freedom to cycle everywhere. In general, these bikes have robust options including superb suspensions, wider wheel types, and high-grade components.
Advantages of Three Wheel Bikes for Elderly
Three wheel bicycles have confounded bike manufacturers with their soaring popularity amongst the elderly community.
But what benefits do these special bikes bring?
Stability: Unlike conventional bicycles, the trio of wheels makes a trike very stable. Models with a lower center of gravity are exceedingly stable.
Easier Handling: Most of the three-wheel bikes are intentionally designed with lightweight materials to make them easier to control –even by elders with weak grip-and boost maneuverability.
Storage: Models with baskets can easily carry personal gear and shopping so your elderly parents can still shop for groceries without help and haul baggage like books to their destinations when going out.
They climb hills: There are different designs and styles including some with quality gear systems that allow them to conquer climbs and hills without over-exerting the rider. As for electric trikes, you just sit and relax as it speeds up uphill.
They are Versatile: Trikes can be used indoors as well as outdoors. You can walk across the room to your bathroom or kitchen or ride to the shopping mall.
Cardiovascular benefits: The pedaling action benefits the heart without overstressing your back and the knees. They also increase muscle strength and improve overall body fitness.
Suit Seniors with Disabilities: There are special three-wheeled bikes which come adapted to support disabled elders
Disadvantages of Three Wheel Bikes for the Elderly
Because their construction prioritizes stability and senior's safety, trikes have several issues.
Visibility: Some, especially recumbents ride very low and are barely visible in traffic or around busy parking lots. This can be risky as other motorists have a difficult time seeing trike riders. You can, however, improve his/her visibility by mounting a flag on his/her tricycle using a tall rod and adding rear reflectors.
Inconvenient in Heavy Traffic: Trikes are generally wider and can collide with cars in narrow bike lanes and sidewalks.  The wide extra-wide design also means they will need more space to turn safely and you can't generally lean in turns
Storage Problems: But for the folding models, trikes occupy more storage space.
Cost: In most cases, 3 wheel bikes for seniors will cost more than other mobility tools such as walking canes.
FAQ: Three Wheel Bikes for Seniors
Do I require special pedals?
Unless in exceptional circumstances, the pedals that come with trikes are sufficient. That being said, some have serviceable pedals which can be removed if the owner feels they need something better.
How can I achieve higher speed and better road holding?
In general, a lower seat height gives a slightly better cornering ability and braking. Similarly, a lower seat angle may give extra speed.
How is a trike on climbs?
On most tricycles, there is a minimum speed necessary to maintain balance. Pushing your back against the seat can help quicken it due to the extra power it will generate.

Oftentimes, using a low gear and spinning the pedals will be enough for efficient hill climbing.
What is the maximum weight a trike can take?
Capacities vary and I am aware of some three wheel bikes that can carry as much as 440 lbs.
What maintenance would I need?
Three wheel bikes really need very basic maintenance such as adding air when needed, inspecting the frames and components occasionally for wear, checking for loose spokes, screws/bolts, lubricating moving parts, and replacing worn brake pads when necessary.
Three Wheel Bikes for Adults Buying Guide
Here is what you need to have in mind when comparing the various models.
Physical condition. Always check his/her physical condition and available doctor's advice. That explains why we have specialized 3-wheel bikes to cater for every unique physical need. The last thing you want is to gift your loved one a trike that causes them to fall.
Comfort: To make sense, any trike should be comfortable. You'll, however, need to know that different bikes offer different sitting positions and inclines and that what is comfortable for you could be uneasy for your partner.  For this reason, do in-depth research.
Ergonomic construction: Ergonomically design bikes minimize pressure when pedaling and are great for seniors with weak grip strength. For example, swept-back handlebars allow a senior citizen to stay in an upright position and will save his back.
Transportation and Storage:  You may occasionally need to carry your trike to an adventure so ensure that it fits in your car, a bus, or a taxi. Folding recumbent trikes are the other option though they can be heavier and slower on the road.
Suspension:  Suspensions help your trike to ride smoothly on trails, bumps, and other road irregularities.
Seats: The saddle should be cozy and if possible, breathable. Some even have seat straps and will offer extra support for elders. Overall, hardshell seats do not breathe as well as mesh seats.
Accessories: Some three-wheel bikes come with useful extras including luggage baskets, a safety flag, and reflectors on the rear wheel making them more convenient (and sometimes safer) to use.
Speed: Some elders prefer trikes that are fairly fast. If your aged friend is like that, go for high-performance recumbent trikes. They handle well and are quite fast due to their lightweight nature.
Overall Quality: For durability and reliability, factor in features such as a steel frame, innovative steering, brakes that transmit smoothly, wide stable wheels, functional speeds, and essential additions.
Ease of Access: The best 3 wheel bike for seniors comes with a low step-through design which makes getting into/out of the trike a straightforward affair.
The leading Three Wheel Trikes Brands
There are brands which have been in this space for long and have won the trust and confidence of the elderly community.
Let me take you through the biggest names…
A true giant, Komodo specializes in diverse cycling products including powerful three wheel bikes.
They have been in the business since 1983 and work closely with some of the best engineers in the globe.
Their trikes are generally competitively priced.
Schwinn Bicycle Company is a dominant manufacturer of three wheeled bikes and has made its name producing durable, functional, and stylish trikes.
They have given the world amazing models such as the Schwinn full-size adult tricycle and its smaller sister, the 24-inch Schwinn meridian trike.
This brand promises and delivers an unforgettable experience from their award-winning, unique three-wheeled cruiser design trikes.
Their renowned models have captured the imagination of users thanks to marvelous maneuverability and enhanced handling.
Three Wheel Bikes for Seniors Reviews 2020
Here is a brief look into the top 5 trikes currently dominating the market.
Schwinn Meridian Full Size Adult Tricycle 26 wheel size Bike Trike
A fast-moving 3 wheel bike for elderly, the Schwinn meridian full-sized Trike is known for its superior comfort.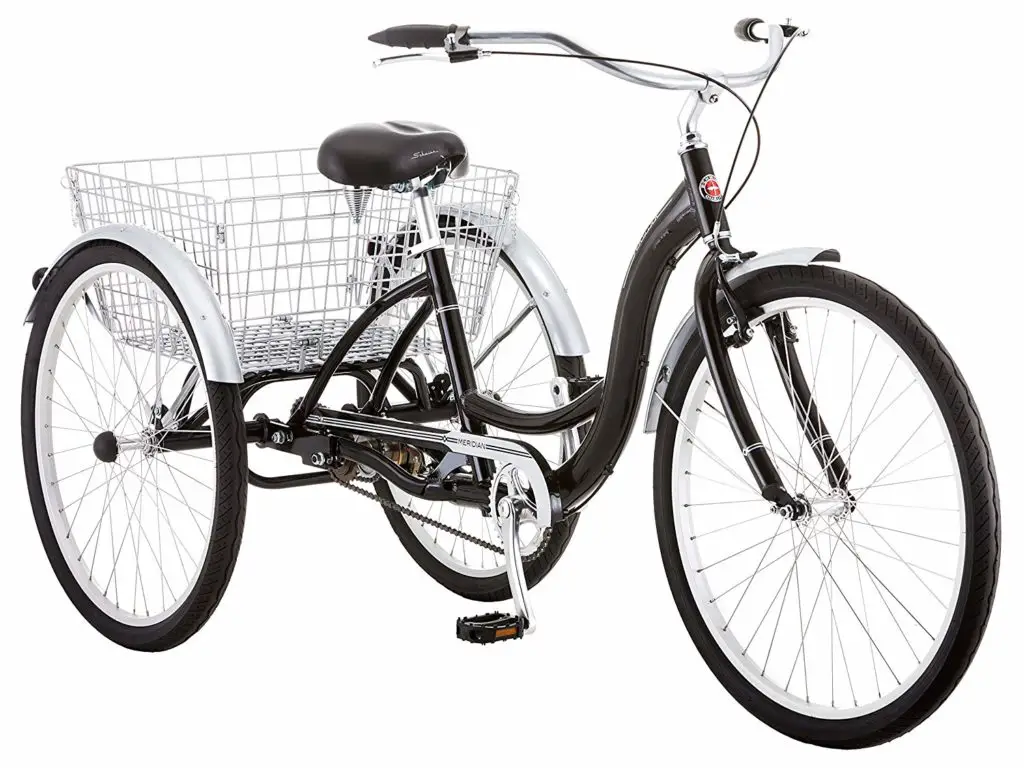 First, it's very easy to mount /dismount thanks to the senior-friendly low-step through design. The swept-back handlebars also play a great role as they allow senior citizens to ride without bending their backs, lowering the usual pressure that oftentimes worsens back issues.
The other comfort enhancing feature is the larger spring cruiser-style seat because of the way it soothes your bottoms.
The wheels are 26-inches giving the trike more ground clearance and helping it to roll over bumps and rough terrain with less effort. This also makes the bike comparatively fast.
Seniors also love the spacious folding-down rear basket as it carries more gear and purchases.
In short, not many three wheel bicycles for seniors can get near this tricycle.
Features
Low, step through design.
1 Speed
Adjustable Swept back handlebars.
Alloy 26-inch diameter wheels
Oversized spring cruiser-style seat.
Fold-down rear basket
Pros
The trike rolls over road irregularities smoothly and like a champ.
It comes with a huge shopping/baggage basket.
The bike has an outstanding balance and is one of the safest.
It's very easy to get into/out of.
It's extremely comfortable
Cons
The bike could do with better fenders
Mobo Triton Pro Adult Tricycle for Men & Women. Beach Cruiser Trike. Pedal 3-Wheel Bike
This 3 wheel recumbent bike also makes the grade courtesy of its abundant capabilities and versatility.
It's actually one of the very few senior-oriented bikes that can ride well on multiple surfaces. Whether you are on sloping terrain or flat, paved surfaces, this recumbent is always up to the task.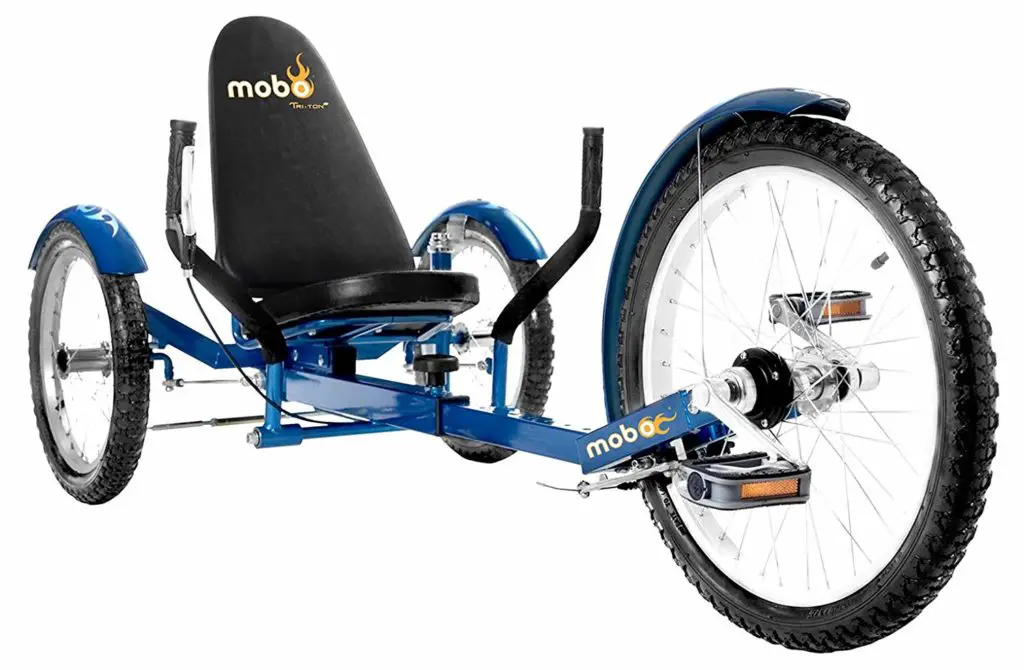 Plus, due to the easy reclined seat and heavily cushioned seat, chainless chassis, and the well-constructed ergonomic design, it's a lot of fun to ride to the stadium or anywhere else.
Again, this is one of the best options for tall and overweight riders:
Yes, the bike accommodates senior citizens from 4'2" all the way to those 6'3" tall in addition to being able to comfortably hold a 250 lbs. person.
This trike also has the looks that prove you haven't lost your sense of fashion and will turn heads wherever you park.
Features
Dual-joystick steering
Hi-ten steel frame.
No-maintenance chainless design.
Wheels: 16" rear, 20" front.
Free-wheel hub/caliper brakes/safety flag.
Pros
It's one of the most durable models.
It comes with a safety flag.
The trike can support tall and heavy users.
It needs very little maintenance.
The innovative steering makes it extremely maneuverable.
Cons
It sometimes struggles to turn.
Schwinn 24″ Wheel Meridian Adult Tricycle
Small riders who find Schwinn's best seller- The Schwinn Meridian 26″ full size tricycle will be happy with this.
Optimized for small riders, the tricycle delivers an impressive cruise-style ride and has, over the years, proven to be a reliable performer.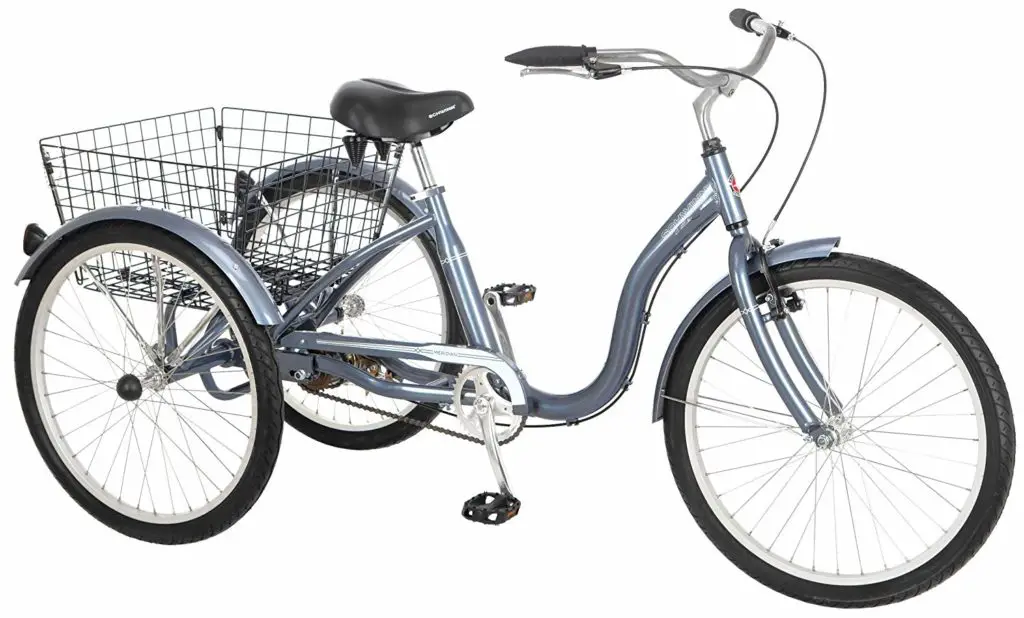 Like its sibling, it allows the beloved step-through access and goes ahead to set a new bar for its competition by coming with full-wrap fenders that enhance its appearance.
The fenders also shield your elderly friend from ugly mud and sand from dirty puddles when pedaling in rain or snow.
It's true that the alloy 24″ wheels do not glide over bad roads as smooth as the 26″ but you still feel its class.
This small trike still captures Shwinn's luxury character with its roomy springer cruiser style saddle and a quick release to allow for free seat height adjustment.
To cut the long story short, this should meet every one of his/her requirements.
Features
Low stand-over aluminum frame.
1 Speed
full wrap fenders & swept back handlebars
Alloy 24″ wheels
springer cruiser seat (quick release adjustment)
Pros
It has amazing balance.
Easy to assemble.
It comes with a luxurious saddle.
Fits smaller cyclists perfectly.
It's a beautiful trike.
Cons
The trikes feel a bit heavy so it's not as fast.
Kent Adult Westport Folding Tricycle
If you're looking for a 3 wheel bicycle for seniors that can be carried and stored anywhere, the folding Kent adult Westport tricycle could be all you need.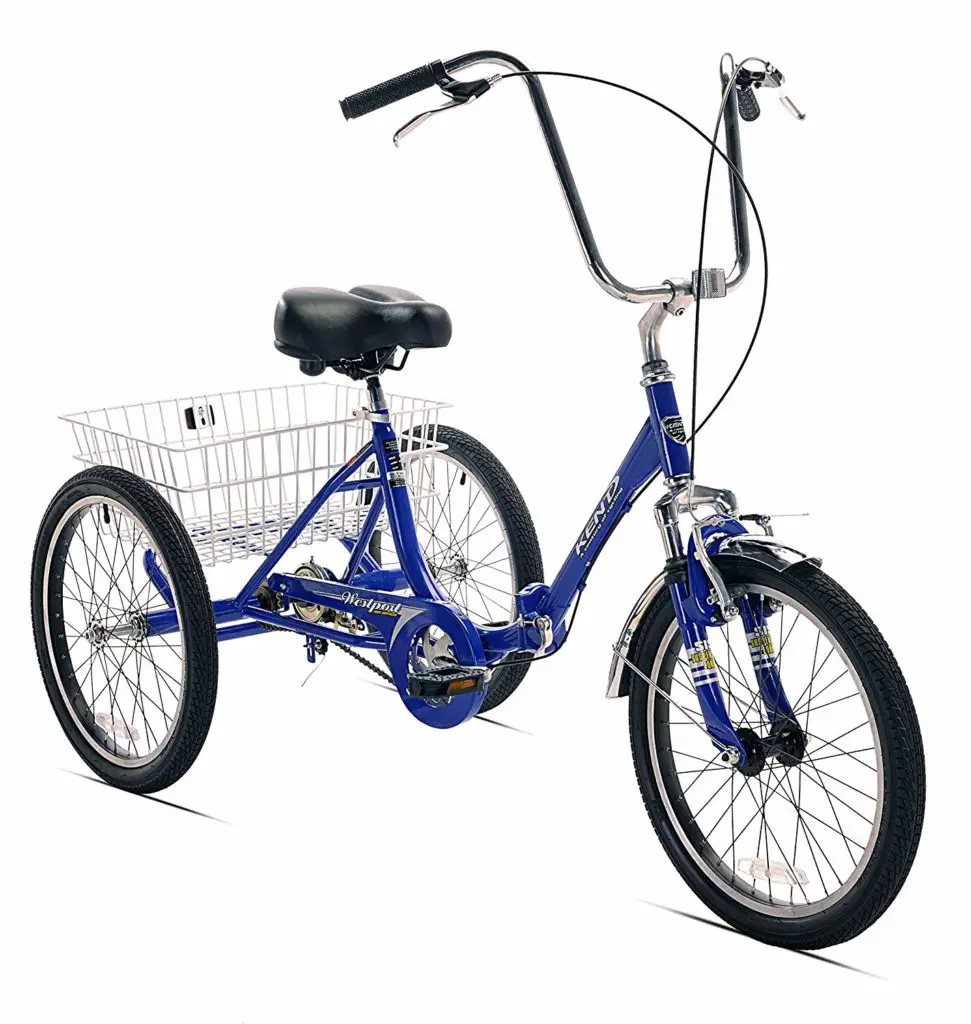 Not only does it solve your storage headaches but it also delivers an exceptional performance.
For example, its suspension fork is one of the best I have seen around and greatly boosts comfort and driveability on bumps or potholes.
The available array of ride aiding technologies includes a strong linear pull braking system for abrupt stopping, a well-sorted steering system, and a thinner width for easier turning and parking.
It's an upscale trike and matches the aerodynamics of its biggest rivals and will help elders with injuries or other weaknesses gradually rebuild confidence and restore their mobility.
Features
strong steel frame (step-through, folding design)
Suspension fork
adjustable upright handlebars
Linear pull brakes
20-inch wheels
Pros
It's very easy to steer.
It's very lightweight.
The bike folds nicely for storage.
The overall quality is up there with the best.
Straightforward assembly.
Cons
Not the best in making sharp turns.
Komodo Cycling 24″, 6-speed Adult Tricycle
This is a speed monster and one of the best in the business.
The bike comes with the peerless 6 easy-to-shift gears so climbing steep inclines is a breeze. It also makes it sizzling fast across various surfaces. It is one of the best 3 wheel bikes for adults with gears.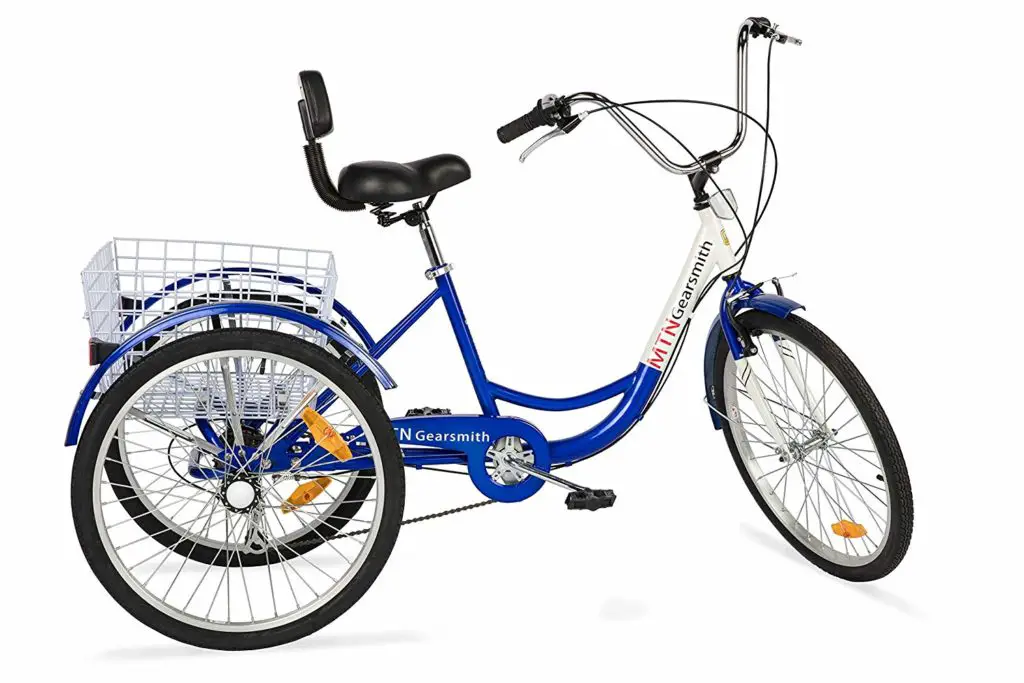 The steel handlebars and stem steering makes for a faster, more straightforward control with your weight nicely balanced over the front wheel.
The brakes are terrific – you have alloy front brakes backed up by steel rear brakes so stopping will never be a problem which makes this one of the best bikes for seniors.
It's, as is the norm with the leading trikes, a step-through bike so mounting and dismounting this tricycle is effortless.
At the same time, you enjoy phenomenal balance even when slogging it out in challenging conditions.
It has a 240 lbs. capacity, a spacious, soft saddle, and is extremely sturdy.
Features
24 inch wheels.
6-Speeds.
Steel handle bars & a stem steering system.
240 pound capacity
Alloy front brakes/steel rear brakes.
Pros
This is very durable.
It comes with a relaxing saddle.
It has a fantastic braking system.
It's one of the fastest trikes out there.
Outstanding quality all-around.
Cons
Assembly is a bit challenging.
Three wheel bikes for seniors: Riding Tips
Always alter the position (height and angle) of the handle bars and saddle to suit your requirements.
Don't jerk your arms around and try to steer smoothly and slowly.
You can start with gentle pedaling to avoid straining your muscles as you learn the ropes.
When pedaling, your legs should remain almost straight on a downwards revolution.
Keep practicing until you improve your confidence.
 Final Word
Three wheel bikes for the elderly provide a safe, versatile transportation for elderly people and help them lead an independent life despite their advanced years.
In addition to helping an elder run their daily errands freely, they are a form of cardio exercise and will help your aged parents remain in tip-top shape.
The market has many options including the space-saving folding trikes and the free-wheeling electric trikes.
Our reviews have covered most of the popular models and should give you an idea on what to expect in the market even if you prefer used 3 wheel bikes for adults.
Of course they have some question marks like poor visibility for the recumbent trikes but, by and large, tricycles are one of the best ways of helping your older relatives get around.