According to the national council on aging, one in four seniors fall each year. Consequently, there are more public awareness campaigns around this problem and one of the solutions commonly suggested in these campaigns is shoes for elderly with balance problems.
This post is all about these special shoes and their huge positive impact on seniors' lifestyles.
What are Shoes for Balance Problems?
Shoes for balance problems are elders-targeted footwear and are made with enhanced attributes such as great traction, light, and softer soles, and to fit even when your feet swell.
This construction makes them safer to walk in and help minimize the risk of falls in seniors meaning your loved one can still lead a normal lifestyle despite the advancement in years.
| Shoe Image | Shoe Name | Material | Sole | Price |
| --- | --- | --- | --- | --- |
| | Propet Men's Life Walker Strap Sneaker | 100% leather | Synthetic | View on Amazon |
| | Hush Puppies Men's Gil Slip-On Shoe | 100% leather | Synthetic | View on Amazon |
| | Dansko Women's Pro Xp Mule Shoe | 100% Leather | Rubber | View on Amazon |
| | Propet men's Scandia Strap Slip-On | 100% Leather | Synthetic | View on Amazon |
| | Propet Women's Tour Walker Strap Sneaker | 100% Leather | Rubber | View on Amazon |
What Makes Shoes for Balance Problems Special
As I mentioned, these handy shoes are designed with, first and foremost, senior's safety in mind. They, therefore, carry a number of features that you are unlikely to find elsewhere.
These include:
Extra Large: You and I know that swelling of the feet, legs, and ankles is quite common in seniors (edema) because of issues like lack of exercise, hormonal fluctuations, or even sitting/standing for too long. A number of manufacturers realize this and design shoes for elderly swollen feet that are wider and more flexible to accommodate swollen feet.
Extra-Light: Many seniors do not have the same strength as when they were young and can't walk for long with heavy shoes. These shoes are made with unique materials to make them solid but lightweight. At no time will your aged friend feel the heat down there because of shoe weight.
Extra-Soft: Again it's very likely that at this age, one's is sensitive to even minor discomforts. Again the materials used are cushy and create a cool, soft feeling. The upper component is mostly made to breathe and in the end, the foot feels happy and relaxed.
Superb Traction: Whether they are oxfords, athletic shoes, or loafers, these kinds of shoes have soles with excellent traction on both dry and wet surfaces. They also offer good stability.
Velcro Strip: One of the major causes of tripping is loose fitting shoes. To cater for this, seniors balance shoes often come with a versatile velcro strip to allow him/her adjust to get a snug fit. In most cases, the velcro straps stay tight and you don't have to keep readjusting them. Another advantage of the Velcro fastening is that it makes the shoes easy to slip on/off.
How Shoes for Balance Problems Reduce the Risk of Falls
It's also an open secret that older adults fear falls almost than anything else and will reduce social engagements and forego some of the daily activities because of the potentially tragic injuries.
For this reason, the whole logic behind shoes for balance problems is to reduce the risk of falling by improving balance and promoting mobility.
Here is how they do it:
Heel Cushioning and Elevation
A walking balance shoe will typically have excess heel cushioning. This protects the foot from pressing hard on the shoe's floor preventing irritation and inflammation.
Still on the shoes heel, research has shown that shoes with elevated heels negatively affect balance and gait, and are associated with increased risk of falling.
The best senior balance shoes have a beveled heel to prevent sliding.
3D Support
The best walking shoes for elderly offer an all-around support to the foot.  I am speaking about shoes that have the previously mentioned soft interior, a deep wide toe box to fit a swelling and bunions, and a contoured foot bed that molds to your feet.
The incorporated foot orthotics fit the feet more efficiently than common arch supports in addition to balancing the biomechanical inadequacies of the feet and legs.
This means the elder can walk comfortably even with foot issues like plantar fasciitis or diabetic foot ulcers so he/she is unlikely to trip.
Normal Foot Posture
Shoes for elderly go all out to see that the wearer maintains a natural foot posture as much as possible.
You'll find that they come with a customized sole to improve feet positioning and optimize balance.
Do you remember what we said about them having tread in multiple locations including treaded heels?
Well, apart from best reducing slides, this gives better contact with the surface and can help stabilize posture.
Types of Shoes for Elderly with Balance Problems
New balance shoes for elderly are available in a variety of shapes and designs. Here is a highlight:
Slip on shoes
Slip-on shoes for seniors are typically low profiled and lace-less and could be loafers or slippers (also see; slippers for the elderly).
There is also the moccasin construction tailored for balance issues. They can be casual and informal for leisure though they still fit work situations.
They are sometimes made using supple leathers like suede and for women, can be worn with shorts, jeans, dresses, skirts, and almost every other outfit.
These shoes are very easy to put on/off.
Orthopedic Shoes
Orthopedic shoes are specifically purposed to accommodate irregular foot mechanics and structure and have numerous medically beneficial features including well-rockered midsoles and outsoles to ensure their sole don't twist to help elders walk normally.
They also hold custom orthotics and come in sufficient widths and shapes for a proper fit regardless of your foot shape.
These shoes are great if you have some foot or toe deformities, weak joints, foot injuries, wide bunions, open sores, or other conditions that haunt your feet.
Sandals Shoes For Balance
Sandals are open and the go-to type of footwear during the hot summer months or when touring the beach.
They consist of a treaded sole held to your foot by sturdy straps stretching over the instep and/or around the ankle. Some sandals have treaded heels.
Dress shoes
If your elderly pal is still active and is regularly attending meetings and formal events, these are the shoes that rise to the occasion for official gatherings.
They are cute, stable, and tailored to be worn to special events. They are as light as a feather and match perfectly with suits and other formal dressing.
Walking Shoes for the Elderly
Walking is one of the safest physical exercises for seniors. He/she can increase the intensity depending on how the body is responding and is super-easy on joints.
To keep him safe while walking, the best shoes to wear are the balance walking shoes. They feel comfortable and will fit his/her feet to help prevent common injuries including blisters and calluses. Most are fairly lightweight and have excellent shock absorption properties.
Velcro Shoes for Seniors
Lightweight Velcro shoes for seniors have an easy-to-tighten Velcro and favor older adults who struggle to tie regular shoes due to physical handicaps that make bending or reaching their feet painful, for example, seniors with arthritis.
And unlike the older models which completely sacrificed style in favor of functionality, the latest trend has seen many manufacturers launching fashionable Velcro shoes meaning you can still showcase your renowned sense of fashion even with a Velcro shoe.
House Shoes for Seniors
House shoes for elderly are casual pairs of footwear and are to be worn in and around the house.  They are soft, absolutely lightweight, and very comfortable. They, however, struggle outdoors.
Shoes for Elderly with Balance Problems Buying Guide
As I've repeated severely, there are now more choices for seniors looking for shoes to help with balance problems.
Here is what to check to simplify your choices:
Shoe Size
As feet size change with age, get your feet measured. A properly sized shoe is not only comfortable but also safer since you're more likely to retain natural gait.
Where one is bigger, buy the size that is fitting the larger foot. To be on the safe side, remember to wear your usual socks when taking the measurements.
Suffice to say that most online vendors provide sizing charts and can help. It's also wise to consider the shape of the candidate shoe.
Comfort
You want to experience as much as comfort possible with each step. Some shoes come with custom orthotics which enhances the wearer's level of comfort.
An achilles tendon protector is also handy and will reduce stress on your achilles tendon while a heel collar will cushion the ankle.
At the same time, a mesh upper (and open shoes) allows better ventilation while a toe box provides extra room for the toes and helps prevent calluses.
Still there, materials such as foam, gel, or air midsole all improve cushioning.
Lastly, moisture-wicking materials help control temperature inside the shoe.
Traction
Traction is a critical characteristic of balance shoes outsoles and helps you navigate an array of surface conditions safely.
The shoe's sole should have adequate tread and in all the right locations to create the necessary versatility.
This enables them to prevent sliding/slipping whether walking in dirt, mud, grass, or rocks.
The only exception is where the elder is unable to lift the feet off the ground since getting stuck can induce a fall.
In such a case, it's better to use shoes with smooth soles as they slide better along diverse surfaces.
Safety Features
Though not all, a large percentage of these shoes have characteristics that clearly make them safer.
For instance, special insoles could improve proprioception and minimize falls. Additionally, some sole has 'teeth' that improve the foot position to optimize balance.
Furthermore, supportive heels reduce strain on the leg and will eventually reduce fatigue.
Arch Support
Arch supports help lessen foot pain plus common feet problems related to poor balance and a lack of adequate support.
They're particularly helpful if your aged parents have feet ailments such as arch pain due to the wear and tear that inevitably comes with aging.
Shoes that use artificial supports will even help him/her adapt to sloping and uneven surfaces.
A certified podiatrist can advise on whether and the level of arch support that best suits you.
Other Considerations
If possible, pick shoes that he/she can wipe and shine without much hassle.
Fashion-wise, find out your elderly friend's favorite styles and colors- they'll be happy to show off your pretty gift to their friends.
Shoes for Elderly with Balance Problems Reviews 2020
We took the time to check what the market offers and shortlisted the top-5 best shoes for elders with balance challenges.
Let me take you through them:
1. Propet Men's Life Walker Strap Sneaker
A rocker profile and adaptive design make the propet men's life walking sneaker both a solid walking aid and a pleasant feet protector.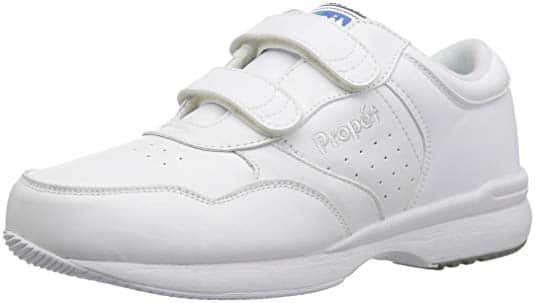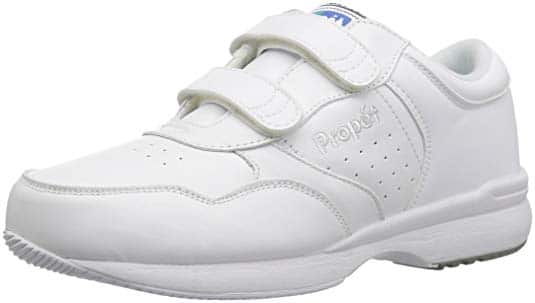 The balance shoe offers full shock absorption, easy stride, and maximum breathability. These shoes are simply a complete package if you factor in the ingenious arch-support that helps control pronation, the padded lining (and footbed) that feels so good, and the convenient straps (with hook-and-loop fastenings) for proper snugging.
It's no wonder then that this pair is Medicare certified (code A5500) and a top choice for elders with a plethora of foot issues.
You can also bet on the platform if hiking on concrete or eve rough terrain since it's very stable.
It's 100% pure leather so you're guaranteed lengthy service and is super-lightweight.  The latter makes it a mouthwatering prospect for ardent walkers and retirees leading an active lifestyle.
Features
100% leather
Synthetic sole
Brushed nylon lining
Built-in contoured heel stabilizer (dual-strap velcro closure)
Ortholite insole (with memory foam)
Pros
Very well built shoe.
It's versatile and works on dozens of surfaces.
Quite durable.
It's easy to wipe/shine.
Feels so light.
Cons
The toe box could be a bit narrow.
2. Hush Puppies Men's Gil Slip-On Shoe – New balance shoes for elderly
These loafers have everything that you may ever need in a balance shoe. First, they are easy to slip on/off thanks to the friendly hook-and-loop closure so your loved one will never struggle to wear them.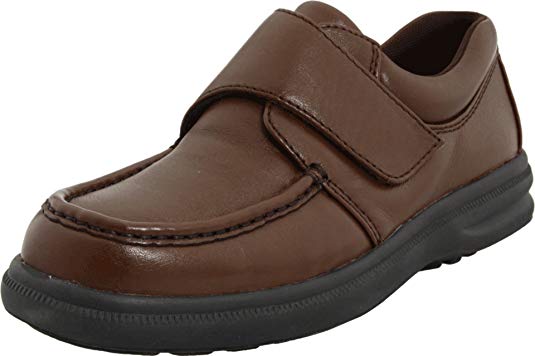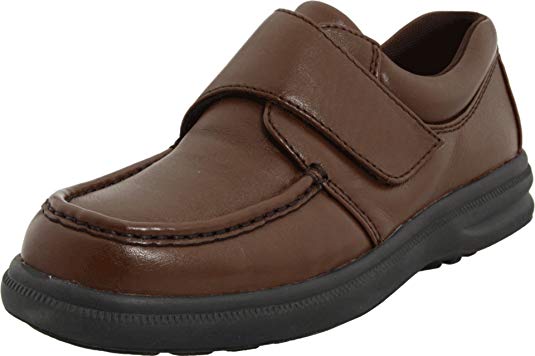 Then, the soles grip the surface very well due to the nice tread meaning they will hold on firmly even when navigating snowy surfaces.
In like manner, they feel very comfortable, which isn't surprising considering the features…..there's a soft leather, a removable contoured footbed that molds to your feet, and a roomy interior which leaves plenty of breathing space.
Importantly, the innovative ZeroG design used in the slip-resistant outsoles make it lightweight so you walk with ease both indoors and outdoors.
They fit just right even for those with edema plus you can easily adjust the tightness.
Equally advantageous is the fact that the construction is clean and looks classy.
Features
100% leather
Hook-and-loop strap closure
Padded collar
Removable contoured EVA foot bed
Zero G shock-absorbing outsole
Pros
Has significant arch support.
Very lightweight
The shoe absorbs shock perfectly.
It's a wide shoe.
Very comfortable.
Cons
Not much to complain about.
3. Dansko Women's Pro Xp Mule Shoe – Shoes for Elderly with Balance Problems
These shoes for elderly women prioritize two things: maintaining natural gait and delivering the all-day comfort when you hit the road.
This largely explains its top-notch customization and the corresponding flexibility.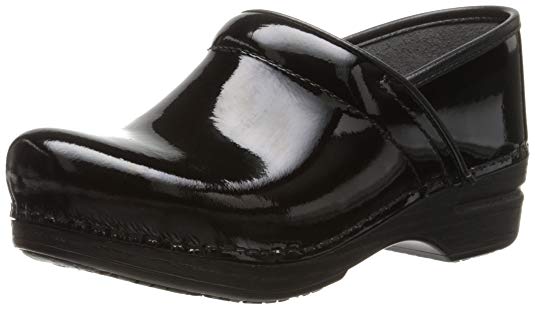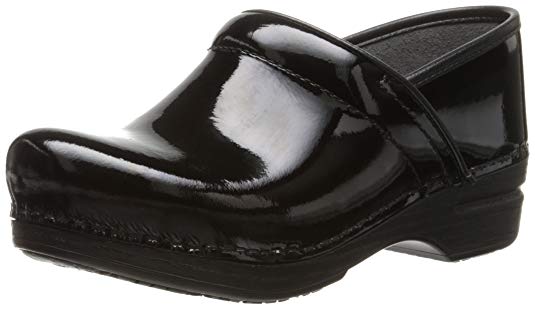 Like the popular men's hush puppies shoe, the cushioned footbed is removable so you have an opportunity to insert custom orthotics to ease your problems.
Then, and crucially, the rubber outsole is awesome in reducing negative impact and absolutely slip-resistant so you don't have to cut down on any of your favorite activities.
As expected, the shoe feels very good on your foot and you have the excellent arch support and the anti-fatigue rocker bottom to thank for this.
Actually, this is one of the few balance shoes that seems to adapt to any feet shape without messing up the toes, first because of the padded instep and secondly, the roomy toe box.
Overall, the shoe is purpose-made to promote leg posture and foot health, so that your relative can stand easy, for longer.
Features
100% Leather (Slip-on)
Rubber sole
Roomy toe box / anti-fatigue rocker bottom
Memory foam footbed (removable)
Padded instep
Pros
The shoe looks and feels good.
It delivers excellent arch support.
The shoe can be easily wiped clean.
It has a durable construction.
Quite roomy inside.
Cons
May fit a bit tight for extremely wide feet.
4. Propet men's Scandia Strap Slip-On
This real leather men's shoes are one of the most popular models among seniors living with diabetes.
The shoes for the elderly are designed to not only help stabilize the gait but also to relieve the neuropathy nerve pain associated with diabetes and are Medicare/HCPCS approved.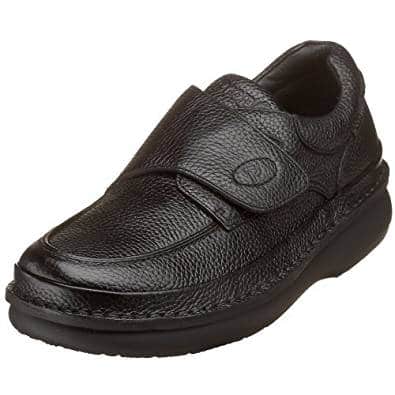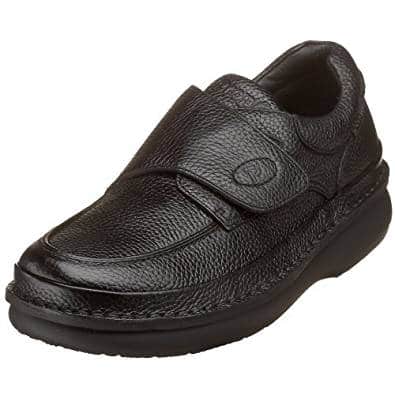 The shoes are extremely comfortable and feature the famous rocker profile to help deliver an easy stride, which is important in boosting balance.
The Propet men's Scandia Strap shoes have extended and solid heel counters so your aged colleague is assured of all-day support while their polyurethane sole has been praised for the superior shock absorption and traction.
More support comes from the removable EVA insole (cushioned) as well as the unique hand-sewn toe construction that creates extra breathing room.
The wide hook-and-loop strap helps him slip it on/off with ease even with weak dexterity.
The dress-casual looks are sure to turn heads during parties while he will love the cozy feel of each step with these shoes.
Features
100% Leather (slip-on)
Synthetic sole
Removable EVA insole
Extra-Wide Toe Box
Classified diabetic shoe (code A5500 Medicare/HCPCS)
Pros
It's easy to slip on/off.
Helps maintain a stable stride all through.
It's a handsome shoe.
Absolutely lightweight.
This men's shoe is extremely comfortable.
Cons
The sizing is a bit complicated here.
5. Propet Women's Tour Walker Strap Sneaker
This is a sibling of the great Propet men's Scandia slip-on and is a shoe that can take you practically anywhere.
It's built to decrease the impact of all the problems that interfere with balance such as poor leg posture, un-natural gait, pain in the toes/ankles, and problems such as swelling and bunions.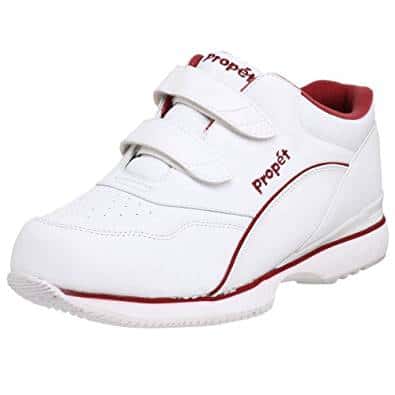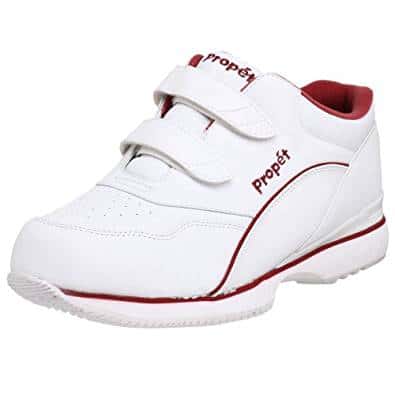 The approach it takes is simple: For a start, it goes heavy on comfort qualities. From the soft full-grain leather uppers (perforated), warmly cushioned EVA midsole, padded lining, and all the way to first-class arch support, this has it all.
Next, it adopts a style that fits best:
The dual adjustable straps make entry straightforward and fit adjustment even easier while the extended sizes provide a flexible width whether you're medium, wide-size, or wide wide.
The third innovation is on traction and the rubber bottoms have the traction to rival the very best!
The end result is one of the best-designed pairs and an improved lifestyle.
Features
100% leather
Rubber sole
Padded insoles, padded collar
Rubber bottoms
Extended sizes
Pros
It's a long-lasting pair.
It's a breathable shoe.
Easy to wear and adjust to fit.
Easy to wash.
Feels very stable
Cons
Seniors Balance Shoe Safety Tips
These balance shoe safety tips can help the elderly community maximize on balance footwear:
Check the surface: shoes with smooth plastic or leather soles can be very slippery on wood, carpets, and tile floors as well as on wet surfaces. Avoid them. Also never use shoes with worn outer soles in such surfaces.
Loose or ill-fitting Shoes are a hazard: Avoid slippers and any other loosely fitting shoes.
Beware of heavy rubber lugs: Footwear that has heavy rubber lugs may catch on many carpets so keep off them when on carpeted surfaces.
All-Round Support: Ardent walkers will find the activity easier with walking shoes that provide good traction and all-around support.
Be Careful With Cushioning: It's true that shoes with bumper cushioning feel super comfortable.  You'll need to be more careful here because they can make your senior unstable so evaluate the various options keenly.
Elastic Laces Vs Cloth Laces: Aged people who lack dexterity should consider replacing traditional cloth laces with modern elastic ones. The elasticity helps hold the shoe firmer on the foot and also stretch adequately to allow easier wearing.
Custom orthotics: You can always adjust laced shoes to accommodate recommended orthotics, braces, and swellings.
Shoes for Elderly with Balance Problems – Final Thoughts
Shoes for elderly with balance problems have features other footwear doesn't.
They're comfortable, stable, and fit the feet just right and can help prevent slips that often lead to catastrophic falls.
Check that your balance shoe is lightweight and provides good shock absorption. Also, remember to find one that cares for any special feet difficulties like plantar fasciitis.
Finally, be sure to consult a podiatrist for the best advice.