Because of the momentous problems that a senior may be living with, he/she often needs special shoes. And one of these is safe slippers for elderly.
I'm referring to conditions that affect old people due to natural wear and tear such as swollen feet, diabetes, and arthritis.
A senior may also be recovering from a surgery.
These conditions usually affect his/her balance making walking dangerous when using regular shoes- some of which don't even fit.
Even those bold enough to use such shoes are haunted by the fear of suffering a bad fall and are largely uneasy.
In this article, we shall lay bare all the important information about using support slippers for elderly.
| Slippers Image | Slippers Name | Material | Sole | Slippers Price |
| --- | --- | --- | --- | --- |
| | Slippers Men's Perry Slipper- International | 100% Fabric | Synthetic sole | View on Amazon |
| | Acorn Women's Spa Thong-Slipper – Wide slippers for elderly | 100% Velvety easy-care terry | CFC-free PU sole | View on Amazon |
| | Vionic Adilyn Women's Round-Toe Canvas Slipper | - | Rubber sole | View on Amazon |
| | Orthofeet Asheville Comfortable Arch Support Diabetic Men's Leather Slippers | Leather | Orthotic insole | View on Amazon |
| | Foamtreads Men Extra-Depth Wool Made Slippers | 100% Fabric | Rubber sole | View on Amazon |
What Are Slippers?
Slippers are simply light, easy to put on/take off shoes, and typically worn indoors.
Slippers also go by other names including slip shoes, house shoes, mules, clogs, and sandals with some designed as actual shoes but for being backless and having closed toes.
What Are Safe Slippers for Elderly
So, what makes a slipper safe/unsafe?
As I have hinted, slipper designs differ a lot because they've got a huge crowd of users. Yet, because of their myriad issues, seniors are forced to be very selective with slippers and hence find most of the ordinary designs lacking.
At the bare minimum, their slippers should be light, very tender on the feet, low cut, easy to wear, and crucially, must have a non-skid sole.
Simply, it should be a pair they can wear the whole day and run their typical errands without slipping, falling, or feeling pain.
You Might Also Like: Shoes for Elderly with Balance Problems
Types of Safe Slippers for Older People
Safe slippers are available in all shapes and sizes:
Open-heel slippers: These have a fabric upper cover enclosing the top of your feet and the toes. The heel is, however, left open. They are very common in hotels.
Soft-soled slippers:  This shoe feature fabric or even sheepskin lining and are regarded as among the most comfortable slippers. Additionally, they have extra sole support to help keep the feet relaxed all day long.
Closed slippers: These slippers for seniors have a heel guard to prevent the feet from sliding out and are one of the safest.
Moccasin slippers: This moccasin style type flaunts more prominent soles, similar to what you find in conventional leather shoes though its lightweight leather. They're most worn indoors but are also comfortable going outdoors, for example, to the deck or garage.
Novelty slippers for the Elderly: Seniors who don't have much trouble on their feet can wear these stunningly stylish and fabulously cozy non-skid shoes. The slippers are available in some very funny designs.
Slipper boots: These look like boots and are often preferred by women. The slippers are typically furry and come with a soft lining/fleece plus soft rubber soles. They're exceedingly warm and versatile enough to be worn indoors and outdoors.
Orthopedic slippers: These are specifically built to support the natural structure and foot mechanics of the wearer. Overall, orthopedic shoes deliver great support.
Sandal slippers: These are cushioned with fabric or soft rubber soles and are again super comfortable.
Evening slippers (Prince Albert slippers): These are made of velvet and come with durable leather soles. Some evening slipper models exist in stirring colors.
Adjustable Slippers for Elderly: These completely adjust to the width of foot and are terrific for horribly swollen feet. The shoe is also outstanding for hammer toes, bunions, corns, diabetes and countless podiatry foot problems.
Shower shoes for elderly: These generally have heavily grooved soles and are very secure. They're typically tested for safety and prevent slipping on all wet surfaces. They're thus the go-to slip-resistant shoes for hospitals, nursing homes, and care centers.
Ugg slippers for Seniors: The slippers are commonly made of soft twin-faced/ genuine sheepskin and have a fleece on the inner side. They're so comfy and awesome at keeping the feet warm. But they can be a bit pricey.
Advantages of Safe Slippers for the Elderly
Besides the non-slip foundation, safe slippers for seniors bring so much more to the table:
They're fully supportive
It's an open secret that with age, our feet, knees, ankles, and the whole body will need more support. That's because the leg muscles and general feet cushioning slowly wear out over the years.
Some of these slippers have excellent support and fantastic cushioning in all the right places.
Easy To Put On
Some of the elders-customized slippers have hook-and-loop closures (and wider openings) that make the shoe easy to put on/off for seniors with varying degrees of weaknesses including badly swollen feet, feet injuries, Parkinson's disease, and more.
They also allow for a customizable fit as the velcros are easy to tighten.
They Accommodate Various Feet Irregularities
This category of slippers provides for all possibilities faced by your elderly parents. They'll expand perfectly to fit all types of feet shape and will cater for countless foot issues that regular-sized slippers can't.
A good number of these models are actually tailored to expand (and shrink) to accommodate edema, diabetic feet, and big toes and quickly become your friend's favorite footwear.
They're Lightweight
Another reason why it may be a tough call to convince your elderly pal to swap his slipper for other shoes is that they're usually made light making them very comfortable for walking.
This is because of the light materials used on the uppers and the nice soles.
Slippers Are Extremely Comfortable
Safe slippers for elderly do not irritate the feet and create the perfect environment for healing from various feet injuries.
Most are made of breathable materials and discourage sweating and resultant bad odor.
Those with solid rubber soles help to elevate an elder's feet and keep their feet warmer. Others have their inside lined up with plush fabric and are amazing for senior citizens  vulnerable to cold feet while indoors.
Drawbacks of Slippers For Elderly
Well, the only disappointment somewhat is that manufacturers don't seem to put a lot of emphasis on aesthetics and it's really a struggle to get fashionable yet wide slippers for elderly.
Okay, things are improving and there are a few pretty models but by and large, I feel they can do better.
Slippers For Elderly Buying Guide
Here is what to look out for looking for safe slippers for the elderly:
Wider Opening
If you're experiencing foot and ankle swellings due to circulation problems or as result of taking certain medication or injuries, you'll require a slipper whose opening will fit your swelling.
Such an entry is also straightforward when removing the shoe.
Fit
Getting the slipper size right also helps to keep the user safe.
Slippers that feel too tight may cut off circulation and aggravate prevailing conditions. They can also worsen the pain in his/her swollen arthritic joints.
On the other hand, slippers that fit too loose may slip off and trigger trips and falls.
Check that the slipper size is correct and, preferably adjustable slippers for elderly to fit size fluctuations as he/she recovers.
You can measure the feet but you must also be flexible since slipper sizes vary by shoe brand, style, and even the originating country.
The Sole
Needless to repeat, you'll need non slip slippers for the elderly to reduce the risk of falls.
The material used for outsole should have a pattern to deliver extra grip needed to secure the senior even when walking on wet surfaces.
Insole
The use of proper insoles could enhance postural stability which further lowers the risk of falls since the feet is the first point of contact between your body and the ground while walking.
For the wearer's comfort, a slipper should come with an insole that's soft and cushioned with material like memory foam or cotton.
Anti-bacterial insoles with memory foam go a step further to keep odor-causing bacteria at bay.
Easy open/close fasteners
Often elderly people face difficulties in bending and struggle to lace up shoes. This can mess their balance and lead to falls.
Sometimes the laces become lose and may make your elderly friends to trip over their shoelaces. Slippers with velcros could be the perfect answers, as they often stretch for easier wearing.
Velcro slippers also rarely need to be adjusted and will stay closed securely for longer periods than other slippers.
Support
Bunions, hammertoes, and related foot conditions worsen with age.
You also have lost the important fat pad that usually cushions the base of the foot by the time you're entering the golden years.
Most slippers with non-slip soles should hence be well-padded and supportive to fill the gap.
Where possible, adding a quality orthopedic insert enhances the prevailing support and can help prevent calamitous falls.
Another aspect you'll need to focus on in a slipper is the toe area width as extremely narrow toe boxes crowds your toes. You should also consider open toe slippers for the elderly.
A softer, supportive shoe is also great for seniors living with arthritis or gout.
You should, however, keep off heavy slippers even if supportive.
Other Considerations
There's no harm in looking good so look for a fashionable slipper- provided everything else is satisfactory.
Also important is the issue of cleaning and slipper maintenance. It would prove an inspired gift if it can be machine washable. Even if it's by hand, ensure it's in whole easier to clean.
Versatility may also be an issue and it's advisable to confirm if it works outdoor as well. Also factor in things like arch-support depending on your feet.
Safe Slippers for Elderly Reviews
As I always do, I did some of the heavy lifting and hunted down several great slippers to help you understand how safe slippers work.
Here are the 5 slippers who made it to the 'final'.
Slippers Men's Perry Slipper- International
Wool is very soft and one of the most comfortable materials used in slippers.  Unsurprisingly, this shoe's soft construction is inspired by the best of wool properties:
The lightweight eurelle® fabric adopts wool's famous softness, durability, plus breathability making it a well-rounded slipper for seniors.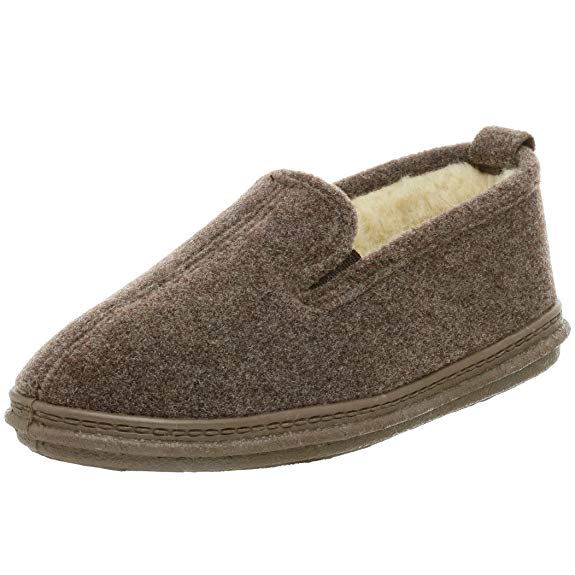 And the manufacturer doesn't end there:
The fleece lining makes them warm, hugely cozy, and are easy to put on thanks to the gore.
Additionally, cushioned insole is also very soft and a dream for an elderly worker looking for shoes that will pamper his/her feet all day at work.
The fact that the soles are rubber is very pleasing not only because they have a fantastic grip on the surface but also because they hold up so well to allow light outdoor use.
A word of advice: these shoes only exist in whole sizes so if you're looking for half sizes, be sure to order the nearest size up.
Features
Synthetic sole
Heathered fabric
Pile lining
Easy-on elasticity
Rubber outsoles
Pros
They easily expand to allow easier wearing/removal.
The comfort slipper is absolutely comfortable.
The shoe has enough traction for both indoor and light outdoor use.
It's a super lightweight shoe.
Easy to wash
Cons
May take one/two days to get used to.
Acorn Women's Spa Thong-Slipper – Wide slippers for elderly
This is a brave pair of slippers and as the manufacturer promises, with them, every day becomes a spa day.
To me, they look as if it's the closest to perfection a slipper can be as far as safety and comfort are concerned.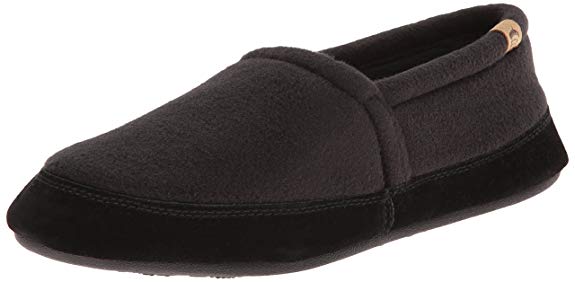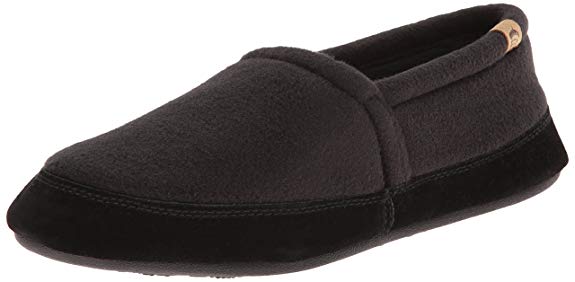 The spa terry uppers pamper your feet that it's easy to forget you have teething problems such as injuries ravaging your feet.
When you add the lavish heel & arch support, you know that the feet are in for an unforgettable treat.
The thing with these shoes is the company has barely missed any important detail:
For instance, not many slippers come with weatherproof soles, at least not at this price level but these ones do so you can even go to the beach and treat yourself!
On safety, the slipper remains secured on wherever you may go by the included elastic band.
I have to admit that I didn't expect to find this sort of quality!
Features
Classic flip-flop design.
Multilayer cushion insole (memory foam).
Easy to wear slip-on slipper.
Feet hugging design.
Machine wash/dry.
Pros
Provides first-class arch support.
Fits very snug.
Your feet enjoy superior cloud comfort.
Perfect for all-day outdoor adventure.
It's machine washable.
Cons
You have to wait they stretch to add orthotics.
The slipper seems a bit pricey
Vionic Adilyn Women's Round-Toe Canvas Slipper
The standout news here is the slipper's orthaheel therapeutic effect. Now, this is what every elder healing from some feet issues would need. You see, orthaheel is one of the best shock absorbing technologies and traditionally helps people struggling with pain to heal quickly.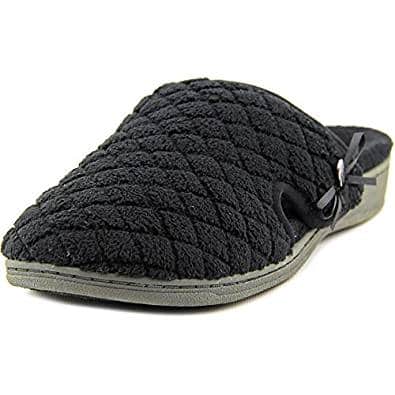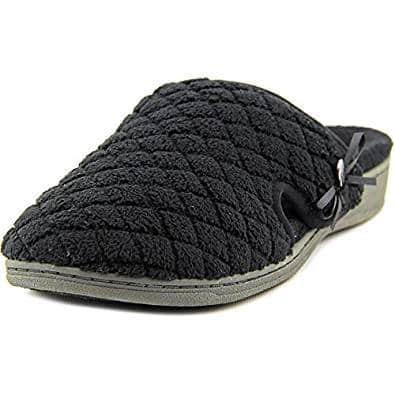 It could, therefore, be a massive slipper for those with plantar fasciitis and related problems. Your friend will also appreciate the slippers slip-on design and the extra space created by the extra-rounded shoe toe box.
The soles bounce so well to prevent any impact from reaching the bottom of the feet and remain resilient even when worn outside.
The padding is exceptional and doesn't look the type that flattens out a few days after purchase while the arch support is an added bonus.
Sure, the sizes are a bit confusing but once you get it right, you'll never turn back.
Features
Synthetic
Rubber sole
Slip-on style
Hook-and-loop closure
Orthaheel® technology
Pros
Absorbs shock like a champ.
Have multiple properties helpful for somebody recovering from feet injury.
The padding is supreme and lasting.
Deliver superb support.
They fit perfectly.
Cons
The sizing is somewhat confusing.
Orthofeet Asheville Comfortable Arch Support Diabetic Men's Orthopedic Brown Quality Leather Slippers
The Orthofeet Asheville diabetic orthopedic slipper is certainly among the best orthopedic slippers for diabetic men.
I say so because if you look keenly, not many diabetic slippers come with all these supportive features.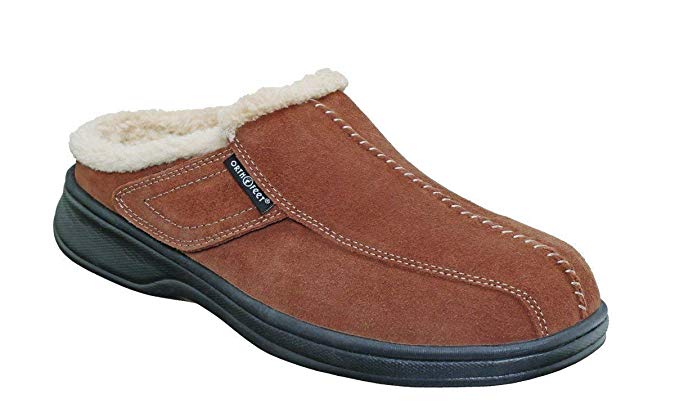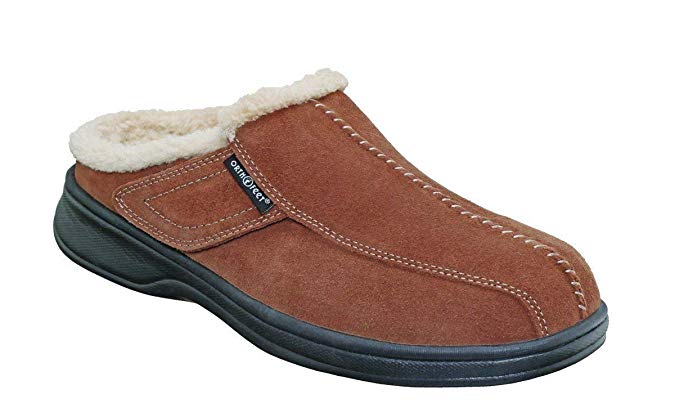 There's a premium orthotic insole already included, wonderful anatomical arch support, and cushioning heel pads that conform beautifully to the shape of one's foot when walking.
Usually, our older colleagues who have diabetic neuropathy prefer slippers that can, first and foremost, relieve ensuing pressure as they walk.
Now, this slipper has brilliant foam padding and will eliminate all pressure points to relax the feet. Indeed, your pal can even remove the built-in lining and replace it with an orthotic insert to enhance support!
Diabetes shoes should also have a wider toe box to give your toes the essential extra wiggle room as squeezed toes rub against the shoe or each other causing blisters.
And so this slipper comes with a super-wide toe box and could be helpful even for those with rheumatoid arthritis.
They also have the vital velcro tabs to help adjust them to his/her desire fit not to mention the excellent traction for 'anywhere' wearing.
Features
Leather slipper
Orthotic support
Extra depth design
seam-free interior lining
Adjusting Velcro straps
Pros
Made of durable leather
This shoe is extremely supportive.
Helps improve unstable gait.
The wide toe box relieves pressure on hammertoes and bunions.
It's nice-looking.
Cons
Foamtreads Men Extra-Depth Wool Made Slippers
I wasn't going to wrap up this review without including a good slipper for swollen feet and I feel the foamtreads extra-depth wool slippers are in a class of their own.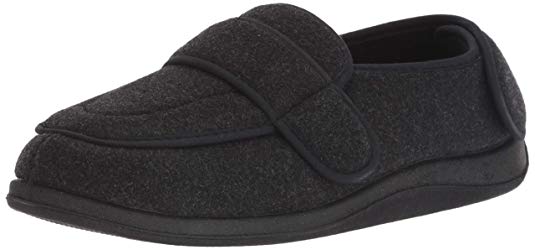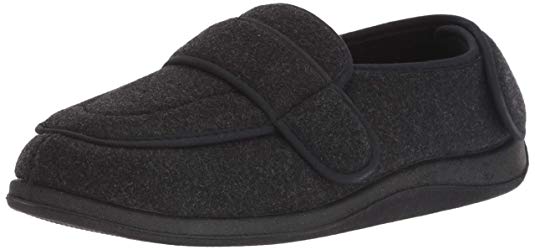 And it's simply because the designer has tried to accommodate all the needs of people with swollen feet:
The shoe is the easiest to slip on and smartly expands to fit the swelling so it's an amazing shoe. Of course, you would want it to stay on your feet securely and it does- the hook and loop fasteners see to this.
Swellings become more disconcerting if you're using hard, tough shoes. Here we go opposite and instead, the wool uppers feel generously comfortable on the feet.
To prevent further aggravation of the swelling, your feet need maximum protection and this slipper duly obliges:
The luxurious heel-to-toe padding furnishes lasting cushioning and delightful shock absorption, first.
This design has also been praised for the slipper's superior protection against bacteria, often blamed for bad odor.
Lastly, it's still a rubber sole shoe meaning you get extraordinary grip both indoors and outdoors.
Features
Hook-and-loop closures (instep & heel)
Heel-to-toe padding
Non-marking rubber outsole.
Hand washable wool uppers.
Pros
Aesthetically pleasing.
The shoe fits very well.
The velcro tabs are fully adjustable.
Very good overall quality.
Easy to wash.
Cons
Safe Slippers For Seniors: Frequently Asked Questions
Q: The sizing looks inconsistent. What's your advice?
Oftentimes, slippers for the elder sizes oscillate wildly and there's no standard way of knowing the right size. Try to consult the vendor for sizing assistance or testing. Also order the next whole size up if you wear a half-size and your desired slipper lacks half-sizes.
Q: Why are some slippers so expensive?
It's hard to tell because each company has its own pricing policies. omega copy watches However, from my experience, some of the most expensive slippers also happen to be the most comfortable and durable. They often survive all surfaces and are machine washable.
That doesn't, however, mean that this is always the case with all pricey slippers so just research the shoe and make an informed decision.
Q: What size would you recommend for someone with bad feet swelling?
There are slippers that cater for swollen feet and I believe you should look for one of these. These always have Velcro pieces and can be tightened/loosened as the swelling expands/contracts. Lightweight Velcro shoes for seniors are great option for seniors.
Q: Do all slippers accommodate orthotics?
Sadly, not all. That said, most especially those with a deeper depth do and will allow you to add your favorite insert.
Summary
Safe slippers for elderly to prevent falls do precisely what many other types of shoes won't: provide security and confidence when walking.
And that's because of the single most important construction difference in them: the non-skid/no-slip soles.
The best news is that there are so many types to choose from that it would take a whole raft of very specific requirements to miss a fitting one.
Prices themselves vary wildly but crucially, g shock sale cheap replica all extremes are catered for- those looking for affordable options and the group that want expensive high-end models.
In short, these types of slippers can drastically transform an elderly citizen's life and could be the perfect gift on the next birthday.
rolex replica watches thailand