In situations where we desperately want to be mobile, but we do not have the ability to, having reclining shower chairs with wheels becomes a priority. These chairs are marvelous for people whose legs cannot allow them to sit or stand for a long time in the shower.
Such situations happen to the elderly, the sick, the bedridden, or people who have suffered severe injuries on the legs or have undergone surgeries.
Using a reclining shower chair reduces the chances of falling in the bathrooms, which can be fatal. They provide a secure area in the shower to protect you from sliding.
Related: Best Padded Shower Seats for the Elderly
Reason for Buying a Shower Chair
Bathing should be relaxing, but it becomes a nightmare to persons with disabilities or whose legs are weak. Until you get such a problem, you will not understand how it happens.
Manufacturing companies that make seats have considered people with such challenges and come up with chairs you can use in your bathroom as you take a relaxing shower. Below, let us look at what can drive you to buy a shower chair.
With a shower chair, you will be safe in the bathroom by reducing the risks of sliding. These chairs are essential mostly to the elderly, those on wheelchairs, and people who have difficulties when moving around.
To the people who cannot move, this chair makes you feel more independent since you will not have to call someone to carry you to the shower. The seat comes with features that will fit your needs, and that will make you feel comfortable.
There are shower chairs that have wheels. These can help you get into a bathtub. There are also chairs whose seats are full compared to others and some which have a hole and that you can use as a toilet seat. You have the freedom to choose according to your needs.
Related: Best Non-Slip Bath Mats for Elderly
Owning a shower seat will reduce the risk of you contracting diseases. Shower seats should be put in the category of personal equipment. When getting a shower seat, consider getting one that you can carry when you travel, so that you won't use a hotel's shower seat.
When you are confined in a wheelchair because of disability or because you are too sick to move, you feel needy and dependent. No one wants to live such a kind of life. Therefore, having a shower chair will give you the independence of taking yourself to the shower.
That independence, however small it is, really improves the quality of this person's life.  Also, the warm water in the shower plays a proper role in relaxing those aching joints and muscles. Don't you think this is the best gift you would give a person with difficulties in mobility?
Shower tabs and bathing chairs in the hotels are the last things you should think of using when you are away from home. Owning a seat chair is very convenient, especially if you are a traveler. Sharing shower seats will put your health into risk.
Related: Best Bathtubs for Seniors
What to Consider When Buying a Shower Seat
Since you are buying a shower seat for comfort, consider features that will bring happiness to your seat while in the shower. You also do not want to keep replacing a shower chair, so you need to consider the materials used to make it and durability.
In our review, we found some of the factors or things to consider when purchasing a shower chair with wheels.
Armrests and back support
You will always anticipate for your shower time if you own a shower seat. The armrests and back support also add stability to the chair. Depending on the type of shower chair you are buying,  I would advise you to choose a removable or non-removable backrest.
Height
You do not want to struggle with your aching legs and still struggle with a too short or too tall shower chair. A good shower chair should be tall enough for you to sit and be comfortable. Your legs should make an angle of 90 degrees on the ground. For height, also consider a seat that you can adjust the height to suit you.
Seat
If you want a good shower seat, go for one that is slip-resistant. You know how annoying it can get when you keep sliding on the chair, especially when there is soap all over. Also, a padded seat is more comfortable compared to one that is not. Where will the water go when you are showering? Go for a seat with holes to let water flow as you enjoy your time in the shower.
Weight capacity
This is very important, especially for people who will want to move around with this seat. Make sure it is light enough to be carried by one person, or else you will be using those hotel shower seats when you travel and get down to treating infections.
Footrests
Do not let your feet hang on the chair while you are having a good time in the shower. Consider a shower chair with footrests and protect your seat from getting sours. I would recommend you look for one whose footrests are removable or adjustable.
Related: Best Shower Seats for Seniors
Size
Is it so evident that you will consider size when looking for a shower chair? If you are buying this seat as a gift, you have to know the size of that person so that you won't buy a kid's shower seat while your person is an adult. Also, the chair's length and will determine if the chair will fit in your shower.
Legs
The legs of a shower seat are usually prone to rusting because they are always in contact with water. You better go for a rust-free material, an example being coated steel. Make sure the legs of your seats are sturdy, and the tips should be slip-free for an excellent grip on the floor. An adjustable pin will make it possible to customize them to your desired size.
Related: Best Bathroom Grab Bars for Elderly
Best Reclining Shower Chairs with Wheels Reviews
Now that we know what we want to let us look at the available shower chairs with wheels
MJM International 193-SSDE Reclining Shower Chair with Elevated Leg Extension
This lightweight shower chair will change your life. It is ideal for shower rooms with limited space. It has a mesh back, and the head pillow can be adjusted. Also, the back and the legs will allow you to sit like you are almost laying since it has adjustable settings that will allow for this.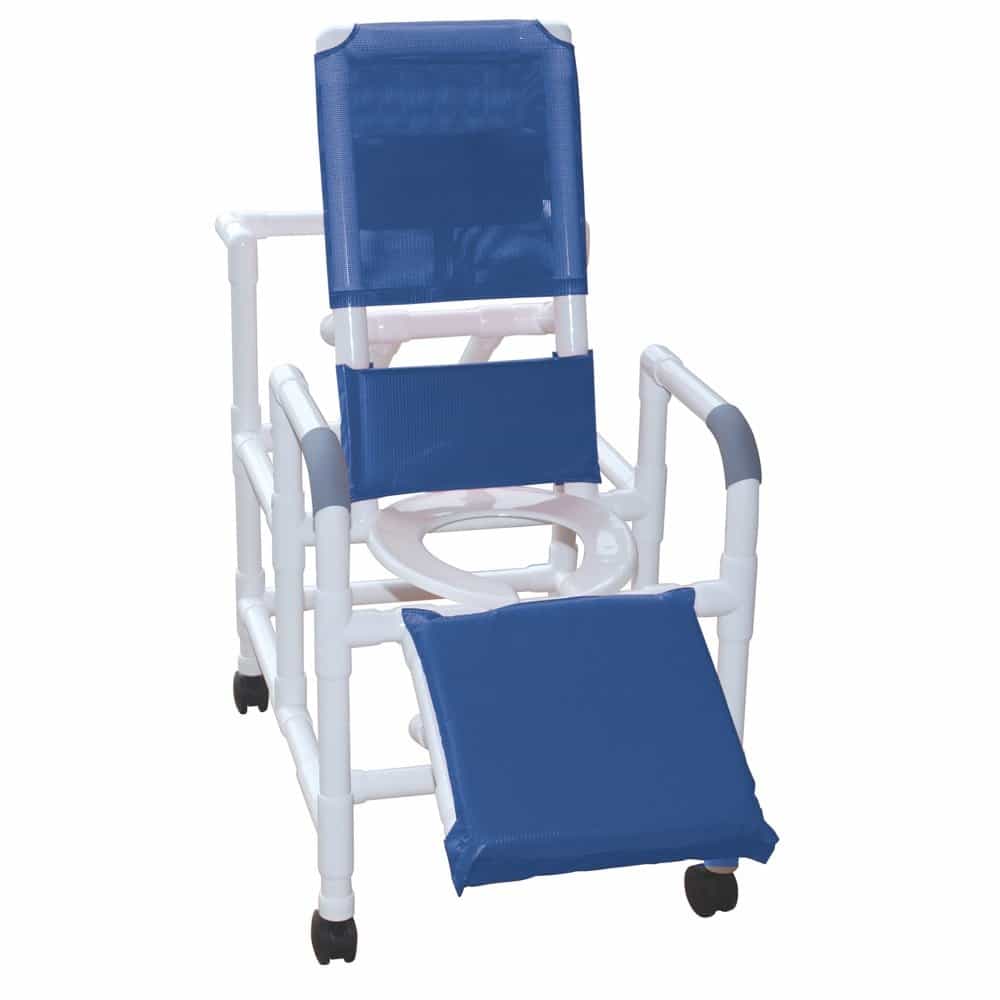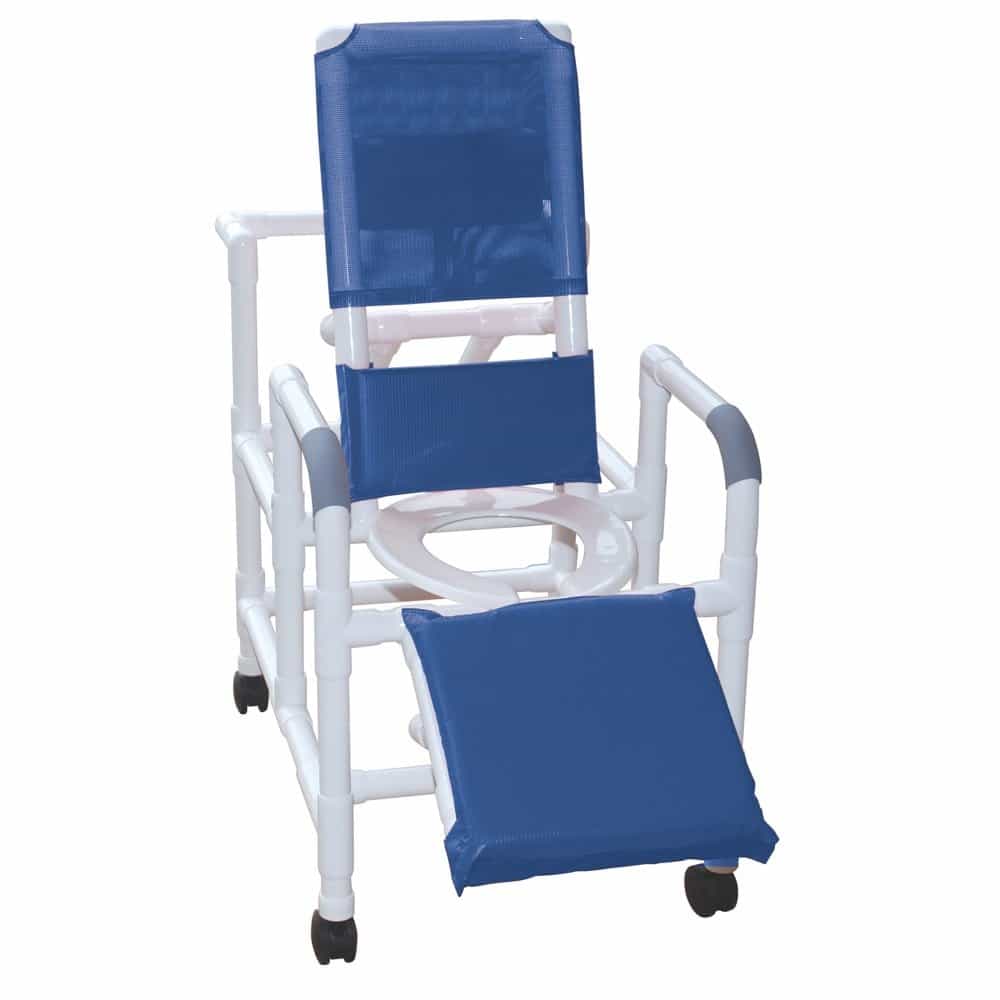 Click to View Price and Buy from Amazon
This seat does not have sharp edges to protect you from getting skin breaks. Its mesh is removable, antibacterial, and dries fast. It also comes with a personal pouch where you can put soap and other bathing equipment.
The hand-grips are anti-slip, and both the head support and the lumbar support are highly padded. It has a weight capacity of 325lbs, and it is user friendly.
Pros
Lightweight
Very secure
User friendly
Cons
Casters are made with cheap plastic
Comes with one color
Related: Best Comfort Height Toilet for Seniors
Aquatec Ocean VIP Tilt-In-Space Shower Commode Chair
Enjoy your time in the shower with Aquatec Ocean VIP tilting shower chair. This chair's height is adjustable for secure transfers and toilet emptying. It can tilt in space to provide all the comfort you will need during your hygiene time in the shower.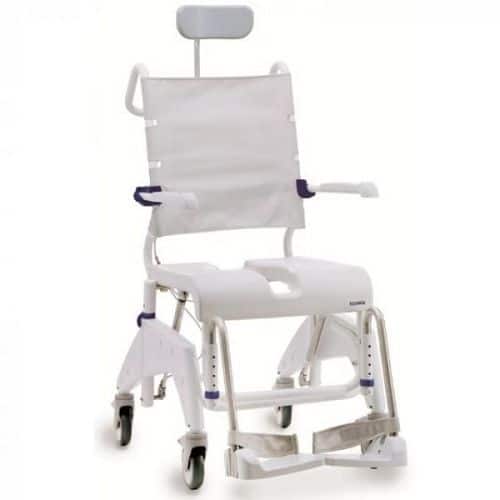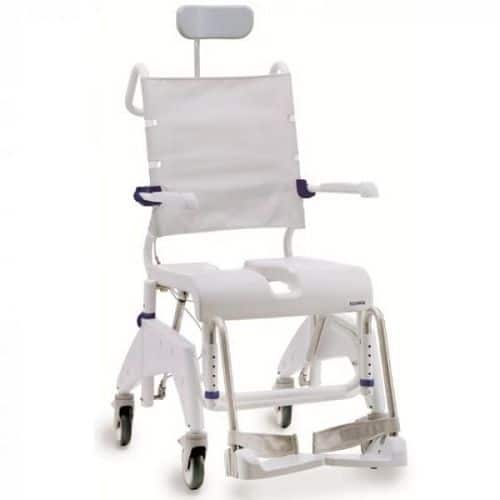 Click to View Price and Buy from Amazon
This seat's frame is built on a corrosion resistance steel. The seat height is adjustable, and it is set with easy to move clips. It has footrests that can be lengthened easily and locked with its pins so that they do not go back to their position – this makes it one of the best reclining shower chairs with wheels.
Three of its wheels have a foot-activated brake, and the rear wheel has direction lock for straight-line travel. Armrests can flip up for side transfers. They can also be positioned at two heights.
This machine is adjustable and can easily be cleaned. It has accessories like the chest and waist belts that help with perfect positioning and safety.
Pros 
Very comfortable
Does not rust
Very durable
Can be adjusted
Cons
Packaging may be different from the description on the website
Healthline Medical Products MPU190 Tilt Shower Commode Chair, Blue
This reclining shower seat has a padded arm and seatback. If the user does not want to be moved, you can use the four 5-inch locking casters to provide safety.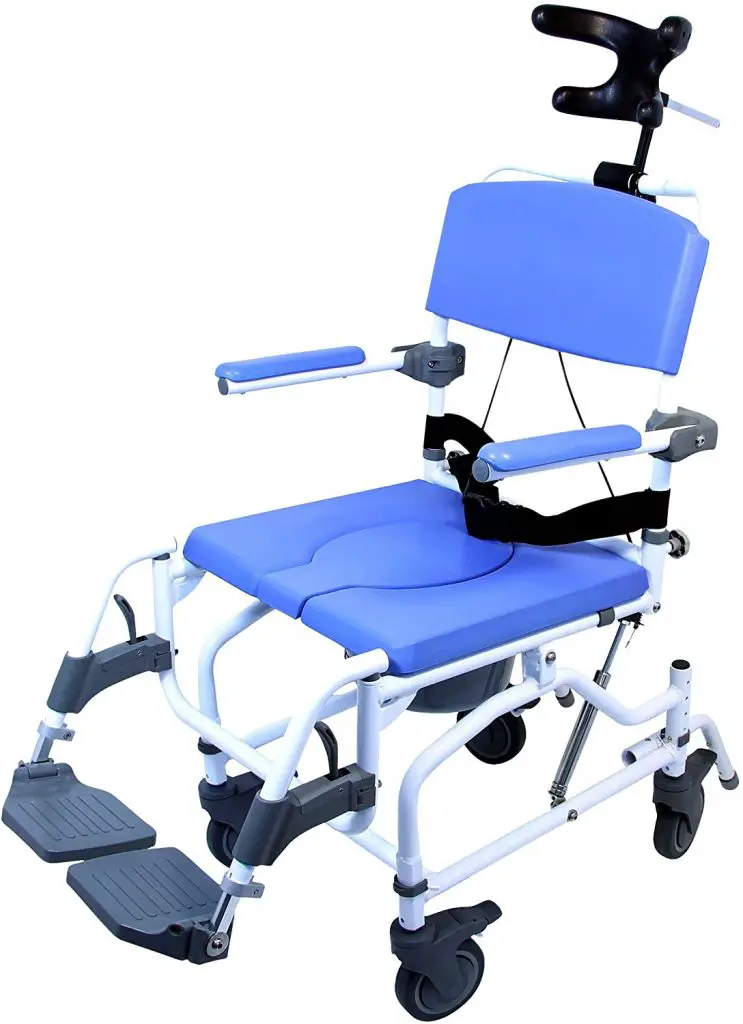 Click to View Price and Buy from Amazon
For comfort, the seat has a cut-out that also allows it to be placed over a standard toilet for use. The aluminum frame of the shower chair makes it attractive and protects it from rusting.
The footrests are standard and adjustable. You can also adjust the height of this seat to suit you. It weighs 36 pounds, meaning it is not heavy and is easily portable. 
Pros
The seat has generous hygiene openings
The chair is very comfortable
Made with a rust-resistant material
Highly adjustable
Wide castors
Cons
Castor lock might break when shipping
Conclusion – Reclining Shower Chairs with Wheels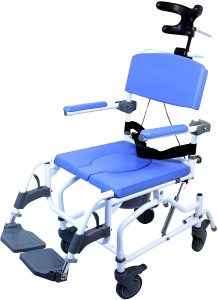 If you are wondering the best gift you can give to a person with mobility problems, get them a reclining shower chair with wheels. This will help them support their bodies and provide them with comfort in the shower.
The features you are supposed to give priority to are safety, hygiene, and easy maintenance.