What are the best exercise pedals for elderly? When it comes to doing exercises, seniors have a hard time since their bodies feel stiff and fragile. They, therefore, end up spending most of their time on the couch, which makes them couch potatoes.
This kind of lifestyle is dangerous since most times; they may suffer from diseases like hypertension and obesity. However, manufacturers of exercise equipment have come up with exercise peddlers suitable for seniors.
These easy to use machines that have pedals like those of a bike will help to burn calories and strengthen muscles. They are convenient to the elders who have made exercising their lifestyle since they can't go to the gym.
Below, let us look at some fantastic pedal exercisers for the elderly that we discovered.  
Desk Cycle Under Desk Cycle, Pedal exerciser
Cubii Jr-Seated Under-Desk Elliptical
Sunny Health and Fitness
Related: Best Treadmill for the Elderly
Why You Should Buy
Exercising helps the elderly maintain an active lifestyle. Since the seniors are prone to diseases, this is one of the ways to help stay away from sicknesses. However, the old feel weak and fear to do exercises since they might fall and cause injuries.
 A pedal exerciser will give them a different experience when exercising because it is easy to use and feels safe even to the paranoid elders. It is small and can be carried anywhere so that they can exercise in the living room, bedroom, or also along the corridors at their comfort. They will not have to go to the gym to do a pedal exercise.
Regular exercise helps the elderly to sleep better. Since exercising makes you a bit tired, this is an excellent way to have a good sleep. The body wants to relax so, melatonin, the sleeping hormone, will be high, serving you a good sleep.
Pedal exercising improves blood circulation and metabolism. After exercising, the heart beats faster, and this leads to increased blood flow. The high blood flow raises the oxygen levels in the body which lowers the risk of heart diseases and heart attack
Related: Best Exercise Bikes for Seniors
Exercising with a peddle exerciser helps with strengthening and toning of muscles on both the upper and the lower body leading to a reduction in body fat and weight. The results of exercising are overall health, which benefits the heart, the joints, and the skeletal system.
Since the pedal exerciser is light, it is easily portable, and the elders can work out at their place of convenience. The seniors will, therefore, not skip a day without working out hence consistency.
When working out, the body becomes more energetic, more productive, and this will lead to being more productive. The elders will, therefore, not have the time to be idle because they will want to check the garden, visit their poultry firm, and also play around with their grandchildren.
Say goodbye to joint and muscle pains. With exercising, the muscles and joints are kept active, and the fluids of the joints keep flowing. The seniors will, therefore, not get a reason to get joint pains. Isn't this a good thing?
Since our seniors have retired and they do not have much to do, they might gain more weight because of sitting. With pedal exercises, the elders will burn these accumulated calories and promote weight loss.
 A lot of weight leads to obesity and the danger of getting heart attacks, which may lead to death. We all want to live long, so let us take exercising seriously.
Related: Best Fitbits for Seniors
Exercise Pedals for Elderly Buying Guide
You do not want to go home with a peddle exerciser that cannot be moved from the store to the beautiful shade outside or that your old father cannot carry. Consider the design of the peddler. A foldable peddler will not take much space when storing.
No one wants to keep buying pedal exercisers, so that I would recommend a good quality one. Durability and steadiness depend on the materials used to make these peddle exercisers.   
Safety should be the number one thing to consider. Some peddle machines are so weak such that you only have to step on them two times, and it is no more. Consider an exerciser that is made of durable material and also the manufacturer.
Did you know that you can exercise as you do other things like reading a book or listening to your favorite music? That will not be possible if you get a noisy machine. The noise brings discomfort to the ears, and you might even want to give up with the exercise.
With noise, you might also get tired fast or even lose concentration. Tiredness leads to distraction, which might lead to boredom. The last result of boredom is quitting.
Seniors cannot fully support their weight, so they will need stable pedal exercise to protect them from falling. Choose one with a broader base and which has rubber caps on the legs to make it durable.
Aged people need a small pedal exerciser that is light and that they can carry around. Since there are many types of pedal machines in the market that come with different sizes, make sure you go for a size you or your elder will be comfortable using.
Some pedal exercisers have LCD monitors for monitoring the time, weighing scale for you to see your progress on your weight loss journey and water bottle holders. These features might not seem important when you are reading them, but you will know their importance when you will want to use them
Related: Best Exercises for the Elderly at Home
Benefits of Using a Pedal Exerciser
Exercise Pedals for Elderly Reviews
We looked at several pedal exercisers for seniors, and this is what we found out
Desk Cycle Under Desk Cycle, Pedal Exerciser
This fantastic pedal exerciser can be used both at home and in the office.
It is quiet and smooth, and this makes it very convenient for the office. Also, the quietness in it will allow you to read a newspaper or have a phone call while doing the exercise.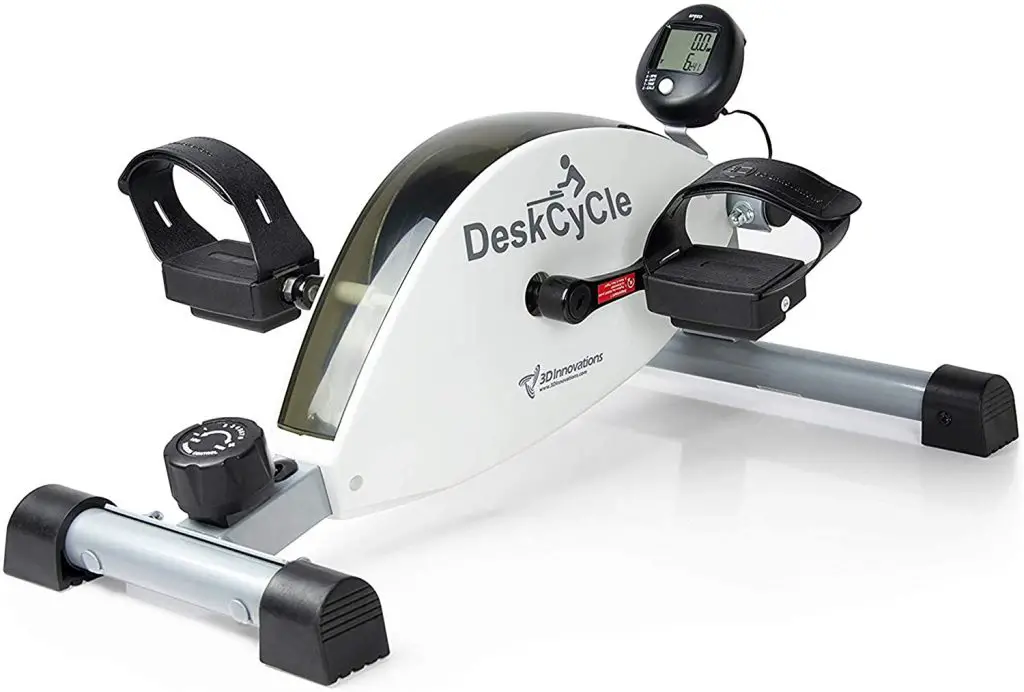 Click to View Price and Customer Reviews on Amazon
It is small, lightweight, and portable, which makes it suitable for the elders. Exercising on this bike will help you burn your calories. Just give yourself a little more weeks, and you will see a change in your body.
This tool is straightforward to use. The senior using it can work on it while it's on a low desk, as little as 27 inches.
It has all the kind of pedal exercises you would want. For the beginners, it has easy activities that they can start with as they advance. For the pros, the board comes with challenging exercises for them. So choose what you can handle.
This board`s LCD shows the time, speed, distance covered, and calories burnt.
Pros
It is easy to use
It is smooth a quiet during use
It is portable
Cons
Cannot be used under a standard height office desk
Cubii Jr: Seated Under-Desk Elliptical
This peddles exerciser from Cubii brings comfort to your workplace and at home. Its display monitor will show you your weight, distance, the number of calories, and also count for you the time.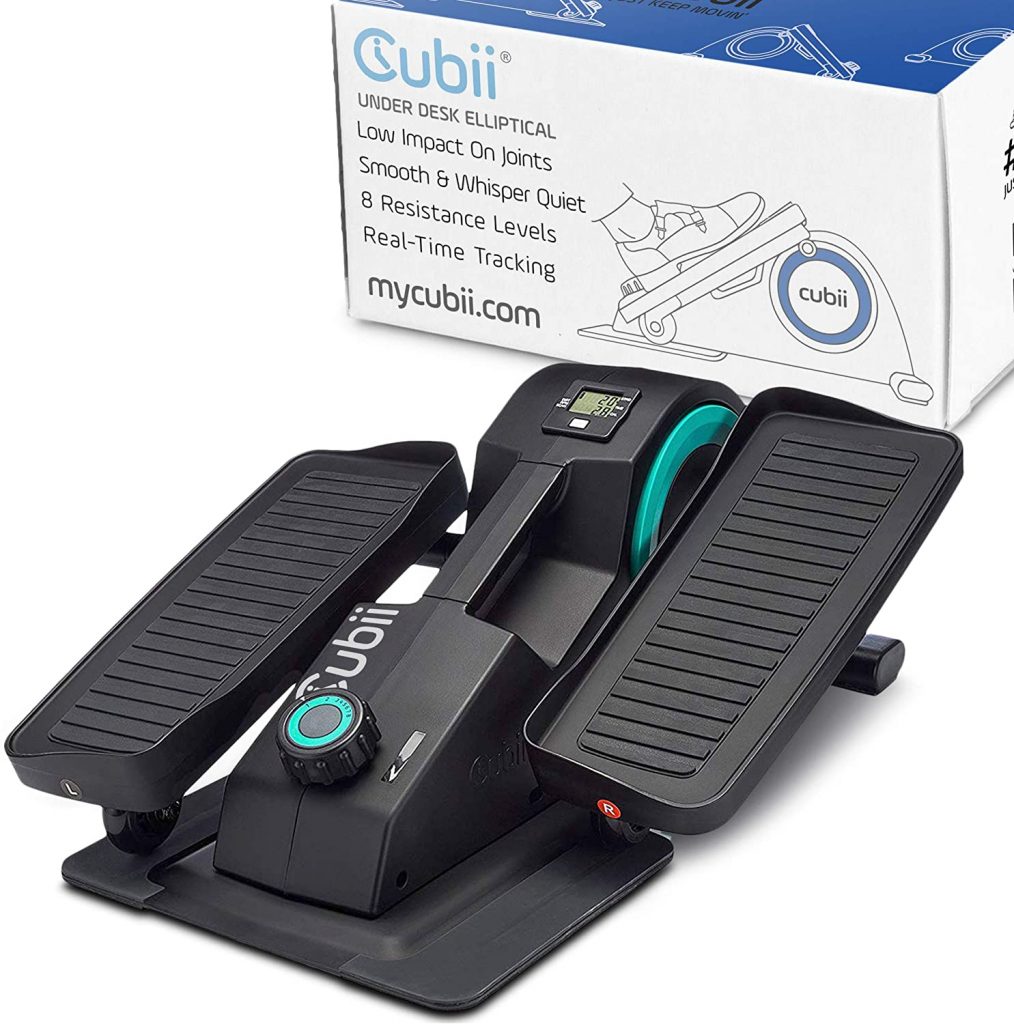 Click to View Price and Customer Reviews on Amazon
Its 8levels of resistance helps to reduce the impact on joints, thus increasing your activity over time. It is whisper-quiet, meaning that it can allow you to read a newspaper or a book while at it or listen to your favorite song.
Keep fit while you sit! With the Cubii, you will always look forward to exercising time since it is strenuous free.
Pros
It has a low impact on joints, and this makes it safer for seniors
The LCD screen will help you see if there is progress
Does not make noise when running
Cons
Not suitable for heavy people due to its fragile pedal
Sunny Health and Fitness SF-B0418Magnetic Mini Exercise Bike
Just as the name suggests, this one is small. It has a digital monitor to help you monitor your level of calories, time, the speed you are going at, and your weight. With this one, if your weight is the same as it was two weeks ago, you will need to check on how you are doing it.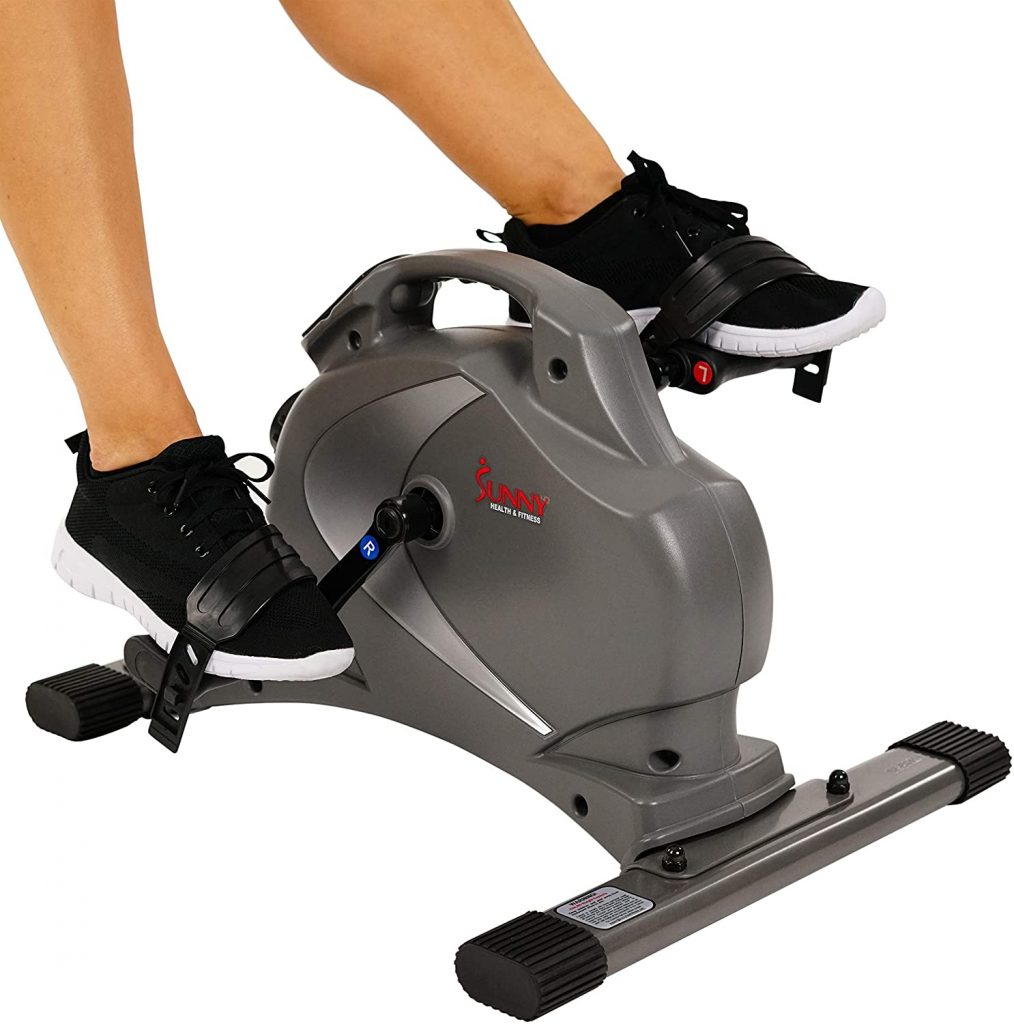 Click to View Price and Customer Reviews on Amazon
The pedals have safety straps that hold your legs to the machine. The brakes are also adjustable to fit well for safety.
This Sunny Health and Fitness exercise bike are built with a durable design to support a weight of220lb. The 8 levels of tension are responsible for a versatile workout.
From its name, Mini Bike, this suggests that this one is small, and it is portable. The seniors can carry them to the place they feel comfortable working out and take them back to the store
Pros
Unlike others, this one works for both feet and arms
The safety straps ensure safety while peddling
It's easy to use and assemble
The LCD digital monitor will help you check on the progress
Cons
Conclusion – Exercise Pedals for Elderly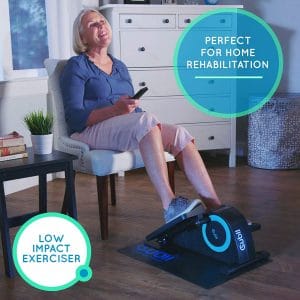 Exercising is very important for our seniors. It will help them look healthy and keep them away from diseases. However, they have limited choices on the kind of exercise to do since it has to be less strenuous.
Since peddling is an ideal one, they also have to choose the best tools for peddling. When shopping for the best exercise pedals for elderly, please re-read this piece again. It will help you.