If you or your loved one has used a walker, you'll agree with me that regular walkers are difficult to use in narrow driveways, doorways, or streets. The good news is that there are now more narrow walkers for seniors, meaning better and safer mobility for seniors who frequent small spaces.
These handy walking aids will be our focus in this article, so if you've been planning for one, let's walk the talk.
Related: Best Walking Sticks for Seniors
The following table summarizes some of our handpicked narrow walkers for small spaces:
What Are Walkers?
Americans have been growing old and fast. Indeed, the last census predicted that the population of people aged 65 and older will more than double to over 98 million- from the current 46 million by 2060.
And we all know what happens when one enters the golden years: The body grows weaker as a result of natural wear and tear sometimes triggering teething health problems.
The most common issue is mobility and it's because some seniors struggle to maintain proper balance. This explains the frequency of the catastrophic falls among the elderly community and the corresponding popularity of walking aids.
One such aid is the walker, a tool designed for the disabled and/or elderly people who require additional support for balance and stability.
Walkers thus help senior citizens to move around and enjoy greater freedom plus independence.
Types of Walkers for elderly
Walkers comprise of a metal framework with two, three, or four legs to provide stability and balance support to users.
When walking, elders lift the walker (they're usually lightweight) and place it in their front before stepping forward to reach it. They keep repeating this action until the destination.
That said, some of the contemporary walkers come with gliding wheels on the legs so your aged pal just slides the walker along rather than lifting it.
These types of walkers are fantastic for seniors with reduced arm strength.
Here are the common types of walkers:
Basic Walker: The traditional walker doesn't come with wheels but it's available in so many formats including models for overweight seniors.
Rollators: This has a three/four-wheeled frame, handlebars, and a restful seat so your aged colleague can take a rest in the middle of the journey. Rollators also come with hand breaks for extra safety and are absolutely popular. Some rollators are even outfitted with useful accessories such as shopping baskets and numerous hooks for carrying essentials like walking canes and umbrellas. A rollator is the best walker for elderly.
Knee walkers: These are close rollator cousins and allow the senior to rest his/her bad knee on a well-padded cushion while driving it forward with the stronger leg. These are recommended for elders recovering from leg surgeries or related injuries.
Walker-cane hybrids: These are a cross between a balance-improving walking cane and a conventional walker. It has two legs (like a cane) meaning you can hold it with a single hand (or both) as needed. While not the most comfortable, walker-cane hybrids deliver more support compared to regular walking canes.
Heavy-duty walkers: These are walkers and rollators reinforced to support seniors weighing from 300 lbs. and over.
What Are Narrow Walkers for Seniors?
Narrow walkers for the elderly are simply any type of walker that is designed narrow to easily fit through limiting passages/lanes.
Some have a collapsing design so you fold it to accommodate prohibitive passages.
Other walkers for seniors have a natural narrow construct making them great for navigating past narrow doorways without necessarily scuffing the woodwork.
An ultra-narrow walker also goes easily through other places blocked by permanent/temporary obstacles such as furniture.
Why You Need A Narrow Walker
Of course, you'll find a narrow walker for seniors convenient if you stay or frequent places where doorways, lifts, staircases, and hallways are too slim.
Still, the narrowest walker available carries other benefits besides lowering the risk of falls when navigating small rooms:
These Walkers are Ultra-Light
It is likely that your grandparent or aged relative has some injuries or limited hand strength.
Such problems make it almost impossible to lift heavy walkers.
Small walkers for seniors are made using lightweight materials so he/she will be handling an ultra-lightweight walker which is much easier to lift for old people.
Most actually weight below 10lbs and can be easily lifted to your car trunk.
Narrower three wheel walkers seniors give you faster mobility than regular walkers. First and foremost, the wheels are easier to maneuver with and create a smoother, gliding experience.
Three-wheeled walkers also have a better turning radius and give you total control and an ability to easily switch direction as needed.
This makes them ideal even for indoor movements, especially where you may need to go through tight door frames.
On the same note, a walking aid with wheels is easier on the hands so less stressing on weak hands.
He/she will not need to stress about storing these types of walkers since they easily fit into tiny closets.
Some narrow rollators are foldable meaning you can fold and place it next to your table or wall in a hotel without causing any inconveniences.
What Drawbacks Do Narrow Walkers Have?
Nothing is perfect so what issues can you expect with compact walkers?
The thing with narrow-width walkers is they are small and lighter. This means they may not support higher weight capacities like other walkers.
Larger sized seniors may also have trouble fitting in making them riskier for such elders.
Even their seats aren't that big so people with big bottoms will struggle to use them.
Thus, if you're buying a walker for an extra-large senior, narrowed down walkers may not be the best choice.
Best Narrow Walkers for Seniors Buying Guide
Each senior has his/her unique needs and the best way to choose a walker is to first know your friend's special requirements.
How is his/her grip? What about endurance? How tall is your grandparent and is he/she overweight?
You can then investigate the following questions:
A walker with the wrong height won't cut it:
Using a walker that is too tall for you may cause pain in your shoulders and wrists now that the arms are wrongly positioned.
This you can tell by a simple observation: the shoulders will seem awkwardly raised or the elbows bent too far, a posture that can easily trigger a bad fall.
Shorter people will hence need a shorter (junior-sized) than standard walker while their tall counterparts should go for devices with a matching height.
Most walkers come with a range of brilliant storage options including baskets, trays, and removable zippered pouches.
A model with sufficient storage space for your personal belongings will always win.
Some of the rollators with gliding wheels allow fast and flexible movements but you'll need the security of knowing that you can stop as soon as you sense trouble.
Choose a model with a functional and easy to use the braking system.
Fortunately, many rollators come with a superb handbrake and are among the safest narrow walkers.
Some are quite sophisticated and will feature a built-in brake cable to provide added safety and protection.
Such a braking system is not only stable but also easy on his/her arthritic hands.
The best even has a parking brake that is easily engaged by a gentle push to stop it moving un-necessarily, for example, when parked.
His/Her Abilities and Strength
Some seniors face serious balance problems and will need more support.
For example, elders who have little strength remaining in their legs cannot stand beyond a few moments and will need a rollator with four wheels to steady their balance.
The same case applies to elders with acute injuries or who have been compromised by years of continuous stress on their bones and joints as sportspeople.
There are also compact walkers that come with padded bars as backrests and which prove certainly uncomfortable for seniors with spinal and lumbar issues.
Such concerns mean you'll need to know your seniors' abilities beforehand to help identify a walker with beneficial features.
For example, a trigger-release feature allows seniors to close a walker without disengaging the hands and is amazing for individuals with weak finger dexterity.
Models with an adjustable construction offer a bit of relief because of the extra flexibility. For instance, you can adjust it to a perfect height for extra comfort.
A padded seat, a nice backrest, and accessible hand brakes also help make it friendlier.
The other crucial factor especially when investing in a narrow walker for long-term use is the unit's ergonomics
You can check the angle of your walker's grips and test if they'll be easy to use for an elder ravaged by hand injuries and nerve issues.
Another example is wider fabric bands, used as backrests in some walkers. These distribute pressure across the aged person's lower torso and deliver greater comfort.
A Word On The Number Of Legs
In most narrow situations, 3 wheeled walkers are quite remarkable. They look like a triangle with the small leading wheel allowing you to spin their way through very tight angles.
On the other hand, 4-wheels are more stable with two wheels offering the least support.
Regardless of the number of wheels, sturdy wheels navigate grass, cobblestones, gravel, and dirt roads safely while being gentle for indoors use so they're more fancied.
Best Narrow Walkers for Seniors Reviews 2020
After a thorough elimination process and in-depth research, the following walkers were left standing and are, according to us, the best walkers for seniors in the market today:
Drive Medical Nitro Euro-Style Red Rollator Walker
An advanced rollator, the Drive Medical's Nitro Euro-Style Rollator takes mobility to the next level.
The aluminum frame is durable but adequately lightweight so maneuvering on any surface will never be a problem.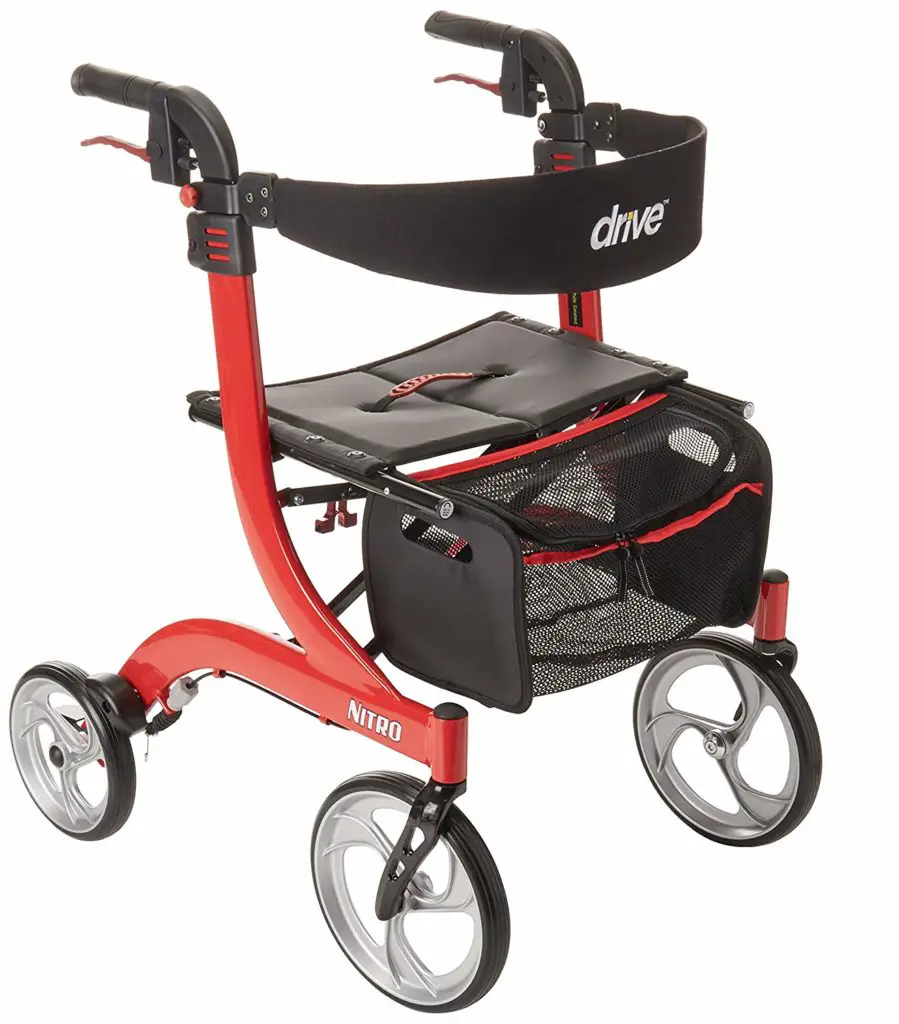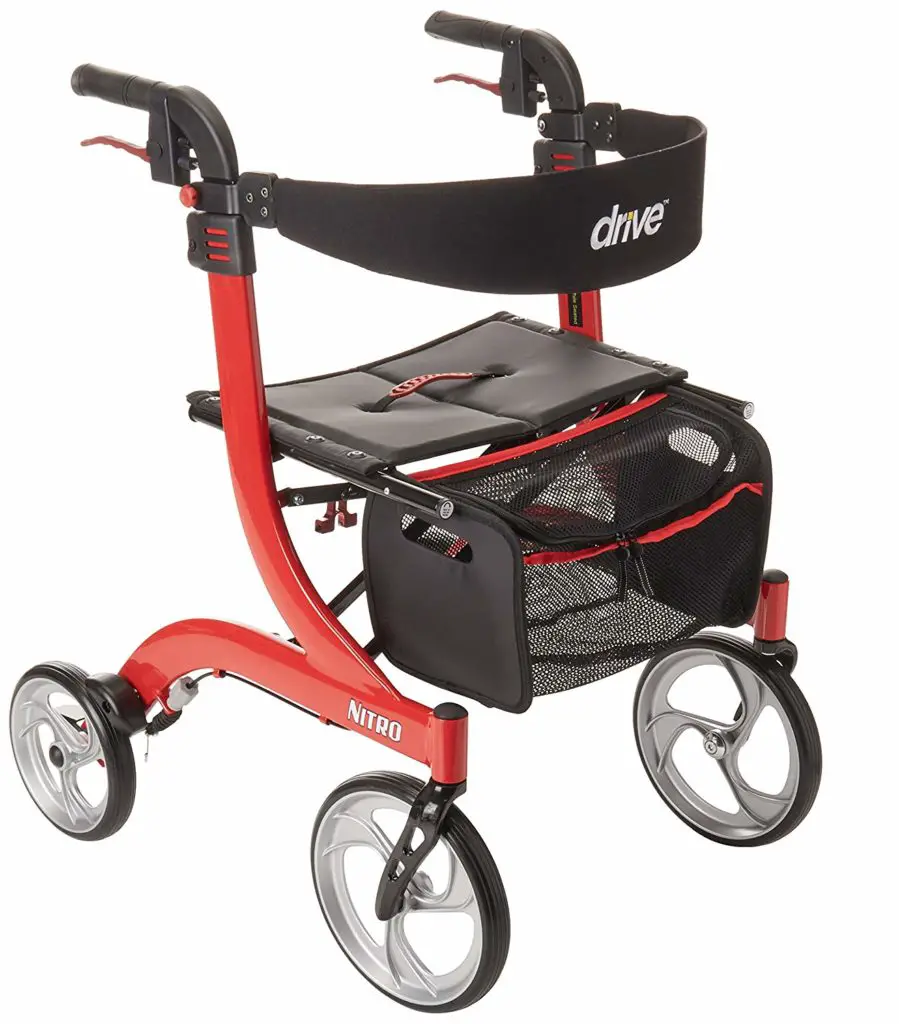 The large 10-inch front casters are purpose-built to optimize steering and crucially, rolling comfort.
The superior cross-brace design has two goals: One, to enable a simple side-to-side folding and second, to add stability, making the rollator a classic.
In corners, you simply collapse it to an ultra-narrow size by pulling its cozy seat grip up then bringing its ergonomic handles together in one touch.
This actually happens so easy a kid can do it.
The built-in brake cable works well and will take care of your safety in addition to enhancing the looks of what is already a natural beauty.
Capping the well-thought-out construction is the removable zippered mesh bag that lets you conveniently carry groceries and shopping.
Features
Durable lightweight aluminum frame (makes it one of the lightweight walkers for the elderly)
Built-in brake cable
Adjustable ergonomic handles and back support.
Large 10-inch front wheels (caster fork design).
Removable storage bag (zippered)
Pros
Easily collapses to ultra-compact size.
It comes with a functional built-in brake cable for your protection.
The narrow walker for adults has a comfortable nylon seat.
The walker has one of the best turning radiuses.
It comes with a useful storage bag to help carry personal items.
Cons
The price is slightly on the higher side.
Drive Medical Winnie-Lite Supreme Aluminum Three-Wheeled Rollator, Tan Plaid
The 3 sturdy 7.5" casters and soft-grip tires help this rollator roll smoothly whether on uneven ground, pavements, and grass.
To get through congested places, the walker folds within seconds (even using one hand) so you can practically go anywhere.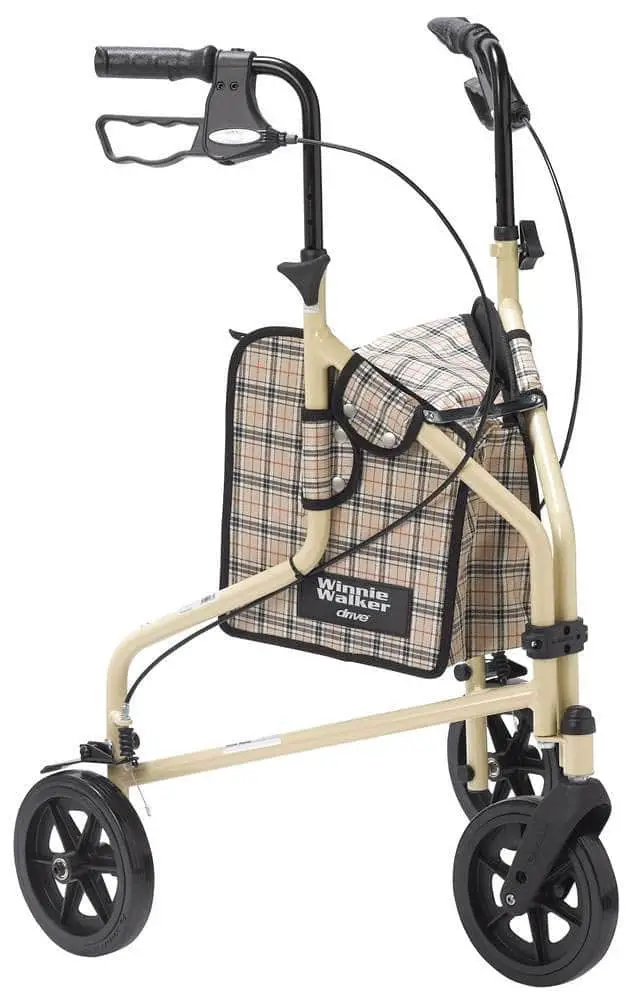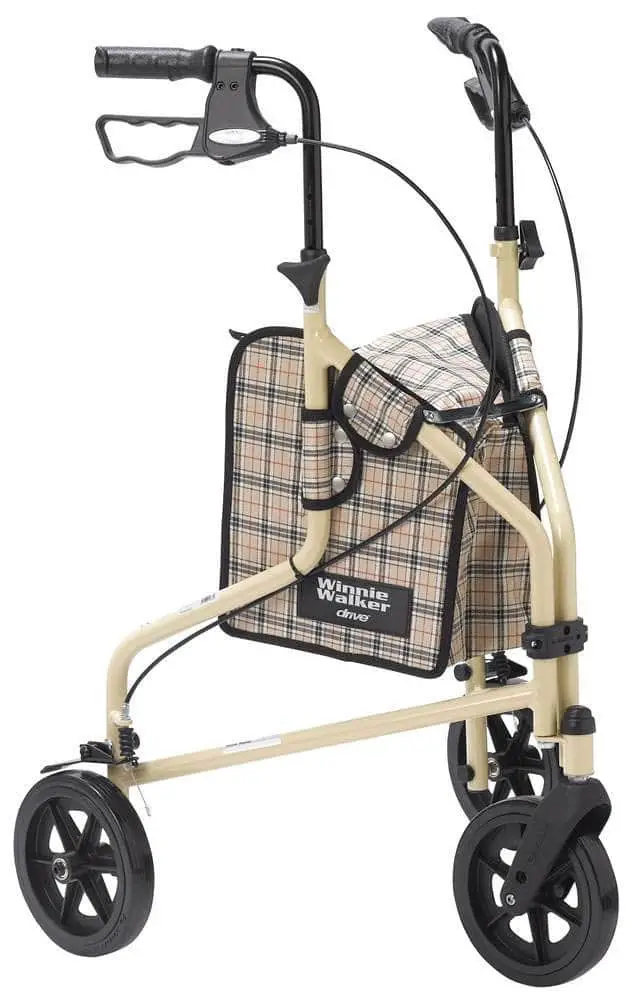 When going shopping, the cute carry pouch comes in handy because it's reasonably sized while it stops safely as soon as you activate the brakes.
It's light so it's easier to lift as you climb upstairs or on raised ground. The less weight and folding construction also mean you can easily toss it onto your car trunk when going out on a field adventure.
The handles adjust easily until you attain a comfortable posture which helps relieve pressure off the back and legs.
Like other best narrow walkers, this comes with clear instructions so assembly is a breeze.
Features
Special loop lock
5-inch casters with soft-grip tires
Adjustable Handles
Folding design
Carry pouch
Pros
Work well indoors and outdoors.
It glides easily while remaining safe.
Handles adjust easily.
Folds easy to pass through narrow passageways.
It has a nice carry pouch.
Cons
The brakes aren't the easiest to apply.
Lacks a seat.
Medical Rollator Walker Euro-Style, Compact-Folding Walker, Lightweight – with Seat
This narrow walker with seat features a groundbreaking design and a style to turn heads wherever you go.
Speaking of going, the walker's legs give riders the confidence to approach any terrain:  Smooth surfaces, thick carpets, asphalt, small stones… you name it.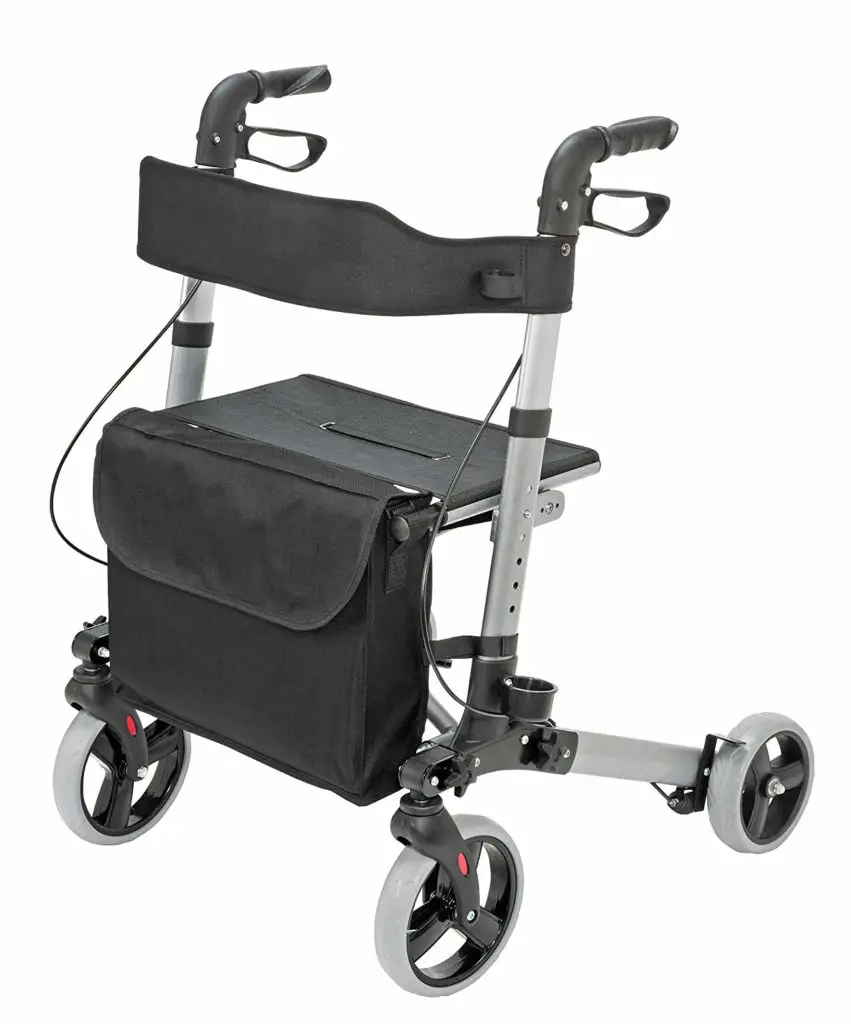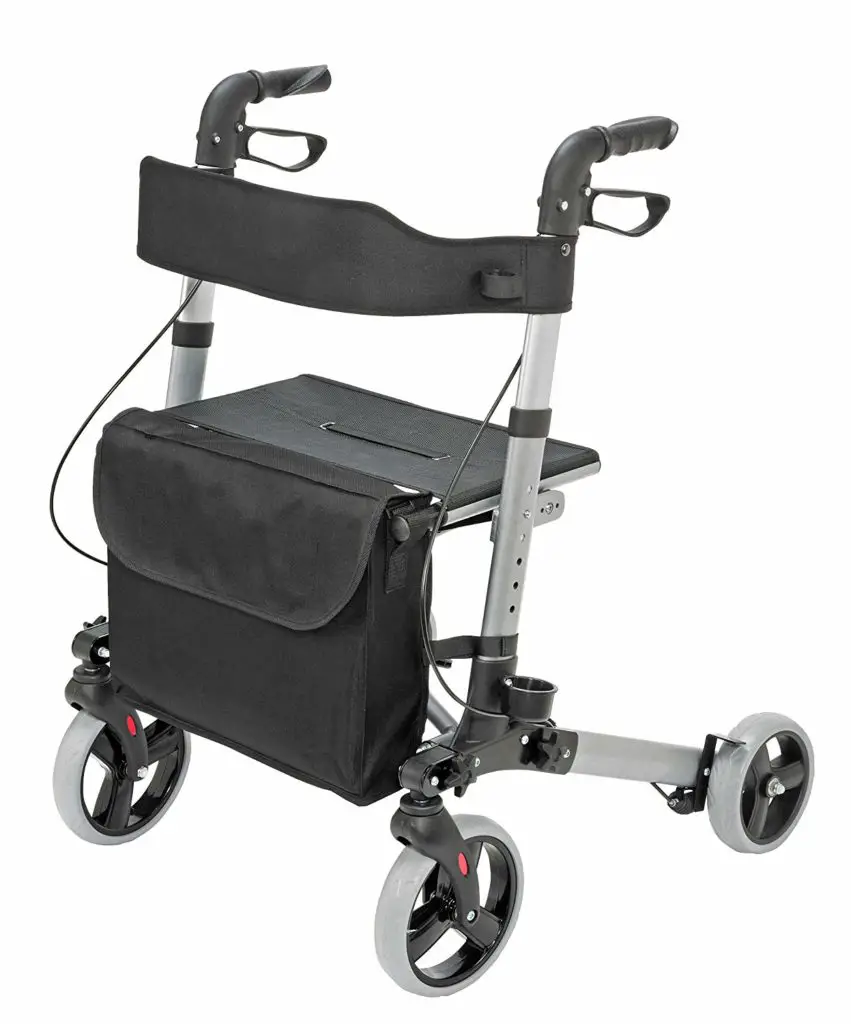 But the biggest news for me is the ergonomic built:
The built-in breaks are this time ergonomic and working superbly. The handles take the same ergonomic trend making it super comfortable.
Come to the mesh seat and you'll find it big and cozier to sit on not to mention its larger clearance from the ground.
Even on folding, it collapses much smaller than most of the competition. This makes it one of the best walkers for seniors.
Also to capture our imagination is the caster fork design for the wheels because of the way it improves turning especially when finding your way through tight spaces.
In a nutshell, this is a stylish, comfortable (seat), and a very narrow rollator.
Features
Wheels: 8-inch rubber wheels (front), 7 inch rear
Cane holder & large storage tote
Strong, lightweight aluminum
Euro Style rollator
Built-in Brake cable
Comfortable seat
Pros
Has an oversized storage tote (removable).
You have a choice of 3 sweet colors.
Ergonomic so easy for people with dexterity challenges.
Folds ultra-compact
Quite sturdy
Comfy seat
Cons
The assembly instructions are a bit hazy.
Able Life Space Saver Walker – Lightweight Folding & Height Adjustable Adult Travel Walker for Seniors
This Folds to just 7″ in diameter – one of the narrowest- to allow you to maneuver narrow passageways and store easily.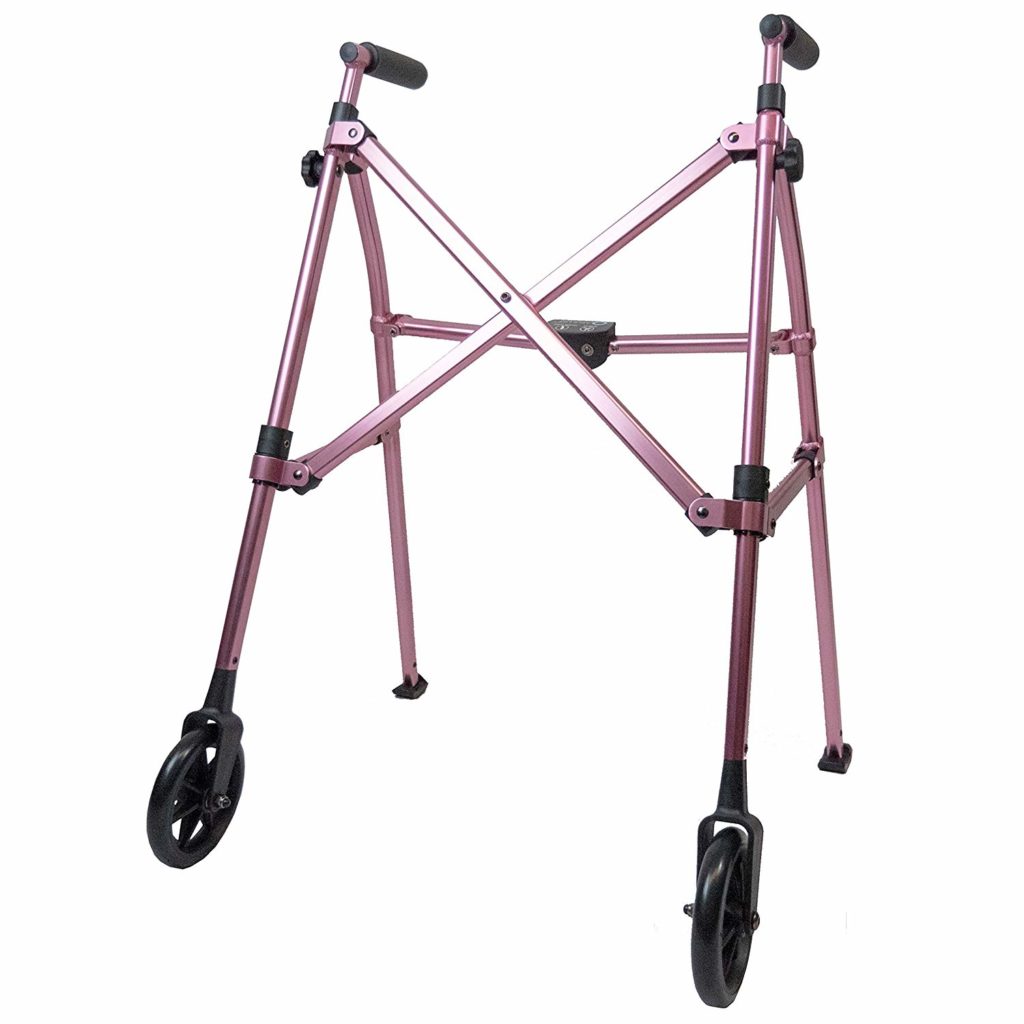 It's also one of the walkers to give you more options when we come to the wheels: It comes with 6-inches front stationary wheels & easy-glide rear feet.
But then the design is such that you can easily substitute the rear skids with available swivel wheels (bought separately) to go even more smoothly.
Then, at just 8 lbs, this is pretty light and lifting it to the car or upstairs is a non-issue.
That's not all:
You can bet this to serve your extremely tall seniors very well. You see, the handles can be adjusted to support users between 4'10"-6'8″ tall!
What's more?
The adjustments are quick and easy, almost like those of a balance cane.
Fashion-wise, you get three sizzling colors to choose from: an elegant black walnut, the charming regal rose, and a calming cobalt blue
Sure, it lacks the usual carrying bag but it adequately compensates with the rest of the offerings.
Features
Easy-Folding design.
Wheels: 6-inch Stationary wheels (front), easy-glide feet (rear).
Weight: 8 lbs
Height adjustable ranges: 4'10"-6'8″
colors: Black walnut, cobalt blue, regal rose
Pros
Folds to just about 7″ – (one of the small walkers for elderly).
Weighs just 8 lbs.
It can be used by a 400 lbs. person- more than the other 3.
Supports seniors as tall as 6'8″.
You can replace the rear skids with swivel wheels.
Cons
This heavy-duty narrow walker by Drive medical is another excellent go-to all-purpose walker.
It's another impressive construction and adapts admirably to different terrain.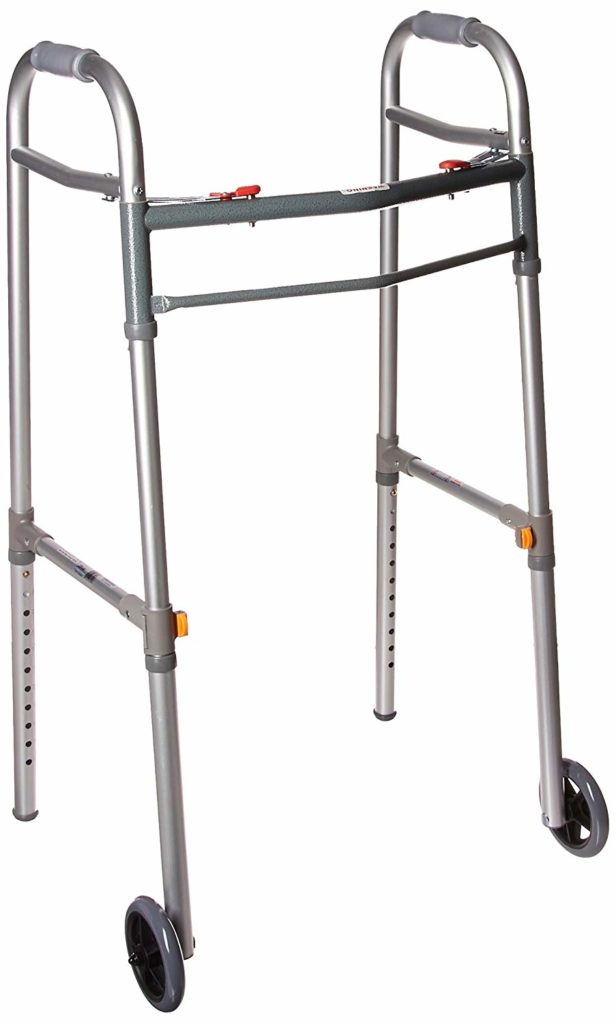 One of the outstanding features here is the operating mechanism. The walker collapses quickly with a simple press on the easy-to-push release button.
Indeed, you can operate it using your fingers, palms or even one side of the hand.
On the same note, the pleasant vinyl-contoured hand grips are very easy on hands and a dream for elders who'll be using it for extended hours.
Now, these two custom features make it one of the best narrow walkers for seniors with hand dexterity problems.
Besides, it remains super sturdy- which is to be expected seeing that it's made of anodized aluminum. Even the side braces adjust with the handles to ensure it remains firm.
Interestingly, each side runs independently to allow it to twist and turn easily through constrained spaces.
Plus, it comes with standard wheels, rear easy-glide caps, and glide covers for a smooth walk within the apartment or when out there having fun.
Features
Adjustable side brace
Re-engineered rear glide cap
1″ diameter anodized aluminum construction.
push-button mechanism
Vinyl-contoured hand grip
Pros
Very stability
Moves quiet and smooth over most surfaces
Each side twists independently to squeeze through narrow spaces.
It's so easy to push it open/close.
Luxurious hand grip
Cons
No bag though you can easily add.
No seat
You Might Also Like: What are the Best Three Wheel Bikes for Seniors? 

Frequently Asked Questions
Q: At what height should the walker stand?
The best way to determine if it's standing at the correct is by doing the height test. Here is how:

Stand up as straight as possible and place your rollator (or whatever walker) right in front. The top of your walker should now be standing at the same height as your wrist. If not, adjust it by lowering the height down (if too high) or raising it till it stops touching your fingers (if it had been too low).
Q: How Can I Guarantee Maximum Stability?
Ensure that all the legs of the narrow walker are at an equal height. Here you have to look at the numbers on each leg and confirm they are the same.

Again, all the wheels must be touching the surface before moving. Still there, always stay inside the compressed walker when walking.
Q: I Find Taking Turns Difficult. Help!
To turn safely, keep the tight walker in front and take baby steps to turn. Always rotate slowly, step-by-step holding on to the senior's walker.

You'll experience fewer difficulties than when you're attempting crazy twisty turns!
Q: What Type Of Walker Is Most Recommended?
The best type of walker to use is best decided with the help of a physical therapist.

He/she will check on your balance, weight, and the amount of strength you have in the legs and arms.

They also factor in endurance before advising accordingly.
NB: Always consider a walker for seniors with a seat.
Summary
From the above discussion, it's clear that one of the best ways you can help an elder with mobility issues is to gift him the best narrow walkers for seniors.
And that the walker should be sturdy and sufficiently narrow to ease past tight places.
It's my belief that I have presented you with enough choices to make your job easier when comparing narrow walkers for seniors.
Take your time, compare the various offers, and ask questions. What matters is that you'll end up with a walker that is easy to push and maneuver around tight spots.