In this post, you will find a selection of manufacturers and suppliers of heavy duty scooters for adults, sometimes also known as bariatric scooters. Other times, because of their appearance and larger size, you will see them called "Personal Mobility Vehicles" or PMV.
Regardless of what you call them, if you have difficulty walking long distances or if you have other mobility problems or conditions, you will find in the heavy duty scooters for adults a way to regain your ability to see places, go out of your home without the assistance of others.
When speaking about mobility scooters, "heavy duty" sometimes pertains to the ability of a mobility scooter to safely and confidently navigate rough terrains, such as gravel roads, unpaved roads found in rural areas. Or to navigate the uneven paving of city's sidewalks these days as well.
Other times, "heavy duty" pertains to the ability of a mobility scooter to carry a heavier passenger, as heavy as 300-500 lbs.
Often times, these two interpretations of the word "heavy duty" go hand in hand.
At any rate, a heavy duty mobility scooter is your best chance for safely navigating the road or a rough pavement under all conditions.
If you feel that a heavy duty mobility scooter is overkill for your mobility needs, you can look for lightweight mobility scooter or a folding mobility scooter. These are much lighter and can also do the job of taking a person below 250 lbs. from point A to point B over a smoother terrain such as a sidewalk, and they could do a better job getting you around in the house.
Many people even opt for purchasing both a lightweight mobility scooter and a heavy duty mobility scooter and use each as appropriate.
In general, heavy duty mobility scooters are most often designed as 4 wheel mobility scooters and are more comfortable to ride on than the lightweight mobility scooters.
By design, the heavy-duty scooters for adults, or personal mobility vehicles, usually include suspension on all wheels which makes the ride over a rough terrain smoother.
Also, the heavy duty scooters for adults' tires are usually larger and air-filled which contributes to a smoother ride as well. The PMV mostly include a heavier chair with more padding, which contributes additionally to the riding comfort.
All of the above features contribute on one hand to a higher weight of these vehicles. On the other hand, the added weight adds to the stability of the ride and to the better balance on uneven terrains or on inclined roads.
Some of the respected and best-selling brands of heavy duty scooters for adults are ActiveCare Scooters, Pride Mobility Scooters, Golden Technologies Scooters, Drive Medical Scooters, and CTM Mobility Scooters.
Regardless of which brand or model you end up choosing, a heavy duty scooter will create possibilities for you to go places you were previously unable to go without the assistance of others. You may get a taste of the newfound independence with a personal mobility vehicle like that. You may end up liking that, a lot.
You Might Also Like: The best three wheel bikes for seniors
Pride Maxima Scooter – Highly Maneuverable Yet Heavy Duty
The luxurious and awesome looking Pride Maxima Scooter will appeal to everyone who requires a heavy duty mobility scooter due to driver's weight or due to the rugged terrain the vehicle will be driving over, or both. Pride Maxima offers a superb compromise of being highly maneuverable with its turning radius of just over 50 in. yet extremely high capacity with a maximum capacity of 500 lbs.
>>Click to View Latest Price on Amazon
Features of the Maxima Scooter
500 lbs. weight capacity
Up to 18 miles driving range
Maximum speed up to 5.25 mph.
A small turning radius of 50.30 in.
22″ wide seat, contoured and ergonomic
Dual braking system, including regenerative
Extra heavy-duty electronically controlled drive train
Heaviest piece 66 lbs.
Flat free tires
Ground clearance 5.5 in.
3 year limited warranty
Pros:
Superb compromise of indoor/outdoor versatility in a luxurious package
Extremely high 500 lbs. carrying weight capacity
Flat free large tires filled with rubber foam soften the ride yet will never go flat
Ergonomical and 22 in. wide seat
Highly adjustable tiller for added comfort
Upon disassembly, heaviest piece is 66 lbs.
Low turning radius of 50 in., and relatively high maneuverability, for a heavy duty scooter
Rear suspension for added comfort
Cons:
Relatively heavy at 171 lbs. without the batteries
Suspension on rear wheels only
Whoever enjoys trips to nature, yet needs to use the mobility scooter indoors as well, will find this heavy duty scooter for adults irresistible.
Pride Maxima scooter is capable of taking you just about anywhere, even on rough terrain such as grassy areas or even uneven pavement on the roads and sidewalk these days.
If you are environmentally conscious you will appreciate the Maxima's low energy consumption of the electric engine and no dangerous or toxic exhausts, as well as zero or very low noise.
When you are looking to buy a Pride Maxima Scooter because of the weight capacity, you will be hard pressed to buy a better, more sturdy and durable heavy duty mobility scooter deal out there.
Pride Maxima electric mobility scooter comes in two colors: Blue and Candy Apple Red. To see more information on Pride Maxima scooter, please see this link.
You Might Also Like: Best Bikes for Senior Citizens
Pride Celebrity X – Luxurious, Stylish, Versatile
Celebrity Scooter by Pride has gained popularity because it won't break the bank despite its luxurious touches, feature-rich and modern looking design. The newest model is Celebrity X, 4 or 3 wheel version.
>>Click to View Latest Price on Amazon
Top Features of Pride Celebrity X, 4 Wheel or 3 Wheel Heavy Duty Mobility Scooter:
Attractively priced for a feature-rich upscale mobility product
Capacity 350 lbs.
Super easy assembly and disassembly with auto latching lockup
Max speed of 6 mph.
19 in. deluxe foldable molded seat with headrest for an ultra comfortable ride
Bright LED front lights with long usable lifetime for street illumination at night
Front frame-mounted seat post
Turning radius 54 in. (41 in 3 wheel version)
Three years limited warranty
Pros:
Feature-rich design, luxurious, with looks to die for
Highly stable with the front frame-mounted seat post
Three wheel version is highly maneuverable for a heavy duty mobility scooter
Four-wheel version offers additional stability
Maximum weight of a part when disassembled, 56 lbs (3 wheels) and 65 lbs. (4 wheels)
Overall extremely transportable for a heavy duty scooter
Several usable and luxurious add-ons included such as long-lasting LED for night driving comfort
Range 17 miles
Cons:
Due to luxurious design, the price will not please everyone
141 lbs (151 lbs 4 wheel version) total weight without the batteries
Rear suspension only (3 wheel model only), 4 wheel model has front suspension as well
Related: Best Walking Sticks for Seniors
Bottom line, when you want to travel in style and comfort, and really look hot on the road, the Pride Celebrity scooter is for you.
What is more important for you?
Superb indoor maneuverability or extreme comfort driving? If you favor the indoor maneuverability, the ability to negotiate tight spaces such as kitchen, bathroom, or the ability to turn on a dime in a narrow corridor, then you would be better off with a 3 wheel Celebrity scooter.
However, if you do not need indoor maneuverability as much, and would prefer a comfortable ride with front and rear suspension, then the 4 wheel Celebrity X would make a better choice for you.
The users who have purchased the Celebrity X, are reporting positive feedback:
L. from California calls his Celebrity X "my Humvee." He uses it on paved and unpaved county trails on walks with his wife. He loves Celebrity's size, strength, speed and battery power.
S. from Ohio cannot walk due to diabetes. His Celebrity electric mobility scooter is his only way to get groceries.
You can check out more information on Pride Celebrity X scooter on Amazon.
They have recently added the Celebrity XL version to the selection. It's carrying capacity has been increased to 400 lbs. You can see it through this link.
Pride Wrangler Scooter – Personal Mobility Vehicle for Just About Any Terrain
Pride Wrangler heavy duty scooters for adults are termed a Personal Mobility Vehicle, or a PMV, for a good reason. The sound of the name reflects the sound of the name "Sports Utility Vehicle".
Indeed, your freedom to move about is drastically enhanced by employing the Pride Wrangler compared to any other heavy duty mobility scooter on the marketplace.
>>Click to View Latest Price on Amazon
You will be able to enjoy "off-roading" like driving on a golf range, over the grass and the sand. What makes that possible? Simply, the Wrangler is built for the offroad. Let's see how.
Features
These are the features that make the Wrangler Scooter a powerful and reliable off-road mobility vehicle:
Dual engines providing maximum power and additional traction
Microcontroller optimizing power delivered from each engine to individual wheels
13″ heavy duty tires to navigate a rugged terrain such as golf ranges and city pavements
Top speed 10 MPH
Luxurious seating, contoured and comfortable, with headrest
Overall length 63 in.
Up to 20 miles on single battery charge
3-year limited warranty
Pros
Rugged construction, wide tires, and strong, dual motors make for a powerful off-road performance
Rear suspension, air-filled tires, extended wheelbase, and a contoured seat make for a comfortable ride, even at high speeds
Ability to go everywhere, not just city-wide, but also places like golf courses, beaches, national parks
High maximum speed
Extreme ground clearance for a PMV, 7 in.
Weight capacity 400 lbs.
Regenerative electromagnetic brakes save battery power on breaking
Cons
The vehicle cannot be broken down into pieces and must be transported as a unit
Weighs 216 lbs., heavy, even without the batteries
Not suitable for most homes due to large turning radius and larger overall size
Price is not for everyone, and the vehicle is not eligible for Medicare/Medicaid reimbursement
Who is Pride Wrangler PMV, personal mobility vehicle, for?
Clearly, the Pride Wrangler PMV is for nature enthusiasts who refuse to allow mobility problems prevent them from going out and enjoying nature.
In general, a person who needs and can afford an outdoors-only vehicle will find this Wrangler PMV of use. Even if you never leave the city streets with your Pride Wrangler, you will enjoy the rugged yet comfortable design with its ability to navigate any obstacles.
Who else will enjoy the Wrangler? Value-conscious people who understand that a sturdy, highly durable design of the Pride Wrangler Scooter will last you for a long time and will, therefore, bring the total cost of ownership down over time.
Pride Wrangler PMV comes in two beautiful colors: Candy Apple Red and Viper Blue. For more information on Wrangler Scooter and accessories, you can check Amazon through this link.
Heavy Duty Scooters for Adults Manufacturers and Accessories
The most prominent features of heavy duty scooters for adults, also known as bariatric scooters, are extra sturdy construction of the frame, rear suspension at the very minimum, preferably including front wheel suspension as well.
Heavy duty electric scooters come either in a 3 wheel and in a 4 wheel version. The wheels will be oversized and either of the pneumatic type or rubber foam filled. Heavy duty electric scooters will feature bigger batteries and stronger electric motors, in a few cases multiple motors.
They will usually be capable of driving well over 10 miles per battery charge, as far as 20 miles. Thanks to larger wheels, they will have a larger ground clearance and thanks to more power, will be able to drive over uneven, rugged terrains such as golf ranges, or nature trails.
Heavy duty mobility scooters truly may reconnect you with the whole new world out there.
Here is the list of the top heavy duty mobility scooter manufacturers:
Pride
Shoprider
Golden Technologies
Drive Medical
Invacare
ActiveCare
CTM Mobility
Pilot
Odyssey
The top accessories for heavy duty mobility scooters include:
Batteries
Seat Covers
Scooter Covers
Tires
Non-standard Seats
Sun Canopies
Scooter Lights, Horns, Reflectors
Mobility Scooter Access Ramps
Mobility Scooter Carriers
Pride Mobility Scooters – Epitome of Quality, Looks, and Selection
When you are looking into the choices for your heavy duty mobility scooter or a personal mobility vehicle, it is impossible to overlook Pride Mobility Scooters.
Pride is one of the largest manufacturers of mobility scooters for adults in the world. Pride is also known for related products such as Pride Wheelchair Lifts and Pride Lift Chairs.
With well over two decades of successful history of customer satisfaction and innovation, Pride is a name to look up to when it comes to heavy duty mobility scooters and bariatric mobility scooters.
We will review three model lines of Pride electronic scooters here, Pride Maxima, Pride Celebrity, and Pride Wrangler. Each of them addresses a different market segment for people requiring a heavy duty vehicle. Let us look at all three model lines separately.
Pride Maxima 3 Wheel Heavy Duty Mobility Scooters
While most of the heavy duty scooters for adults are designed for travel outdoors, as outdoor mobility scooters for use outside the house, Pride Maxima 3 Wheel affords the possibility of using a mobility scooter in your own home as well as outside.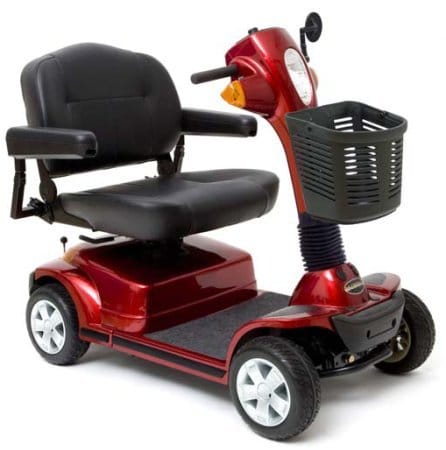 For people who need mobility both inside and outside, this versatility saves a lot of time, hassle, and money.
The Pride Maxima's design may even make buying an additional mobility scooter unnecessary. Pride Maxima 3 Wheel is designed for weight capacity up to 500 lbs.
The main reason for this versatility is its heavy-duty design on one hand with its large wheels, strong engine and sturdy frame and seat design.
On the other hand, the three-wheel construction enables you to navigate tight spaces within your home, such as kitchen, or a narrow hallway, and even make U-turns there. The turning radius of about 50 in. makes such indoor turns possible thanks to the 3 wheel design.
The turning radius is clearly not as small as the turning radius that can be achieved with a travel scooter, which can be around 30 in., but it is not that much more either. In addition, to enhance the stability which is reduced due to the three-wheel construction, Pride Maxima offers two front side helper wheels, one on each side.
Pride Celebrity
With the weight capacity of 400 lbs., Pride Celebrity is designed for a comfortable ride outside of the home, as much as 18 miles.
Its comfort stems from both the powerful built-in suspension and a comfortable, reclining seat. The bumpers and scratch resistant coating make it a true warrior among the outdoor mobility scooters, unafraid of getting places you want to go, be it visiting friends and relatives, shopping, or going to see movies or just out on town to have a lunch.
The extra ground clearance will help to cross obstacles such as uneven pavements, uneven road surfaces, bumps and the like. See more information on Celebrity Scooter here.
Wrangler
When compared to Maxima and Celebrity, Pride Wrangler can be considered a Jeep of the heavy duty mobility scooters or personal mobility vehicles. Its extra-large tires and powerful dual engines allow it to navigate such "off road" terrains as grassy areas, or sand. It is really popular for golfing as well.
With the Wrangler it becomes easier to run over obstacles in today's modern cities as well – a speed bump here and there, an unexpected pothole, or just uneven pavements on sidewalks. You can check out more in-depth information on Wrangler Scooter through this link.
Regardless of which model you ultimately choose as your heavy duty mobility scooter, or as an outdoor mobility scooter, the Pride quality and experience will accompany you.
You will be able to enjoy your outings in every single one of these models, and they will serve you for a long long time if you treat them right.
4 Wheel Mobility Scooters – Increased Comfort and Stability
When you are thinking about purchasing a 4 wheel mobility scooter, especially a heavy-duty scooter for adults, many times a question comes up: Am I better off with a 4 wheel mobility scooter, or would a 3 wheel mobility scooter work better for me.
On this page, we will review a few of the main advantages and disadvantages of the 4 wheel electric scooters for adults compared with the 3 wheel ones. After you have seen the advantages and the disadvantages, your purchasing decision should be easier.
The main advantages of the 4 wheels heavy duty mobility scooter are Increased stability, Car-like feel for the road, increased comfort.
Increased stability
Due to an added front wheel, the 4 wheel mobility scooters will be more stable on the road. They will be able to take the curves at higher speeds without the danger of overturning. Likewise, when riding and turning on slopes, four wheel mobility scooters retain their stability longer.
Car-like feel for the road
Have you ever driven a van? If so, you know it feels completely different on the road than driving a car.
Similarly, there is a substantial difference between the feel for the road between the three-wheel and the four-wheel mobility scooter.
Due to four wheels, riding a 4 wheel heavy duty scooters for adults will have a more of a car feel to it and less of a scooter feel. It is difficult to describe this but it must be experienced. It has something to do with the way the front wheels respond to the tiller in the 3-wheel scooter versus the 4-wheel scooter.
The feeling of the road is just different. Surely, the feeling can change depending on the tilt of the tiller towards you as you are driving.
Increased comfort
The 4 wheel heavy duty mobility scooters ride more comfortably because they, unlike the 3-wheel counterparts, include the suspension mechanism on the front wheels. This increases the comfort in itself.
Furthermore, any obstacle on the road will usually affect just one front wheel which now carries just one half of the front weight. Therefore, the hit from the obstacle will be more easily absorbed, and with less added stress and shaking of the scooter.
Let's now look at the disadvantages of the four-wheels heavy duty mobility scooter. The main disadvantages of the 4 wheels heavy duty scooters for adults are Decreased maneuverability and Higher weight.
Decreased maneuverability
Due to the steering mechanism applying to the front wheels, the turning radius is always bigger for the 4 wheel mobility scooter as compared to the 3 wheel mobility scooter of the same kind.
What that means is that the four-wheel scooters will less likely be able to negotiate spaces such as small kitchen, bathroom or a narrow corridor.
You will want to keep this in mind when ready to purchase a 4 wheel mobility scooter.
It would make sense to measure the width of the smallest place where you would be likely to want to make a U-turn in your mobility scooter in your home. Then compare this with the turning radius in the product description of the 4 wheel scooter. If the turning radius is larger, you may want to consider forgoing the benefits of the four-wheel version and switching to the 3 wheel version of the same scooter.
Higher weight
Obviously, because of the added wheel and more complicated steering mechanism, the 4 wheel mobility scooter will usually be a bit heavier than the equivalent 3 wheel mobility scooter. Likewise, the heaviest part of the scooter when disassembled completely for transportation, will be heavier in a 4 wheel scooter.
Here you have it. As you browse the online stores for heavy duty scooters for adults, you will now know what to look for both in a 3 wheel mobility scooter and in a 4 wheel mobility scooter.
Just make sure you compare the turning radius of either one of them with the size of the narrowest spot in your home, consider the weight issue, and, if everything checks out, you will be able to enjoy the advantages of the 4 wheel mobility scooter such as higher stability, more car-like feel for the road, and overall higher riding comfort.