What is the best electric bike for seniors? This is a question in the minds of most senior citizens or their care givers. I know find that perfect best bike for a senior person is not easy and that's why I have written this comprehensive buying guide.
First, let's talk about:
Why you (a senior citizen) might want to consider an electric bicycle (e-bike);
Then I'll give you a short intro about the electric bicycle along with some reasons why they are quickly becoming so popular around the world;
I'll also compile information about the best electric bicycles for senior citizens you can get. Additionally, I'll include links to where you can get yours as well as tips for having the safest, best and most enjoyable experience on your new e-bike.
Thanks for stopping by – please bookmark this page now for easy reference!
Related: Best Walking Sticks for Seniors
Why Consider an Electric Bike for Seniors?
You want to be more environmentally responsible:
It is no surprise that an e-bike is much more environmentally responsible than an SUV, but it is six times as efficient as rail travel.
E-bikes are classed as zero-emission vehicles, are much less impactful than electric cars and are nearly as impact-free as a conventional bicycle*.
*Note: it is important to follow the recommended guidelines for recycling all batteries, but especially those used to power moving vehicles.
You want to exercise, but have a barrier:
Let's admit it. The time comes when you start to see a few extra pounds, or note a lack of tone. You might not have ridden a bike since sixth grade, and when you try it now, you huff and you puff and return home red-faced and winded after a few blocks. Your cycle gathers dust. We hope that the information found in this electric bicycle buying guide will serve serve to encourage you that great e-bike options exist as a middle ground for fun, transportation and exercise.
Or you might be a great recreational rider and now you want to cycle to work, but you fear you won't appear professional when you arrive. Even on a mild day, the most toned cyclist might easily break a sweat. 
Plenty of us have never ridden a bicycle since we got our first car; so we find it a bit scary to consider riding again.
You desire assistance for hills and long trips:
Your doctor** might have recommended cycling to increase your activity levels to lead to a stronger heart and better health, however, you might be afraid to strain yourself after a heart attack or other serious health condition.
With this electric bicycle buying guide, you can find the right e-bike for your needs – one that can help keep you from engaging in too-strenuous activity; one that can help you up hills and through traffic; high end replica rolex watches and one that can get you home if you trek further than you can manage on your own due to age.
**As a senior citizen, please consult a licensed medical practitioner or caregiver before undertaking any exercise program, especially as part of cardiac rehabilitation.
Riding an electric bike for adults to work or for shopping instead of driving a gasoline or hybrid automobile has long-term financial and health gains, not to mention the benefits to our environment.
Electric bicycles are not mopeds nor are they usually regulated by the same laws as mopeds or motor vehicles. Operation and limitations vary by state and municipalities and I reminds cyclists, especially those traveling to other regions, to be diligent about their responsibility to become aware of laws and other local, state or federal codes and to check them carefully and often to remain in compliance. 
Attention: The internal data of table "5" is corrupted!
Things to consider when buying an E Bike for seniors
Step through frame
A step through frame or low step frame or open frame is a kind of bike frame often used in electric bikes for seniors.  The bikes with this type of frame are referred to as step-through bikes. These bikes do either have a low cross-bar (top-tube) or is totally absent.
Step through bikes are the perfect bikes for senior citizens. Reason being: they make it easy for an elderly person to mount and dismount. They also eliminate the problem of ripping and stretching of clothes when mounting.
Also, step through electric bikes for seniors are much safer compared to high top tube bikes. In case you lose balance, you'll simply step through and stop without getting entangled.
Puncture resistant tires
Always purchase an e-bike with puncture resistant tires; but also use puncture sealing technology such as "Slime" in the inner tubes for added protection against blow-outs and potentially dangerous falls.
Fenders
Get a bike with fenders to protect against splashes.
Back-up or double-strength battery
An electric bicycle with a back-up or double-strength battery is a good safety measure. Look for lithium batteries because they are currently the most energy-efficient and long-lasting type of battery. The energy costs of operating electric bicycles are small, but there can be considerable battery replacement costs. We recommend these batteries for longest life.
Batteries camouflage
Some e-bikes camouflage their batteries so they resemble a regular bike, which allows you to park in bike racks and reduces the chances of loss; chains and other security devices are a must.
You Might Also Like: Best three wheel bikes for seniors
Best electric bike for seniors
The e-Joe Anggun 3.0 is an all-around electric bike for seniors that could be useful for commuting, or just doing some neighborhood cruising.
The bike is very versatile all thanks to the rear rack, LED lights and fenders.
Even though the bike comes with a one frame size of 17 inches, the seat post is adjustable for comfortable rides
The following are some of the important specifications of this lightweight e-bike for seniors.
Specifications:
Battery type: LiNCM
Motor: 350 watt
Motor type: Rear-Mounted
Frame: Aluminum alloy
Weight: 55 lbs
Capacity: 300 lbs
Charge time 4hrs
Miles per charge: 50 miles
Speed: 20 Mph
Thanks to the swept back handle bars and seat post shock this becomes one of the best electric bikes for aged adults.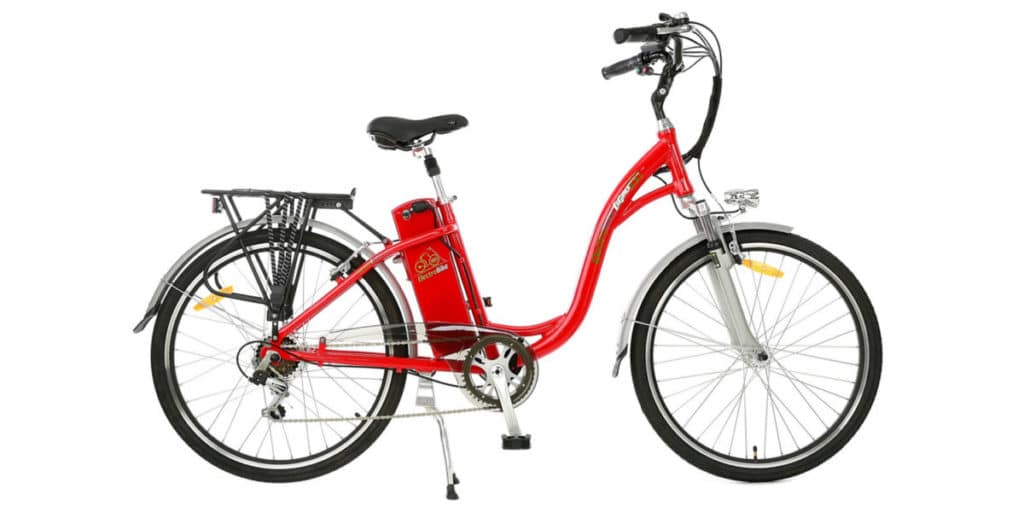 The battery is painted to camouflage with the bikes frame. This helps when you want to park it with ordinary bikes without it standing out as electric.
If you are looking for an affordable, comfortable and nice looking electric bike for seniours then you can never go wrong with the Gama Cruise
Specifications:
Battery type: Lithium-ion
Motor: 350 watt
Motor type: Rear-Mounted
Frame: Aluminum alloy
Weight: 53.2 lbs
Capacity: __
Charge time 4.5hrs
Miles per charge: 30 miles
Speed: 20 Mph
Specifications:
Battery type: Lithium-ion
Motor: 350 watt
Motor type: Rear-Mounted
Frame: Aluminum alloy
Weight: 55 lbs
Capacity: __
Charge time 5hrs
Miles per charge: 45 miles
Speed: 30 Mph
The bikes low-step frame makes it easier to mount and dismount for seniors. Even with the low-step frame, the bike is still firm thanks to its triple-tube frame.
The bike boasts a chain guard, custom painted fenders, comfortable saddles and lights (both rear and front)
A Brief History of the Electric Bicycles
Electric bikes were invented almost a century ago, but were hampered by short battery life. Because of the advent of longer-lasting and more powerful batteries, e-bikes have become quite popular. Their adoption is strongest in countries where transportation is very expensive, such as in China; or where the cycling culture is strong, such as in Holland, where reports say about one-in-eight bicycles are electric.
The trend is moving rapidly across Europe and the U.S. and, considering the rising cost of fuel; electric bikes are poised to be the people movers of the next generation. These e-bikes can pay for themselves in cost savings within one year.
The Best Reasons to Purchase and Use an E-Bike
Electric Bicycles are Very Economical
Electric bicycle reviews have determined you can really save money with an e-bike:
You can save on parking fees (particularly in a metropolitan area).
You will save by lessening your gasoline purchases.
Mileage maintenance and insurance costs for your car can be greatly reduced.
Cycling can replace your expensive gym membership; but, if you insist, why not ride your e-bike to work out?
While an electric bike might cost a bit more to buy than a conventional bike, they hold their value better at resale; Electric Bicycle Reviews recommends caution when considering used models.
Health Benefits
Weight loss: You will get your fresh air and exercise on an e-bike without the risk of straining your health.
You'll beat the stress of stop-start city traffic snarls that take up time and raise your blood pressure.
Cycling is easier on your joints than running.
Cycling is aerobic exercise, and that burns fat.
While we concur that a regular bike will provide more exercise; comparisons show an increased use of e-bikes over standard bikes by the elderly. If they are used more often, and regularly, they confer health benefits at a much higher rate. Clearly, any bike hanging unused on a garage wall confers no health benefits. Electric bicycle review research shows that e-bikes are used more often than standard bikes, so they have more of a chance to improve your health. In this instance, "use it or don't lose it."
You Might Also Like: Heavy Duty Scooters for Adults
Best Electric Bicycle Brands and Manufacturers
I have selected only the best brands and manufacturers to make it much easier for you to find the very best bikes for senior citizens.
Below is our recommended list of manufacturers. You can click on any brand in the list below to learn more about their bikes for seniors.
Currie Technologies
Yukon
Schwinn
e-Moto
Prodeco Technologies
Lightening
Cyclamatic
R Martin
X-Treme Scooters
EG Bike
Razor
Ultra Motor
I sincerely hope you have enjoyed our electric bicycle for seniors buying guide and have found the information provided here to be very educational and helpful.
We have worked diligently to bring you accurate panerai replica watches malaysia information about each product offered and reviewed. We genuinely appreciate your patronage! We hope to serve as a sort of "en-cycling-pedia" for you.