What are the best lift chairs for elderly? A beautiful invention for our older family members and friends is a lift recliner chair for the elderly.
Because of them, your loved ones can enjoy quality living despite the severe restrictions brought about by aging.
This guide is for you if you're out to discover the best lift chairs for elderly.
You'll also learn handy tips to help you get one that's right for you or a loved one.
First up are the basics.
How lift chairs for elderly work
Lift chairs feature a powered lift that raises the entire chair from the base (and slants it) to assist an elder to a standing position.
We all know that frail seniors struggle to get up from a seated position due to weak muscles and problems like arthritis so these are a godsend.
Indeed, lift chairs are considered medical equipment under Medicare Part B(medical insurance).
In addition, their special construction makes them excellent recliners to relax in.
Related: Best Overbed Tables for Seniors
Why use lift chairs for elderly
According to U.S. Census Bureau, mobility is a leading disability among older Americans.
This, coupled with the inevitable long term health problems can make life unbearable for our dear ones.
Watching them struggle to complete a simple task like getting out of a chair hurts tremendously, considering all they have done all our lives.
That's why we recommend lift chairs for seniors because of their special, 'senior-friendly' design.
Your noble gesture may go a long way in bringing back positivity to your beloved grandma and that pretty smile you grew up loving.
You, as well, gain indirectly as his/her caregiver since lift recliners for elderly restore some of their independence.
Up next are the common types of lift tudor replica watch reclining chairs for elderly and what we think about the suitability of each.
Related: Best Step Stools for Elderly
Types of lift chairs for elderly
The key difference among these amazing chairs for elderly is the setup of the lift mechanism.
Here are the dominant types:
Two-position lift chairs
These mostly recline 45 degrees.
The two positions are 'straight' and 'TV recline'.
For most people, this angle is only good when he/she wants to enjoy a good read and watch his favorite TV program.
Three-position lift chairs for seniors
Even though they're technically referred to as 3-position, the 2 motors operating these provide advanced controls that allow you to recline to any degree (up to 180 degrees) for a greater lounging experience.
The near-flat angle is ideal for a restful afternoon nap.
Your buddy will certainly get more out of these than 2-position lift chairs.
Infinite lift chairs for seniors (zero-gravity lift chairs)
This achieves a full recline meaning you can lie flat (the backrest will be parallel to the ground).
There are tens of other positions in between.
More importantly, this category of lift chairs can lift to zero-gravity.
Here your legs and head are elevated to an angle where all compression forces working against your body are nullified to reduce pressure on your spine and boost circulation.
A number of these lift chairs even provide the Trendelenburg position (feet elevates above your head), if your doctor recommends it.
In a nutshell, infinite lift chairs guarantee ultimate luxury for pensioners.
In fact, some feature heating and massaging functions.
Best lift chairs for elderly: Buying Guide
Choosing the right lift chair is vital for comfort and preventing falls.
Below we discuss what you need to look out for as you compare the lift chairs for elderly.
Comfort and support
This isn't negotiable- you want maximum possible support and comfort to take the pressure off the knee joints, various body muscles, and the back.
For supreme comfort, look for features such as a rocking motion, abundant seat cushioning, and soft armrests.
Above all, choose a reclining lift chair for elderly that will fit you pleasantly and conforming to your body type.
Ease of use
At this age you would hate to learn new things hence you should select select a lift chair that's straightforward to operate.
Most have easy one-touch control buttons while newer models feature a remote control to manage the recline and tilt.
With such, getting up is a breeze.
Overall construction
The stitching and upholstery material needs to be of exquisite quality for it to last.
A sturdy frame is particularly important, not just for safety but also support more so if he/she is a heavy person.
Your grandma might also want cute colors- I'm sure she still retains her taste of fashion.
Innovations that increase its functionality like heating and massaging are also welcome particularly for elders recovering from surgery or bad injuries.
Where will you keep it?
One more thing: Lift chairs traditionally take up more room than conventional chairs and you have to be wary.
To avoid disappointments, take the dimensions of the lift chair you find compelling and compare with the measurements of the available space in the sitting room or bedroom.  
Weight capacity
The recliner chair's capacity is something else you need to check. Different recliner chairs for the elderly have different weight limits.
If your old man is plus size, go for recliners for a heavy people.
Extras
Built-in features such as cup holders, a USB charging port, and storage pockets are cool to have in chairs with arms for elderly.
A battery back-up is also desirable as he/she gets to use the chair even during power blackouts.
Best lift chairs for elderly Reviewed
We have scoured the markets and unearthed some brilliant lift chairs for elderly.
We review 6 of the very best in this section to help you choose.
Signature Design Yandel Lift Recliner by Ashley Furniture
You can sit, read, watch TV, or sleep for hours on this lift chair.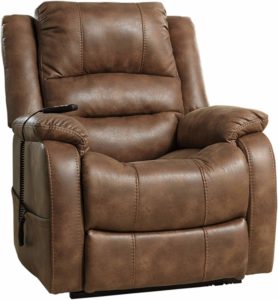 Click Here to View Price on Amazon
The high back and plush cushions mean you will not want to get up anytime soon, once you take a seat. 
And when you do, the one-touch button engages the power lift for a safe exit.
Features
Ashley furniture has done it once again with this finely crafted recliner chair for elderly.
From the exceptional materials (faux leather upholstery, no less!) to the sturdy corner blocked chair frame, and the bustle backs (for lumbar support), this is a top, top invention.
I doubt you'll get this level of comfort elsewhere- the luxurious fabric, generous sizing, thick backrest, pillow top armrests, and cozy headrest combines to create a cloud-like feeling.
You elevate the back and footrest separately and you have infinite reclining positions to choose from.
You can even bring it down completely flat to sleep if you so wish.
As you would expect, the chair is absolutely stable.
Plus, the unique Nailhead trim (and tufting) makes it an aesthetic wonder.
Pros
One of the comfiest lift chairs.
Quiet power-lift.
Easy to clean materials.
Cons
Ashley Furniture Ernestine Power-Lift Recliner, Truffle
You can slumber or get back on your feet effortlessly, thanks to the smooth operating lift-and-tilt controls in this wonderful recliner.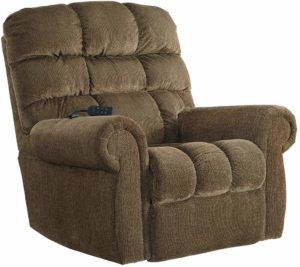 Click Here to View Price on Amazon
It's another phenomenal option from the designers at Ashley furniture for seniors facing trouble getting on/off the couch.
Features
The controls make using this child's play.
There are responsive buttons to lower/hoist the seat, lift/lower the footrest, recline/tilt the back and you will derive enormous pleasure controlling its movement across infinity positions.
Extravagant pillow support, sumptuous chenille-feel upholstery, and plenty of seating room mean you can stretch out and lounge in total comfort.
The chair will recline to a comfy sleeping position too (though it won't go completely flat).
The lavish back support is another plus if you experience back problems.
It is a firm chair and you can even roll on the sides without giving a hoot.
Like all lift chairs from Ashley, it's a cute chair and matches to all decor styles awesomely.
Pros
Feels very solid.
A breeze to operate.
Easiest controls.
Cons
Wish they added more padding in some spots.
BONZY Power-Lift Recliner Chair
A couple of innovations helped this three position recliner make the cut- there is a cool side pocket for your newspapers, magazines, or TV remote and non-skid material on leg levelers (for safety and stability).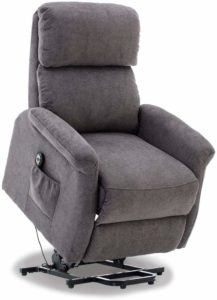 Click Here to View Price on Amazon
Also, notable is the built-in intelligent technology to help you stop it instantly any time during lift/recline.
Features  
All the other features are pretty much in line with our expectations.
You have, for example, high-quality velvet fabric upholstery (super soft to touch) along with copious amounts of padding creating ample comfort.
The material is additionally breathable.
On the whole, the chair's design supports the entire body whether lounging or sleeping (it's actually filled with high-density sponge).
This promises to last considering the heavy-duty steel power lift mechanism together with the use of architectural grade laminated veneer lumber on the base.
But perhaps most appealing is the remote control which effectively makes it arguably the most most user-friendly power lift for elders.
Pros
Water and stain-resistant materials.
Safe and stable.
Functional remote control.
Cons
Mcombo Electric Power-Lift Recliner Chair Sofa for the Elderly
This chair cum sofa comes with a counter-balanced lift mechanism to help seniors stand up without pressurizing the back or knees.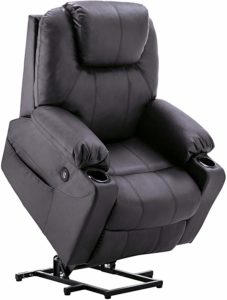 Click Here to View Price on Amazon
It's built to help elders afflicted by multiple medical handicaps to enjoy extreme lounging.
Features
The overstuffed padding and pillowtop arms, built-in springs (in the backrest and seat), as well as soft attaching side arms make it vastly cozy.
The treated fabric is also spongy, super elastic, and hence fantastic for an after-lunch nap.
Also impressing is the well-built frame – it feels strong even when holding overweight seniors because of the metallic underseat structure.
Note that the maximum weight limit is 320lbs.
It's also one of the few lift chairs to include useful accessories like USB charging outlets (two), side pockets (two) to keep personal items within reach and cup holders (two).
The TUV approved motor is admirably quiet and should generally outlast its peers.
The only blemish is the limited recline- goes up to 140 degrees and can't lie flat.
Pros
Works smoothly.
You can use the remote to lift the chair.
Easy to assemble.
Cons
Reclines only to 140 degrees.
Esright Fabric Electric Power Lift Chair Recliner for Elderly
The highlight in this fluffy lift chair is the expansive heated vibration massage feature.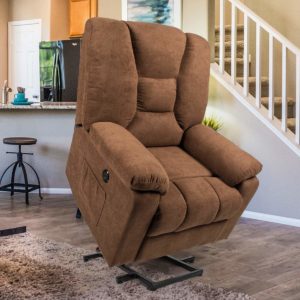 Click Here to View Price on Amazon
This chair massages 4 areas (shin, lumbar, thigh, and head) and you can set 5 different modes (pulse, press, auto, wave, and normal). 
Needless to say, it comes second to none in offering relaxation.
Features
Like the previously reviewed Mcombo electric recliner chair, the backrest is overstuffed and the seat richly cushioned to bring you extraordinary comfort.
Similarly, the treated fabric surface is warm, soft, and welcoming for an hour of rest or TV fun.
You'll love this brand if you're passionate about our environment- the used timber is formaldehyde-free (a first in our list) and meets the environmental-friendliness threshold set by the California Air Resources Board(CARB).  
Away from that, a powerful silent lift motor sets the stage for a flawless power lift control feature and you'll again find this a joy to work with.
You can conveniently charge your iPad, phone, or headset via the integrated USB charging port.
The chair, however, reclines only up to 150 degrees and will support a maximum of 320lbs.
Pros
Heats the lumbar area for more relaxation.
Easy recline/tilt.
Environmentally safe chair.
Cons
CANMOV Power Lift Recliner Chair
The durable metal frame and resilient microfiber upholstery makes this a lasting alternative.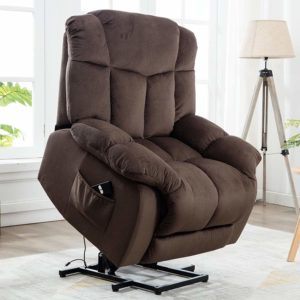 Click Here to View Price on Amazon
Its assembly is quick- no struggles here.
Features
Many people talk about this chairs famed stability and strength forgetting that it also delivers optimum comfort, thanks to the supple polyester cushioning and high-density sponge (like in the BONZY lift chair).
And in keeping with her longevity tradition, the manufacturer has mounted a robust power lift (and improvised a technology to make it silent during operation).
You control all functions easily using the 2-button remote control (one for lifting and the other reclining).
It reclines almost flat so you can raise your legs as desired to relieve pressure from the knees.
Not to be outdone, the chair also packs plenty of bells and whistles including a side storage bag for your magazines and the remote control).
The maximum weight capacity is 300 lbs for this lift chair.
Pros
Silent operation.
Very durable.
Works well.
Cons
May not fit well against a wall.
Final word
Loss of mobility in your aged loved ones has profound psychological, social, and physical consequences.
And we are obligated to chip in to help them lead a quality life in their sunset years.
Lift recliner chairs for the elderly can be hugely helpful.
Surprise him/her with these recliners for the elderly on your next visit.
It's these simple gestures that bring back the sunshine to their days.
Remember to consult his/her doctor before using this style of chair.