What are the best step stools for elderly? Plenty of areas in the house are difficult to reach particularly when working and moving as a senior. Elderly folks need to exercise more caution about the way they leave and get in their beds.
The elderly also need to learn how to sit in the car, bathtub, and reach for things at higher spaces. To help them in this regard, buying the best stools for the elderly is necessary.
These stools are handy for those that want to stay independent without having to depend on the help of other people for their day to day tasks.
But the million-dollar question is, how do you land the best step stool for the elderly from the countless ones in the market? How do you separate the wheat from chuff?
Related: Best Lift Recliners for Elderly
We have done all the hard work for you and settled on five best choices. Read on.
Best Step Stools for Elderly Buying Guide
Stools are a necessary item if you want to reach for something from an elevated place that is out of your reach. It might be a closet shelf or on top of a cabinet.
To retrieve something from such heights and be safe while doing it, you need to acquire a good stool that you can always use when the need arises.
Here are a few factors that you should consider before purchasing a stool:
Step Platform
This is the one area where you will spend the entire time you are standing on and using the stool. It is therefore imperative that this area should be safe. For safety reasons, the step platform should be textured to avoid slipping.
Rubber Feet
The stool's feet are essential for your safety when using the stool. Most modern houses have smooth floors and the stool should have slip-resistant and reinforced legs that have rubber tips to avoid sliding accidents.
Handle
If the stool you want has a handle then you must ensure that the handle is safe to use. The handle should be padded preferably with foam or textured plastic so that you get a firm grip on it while climbing on the stool or getting off.
Portability
The weight of the stool is another important factor. The stool is versatile and will be used in many different areas of the house and even outdoors.
The step assist for the elderly can be used in the kitchen, the dining area, or even the bathroom.
It can be used to get in an elevated vehicle and then pulled inside after the user. The best step stools for elderly needs to be light enough so that moving it around is not cumbersome.
Construction material
The stool will be holding your weight.it should be made with materials that are sturdy enough to hold weights. Some of the best materials used to make stools include wood, 2 step molded plastics, and stainless steel.
Weight Capacity
Most of the stool manufacturers indicate how much weight their product can handle. You should find out if the particular stool you are interested in is capable of comfortably handling your weight. Most Stools handle weights between 300 to 500 pounds.
Shipping Fees
The amount of money indicated as the price should be another factor to consider when choosing what to buy. After choosing the product you want to purchase, the shipping fee can cost much more than the actual product.
Where you want the stool delivered will determine how much money you spend on the shipping fee.
Warranty or Refund Policy
You can buy the product and after it has been delivered you realize that it is faulty. This will require you to return the product and get a replacement or your money back.
Finding out about the company's policy on returning goods and refunds is important before making an acquisition.
Storage
Before buying the stool it is good to find out its dimensions and consider the space you can be able to allocate it in your home for storage. Some of the stools on the market can be taken apart for storage then reassembled when the need arises for their use.
Adjustability
Some stools can be adjusted for height. If you need a toddler to use the stool to wash their hands at the sink you might need a stool that can be adjustable to fit their height or physical capability. You might also need to reach a higher than usual place and the adjustability will be very handy.
Design
As much as we look at the practical part of the stool, aesthetics are also important. You do not want a stool that is an eyesore. A stool with a modern design, an attractive color, and a clean finish will go a long way.
Cleaning
The stool should be easy to clean. Having a stool that will give you difficulty when cleaning or takes up too much time to clean is a disadvantage. You need a stool you can wipe or hose down and be done with it in a short time.
Dimensions
Before purchase, you need to consider what you need the stool for. Whether you need it for home or business use is a factor to consider. You must ensure that the size of the platform, handrail heights, step heights, and the overall size of the stool will be useful in your location.
User
Whoever you are buying the stool is also a factor to consider. You should put into consideration their physical capabilities such as their health, ability to move the stool. Their handgrip and eyesight. The stool should be in a color that is easily visible and light enough for them to carry or drag to the position they need it to be.
Related: Best Overbed Tables for Seniors
Best Step Stools for Elderly Reviews
Here are our recommendations of the best step stools for elderly:
DMI Step Stool with Handle for Adults and Seniors
The DMI step stool has a textured surface that prevents slipping and provides stability. It has a foam handle grip that adds support when you are getting up the step stool or down.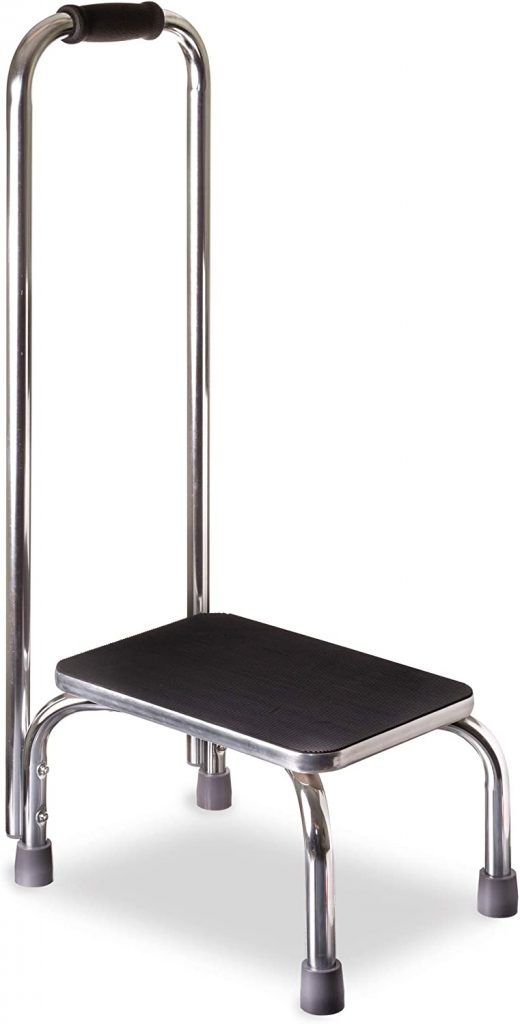 Click to View Price and Customer Reviews on Amazon
The rubber tips on the legs are reinforced and are slip-resistant. They keep the stool stationary when not in use.
This step stool can support a 300-pound weight, it has a steel chrome-plated frame. DMI chrome-plated stool with handle can be used in all areas of the house including, kitchen, dining area, bathroom, and bedroom.
When stepping on or off the step stool extra stability is provided by the padded handle. Some of the step stools other uses include, stepping up into bed, stepping up to reach high places like cupboards, stepping up into vehicles.
Features
Rubber tips
Textured & non-slip
Lightweight 8.5 pounds
Chrome-plated steel frame
Pros
Easy to assemble
Includes small wrench
Compact design
Padded handle
Cons
Assembly instructions might be inaccurate
Rubbermaid RM-P2 Step Molded Plastic Stool with Non-Slip Step Treads
The rubber maid RM-P2 is a 2 step molded plastic stool that provides extra height if you need to reach extra high places. It has a black finish.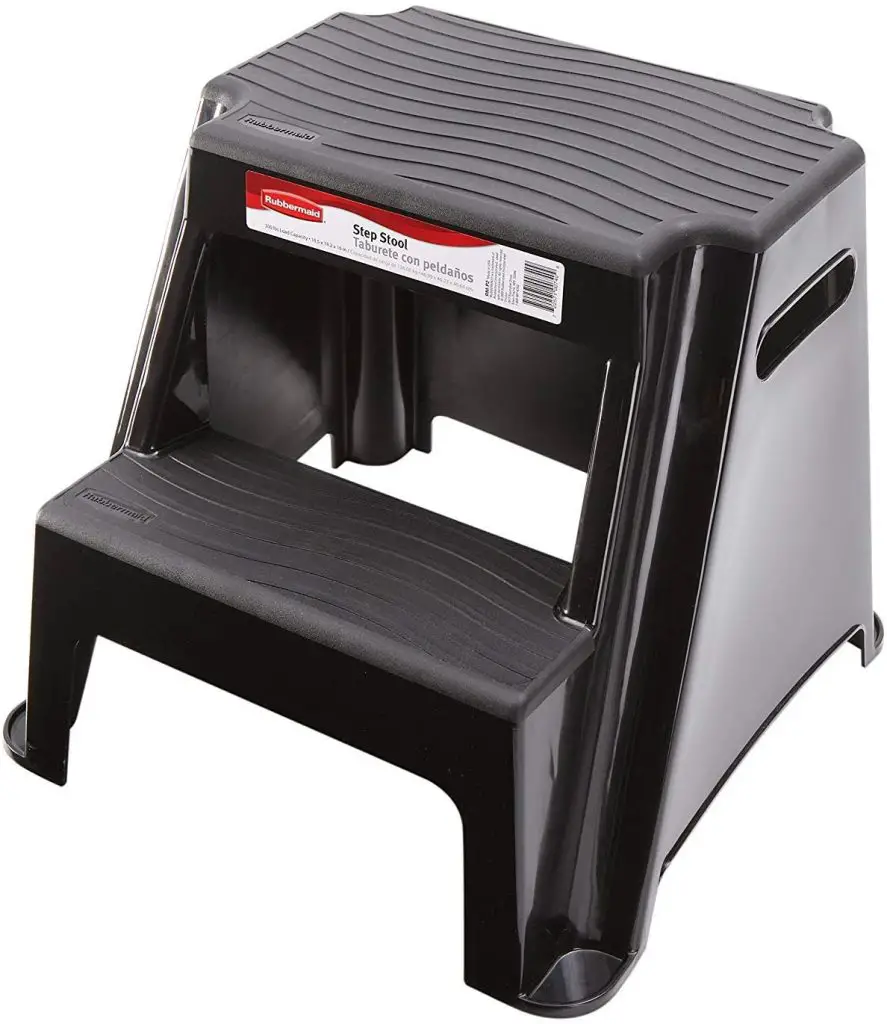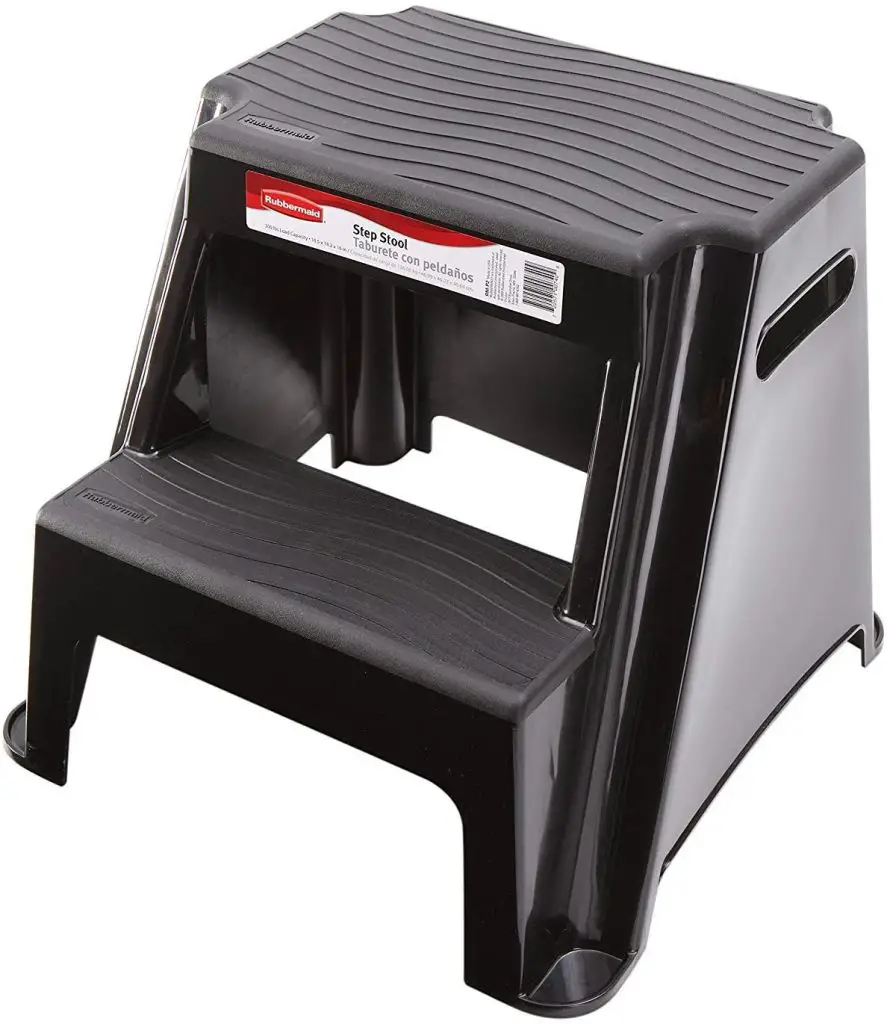 Click to View Price and Customer Reviews on Amazon
It has been manufactured with a standing platform that is quite large. It is easily portable because of its cut out handles.
This molded plastic stool has not marred feet that will ensure your floor is left intact even after handling heavyweights.
The rubber maid 2 steps molded plastic stool features a non-slip grip that ensures it does not rock back and forth while in use. It is equally safe for both children and the elderly.
It weighs in at 6 pounds making it light and easy to move around. Its dimensions measure 16 inches by 17 inches by 18 inches.
When placed flush against the wall it has a slight slope and the top is about 1.5 inches from the wall. This ensures stability for the user.
The rubber maid molded plastic stool is very sturdy when placed on a flat surface. It is rigid and balanced and does not wobble.
Features
Non-slip step treads
Cut out handles
2 step molded
Non-marring feet
Pros
Portable
300-pound weight capacity
Safe & comfortable
1 year limited warranty
Cons
Adjusta Step(Tm) Deluxe Step Stool
The adjustable step deluxe step stool is an all-steel made step stool that has a powder-coated finish that is easy to clean. It is equipped with a handrail that makes deluxe step stool an extremely safe and secure must-have accessory.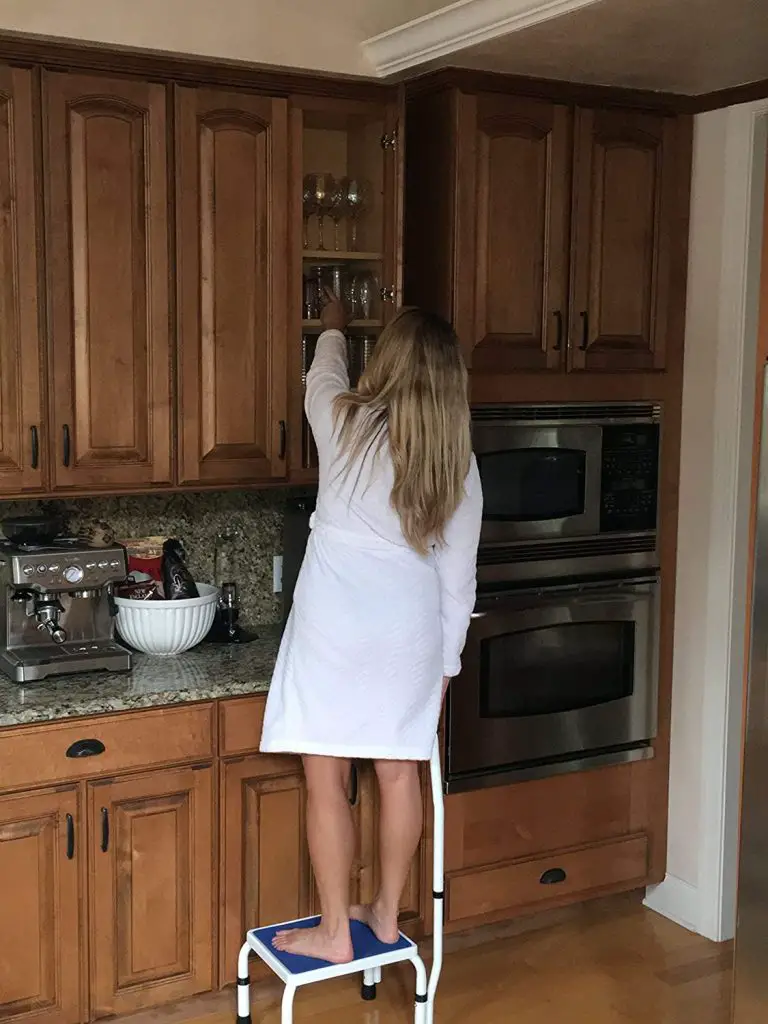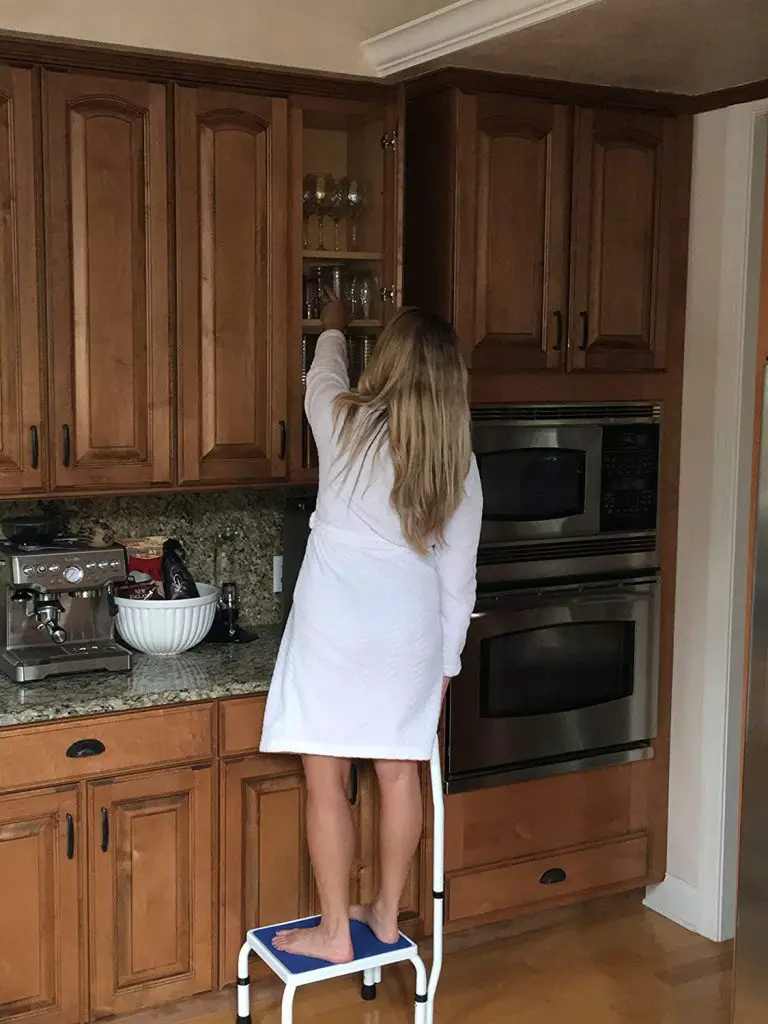 Click to View Price and Customer Reviews on Amazon
This step stool has a non-slip base and a non-slip platform that are both essential for the user's safety. They ensure that no sliding accidents occur. This makes it one of the best step stools for elderly.
The step stool is so stable and secure that it can be used y, children, the elderly, the disabled, or any other user whose safety is their primary concern.
It has no plastic parts and has an all-metal construction. It has height adjustable legs making it usable by almost all different sizes of users and capabilities.
The white/blue design makes the deluxe stool have a visually appealing look as opposed to the usual industrial-looking silver vein or chrome designs.
This is a 2 in 1 product for it can be switched in an instant from stool with a handle to a stool without a handle.
Features
Height adjustable
Non-slip handle
All steel
Powder-coated finish
Pros
Visually appealing
Versatile
White/blue design
Safe & secure
Cons
The handle is not adjustable
Drive Medical Heavy Duty Bariatric Footstool with Hand Rail and Non-Skid Rubber Platform
The heavy-duty bariatric footstool overall length measures at 13.25 inches, 17 inches width, and 9-inch height. This heavy-duty bariatric step stool has been reinforced with a strong steel cross brace that allows it to handle weights of up to 5oo pounds.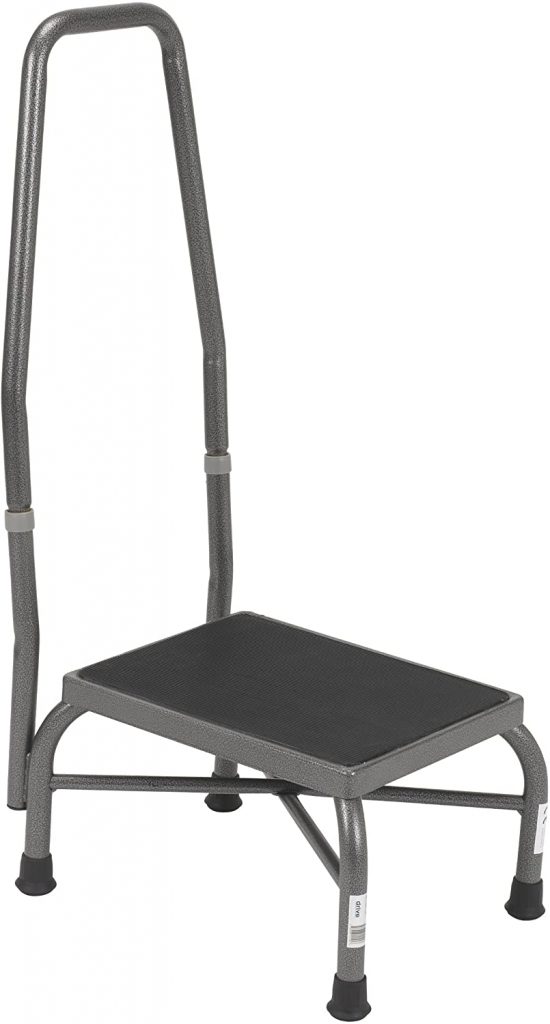 Click to View Price and Customer Reviews on Amazon
It is easy to clean and is very attractive with a silver vein finish. It comes having been fully assembled. This stool is equipped with non-skid feet that ensure safety when in use. It is great for reaching items on tall shelves.
The heavy-duty footstool has an option of a handle or one without a handle. Choose according to your needs.
It can be very useful to use when stepping into an elevated vehicle. This is because you can use its handle to pull it into the vehicle after you are safely inside.
This heavy-duty stools handle can be removed when you need to store it or save space when transporting it. you can snap the bar back in place right after.
Features
Weighs 10lbs
Silver vein finish
Steel cross brace
13.25-inch overall length
Pros
Nonskid feet
Non-slip surface
Accommodates 500lbs
Easy to maintain
Cons
Simplay3 Handy Home 2-step Plastic Stool16 In-Gray
The Simplay 3 hand stool is equipped with sturdy steps that are high and have a wide grove providing stable traction. Its molded-in notch handle is easy to grip and carry and is placed under the top step.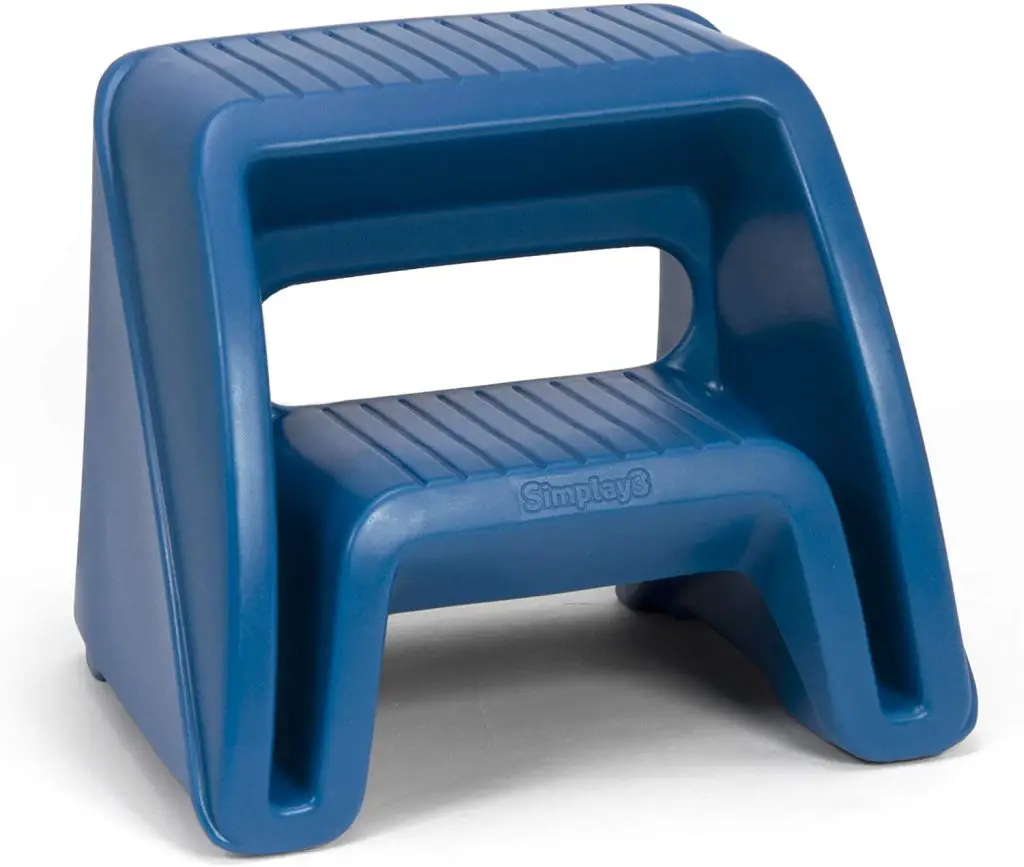 Click to View Price and Customer Reviews on Amazon
The Simplay 3 has been made with double plastic wall construction for both indoor and outdoor use. It is American made.
It can be stored conveniently almost anywhere because of its small size and the materials used to construct it are very easy to clean. This stool has 4 rubber stoppers that are included to add stability and they are made of natural synthetic rubber.
The simplay3 is a very sturdy and reliable stool that is capable of handling weights of up to 300 pounds. Even though the simplay 3 does not fold it is a lightweight unit that is compact and easy to move. It is designed for space efficiency.
Features
Molded-in notch handle
8 & 16-inch sturdy steps
Extra-wide 2 step stool
Weighs 6.6lbs
Pros
Stylish design
Easy-grip handle
Durable construction
Easy to clean
Cons
Final Words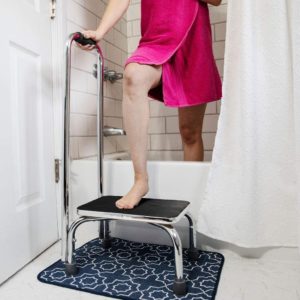 Finding the best step stools for elderly should not be as challenging as most people think. By having the right information about these stools, you will be able to buy the best one.
If you have been in the market for a good stool, feel free to choose from any of our choices above.