What are the best bathroom grab bars for elderly? A bathroom grab is very important in a senior's bathroom. It drastically reduces the risk involved with movements that elders make in the bathroom such as hopping into or out of their bathtub.
Injury potential is high when someone uses a bathtub as at times, one has to stand on one leg as they use the other leg to climb in or out of the bathtub.
Are you in the market for the best bathtub bars for seniors? Tired of your current one? In need of an upgrade?
Well, after extensive research, we have settled on several grab bars for the bathroom for the elderly which we think will be handy at meeting all your needs.
Before we have a look at our recommendations, let us first look at some important information to help you make the right decision in terms of your choice.
Related: Best Padded Shower Seats for the Elderly
Types of Bathroom Grab Bars for Elderly
An array of different types of grab bars for the bathroom for the elderly exists today. Let us have a look at some of the most common ones:
Angled Grab Bar
Angled bathroom bars for seniors are a great choice if you desire to maximize the safety of the elderly and/or handicap folks. As the bar tends to be bent at a particular angle, you can easily install it in a wet area.
It offers you such a secure grip while at the same time allowing more flexibility when it comes to your bathroom's geometry and shower.
Clamp-On Tub Rail Grab Bar
These are perfect for hopping in and out of your bathtub securely and stably. The only thing you need to keep in mind is that you need to tighten it perfectly or the tub rail will not offer support.
In more severe cases, it might contribute to a fall.
Straight Safety Grab Bar
Just like its name it suggests, this type of bathroom grab for the elderly is not only straight but you can also install it into the wall, or in any other area inside the bathroom.
Because you fix the bars into the wall, they provide remarkable support that makes them ideal for folks grappling with stability issues.
Suction Cup Grab Bars
You should choose these types of bars if, in the place where you are living, your property owner does not allow the installation of the permanent type of bathroom grab bars.
Nonetheless, this kind works best on smooth surfaces because fixing them to a wall with tiles is usually hard.
Wall to Floor Grab Bars
Just like their name suggests, wall to floor grab bars is fixed to the floor and wall. A great attribute about them is the fact that they provide remarkable levels of stability.
These grab bars are normally installed adjacent to the toilet. Some models bring with them small support legs that offer even more support.
Decorative Grab Bar
This type of bathroom bar for the elderly brings with it extra firmness and safety features. In addition to this, they also add a modern and sophisticated touch to a bathroom.
There is a huge array of shapes, sizes, and colors to select from.
Flip-Up Down/Up Bathroom Grab Bar
Flip-up and down grab bars are moveable. Meaning you can move them out of the way. This feature is one of its best attributes.
You can install them in the shower or on one part/area of the toilet.
Related: Best Reclining Shower Chairs with Wheels
Bathroom Grab Bars for Elderly Buying Guide
Knowing which factors to consider when in the market for the best bathroom grab bars is very important if you are to land a good product.
Although it might look easy and uncomplicated to choose, most people forget or are clueless about the specifications to consider.
Here are the top considerations you need to make:
Bathroom or Shower Size
The maiden step is to establish the size of your shower or bathroom. Once you step into the shower or toilet, you can tell whether you need a grab bar or not.
You also need to consider the grab bar height. Of great importance to note is that grab bars come in an array of lengths.
Some measure 12 inches while others 48 inches. You can choose one that measures any length in between this range.
Color and Material
Bathtub safety bars are made of plastic, stainless steel, and nylon. Those made from stainless steel are not only the most secure but also the most durable.
Nonetheless, this does not mean that those made from other materials are not worth your hard-earned money. You can settle for any type provided it features a textured or brushed finish/coating finish to make it effortless for you to enjoy a better grip.
When it comes to color, it is prudent to choose that it is different from the color of your tiles and wall. This goes miles in making it easier for both you and your family to notice it effortlessly.
Temporary vs. Permanent
Based on the style of your bathroom and how long you need your bathroom grab to last, you might have to choose between a temporary and permanent bar.
So, what is the difference between these two?
With permanent shower grab bars, you just screw them in. When it comes to temporary shower grabs, all you need to do is mount them by suction cups.
Best Bathroom Grab Bars For Elderly Reviews
Here are our recommendations for the best grab bars for the elderly:
Changing Lifestyle Safe-er-Grip 17 inch Bath & Shower Handle
This 17-inch safe-er-grip device is designed to safely assist you to navigate slippery and wet bathroom floors and avoid injuries. It's a suction cup device. It can only be used on flat, non-porous and smooth surfaces such as bathroom walls.

Click to View Price and Buy from Amazon
The grab bar cannot work on textured surfaces. It cannot be used over grout lines. Full body weight cannot be applied to it.
Installation is easy you just flip the tab levers. It can only be used on non-porous and smooth tiles. It can work on shower walls as well.
The tiles it is used on should have gray accents, should be ghost white, and be 4 by 4.
Features
17 inches
Suction cup device
Has tab levers
Weighs 14.4 ounces
Pros
Steady confidence
Easy to install
Assists your balance
For adults &children
Cons
Will not work on a textured surface
Changing Lifestyles Safe-er-Grip 11.5 Inch – Bathroom Grab Bars for Elderly
This is a mommy's helper safe-er-grip device. it is 11.5 inches balance assist gadget that was built with mobility and safety in mind.
The changing lifestyle device can attach to a bathtub easily. It assists you when getting in or out of the tab which makes it one of the best grab bars for seniors.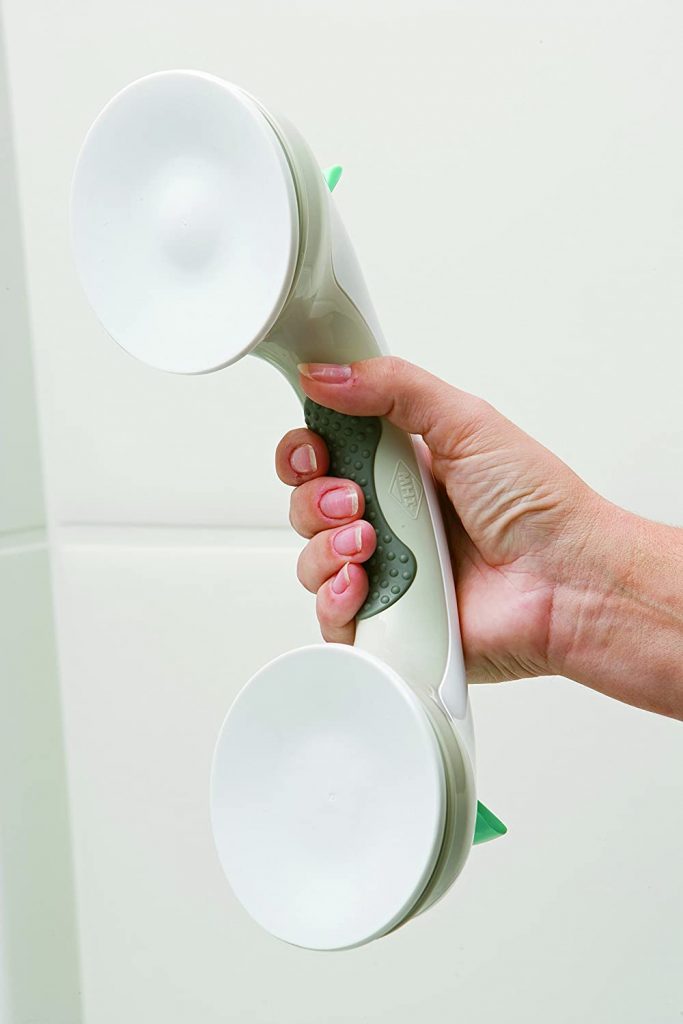 Click to View Price and Buy from Amazon
It can attach to the area surrounding the tab or tiles and provide you with stability and safety while you take a shower. Its rubber grip has been textured to prevent slipping and to provide you with extra comfort.
To secure it you need to push down on the latch. Flip it up to if you need it to release. It is not meant for body leverage so you should not try to hold your weight with it. The suction action cannot hold your weight.
The device will work on non-porous, smooth, and dry surfaces only. It has gray accents and is colored white.
Ensure it is correctly attached before attempting to use it. If not securely attached reattach to avoid accidents.
You can use your finger to release the suction by sliding it under the rubber seal at both ends.
Features
White in color
Suction cup tech
Flip able latches
Rubber seals
Pros
Easy to install
Powerful
Secure &stable
Textured grip
Cons
Will not work on drywalls
Stander Security Pole and Curve Grab Bar Elderly Tension Mounted Floor to Ceiling Transfer Pole, Safety Assist and Stability Rail, Iceberg White
It is a security pole from a stander that is a safety provider for a standing or sitting person or for moving someone to a wheelchair or a walker. This stander pole fits in tight spaces courtesy of its slim design. It can be used next to your bed, in the bathroom or next to your couch to prevent accidental falls.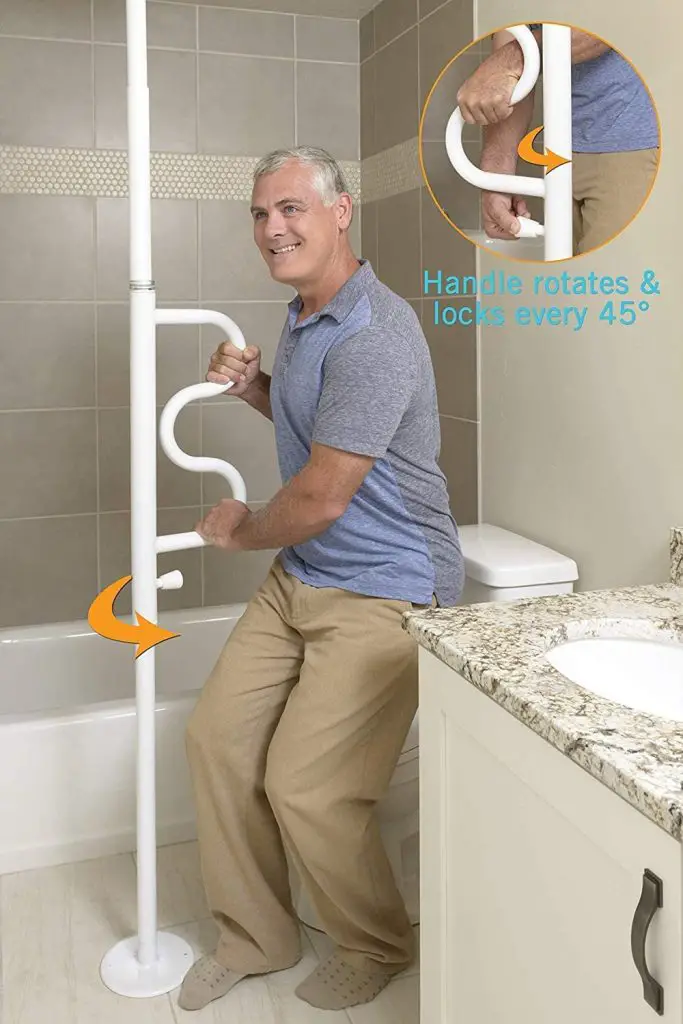 Click to View Price and Buy from Amazon
The security pole is tension mounted. It comes in two pieces that are 53inches a piece. The pole has its wrench to be used for installing and assembling.
It is ideal for replacing handrails and toilet rails that can be bulky. It does not alter your home design and can, therefore, be installed in any room. This pole is multipurpose and can be used in a variety of ways such as bedside support, chair standing pole, or wheelchair transfer pole.
Pole includes 4 hand grips that help the user to use a hand over hand motion to get up.it has a ladder-like design. The pole can be used for flat ceilings that are between 7 to 10 feet. They have rubber pads on each end to protect both the floor and roof from damage.
Feature
Height adjustable
Durable powder coat finish.
Tension mounted
Ladder like design
Pros
Safe and stable
Easily assembled
No additional tools needed.
Metallic black and Iceberg white
Cons
Moen LR2308W Homecare 12 inch Suction Balance Assist Bathroom Safety Hand Grip 1-Bar Glacier
This 12 inch Moen home care bar will be a safety provider when you are using the toilet, showering, or bathing. It has a great suction design that helps it attach to flat and smooth surfaces such as tiles and tubs.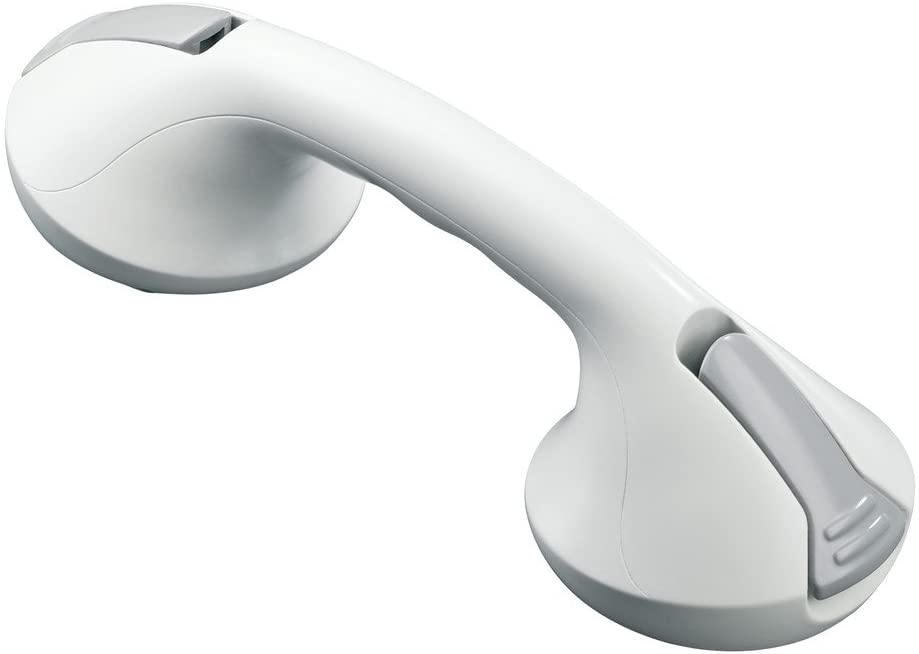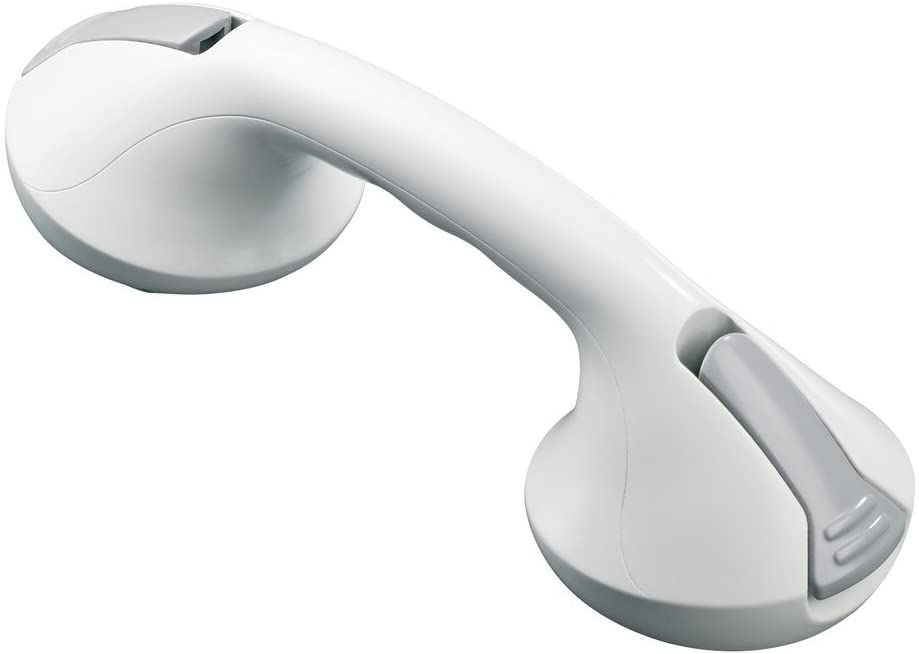 Click to View Price and Buy from Amazon
The bar requires no drilling and will stick to the wall with its suction only. To attach it you have to simply lift the bars, position it, and then close the bars. Its grip has been molded and contoured gently for comfort. The handle curved design ensures the handhold is firm.
Made of plastic that is corrosion resistant and durable. It has a white and cool finish that will fit in with any interior décor. It is small and compact and can be easily packed in a suitcase for travel.
Balance assist bath grip is only meant for balance assist period. It cannot be used for full body weight leverage.
Features
Non-slip grip
Suction design
Non-corrosive
White finish
Pros
Assists balance
Easily attachable
Blends seamlessly
No drilling
Cons
Can be problematic on tiles
Changing Lifestyle Safe-Er-Grip 16 inch Bath and Shower Handle
This changing lifestyle 16-inch shower handle is great for children, seniors, and anyone that might need assistance to get in and out of a wet bathtub or shower. It is a suction cup technology bath and shower handle that can be attached at any height to accommodate different users.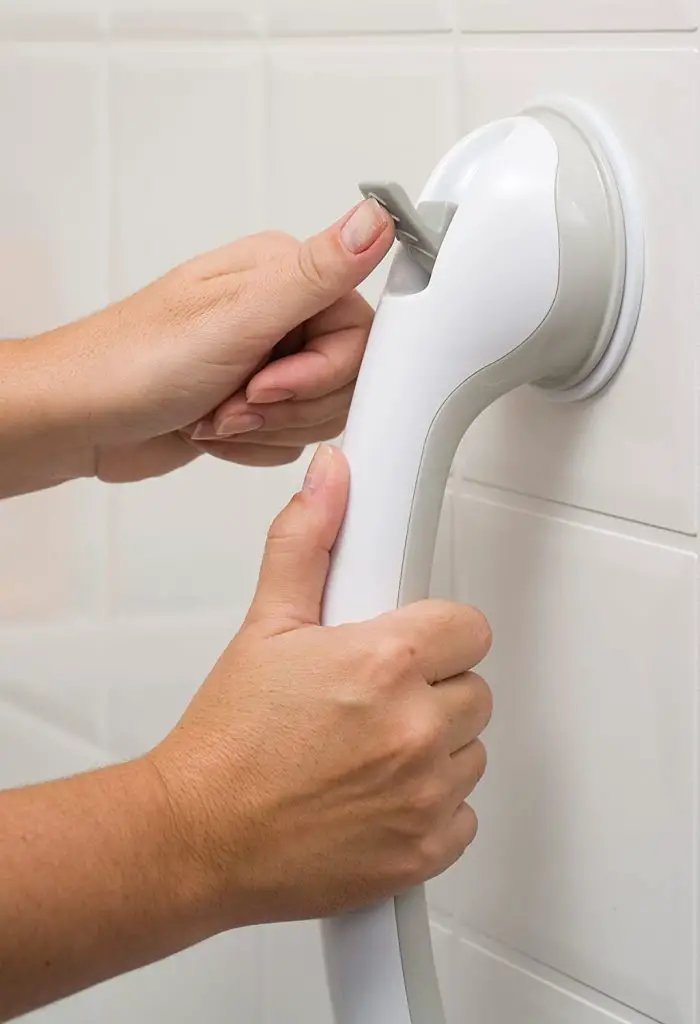 Click to View Price and Buy from Amazon
When placed horizontally it attaches to bathtub easily making it perfect for exiting or entering. If placed vertically it attaches to the tub's surroundings or tiles providing stability and safety while taking a shower.
Its rubber grip has been textured for extra comfort and to ensure a firm grip and to prevent slipping. The installation is easy and does not require tools. You press it down on the smooth flat surface and lock the latch. Flip-up the latch to release it from the surface.
It can only attach to tiles that non-porous, smooth, and 4 by 4. The tiles should also have gray accents and ghost white. Before attaching to a surface it should be free of soap scum. The grip should also be cleaned with mild soapy water and dried.
Features
Suction cup design
16 inches
Secure tab levers
Plastic material
Pros
Easy to install
great for bathtub & shower
both parent & child users
steady confidence
Cons
It doesn't cover grout lines.
Final Words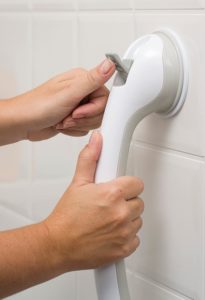 If you have a senior citizen in your home or need a bathroom grab bar yourself, it is important to find the right product. Being in the market for one demands that you take your time, have a criterion to follow, and ask the right questions.
In the market for the bathroom grab bars for seniors? Tired of the one you are currently using?
The above are our recommendations for the best bathroom grab bars for the elderly.