What is the Best Comfort Height Toilet for Seniors? Due to old age, your elderly parent or grandparents may experience joint and back pains.
This limits their ability to participate in essential activities like pooping in low and standard height toilets especially if he/she is tall…
Enter the comfort height toilet for seniors…        
Now, like other senior living aids (such as narrow walkers for seniors), comfort height toilet for seniors can make a huge difference in the quality of life for your aged and aging folks.
I will be discussing tall toilets for the elderly in-depth in this article.
But let's first look at comfort height toilets' typical construction to help you understand what makes them unique.
Related: Best Reclining Shower Chairs with Wheels
What is a Comfort Height Toilet?
These are nothing else but still, a water closet toilet using gravity or pressure flush – pretty much like any other contemporary toilet.
But there is one fundamental difference…
A comfort height toilet's bowl height stands between 17-19" from the floor.
To put it into more perspective, your standard toilet is usually below 17" with toilets 14 ½-15" tall being the commonest.
Here is the secret…
A comfort height toilet is naturally easier to sit down/stand up from compared to a standard height toilet.
As a result, high toilets work well for seniors who encounter discomfort when attempting to stand from low positions.
In addition, with these types of toilets, your feet rest more comfortably on the floor. 
In fact, the height is at par with the specifications of the Americans with Disabilities Act.
Subsequently, these are the most recommended toilets for elders with physical disabilities.
Related: Best Padded Shower Seats for the Elderly
The following are some of the best comfort height toilets for seniors
| Image | Toilet Seat Name | Gallons Per Flush | Price |
| --- | --- | --- | --- |
| | Kohler 3810-0 Santa Rosa | 1.28 gpf | View |
| | Toto CST474CEFGNo.01 Vespin II | 1.28 gpf | View |
| | KOHLER K-3609-0 | 1.28 gpf | View |
| | Aqua-Magic V RV Toilet | - | View |
| | Kohler K-3889-0 | 1.28 gpf | View |
| | TOTO CST744SL#01 | 1.6 gpf | View |
| | TOTO CST454CEFG#01 | 1.28 gpf | View |
| | WoodBridge T-0001 | 1.28 gpf | View |
Types of High Toilets for Seniors
Like I hinted above, high toilets belong to the conventional basic types:
Gravity-feed extra tall toilets
Pressure-assisted comfort height toilets
Here is what you should know about each type…
Gravity-feed toilets
By far the most dominant, gravity-feed toilets flushing system relies on gravity
How helpful is this?
Naturally, these toilets flush way more quietly than their rivals.
One drawback is that budget gravity-aided toilets for seniors may fail to adequately displace waste.
This takes me to the pressure-based toilets…
Pressure-assisted extra tall seniors toilets
This category of toilets uses pressure to force waste down your waste line.
How beneficial is this?
Because of the pressure flushing mechanism, this type of porsche carrera replica toilet has a reduced probability of clogging.
And they displace poop sublimely.
But there's a price to pay…
Pressure-assisted can generally be costlier.
And they're noisier too…
Why a Comfort Height Toilets
The best high toilets for seniors can be a wonderful gift for your elderly relative in many ways. Take a look.
1.   Comfort in the loo
Even though it's rarely said openly, it's pretty difficult to finish your potty business if you're not relaxed.
Now consider what happens if you have leg or other aches in your body?
It can be hell!
Firstly, sitting on your standard height toilet will trigger more strain further stressing your hurting regions.
Secondly, if you have some physical impairment, sitting on a standard toilet for long may restrict blood flow in sensitive areas, prompting more discomforts.
Extra tall toilets are customized to support your posture when seated on the potty and can help ease your leg, back, or knee joint issues.
2.   Best comfort height toilets are easier to squat on/ stand from
If your elderly buddy is suffering panerai luminor gmt 40mm replica from common conditions such as arthritis, sitting/standing from standard height toilets is another pain.
He/she will find it even more challenging if he has any disability due to chronic ailments.
The engineers behind high rise toilet seat had this in mind when introducing the extra 3-4 inches.
In the end, the elongated height helps elderly people and disabled persons overcome the sitting/standing limitations sparked off by age/physical injuries.
Your senior will no longer complain of pain when coming from the loo.
3.   They are great for tall seniors
Forget about everything else.
These toilets' primary target was taller people.
And so if height runs across your lineage, your tall octogenarian parent will love every bit of using these sorts of toilets.
Comfort Height Toilet Buying Guide
One of my goals is to help you narrow down to a nice toilet high toilet. It's hence only fair that you should know what to look out for.
Here we go.
How tall is it really?
I had mentioned this:
The bonus inches are magical for the senior citizens and the disabled.
But manufacturers don't make equal toilet seat height for the elderly.
As a matter of fact, ADA only requires that the toilet is at least 17" leaving room for individual companies to play around with the height.
It's therefore mandatory that you find out its actual height vis-à-vis your folk's present height.
On the whole, best high toilets for seniors heights start at 17".
And unlike the days of yore when a 19-inch toilet bowl height was a rare phenomenon, manufacturers have yielded to public pressure and are now making taller toilets.
But what is the highest toilet height really?
Well, the market nowadays has a couple of toilet bowl height 20 inches.
Having said that, most tall toilets for elders are in the 17-19 inches height range. This makes sense considering that the mean height for elderly women and men is about 5.4 cm
The greatest news is that the 2/3 inches top-up makes getting on/off the toilet easier for your dear one.
Can it fit your space?
There's another key measurement that you have to focus on- the toilet's rough-in measurement.
This is simply the distance captured from the wall right behind your toilet to the exact center of the closet's bolts.
That distance could be 10″, 12″ (pretty common), or 14″ (Round your measurements down where necessary).
Needless to say, you will pick a fitting rough-in measurement.
How is its flush operation?
Again, you notice significant differences in the tall toilet's flushing ability. The last thing you want is a toilet that easily gets clogged since it's going to be a hygiene nightmare for your senior.
And so?
It's prudent that you select a breeze-to-clean high toilet design.
Overall, vitreous China toilets have sublime sanitary properties and tend to leave your bowl pristine.
High toilets for seniors with the WaterSense label
Toilets remain the biggest contributors to rising water bills at home, taking up about 30 percent of homes' water consumption, according to the EPA (Environmental Protection Agency).
This explains why the state recommends that you should install only WaterSense labeled high toilets.
These are tested for water usage economy and can cut down your water usage by as much 20 percent.
A word on the looks
I should add that these toilets come in myriad styles and colors.
As regards the color, white and beige seem to be a favored choice in many homes.
Then, you can opt for either one-piece (tank and bowl molded into one) or the two-piece (separate tank and bowl) design tall toilets for the elderly.
Well, I love the one-piece glamorous looks and space-saving nature but you will find the two-piece more affordable.
All in all, your chief concern for a toilet should be first and foremost functionality. Looks can come later.
A cover is a cool idea
Believe it or not, some standard models don't come with covers..
And unless you have some spare bucks to spend on a cover, you don't want to go with such toilets.
Where to Buy
When it comes to buying comfort height toilets for seniors, you're spoilt for choice.
To begin with, you can order it online.
Your list of online vendor options includes established e-commerce websites such as Amazon and Wayfair.
If you would prefer physical shops, leaders like Lowes and Home depot operate over 2,000 stores nationwide and I can bet there's one near you.
Some smaller stores also stock these types of toilets.
Having said that, ordering online could save you a few bucks as online stores are generally cheaper.
Popular Comfort Height Toilet for Seniors Brands
We will now look at the leading brands in the best comfort height toilets space..
·         Kohler
Kohler high toilets are arguably the most popular.  They include the fast-moving KOHLER 3810-0 Santa Rosa Comfort Height Elongated (read our review below).
·         Toto
Toto has been giving Kohler a massive run for its money with a variety of high-efficiency comfort height toilets.
An outstanding feature of Toto high toilets for seniors is their effortless beauty.
·      Aqua-Magic
Not to be left behind, Aqua-Magic has also released a number of brilliant high toilets for seniors.
For the most part, Aqua Magic tall toilets for seniors come at fantastic prices. 
Up next is a review of the best high toilets for seniors…
High Toilets for Seniors Reviewed 2020
KOHLER 3810-0 Santa-Rosa  Elongated 1.28 GPF Toilet
The Kohler santa rosa 3810-0 comfort height toilet for old Swiss Replica Watches people is 18 inches tall and is clearly designed to be easy to sit down on/standing for seniors.
The height coupled with the elongated seats makes it super comfortable.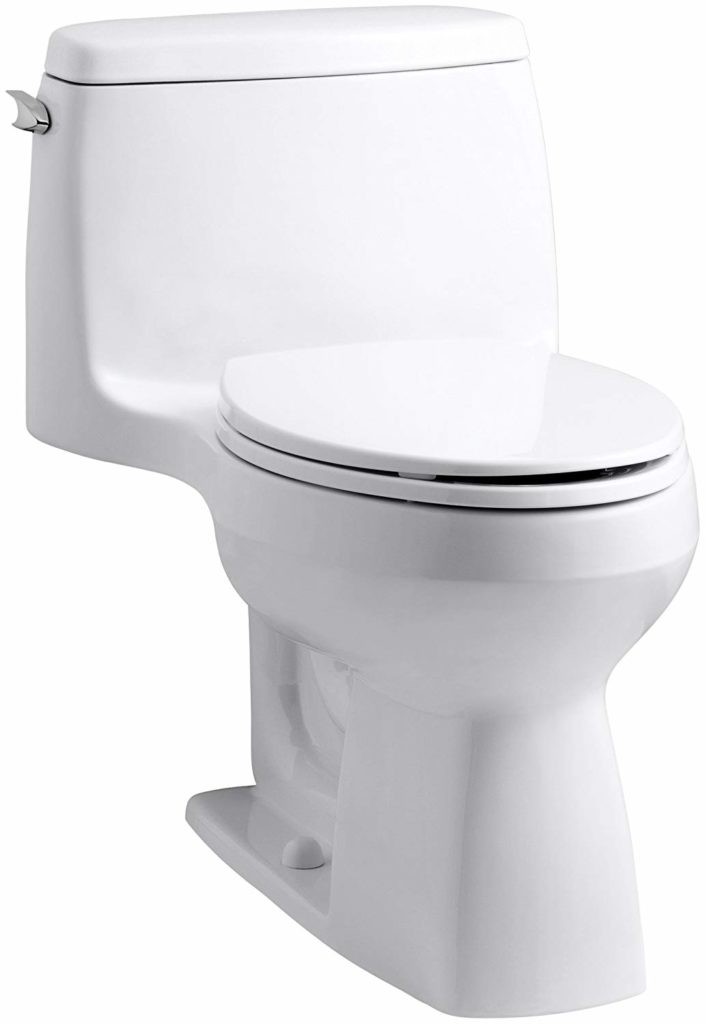 Additionally, its 1.28-gallon high-efficiency gravity flush system flushes waste in one flush while delivering remarkable water economies.
Kohler actually estimates that the toilet can save an incredible 16,500 gallons annually (on the higher end).
It's a neat one-piece toilet (12 inches rough-in) and so excellent for standard bathrooms.
Also noteworthy is the toilet's non-comprising flushing ability..you won't be experiencing a single clog anytime soon.
Summary of Key Features
Seamless one-piece toilet design.
Compact elongated bowl.
Standard left-handed trip lever.
Brevia quiet-close seat.
AquaPiston Flush Technology.
Dimensions: 31 x 20.8 x 29"
Rough in: 12 Inches
Pros
Super easy to clean
Superb water usage economy.
Absolutely sleek looking (white).
Its height is quite not too high and is quite comfortable.
Comfortable
Cons
A bit pricey.
Other toilets have better toilet lids than this.
Toto CST474CEFGNo.01 Vespin II Two-Piece High-Efficiency Toilet
Toto has always claimed that this is one of the best high senior's toilets to come from them and looking at it keenly, it's hard to disagree.
To be honest, this has one of the most elderly-oriented constructions at its price range.
The formidable Double-Cyclone flushing system pairs with a low water consumption engineering (1.28-GPF) and adds a SanaGloss ceramic glaze to create a toilet with compelling hygienic standards.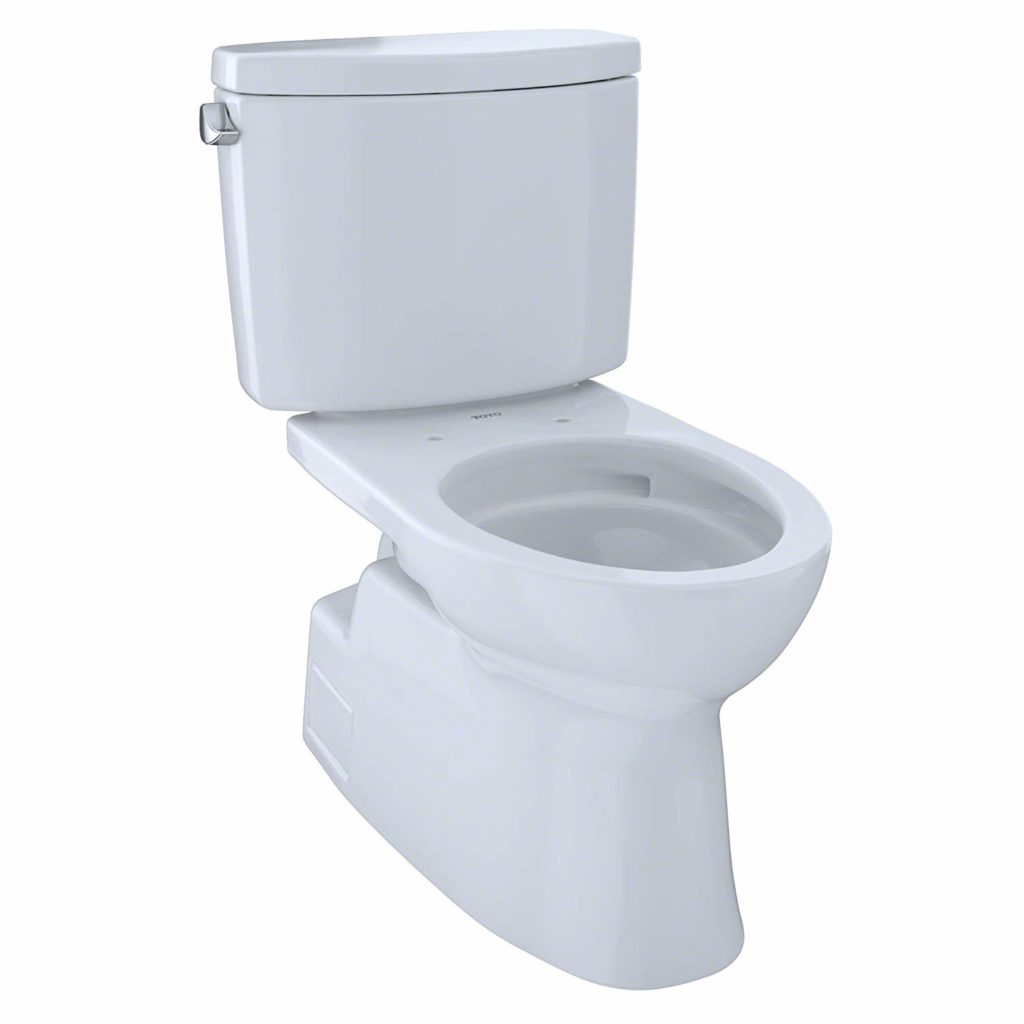 Not only is it dazzling at washing down the waste but it also prevents debris and nasty mold from growling on the ceramic surfaces.
The critical consideration for this class of toilets is the height and yes, its universal- which is Toto's way of describing extra- tall toilets.
Toto explains this height as perfect for use by old people with myriad old-related physical challenges.
For this reason, his/her feet won't dangle as it happens with ordinary toilets.
The skirted design, prominent in the best Toto toilet collections makes an appearance here.
This style is smooth and elegantly conceals the trapway.
The high toilet sometimes ships in heavily packed box (es) for protection.
 Prominent Features
Universal Height: 30 inches measured from the toilet's floor to the tank top, including the lid. 
12-Inches Uni-Fit Rough-in
Double-Cyclone flushing system
Skirted design
Chrome trip lever
SanaGloss ceramic glaze
Watersense certification
Pros
Beautiful two-piece design.
Flushes impressively.
Cheaper than Kohler Santa rosa
A breeze to clean
Comfortable
Cons
KOHLER K-3609-0 Cimarron Elongated 1.28 gpf Toilet
Kohler's K-3609-0 gets a thumbs up for its fast flush-quick refilling action. The biggest surprise is its Vitreous China material – awesome when it comes to fighting molding and staining.
The patented flush engine teams up with the innovative AquaPiston technology to produce a marvelous bulk flushing performance while the toilet's easy curves help it complement dozens of bathroom environments.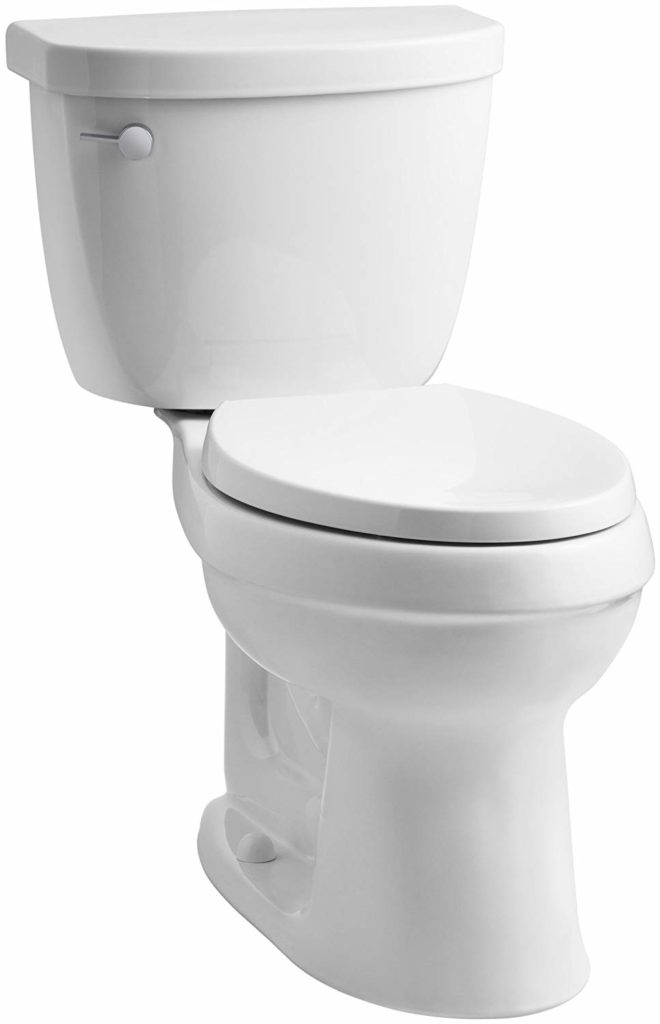 Also worthy of mention is the spacious sitting area (elongated bowl) alongside the expected chair height (17.6 inches) —enough proof that it is dedicated to delivering ease of use for elders.
On the whole, Kohler deserves a pat on the back for the redesign which has resulted in one of the most well rounded high toilets for old people.
Truth be told, all Kohler high toilet seats are brilliant in their own ways, but this K-3609-0 is one of the very best I have met recently.
Standout Features
Two-piece toilet (K-4309 bowl & the K-4421 tank).
1.28 gpf
Watersense certification
Elongated bowl
Comfort Height(R) -17.6″
Vitreous china material
Class Five Gravity Flush technology
Dimensions: 28.8 x 17.6 x 30.8"
12-Inches Rough-in
Pros
Relatively quiet – just a whooshing sound.
Lightning-fast flushing action.
Incredible water savior.
A resilient construction- powerfully resists staining
Comfortable
Cons
Lacks a toilet cover so budget for one if necessary.
Aqua-Magic V RVs Toilet Pedal Flush
Not long ago, you had to pay considerably for an RV compatible high toilet you could trust with frail seniors who enjoy camping.
And there were almost nil toilets priced less than $200 let alone below $150.
But thanks to new entrants, the price of entry for RV's high toilets has been consistently falling and this toilet is among those leading the way.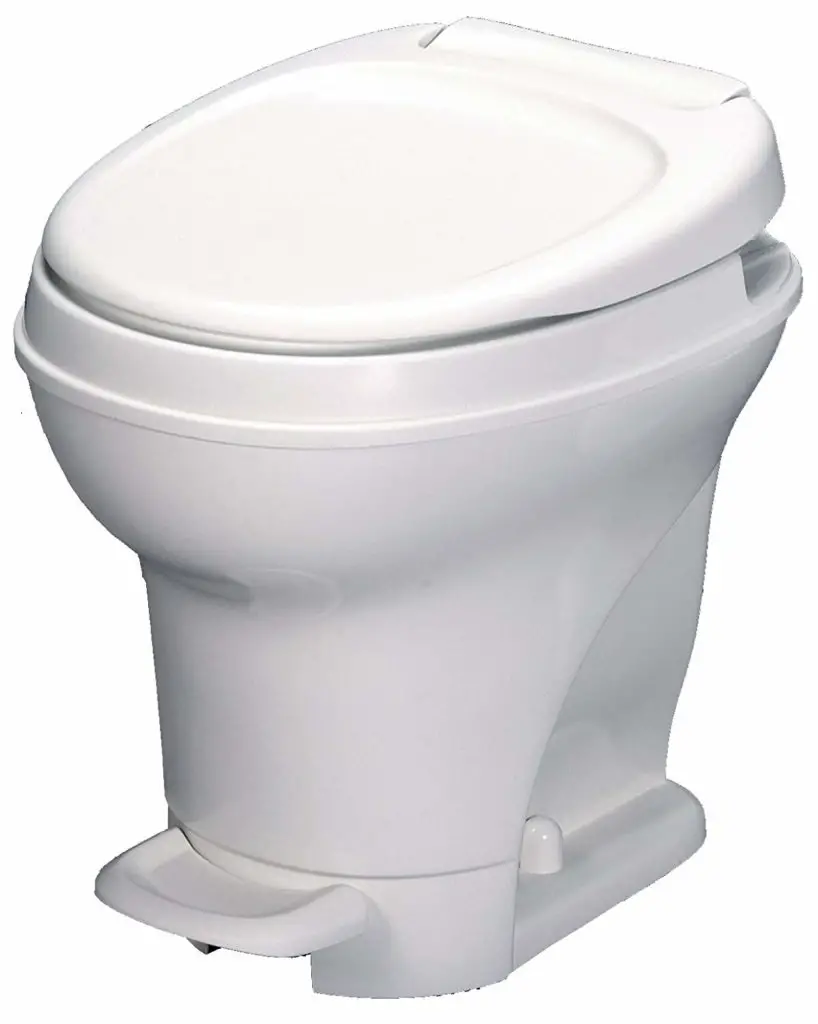 Unbelievably, the sub $150 toilet outperforms toilets twice its price in several aspects.
You get 18 1/2 inches seating height with pedal flush technology, a textured cover that sheds water besides resisting scuffs, full bowl coverage, and a nice finish.
And if you want to further save on your water consumption, the design allows you to add a hand sprayer for a hand rinse wash-down of the toilet bowl.
Installation is easy and the toilet feels super sturdy for larger seniors.
It's everything your camping obsessed senior wants and at an amazing price.
Most Notable Features
Classic style toilet seat design
Single-pedal
Full-bowl coverage flush
Textured lid
Chair height: 18 1/2 inches
Pros
The classic style plus taller seating height makes it ideal for taller seniors.
The foot single-pedal flush system is easy to use.
Easy to install and clean.
Option to add a water-saving hand sprayer.
Comfortable.
Cons
Occasionally  backsplashes
Kohler K-3889-0 Highline Comfort Height 1.28 gpf Toilet
The Kohler K-3889-0 Highline toilet is perfectly customized for old people and the physically handicapped searching for an ADA compliant easy-to-use toilet.
It stands at a comfy 18″ (45.7cm) chair height and uses Kohler's revered Class Five(R) flushing system to perform a tremendous bulk waste-flushing job.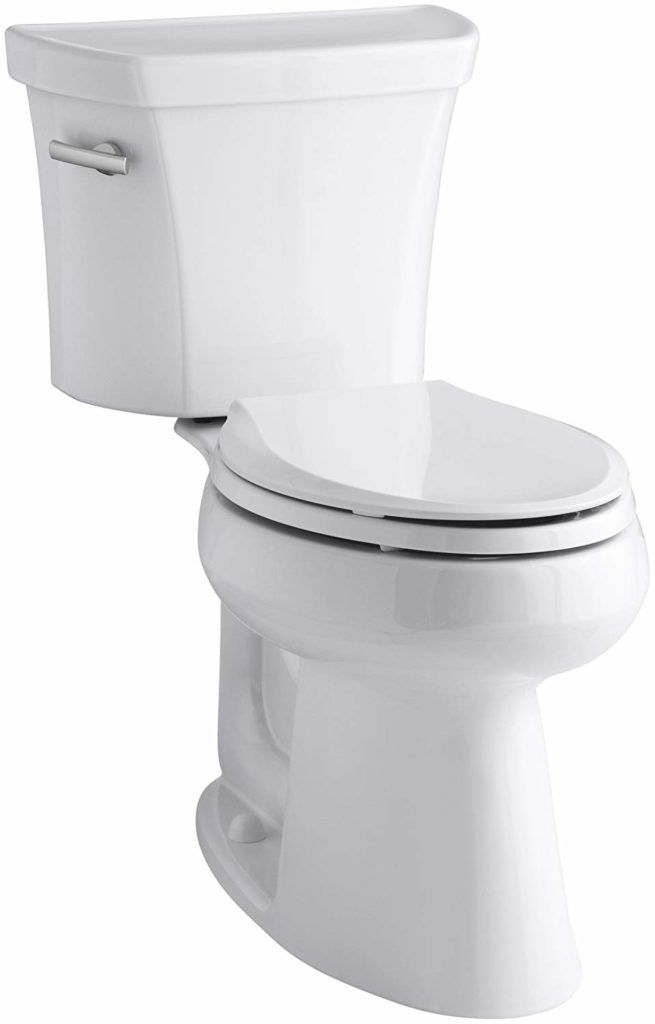 The company has improved the toilet's base to make it more stable -it needs to because of larger users- and friendlier to install- they have discarded older installation types for the favored 3-bolt Installation.
Everything else is included- an elongated seat, the reassuring Watersense label, and is a beautiful toilet.
The thing is you don't have many options if you're searching for a 10-inch rough-in so you will be happy to have this.
Features
10″ rough-in
Full dimensions: 29-1/2″ x 18″ x 31-1/4″
Class Five(R) waste flushing system
3-bolt Installation
Pros
One of the easiest to install.
Magical flushing system.
Pretty looks.
Quieter toilet.
Comfortable.
Cons
FAQ
What is a high toilet?
A high toilet is a flush toilet with a seat elongated a few inches over and above a standard toilet. High toilets are perfect for the elderly and the handicapped. They are easier to sit on and stand up from compared to standard toilets.

A high toilet for old people should be of chair height. This helps alleviate stress and joints.
How tall is a standard toilet?
The height of standard toilets is about 15" from floor. These are not recommended toilets for the elderly.
What is the highest toilet you can get?
The highest toilet for seniors you can get is between 20 and 21 inches from the floor. These are perfect toilets for elderly.
What is the difference between standard height and comfort height toilets?
Comfort height toilets for seniors are 17 to 21 inches from the floor while standard toilets are just 15 inches from the floor. The comfort height toilets are perfect for people with mobility problems and the older folks.
Are elongated toilets better?
Even though elongated toilets take up more space compared to round bowls, they are way more comfortable and recommend for the elderly.
Conclusion
There ends our discussion about the best high toilets for old people.   
Like we have seen, these toilet seats create an easy bathroom time for your seniors because they're easier to get into/stand from thanks to the elongated height (compared to standard toilets).
Remember to check the actual height when buying as well as other useful features like the Watersense label.
We have also mentioned that you can order your favorite toilet seat from Amazon (cheaper) or a store near you.
I hope that our best high toilet seats for seniors reviews will help you quickly arrive at a decision.
Good luck.