What are the best padded shower chairs for the elderly? As we grow old, our legs grow weak, and this leads to loss of mobility.
Activities that we used to do regularly, like walking and showering, are no longer as easy as they used to be.
For the older people and also those who suffered injuries leading to limited mobility, they want independence when doing their things, especially in the shower. No one likes to be a shower in the presence of somebody else.
Today, cases of shower accidents have increased. Bathroom accidents are sometimes fatal and even lead to deaths.
However, we can take precautions of such risks by getting padded shower chairs for the elderly. The elders need to take their showers with comfort and at no risk of falling, and these seats also provide much-needed stability.
Related: Best Non-Slip Bath Mats for Elderly
It is hard to fall if you are sitting down. Shower seats offer support as you get in and out of the shower.
There are many shower chairs in the market.
Although these seats all serve the purpose of resting while in the shower, these seats have different features.
When going for a shower seat, we advise that you go for some specific features. If you love travelling, put into consideration that you will need to carry this seat, meaning that you should go for a portable shower seat.
We did some reviews about the best padded shower chairs for seniors, and here are some products and what we found out about them.
Related: Best Shower Seats for Seniors
Types of padded bath chairs
Shower chair, bath chair, padded with armrests, comfortable Deluxe shower chair
Drive medical bath stool with padded rotating seat
PCP shower safety seat, cutout for easy cleaning, Non-slip bath support recovery chair with backrest
Why You Should Buy
A shower chair offers safety to anyone who uses it. Since bathroom accidents have become too many nowadays, and they cause severe injuries and even death, people have decided to take precautions by getting a shower chair. You cannot fall when you are sitting.
 A shower seat will also assist the elderly who can barely bend to reach some body parts like the legs and feet. Some shower seats also have a backrest that will prevent you from falling when you lean back. It also has padded arms that give support, especially to the elderly, when sitting down and getting up.
Related: Best Bathtubs for Seniors
For travellers with limited mobility, they will need this chair. You do not want to keep carrying infections from one hotel`s shower chair to another since many people use these chairs. While buying your chair, you will better to go for one that is portable. Some of these hotel chairs might not give the comfort that you always get from your shower chair. To enjoy every moment in the shower, just get your shower chair.
A shower seat allows people with limited mobility either permanently or temporarily, bathe in private. Suffering from a disease to the point that someone has to wash you is no fun. Having a shower seat of themselves takes away the embarrassment of feeling like they cannot do anything for themselves. It also gets uncomfortable being washed by somebody else, and it can even take away your dignity. A shower chair will allow this elder or this other person with limited mobility feel independent once again, by washing themselves.
Related: Best Bathroom Grab Bars for Elderly
Do you know that good feeling that comes with owning something? It is usually a good feeling. When you know that it is yours, you are not afraid to sit on it since you are sure that it is clean. Use it anywhere from the comfort of your shower at home to any hotel when you travel. You will keep wondering how people without this shower chair survive.
The padded seat on this chair will give you comfort while taking a shower. For some seats that do not have enough padding, you might get out of the shower with an aching butt or back pain. Normalize looking at the features when buying a shower chair, or else you will find yourself with a chair that is not worth your money.
Related: Best Comfort Height Toilet for Seniors
What to Consider When Buying 
Quality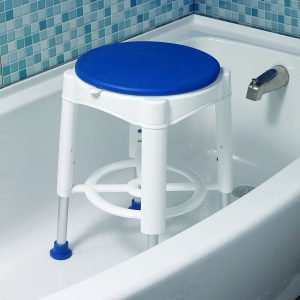 If you do not want to fall in the shower while on a shower chair, then look for a quality chair. Make it your habit of buying things from known manufacturers. If the other products they have manufactured are of good quality, it is with no doubt that the seat you are buying from this manufacturer will also be quality.
Weight capacity
Shower chairs are available in a variety of sizes and features. When planning to buy a shower chair, you should consider the weight this chair holds. You cannot get a chair that holds 150pounds when your senior weighs 300 pounds. They will either fall or break that seat leading to injuries
Material
Do you want a plastic chair or one made of aluminum? The choice to make here is all yours. You have reasons for going for that aluminum chair rather than the plastic one. However, go for a seat made of a durable material if you do not want to keep buying shower seats. Also, look for a material that is sturdy if you do not want to keep getting called to raise your grandma in the shower after falling.
Size
Bathrooms come in different sizes, and so do shower chairs. Before buying a shower seat for the elder, you need to know the size of your bathroom, or you will get stranded outside the shower with your chair.
Mobility
If you love travelling, consider buying a portable seat. Do not go to use the hotel shower chairs and risk contracting infections, yet you can carry your chair and save yourself from germs. The weight of the chair will also depend if it is portable.
Related: Best Reclining Shower Chairs for the Elderly
How to Use a Shower Chair (Video)
Best Padded Shower Chairs for Seniors Reviews
PCP Shower safety seat, cutout for easy cleaning, non-slip bath support recovery chair with backrest
This seat is a caregiver approved for hygiene, hemorrhoid, and postnatal recovery. It is lightweight, meaning it is easily portable. It makes bathing safe, comfortable, and relaxing. In short, it offers the kind of baths we all look forward to. It is also sturdy and stable, providing support to the seniors.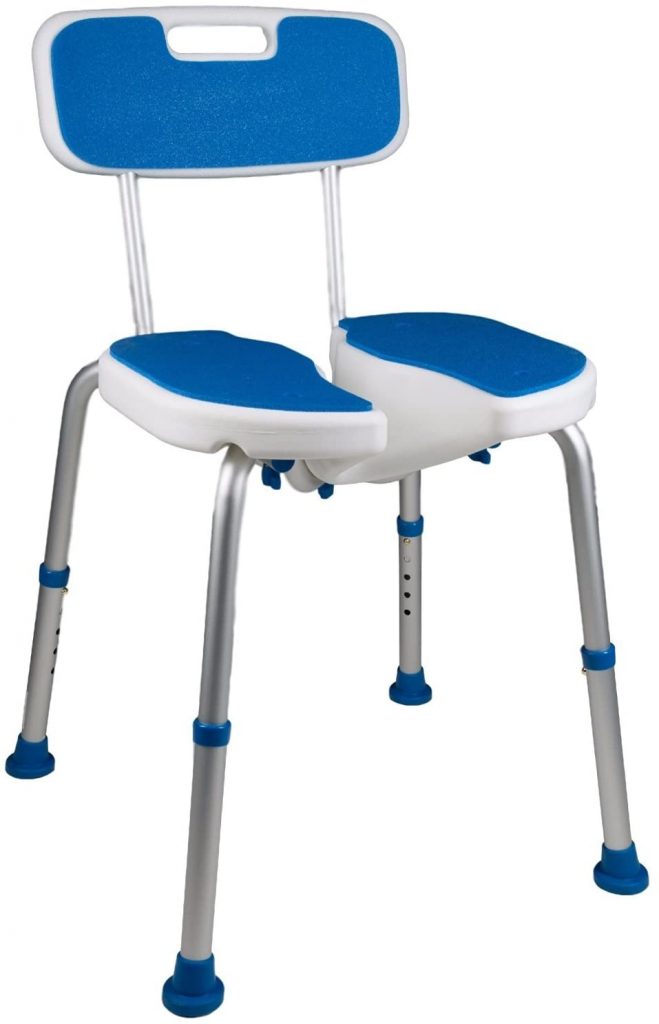 Click to View Price and Buy from Amazon
The PCP shower seat can is suitable for both the old and recovering patients. It fits well in the bathroom and grips on the wet floor for safety. Its seat has been padded for comfort, and the top of the chair has a removable backrest.
This seat is also simple to clean and sanitize. Its suction feet are non-slip for safety. The material used to make it is durable and rust-proof, so it remains clean from rust. This seat increases security and independence among the elderly, injured, and those users who are disabled.
Pros
Completely waterproof
Height is adjustable
Lightweight
Cons
Drive medical bath stool with padded rotating seat
If you are a person with special needs when it comes to mobility or a senior, this is the best bating aid for you. Drive Medical Bath is versatile, comfortable, and safe and has a padded rotating seat. The top of this seat can be removed for cleaning.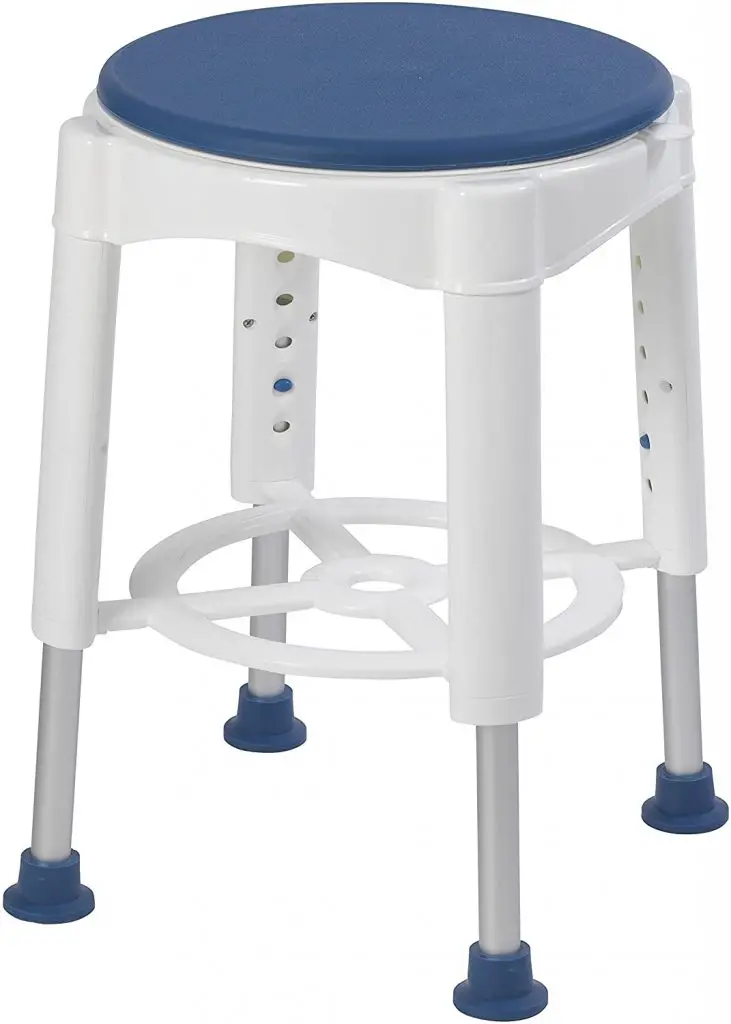 Click to View Price and Buy from Amazon
This seat cannot compare to others in terms of benefits. Since wet floors result in slipping and falling, this seat comes with a feature of rotating as your body moves to avoid such accidents. Since it can rotate up to 360degrees, it locks every time it gets to 90degrees to reduce twisting while in the shower.
This superior bath stool also comes with a removable tray for convenient storage. It has a padded seat that is removable for easy cleaning, and it is adjustable from 16 inches to 23 inches. This stool can carry a weight capacity of 450 pounds, and it weighs under 200 pounds.
Pros
Adjustable height
Very sturdy
Highly padded
Rotates 360degrees
Shower Chair, Bath Chair, Padded with Armrests, Comfortable Deluxe Shower
Designed by health care professionals and used by institutions all over the world, this chair will make you enjoy bathing again. It is intended for people who value comfort, quality, and safety.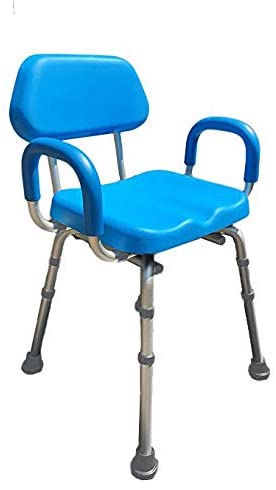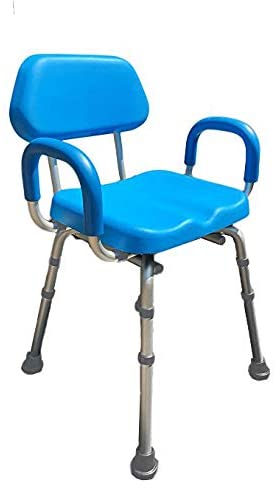 Click to View Price and Buy from Amazon
Armrests prevent falls and assists in safe entry and exit. A padded seat provides comfort, warmth, and minimizes the risk of tears and infections.
Do not be afraid of rust because medical grade aluminum used in the making will never rust. For reliability, durability, and safety, you can put all your trust in this seat.
Its adjustable height feature allows it to fit any user.  This feature also provides optimum safety and comfort making it one of the best padded shower chairs.
Its softer surface prevents users from slipping and sliding, and it is easy to clean padding does not absorb water.
Its modern blue design is very visible to help the visually impaired, unlike its old-style that blended into the background. This feature will reduce the number of slips and falls, which might lead to death.
Pros     
Do not rust
Adjustable height
Easy to clean
Has padded seat and armrests
sturdy
Cons
buy fake watches shanghai
rolex cellini replica
how to identify a fake rolex watch