At an advanced age, the secret to a safe and comfortable daily workout is a treadmill for seniors.
Of course, your strength, stamina, and even flexibility have dropped significantly by now (an inevitable result of aging).
Now, a study by Harvard University has revealed that you can reverse most of these changes through regular exercise.
Isn't that amazing news?
The thing is we recommend treadmills for seniors for your home gym.
Read on to discover our reasons and how to identify the best treadmill for seniors to serve you or your loved one's needs.
Related: Best Pedal Exercisers for the Elderly
| Image | Treadmill | Capacity | Price |
| --- | --- | --- | --- |
| | Weslo Cadence G 5.9i | 275 lbs | View |
| | Exerpeutic TF1000 | 400 lbs | View |
| | ProForm PFTL60916 505 CST | 325 lbs | View |
| | Nautilus T618 | 350 lbs | View |
| | SereneLife Smart Electric Folding Treadmilll Treadmill | 265 lbs | View |
Why use a treadmill for seniors
In addition to the issues I highlighted above, you might be grappling with balance problems and niggling troubles like joint pains and backache.
You will thus endure plenty of discomforts and strain a lot if you dare work out on the treadmill your younger family members use because they lack critical safety and comfort features.
Enter the treadmill workouts for seniors.
These machines pack vital additions such as handrails (to help balance), bumper cushioning (to relieve stress on joints), and easy-to-read LCD screens (poor vision is a common problem).
Most also come with a safety key to help you exercise to your best ability without risking injury even with tougher regimens.
On the whole, these treadmills are custom-engineered to help elders transform their lifestyles through exercise.
What workouts can the elderly perform on treadmills?
The other advantage of these customized treadmills is their support for a variety of 'senior-friendly' exercise routines.
You can, for instance, engage in personalized weight training, light jogging/walking, squats, and many other exercises depending on your condition (and doctor's advice).
In fact, some come with tens of elders-specific fitness training plans to guide you during sessions.
You Might Also Like: The Best Narrow Walkers for Seniors
How does a treadmill for seniors work?
As previously mentioned, the key to these machines is the inclusion of excellent safety and comfort features.
Indeed, most of these treadmills have unique controls that you engage prior to commencing exercise, for example, to control speed, inclines, and even allow instant stopping in case things go wrong.
Others will help elders maintain good posture, absorb shocks (to help him/her walk for hours in pursuit of set fitness goals), and monitor the heart rate (important for safety).
The low deck height provided in some models is also safe to climb for elderly people.
Up next are the different types of treadmills for seniors and how they compare.
Types of treadmills for seniors
The main question is – which one would serve you best: an electric or manual treadmill for seniors?
Manual (non-motorized) treadmills
These obviously don't use electricity and the belt movement is initiated by your walking/running action.
The greatest attraction is the minimal injury or falling risk since it won't move until you trigger it by running/walking on it.
Electric (motorized) treadmills
A motorized treadmill moves the belt at the pace you configure electronically rather than by the action of your feet.
You can set a higher/lower pace as you wish and keep raising the bar as you chase improved fitness levels.
Our thoughts about the anti-gravity treadmill
This is a magical discovery and is generally a therapeutic machine used to help you keep fit while recovering from an injury.
The design is such that the space around the legs fills with air, lifting you up so that you'll be exercising at a mere fraction of your usual body weight.
This lowers impact and stress on the joints when running and is fantastic for rehabilitation training.
Its only downside is the expensive pricing.
Now, it's not easy to tell which of the types will be the best for you since we don't know your physical condition.
Your decision is, however, much easier if you know what to look out for.
Find out the crucial considerations when buying a treadmill for seniors next.
The Best Treadmill for Seniors: Buying Guide
Here we run you through what to focus on in your hunt for the best treadmill for seniors.
Special senior-focused additions
We have discussed lots of concerns that need to be tackled when it comes to the home gym for elders and you'll need to select a treadmill that best serves his/her special needs.
Look for features like:
Properly cushioned belts– Eases joint pain.
Heart rate monitor- Keeping an eye on the pulse rate is absolutely crucial.
User-friendly control panels– He/she will be more motivated if the controls are straightforward (along with big, high-contrast displays).
Perfect incline– You want an incline that isn't too hard on joints and knees.
Safety requirements
For your beloved grandpa/grandma safety, features such as an easy-to-use emergency stop switch are helpful.
Safety handrails are also desirable- he holds onto them for better balance.
Also, confirm that you're choosing a machine that supports his weight and plus a sturdy frame.
What does the doctor recommend?
The doctor's opinion is of utmost importance too.
He/she may suggest a cardio machine if you suffer respiratory and muscular problems or a special medical treadmill if you're hampered by limited mobility.
Useful extras
The following may help make your workout hour more fun and fulfilling:
Training programs- These help you train like a guru.
Folding design– Great for storage.
Spacious belt- Equates to a bigger, comfortable running/walking surface.
Less noise- We all want treadmills that run quieter
Others are workout fans (helps cool you down for a lengthy workout), speakers, a cup holder, phone holder, USB ports, coolers, Bluetooth/Wi-Fi connectivity, and more.
Capacity
The treadmill's capacity is something else you need to check. Different treadmills have different weight limits.
If your old man is plus size, go for a treadmill for a heavy person.
The Best Treadmills for Seniors Reviewed
Now meet some of the treadmills that we feel have what it takes to bring joy and good health for your aged relative.
Weslo Cadence G 5.9i Cadence Folding Treadmill
This low impact treadmill comes with a free 1-month iFit membership meaning you'll enjoy access to hundreds of workout programs from experts (connects via Bluetooth).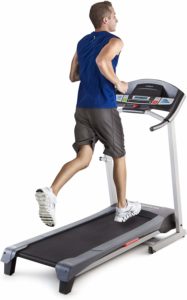 Click Here to View Price on Amazon
The comfort cell cushioning deflects pressure and strain from your joints.
This treadmill supports 275 lbs.
Features
With this, you can manually specify a lower incline to start with as you build your endurance.
Importantly, the 16 x 50 –inch belt is also big enough for whatever exercise you opt for – you will be at home running/jogging/walking.
In addition, the Weslo tread deck feels quite sturdy and should give you the confidence to keep challenging yourself in your journey to fitness.
You hold onto the elongated side rails for balance and there's a safety key to help stop the machine in case you lose balance.
The controls are a breeze and you'll have little trouble controlling it while the console lights up brilliantly.
This treadmill is as well a wonderful space saver and folds up for storage in one, easy action.
Pros
Great tablet holder.
Lots of friendly features.
Free iFit programs.
Cons
May not be ideal for taller seniors (you might have to stoop if you're over 6 feet tall)
Exerpeutic TF1000 Ultra-High Capacity Walk-to-Fitness Electric Treadmill
This is clearly built to help seniors stay in shape and is an incredible walking machine for elderly people.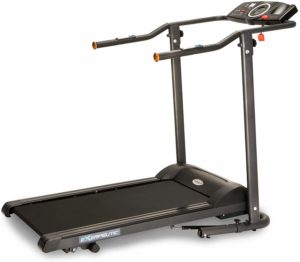 Click Here to View Price on Amazon
The extended safety handles (2X normal length), heart pulse pads, and massive LCD display console will make your daily walks safe and interesting.
The company proposes it for seniors weighing up a staggering 400 lbs.
Features
Like in the Weslo Cadence G 5.9i Cadence treadmill, you are looking at another wider belt for security (this time it's 40 x 20 inches) and 2 manual incline positions.
The speed adjusts in small increments of just 1/10's mph (maximum is 4mph) to allow you gently climb the fitness ladder.
The speed control buttons (in addition to the on/off button) are strategically located on the treadmill's handlebars for easy reach.
The wide side rails are again welcome (if you experience balance problems) as is the 'quiet drive' motor that ensures you're only listening to your favorite playlist when sweating it out (and not interfering noises).
In short, we can only congratulate the manufacturer for a job well done.
Pros
Folding frame and bottom wheels simplify its movement.
Easy to assemble.
Handy magnetic safety key. 
Cons
It requires to be reset often.
ProForm PFTL60916 505 CST Treadmill for Seniors
The chief attractions here are the outstanding proshox deck cushioning (guarantees comfort and speedy recovery), well-balanced rollers (reduced wear), and access to iFit trainers (1-month trial) who automatically adjusts your treadmill to suit your needs.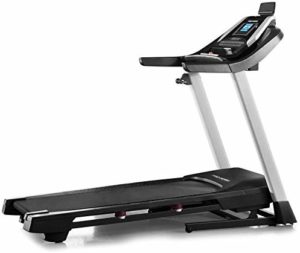 Click Here to View Price on Amazon
Features
The biggest surprise is perhaps its ability to incline up to 10% (automatically) to match real terrain on your path —very few versions of senior treadmills have this flexibility.
Everything else is present including a safety key/attachment, longer arms, intuitive controls, and built-in noise management (the noise is much lower than in standard treadmills).
Also, notable is the immensely powerful 2.5 HP (this can work even in commercial gyms), a backlit display console, and an EKG (Electrocardiography) heart rate monitor (captures precise heart information).
It's responsive to walk/jog on, yet tremendously stable, and safely handles big people (its maximum weight capacity is 325 pounds).
Overall, one of the finest treadmills for seniors who wish to abandon sedentary living.
Remember to activate the console by registering.
Pros
Easier movement (it folds and has wheels).
Aesthetically pleasing.
Supports numerous workout apps.
Cons
Nautilus Treadmill for Seniors
The Nautilus Treadmill is one of our favorite treadmills for elderly people, period.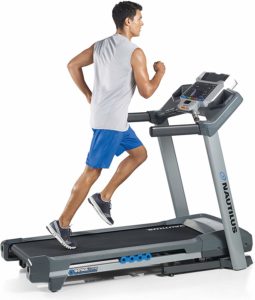 Click Here to View Price on Amazon
The innovative cushioning system brings a smooth run while you are updated about your crucial stats by the impressive LCD multi-display console.
You're in control of your destiny thanks to the multiple settings.
Features
It comes with 22 easy workout programs to kick start your journey (a mixture of weight control, cardio activities, light training, and custom workouts)
Operation is a breeze- the buttons on the control panel (mounted on the handrails) are very responsive as are the pulse sensors.
Even the incline is automated (0- 12 percent).
You make speed changes manually through the RunSocial app.
The icing on the cake is the goal tracking functionality – it allows you to easily set and follow personal workout goals.
The running path is 20 x 55-inches and the maximum user weight is fixed at 300 lbs.
Pros
More cushioning and support.
Superbly constructed.
Nice fan.
Cons
Takes more time to setup.
SereneLife Smart Folding Digital Treadmill
This folding treadmill for seniors makes our list on the account of the mind-blowing digital controls which make it arguably the most friendly for aged people.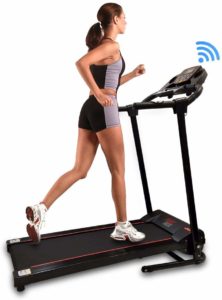 Click Here to View Price on Amazon
You can, for instance, easily raise/lower the speed using the speed+/speed- buttons on the handrails.
The compact sizing makes it ideal for small apartments.
Features
A truly digital treadmill – is equipped with awesome touch buttons (on the LCD display for speed/incline), hand grip sensors (pulse monitoring), and even an adjustable timer (5-99 minutes).
Add to this list details such as a USB and AUD port, book/tablet holders, SD card readers, stereo speakers, a safety key, and an emergency power-off and you have a contemporary, yet super-friendly treadmill for elders. 
Use the preset training mode to launch quick exercise sessions on the large running/walking platform (15.75x 43.30 inches)- simply plug it in to get started.
Also, pair it with the 'fitshow' app (download on your device) to view run time, distance covered, speed, heart rate, and calories burned from the phone.
Pros
The anti-slip pattern prevents slips and falls.
Won't damage your floor (thanks to the soft drop).
Simplest to use.
Cons
Shorter running surface compared to the Nautilus Treadmill.
Why Should Seniors Walk For Exercise?
Walking is an easy exercise even for those returning to the home gym after a long time out since it's not very taxing on your muscles as other activities.
Above all, walking has plenty of benefits including lowering your risk of suffering chronic illnesses such as stroke and diabetes.
Researchers have also found that walking can help restore your cognitive independence.
Unsurprisingly, the CDC (center for disease control) recommends a walking routine for all humans (regardless of age).
I should add that with a treadmill, walking is almost 100% safe due to the included shock absorption features.
Moreover, you can exercise conveniently in the comfort of your apartment, even in front of a TV or with your favorite music playing in the background.
Wrapping it up
In old age, giving up exercise is not an option because of the many benefits associated with sweating out including improved cardiovascular conditioning, strength, balance, and flexibility.
Luckily, you now understand how a treadmill for seniors functions and why fitness experts highly recommend them for our parents and grandparents.
I have also taken you through the essentials to look out for if you wish to surprise him/her with a treadmill gift during their upcoming birthday.
Whatever your choice, remind him/her to start slowly and gradually ramp up his/her efforts.
fake yachtmaster 2
rolex explorer 1016 replica for sale
fake baby formula