What are the best alarm clocks for the elderly? Clocks have a role of waking us up from the night's sleep or short afternoon naps. We also use alarm clocks to set reminders. For example, if you have a meeting to attend or medication to take and you might forget, you can use an alarm clock to remind you.
For the seniors, you can get them alarm clocks for the elderly, to remind them of anything they need to do since they suffer from memory loss.
These alarm clocks come in different sizes, with various features. Whether you want an alarm clock for setting reminders or waking you up, you can always find a watch that suits your needs.
Related: Best Watches for the Elderly
Types Of Alarm Clocks
Today, the market is full of many different types of alarm. Some of the types of alarm clocks available are;
Traditional alarm clocks
These alarm clocks fit well on the bedside table or in your chest of drawers. These do not have a lot of features, and they are small; hence do not take a lot of room space.
Wall alarm clocks
If you want to keep your bedside free or want to use that space for something else, I would advise you to get a wall clock. It does not eat unnecessary space
Battery-powered
 Battery-powered alarm clocks are convenient since the only time they may fail is if the batteries need replacement
Electrically powered alarm clock
If you do not get power outranges, there is no harm in owning an electrically powered alarm clock. This one will not need any battery replacements
Features
All alarm clocks are made to fit everyone. Whether you do not see in the dark, or have a problem with your sight, you will get a timer to suit you. Some of these clocks glow in the dark, to make them visible at night. Some have large numbers to make it easy for the elders to read.
Why You Should Buy An Alarm Clock
Alarm clocks' primary function is to wake us up from night sleep or short naps. However, In case you want to do something in the morning, and you do not trust yourself with waking up early, you will need an alarm clock to wake you up.
When people grow old, they tend to have memory loss. In case they have medication to take, they will need an alarm clock to remind them. This way, it becomes easier for them to take their medicine on time.
Some alarm clocks have sensors to identify when someone is in a deep sleep so that they do not wake up someone who is deep asleep.
Alarm Clocks for the Elderly Buying Guide
Sound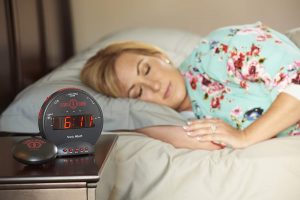 I know you would appreciate an alarm sound that starts low, and its voice rises gradually. This way, it will not freak out when your alarm clock rings while you are deep asleep.
Also, I would love an alarm clock that I can customize and set my favorite song as the ringtone. I might get tempted to wake up and listen to it when it starts ringing, meaning the alarm will have done its work.
Lighting
You do not want to damage your eyes with that blue light from a clock. Do you know how your eyes are weak in the morning? Especially when you are just from your sweet sleep? Illuminations of that blue light are so uncomfortable and can damage your eyes.
Don't be fooled by the design
You want an alarm clock to help you wake up or remind you of something you are supposed to do. You might get yourself a watch that does not meet your needs while busy admiring its design and make.
Consider extra features
Deep sleepers would prefer to go for a watch that vibrates. The ordinary alarm clock may not have these features
Also, if your room is dark and you would like to prepare for the day with a lot of ease, go for an alarm clock with light or torch.
You should also go for a clock that offers dual alarms. You cannot miss two alerts. So, in case you missed the first alarm, you cannot miss the next signal.
Best Quiet Alarm Clocks for the Elderly Reviews
Sonic Bomb Dual Alarm Clock
The sonic alert is known worldwide as a leader in the field of electronics. Their products are of good quality, and they last forever. With this reputation, it is no doubt that this alarm clock is yet a fantastic piece from them.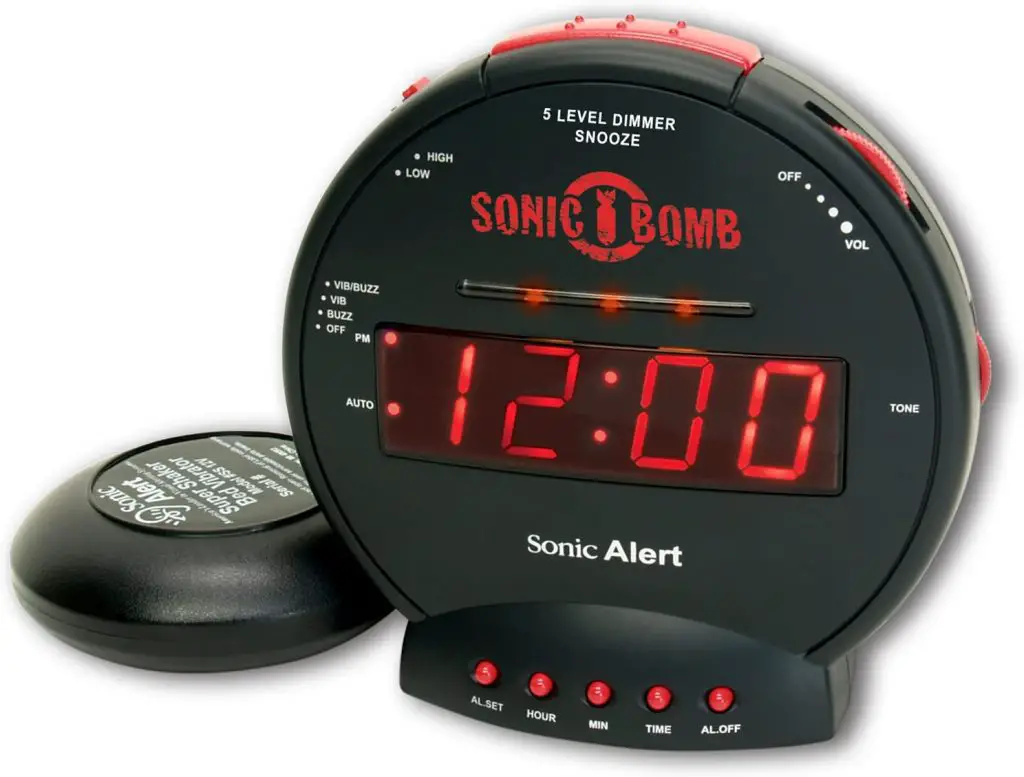 Click to View Price and Customer Reviews on Amazon
This Sonic Bomb alarm clock is made for people who are deep sleepers and also for those with earing problem. One of the fantastic features it has is that you can customize the alarm tones and can ring loud. When your time to wake up comes, you will just have to because this alarm clock will vibrate you out of that bed.
It has an LED flashing display of lights. So, if the loud beeps and the vibrations fail to wake you up, you won't succeed ignoring this other feature. The good thing about the lights is that they are not blinding, so you won`t be uncomfortable looking at it, especially in the morning.
This fantastic piece comes with a battery backup. In case of a power interruption, you will not have an excuse as to why you are late. This alarm clock will use its 9V backup battery to serve its purpose. However, it is good to note that this battery does not come into the purchasing of the clock.
It is easy to use. You just need to read the instructions on how to use it. Look at the parts that need to be plugged in, look for the buttons available, learn how to set the time, dimmer, snooze, and clock and learn the settings too, simple.
Pros
Loud enough to wake deep sleepers. The sound plus the flashlights will deprive you of all sleep.
An easily accessible snooze button
30-day free shipping  policy
One year warranty
Cons
Not suitable for light sleepers
Too many buttons
Shake Awake Vibrating Alarm Clock
TimeVision, a leading company in the field of time management, has found a solution for travelers who need an alarm clock to keep them alert. This alarm clock is made of the right size, and it allows you to move around with it.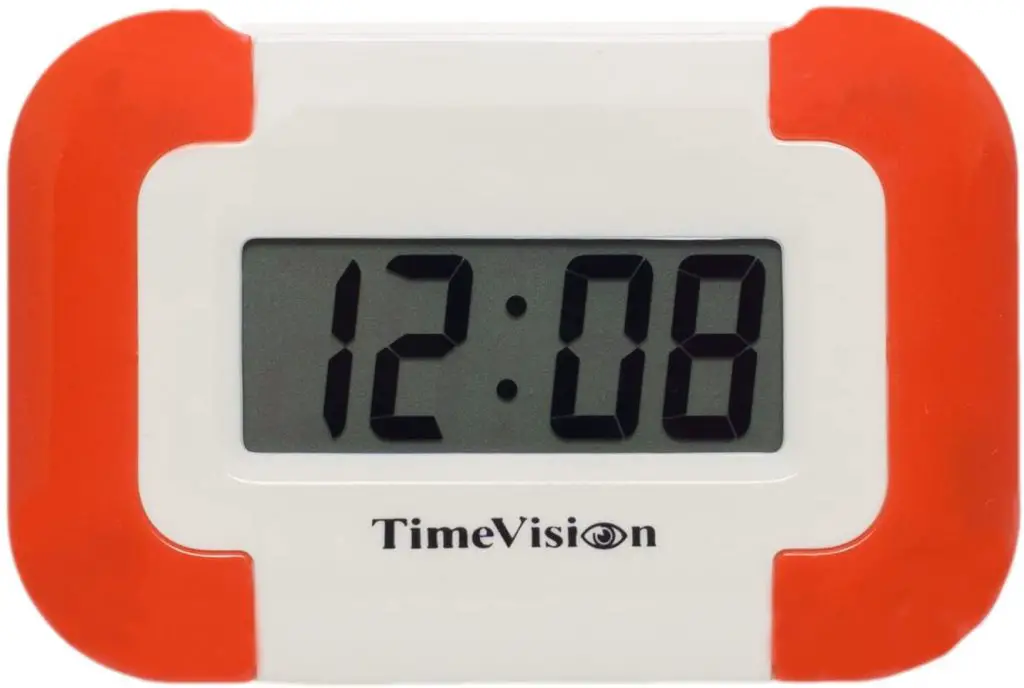 Click to View Price and Customer Reviews on Amazon
It has a bright back-light. This amazing feature makes it easy to look at in the dark or at night, a feature our seniors desperately need. For straightforward reading, this alarm clock has a big display with tremendous writings.
This piece will allow you to wake up without disturbing your partner because it can vibrate with silence. You just need to go to the settings and command it on that.
It is suitable for the people who take medications and are prone to forgetting, the most affected being our seniors. You can set a reminder of anything that you want to do on this alarm clock. That way, you will not have excuses to feed us.
Its beep alarm is so loud to wake even those with hearing impairment. Also, if you are a heavy sleeper and have been not able to listen to the other alarm clocks, this will force you to get out of your cozy bed.
Pros
Has a snooze button in case you need some more minutes
Easy to carry around
Can vibrate only to keep you from waking other people
Cons
Requires an AAA battery that is not available when buying
Shanlonyi Projection Alarm Clock
Shanlonyi allows you to keep track of time with this fantastic piece. This clock is an LED dual alarm that you will not struggle to read if you must wear your glasses to read. It projects the time with a lot of clarity from where it is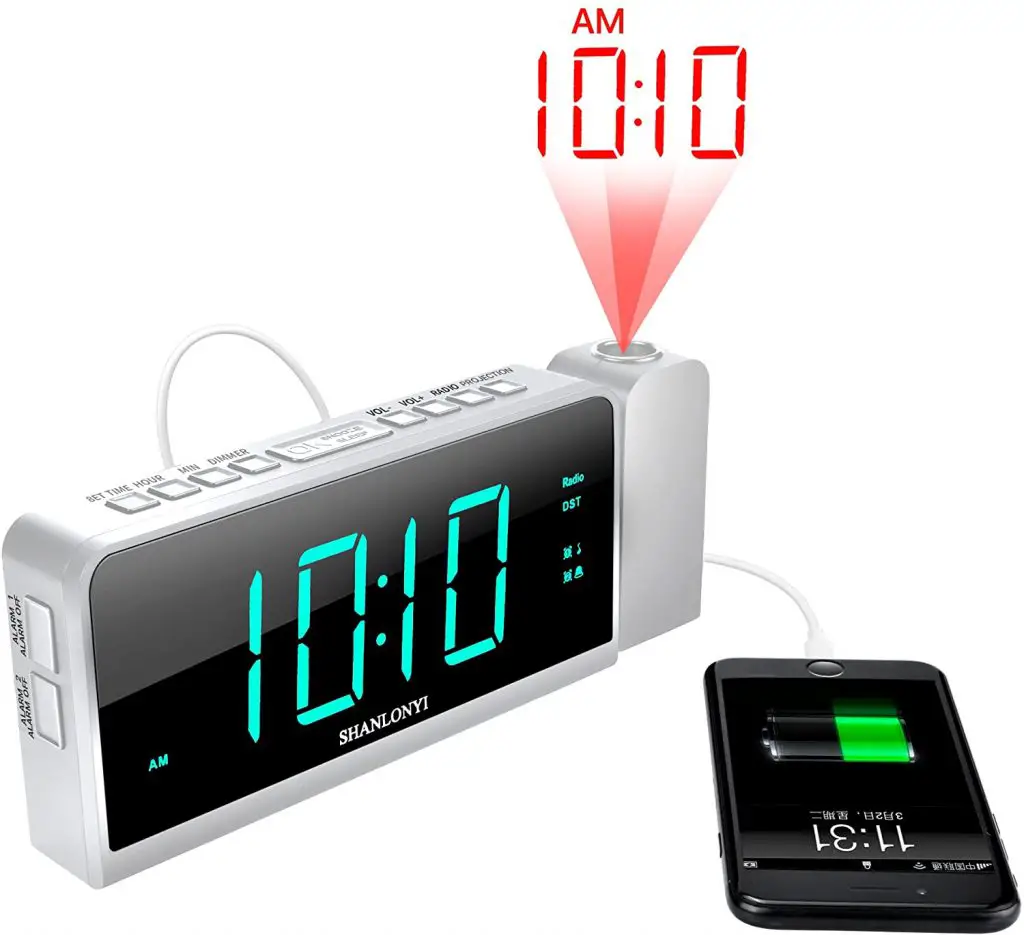 Click to View Price and Customer Reviews on Amazon
It is ready to learn since it comes with brightness settings that allow you to adjust the light to your comfort. This feature suits the elderly and the vision impaired, which makes it one of the best alarm clocks for the elderly.
This clock lets you keep updated with news, music, and weather since it offers up to ten FM radio stations for you to select from. This is what you use as an alarm tone. It also has an auto-sleep timer that lasts 10-90 minutes.
The Shanloyi can act as a power bank. Connect your phone`s  USB in a port at the back of this alarm clock and let it charge your device. It also comes with an extra USB cable for convenience. Amazing, right?
In case you still don't feel ready to wake up, you can snooze the alarm and have some more minutes in your beautiful dream. This clock has dual wake up times for those slow to wake up. In case of power out, you will have yourself to blame for being late since this clock has an inbuilt battery for backup.
Pros
Has a USB fast charging port
An auto-sleep timer
Has a snooze button
Easy to set
Cons
The display does not have an off feature for the back-light
Final Verdict
There is always a solution to every problem, and sleep is not an exception. Get an alarm clock and avoid getting late or making excuses.