What are the best non-slip bath mats for elderly? Isn't taking a shower a refreshing act? You and I can both agree it is, right?
Showering is not only handy when it comes to making one feel clean, but also offers you time to feel refreshed after a hectic day. While there is everything good to say about taking a shower, it is also worth noting that it can be a highly risky affair for seniors.
The same is true for children. These groups of people are always at risk of falling and slipping which can injure them severely.
The good thing is that with the best non-slip bath mat for the elderly, your loved ones can enjoy a comfortable and safe bath.
While countless options exist in the market today, not every option can prove to be the best. Some of them can be pricey but lack the necessary features to meet your needs.
To help you pick your options wisely and land the best option, we did the extensive job for you and settled on a couple of options
Related: Best Padded Shower Seats for Seniors
Non-Slip Bath Mats for Elderly Buying Guide
Bath mats are very helpful when it comes to handling the bath area. There are a lot of different bath mats available. Tiles and hard floors can be tiring to stand on after a bath. Bath mats absorb water and prevent you from slipping.
Choosing a bath mat is a challenging courtesy of the wide variety currently available. Here are a few things that you should consider if you want to end up with a decent bath mat,
Materials
To keep your feet warm the bath mats material is important. It also determines the bath mat's comfortability and durability. Some of the best materials for bath mats include,
Exotic wood
Cotton
Natural fibers
Synthetic materials
Bath Mat Size
You should consider the size of your bathroom before you buy a bath mat. If the space available to you is constrained, then your bath mat should be small.it is important to measure the dimensions of your bathroom before you buy a bath mat.
A small spaced bathroom is best suited by a round bath mat.
Style and Design
Attractiveness is a major attribute in a bath mat. Having an unattractive bath mat will end up ruining your décor. The bathroom designs currently available on the market include faucets, mirrors, and sinks.
Having a bath mat that complements the rest of your bathroom goes a long way in boosting the bath rooms overall appearance.
Bath Mat Safety
Seniors require a much safer bath mat. A bath mat is placed close to the shower or bathtub. Bath mats are a safety concern they cause the majority of the accidents that happen in the bathroom. Bath mats are capable of curling up and tripping you. These are extremely dangerous for seniors.
Some bath mats are equipped with a non-slip layer at the bottom. This ensures stability. Other mats are fitted with suction cups. Other mats are ribbed and offer you more grip on the side. That way it becomes more difficult for accidents to occur.
Maintenance
Reflecting on the requirements of bathroom maintenance is vital. If the mat is easily cleaned that's an advantage. Even though bath mats with anti-slip bottoms are recommended, they are more expensive than regular bath mats.it is important to consult the offers and find the most suitable deal.
Color
The choice of your bath mats color should be influenced by the rest of the houses' décor. The color should be visually captivating and easy to clean. Bright colors are especially nice for kid's bathrooms. Ensure the color you choose has fun and invigorating quality. If you have a certain color of towels you must have bathmats that match. Having wash clothes, hand towels, bath linens that match with your bath towels give your bathroom a unique and well taken care of look.
Ivory and white are the most preferred colors because they match with almost all colors. Light colors are also good because they do not show fading. Color interest dictates that you use color combinations such as cream and tan or blue and green.
Cost
It is not difficult to find cheap bath mats on the internet. Affordable offers are widely available. Compare different models and prices to find what best suits your needs and tastes. Your safety is paramount and it should take precedence over cost. Spending a little more money and ensuring your safety is more important.
Size
Bath mats are not very large. The ideal size should be approximately 17 inches by 24 inches. This size is ideal for the shower or pedestal sink. The larger size is approximately 21 by 34 inches. It is a stylish statement. It is meant to be a centerpiece for your bathroom. The mats size is also a determinant in how long it takes to dry. If its absorbing factors are necessary for you choosing a bath mat that dries easily should be a priority.
Repellence Quality
A bath mat should have moisture repellant qualities. Having a soggy bath mat is not ideal. If you like fluffy or nubby loops it is only right that you go for a reversible bath rug that is made of moisture repellant nylon or cotton. Bath mats that have dyes that bleed when they get wet are not recommended. Those types of dyes can stain your floors. The thicker the bath mat the more maintenance it requires.
Drainage Holes
To prevent pooling the bath mats should have drainage holes to promote easy water flow. The holes also guard against slipping by making the bath mat sturdily grab the foot. Rubber mats generally have a single large hole at the center that is meant to be placed over a drain.
Related: Best Reclining Shower Chairs for the Elderly
Best Non-Slip Bath Mats for Elderly Reviews
Here are our recommendations for the best non-slip bath mat for the elderly:
Gorilla Grip Original Luxury Chenille Bathroom Rug Mat
If you have been searching for a mat that you can place in the dryer without having to worry, then this is the best choice. While many others in the market today are not dryable by machine, this one is.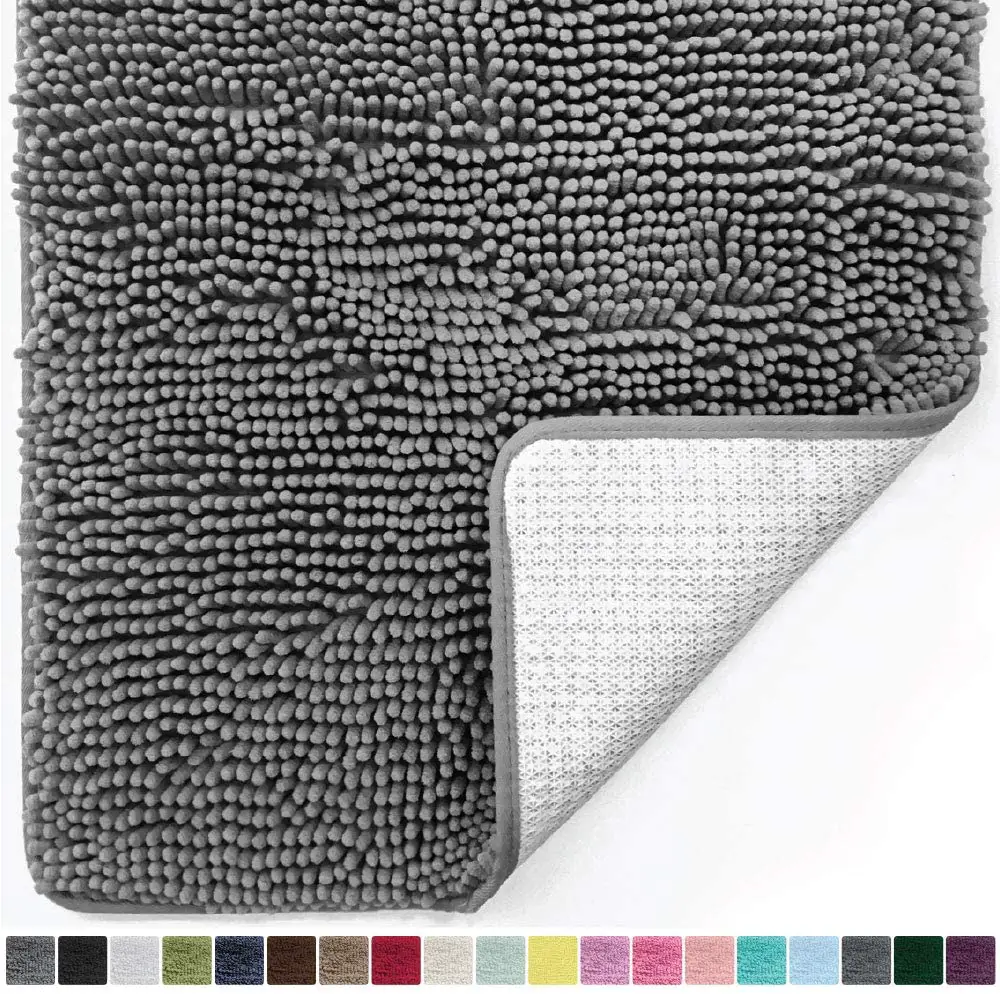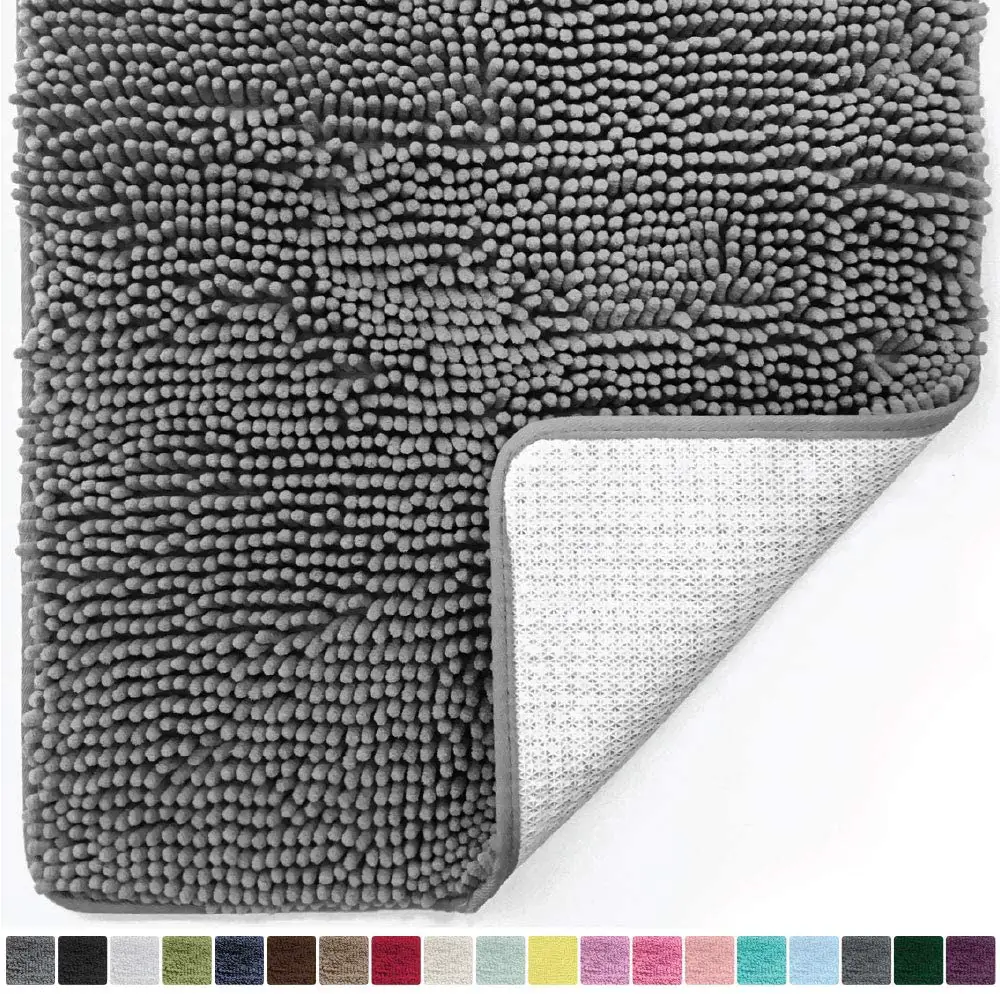 Click to View Price and Buy from Amazon
Instead of using glue or PVC, the mat utilizes TP rubber backing that is not only stronger but also more durable to guarantee many years of use.
This mat brings with it ultra-plush shag for purposes of pampering your feet as you use it. The luxurious and soft pile not only soothes tired feet, but it also protects your feet and toes from the cold floor.
The plushness and density of the mat's pile surpass most of the brands in the market today.
Ultra-absorbency is another impressive highlight of this mat. The feature prevents water from dripping into your floor.
Features
Beautiful design and texture
Ultra absorbent
Soft
Comfortable
Pros
Different shapes to choose the frame
Machine dry and wash
Highly durable
Variety of colors to select from
Cons
Rug backing can rip after several washes
Gorilla Grip Original Patented Bath, Shower, Tub Mat
This shower and bath mat feature a total of 324 suction cups that work all clean and smooth shower and tub floor. One of the best attributes of these mats is the fact that the large-sized 35 by 16 inches. They come in a beautiful hexagonal design shape that complements all design styles of your bathroom.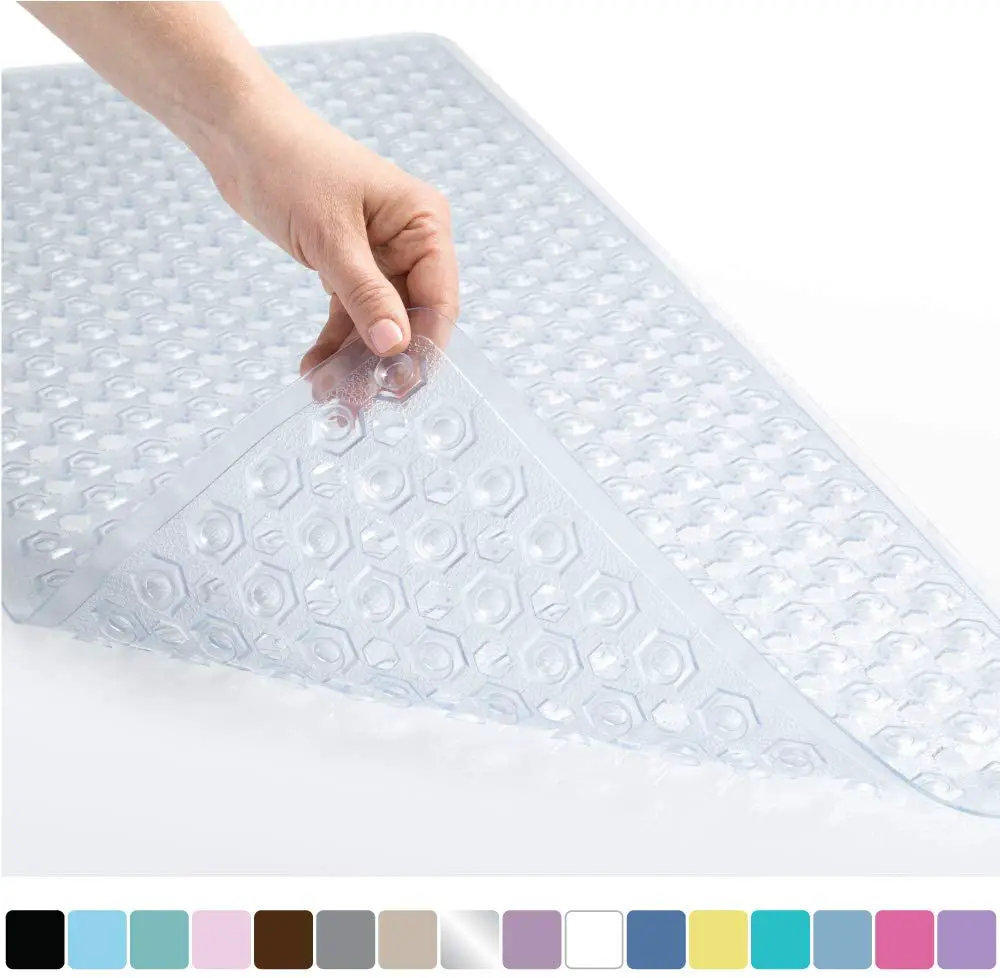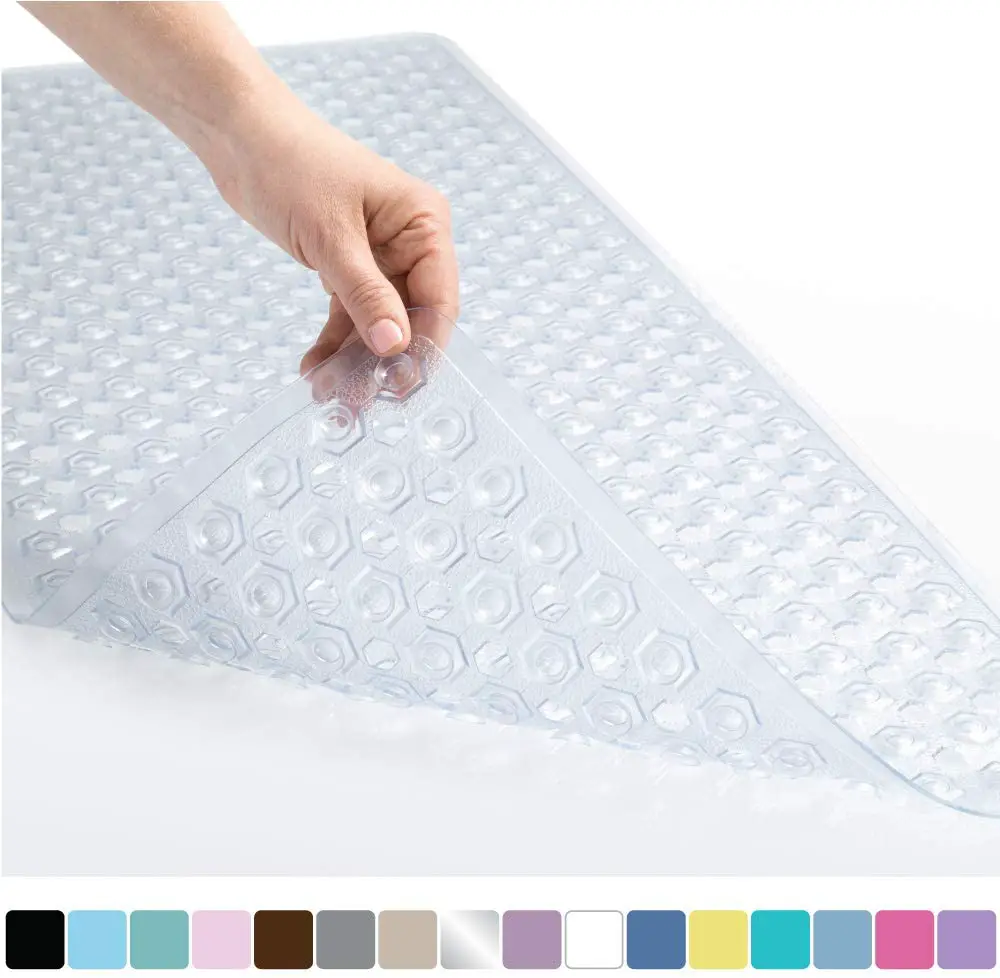 Click to View Price and Buy from Amazon
The only downside of this mat is the fact that its tiled and textured surfaces are unable to allow the suction cups to adhere to the floor surface. For this reason, it is prudent to use the mats on strictly smooth surfaces.
The manufacturer opines that you should avoid utilizing oils as they might result in slipping.
Features
Machine washable
Anti-bacteria
Secure suction cups
Big size
Pros
Holes throughout for enhanced drainage
Attractive hexagon design
Clean and durable
Non-toxic
Cons
VDOMUS Soft Microfiber Non-Slip Bath Mats for Elderly
If you have been looking for a bath mat for the elderly that provides the additional softness that you so desire, you should consider buying this one. It brings with it a one-inch-long microfiber shag.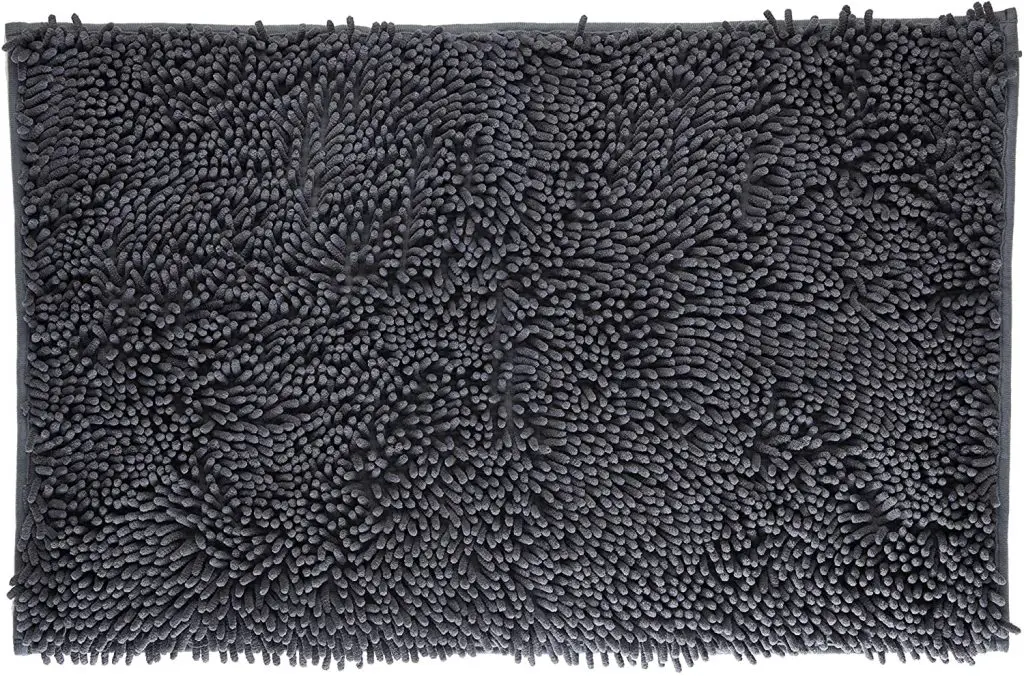 Click to View Price and Buy from Amazon
Do you pets that might find resting on the soft a good thing? If yes, you should this one in mind the next time you are in the market for one. The mat will be a great gift for your cat or dog.
When it comes to absorbency, there is no doubt that anyone loves to step into a slippery bathroom once he or she is through with the shower. The mat comes with an extra-absorbent and thick foam that goes miles to absorb moisture in the real-time.
Features
Graceful and cozy
Excellent absorbency
Extra softness
Stronge backing
Pros
Great water-absorbent
Rougher backer material to increase friction
Great anti-skid performance
Longer shag
Cons
Vive Shower Mat – 22″ by 22″ Square Non-Slip Large Bath Mat for Bathtub
With this impressive non-slip bath mat for the elderly, you are guaranteed of a safe and sound shower mat for your senior citizen. Boasting rubber construction that firmly secures the mat in place in such a way that it does not move, users are sure that they will not slide in the bathroom.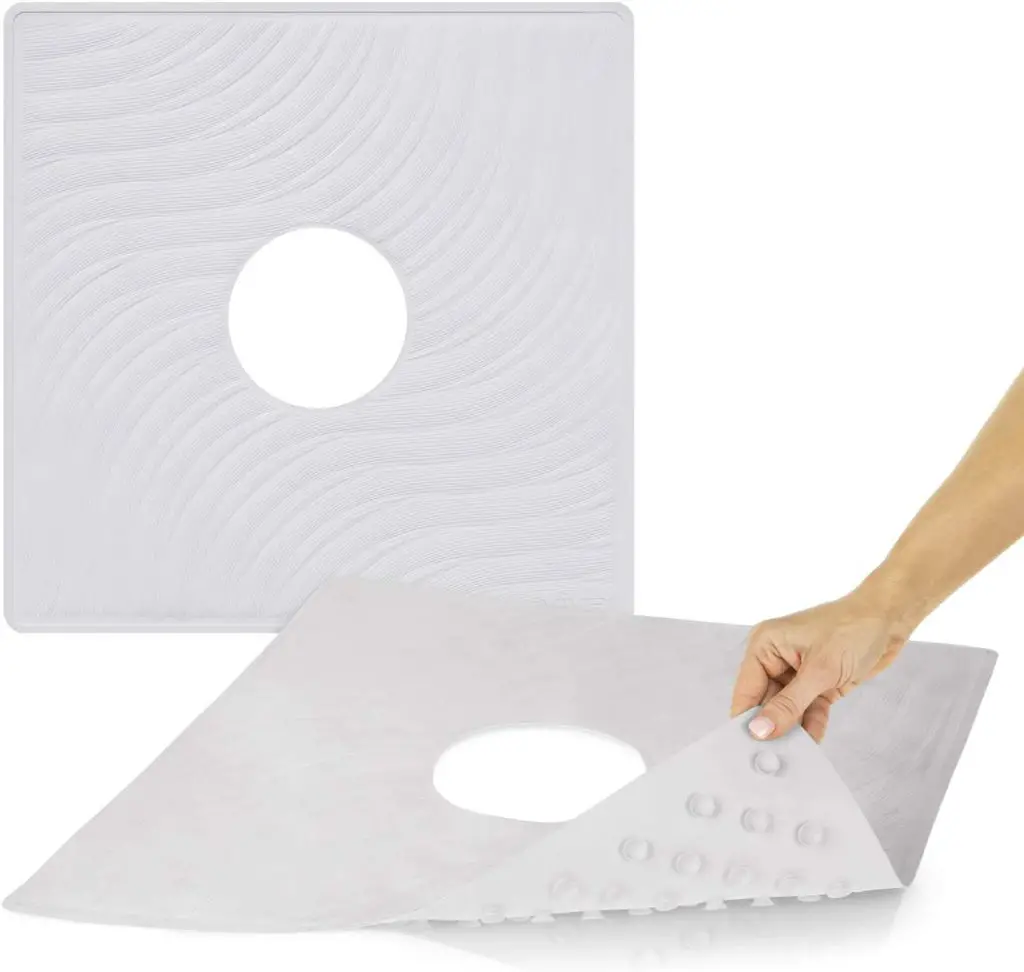 Click to View Price and Buy from Amazon
It features distinct suction cups that function even when wet. On top of that, its centered drainage hole is handy when it comes to getting rid of pooling water.
The mat's big textured surface offers a safe footing for the utmost protection against any hazardous falls. Children and seniors or any other person with balancing issues will find this mat effective.
Features
Latex-free
60-day guarantee
Convenient center drain
Strong suction cup grip
Pros
Drains water excellently
Firms stay in place
Excellent stability and traction
Rubber construction to protect the surface
Cons
Challenging when it comes to getting the folds out
Epica Anti-Slip Machine Washable Anti-Bacterial Bath Mat
The Epica anti-slip mat is not only proven for strength but also for safety. The company boasts a record of accomplishment when it comes to making high-quality and long-lasting mats.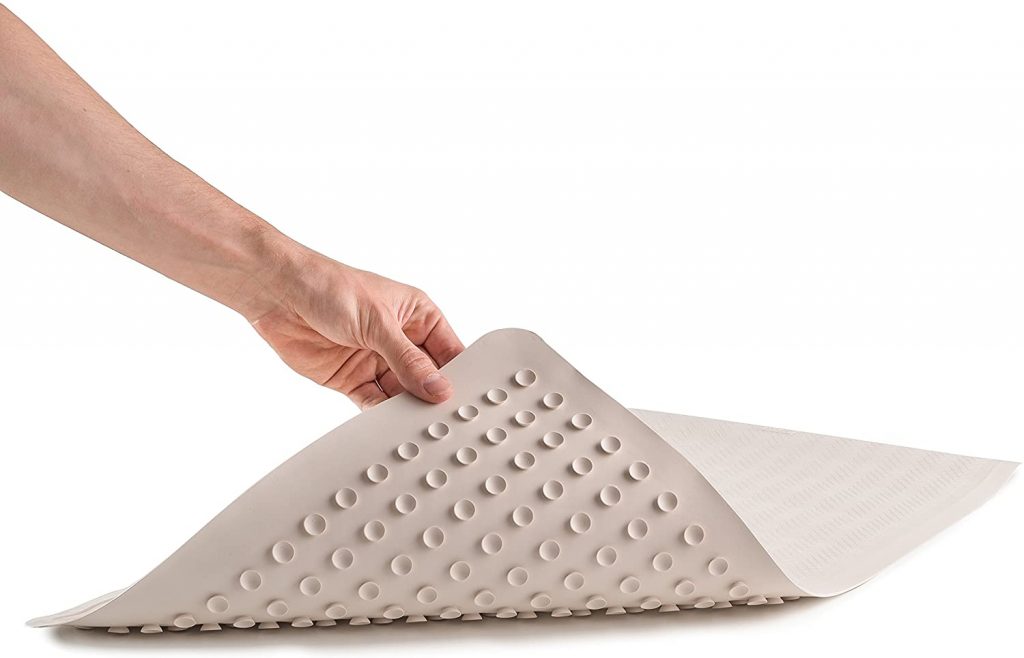 Click to View Price and Buy from Amazon
Everything that they produce meets the standards required by USA authorities. In addition to being anti-bacterial and super-strong, these latex-free rubber bath mats will certainly keep you safe and prevent you from falling even when it comes to the slipperiest of conditions.
If you have to search for a high-quality mat that is handy at minimizing the risk of falls and slips, then you should consider this one. In addition to that, it is handy at preventing the accumulation or growth of bacteria that can be harmful to the user.
What is more, is that bathroom mats for the seniors from this company are effective when it comes to preventing the accumulation of soap residues. It is constructed in such a way that it resists wear and tear.
For this reason, you can rest assured that the mat will sort for many years to come. There is no doubt about that.
This mat is one of the best in the market in terms of the array of features it offers to users.
Features
Rubber construction
Stylish
Neutral colors to choose from
Anti-bacterial
Pros
Safe and comfortable
Super strong
Rubber repels soapy water
Reasonable pricing
Cons
Final Words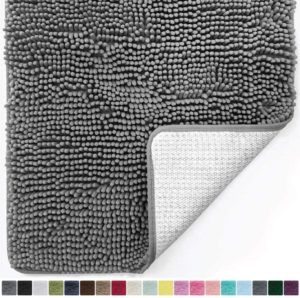 According to the National Institute of Aging, at least one in every three seniors has slipped and/or fallen in the bathroom while showering or attempting to shower.
When your elderly knows how to not only get in but out of showers and tubs properly, he or she can drastically reduce his or her risk of falling. The million-dollar question that then begs is, which is the best way to prevent one from slipping and falling while in the shower?
The prudent thing to do is to buy the best non-slip bath mats for the elderly. If you are in the market for one, feel free to choose from the ones we have recommended above.
rolex replica
alfa romeo monza replica for sale
replica rolex band