If you're an elder experiencing troubled sleep patterns, you might have to consider the best mattress for seniors.
You see, with aging, the sleep cycle often changes naturally and you tend to find it harder to fall asleep.
What's more, old-age related complaints like a hurting back and joint pain lead to sleep deprivation.
Additionally, some of the prescription medication you could be taking for long-term illnesses may have side-effects that ruin sleep.
The bad news is that these sleep disorders don't go away easily.
On a more positive note, mattresses for elders hugs his/her body impeccably to provide abundant support support and pain relief and may guide the body into a serene shutdown mode.
Read on to discover the best-selling mattresses for seniors and how to choose a mattress that's right for you.
Related: Best Bed Rails for Seniors
Why opt for a special mattress for senior
Research has shown that healthy sleep is critical for the health and overall wellbeing of an elderly person- think of upgraded memory, diminished mood swings, and even lower risk of hospitalization.
You should, of course, implement remedies such as avoiding caffeine and getting regular exercise to achieve the recommended seven – nine hours of daily sleep time.
But we also know that all these efforts will come to naught if your bedroom has a less-than-ideal mattress.
The biggest advantage of mattresses for the elderly is the added therapeutic technology added in most.
This promotes the finest support for a pain-free sleep in elders with back pain and other discomforts.
These mattresses could, therefore, rescue you from fragmented sleep and its profound consequences.
Types of mattresses for seniors
They may look similar at first glance but mattresses specially engineered for seniors have some stark differences, especially in the construction.
Take a look:
Memory foam
The idea of using memory foam in mattresses came from NASA and it has proved to be game-changing for the elderly and patients recovering from surgeries.
Memory foams primarily consist of man-made materials such as polyurethane and a variety of safe chemicals to boost viscosity and density.
Most foams are self-ventilating resulting in a cool and supportive mattress and you always wake up extra refreshed and ready to conquer the day.
Latex mattress for elders
Made of natural latex, these mattresses offer a majority of the benefits of a memory foam mattress including even weight distribution, pressure point relief, and the 'hugging' effect.
But they are a bit firmer than memory foam and though this excellently cancels motion transfer, some users dislike it. 
Innerspring mattresses for senior citizens
Another very common type is innerspring and as the title tells you, these have a great deal of coils inside.
They have their strengths but support and pain relief is not among them.
Air mattresses
Air mattresses are inflatable and consequently provide more bounce.
They are quite easy to carry too since you just deflate it.
They can serve your needs as long as you select a brand with firm support.
Best mattress for seniors: Buying Guide
Below are some tips to help you compare the various options in your hunt for the best mattress for seniors.
Size and height
Get it right the first time by finding out the suitable size ahead of ordering.  Keep in mind that you're to combine the height of your bed frame/foundation/adjustable bed base with that of the mattress when gauging how tall your best sleep system is to be.
Support and comfort
For luxurious nights, you definitely want a mattress that's breathable and heat-friendly (nights can get sweaty) and to uphold your body's shape flawlessly to ease the pressure points.
Thankfully, technology has brought us memory foam mattresses that are infused with cooling cells not only to regulate heat but also improve warmth when freezing.
Also, look for edge support and motion separation- this creates a distinct outline around partners to prevent rolling towards one another for minimal sleep interruption.
The right firmness is also vital to block your mattress from sinking in some parts.
Lastly, your sleeping style may require you to go for a more supportive design to maintain proper posture and healthy spinal alignment.
Ease of care
Our parents may no longer have the strength to clean stubborn materials and it's important you consider this when shopping for the best mattress for elderly.
Ideally, your pick should allow top cover removal and quick wiping (and drying).
Proper care elongates the life of the mattress.
Durability
This is pretty obvious- we all desire to own a mattress with the longest lifespan and not a model that develops a harder surface after two or three years.
Do your research properly to avoid a shocker when your mattress loses its support after just 4 years despite the manufacturer promising you 10 years of service.
Pro-Tip: flipping the faces of the mattress every month allows it to recover its shape and slows down wearing.
Quality Assurance
You don't want to return to the vendor any time soon and it's crucial that you inspect the overall quality including factors that people usually overlook like the stitching style.
Also advantageous in this respect is a longer warranty- The best brands back their products even with a 10-year warranty.
Others considerations
The following may also quip your interest:
Friendliness to an adjustable Base – this would the best choice if you wish to pair it up with an adjustable base rather than a standard bed frame for the added lifestyle/health benefits
Use of safe materials: To avoid irritation and allergic reactions, pick a mattress that's made of non-toxic components. Most of these will have certifications such as CertiPUR to confirm compliance.
Best mattress for seniors reviews for 2020
To help you find the best mattress for seniors, we scoured the markets and unearthed a couple of gems.
Here they are together with our opinion about each of these high-quality mattresses.
Brentwood Home Cypress Mattress with Cooling Gel Memory Foam
We recommend this mattress for elders struggling with issues like arthritis and painful hip joints.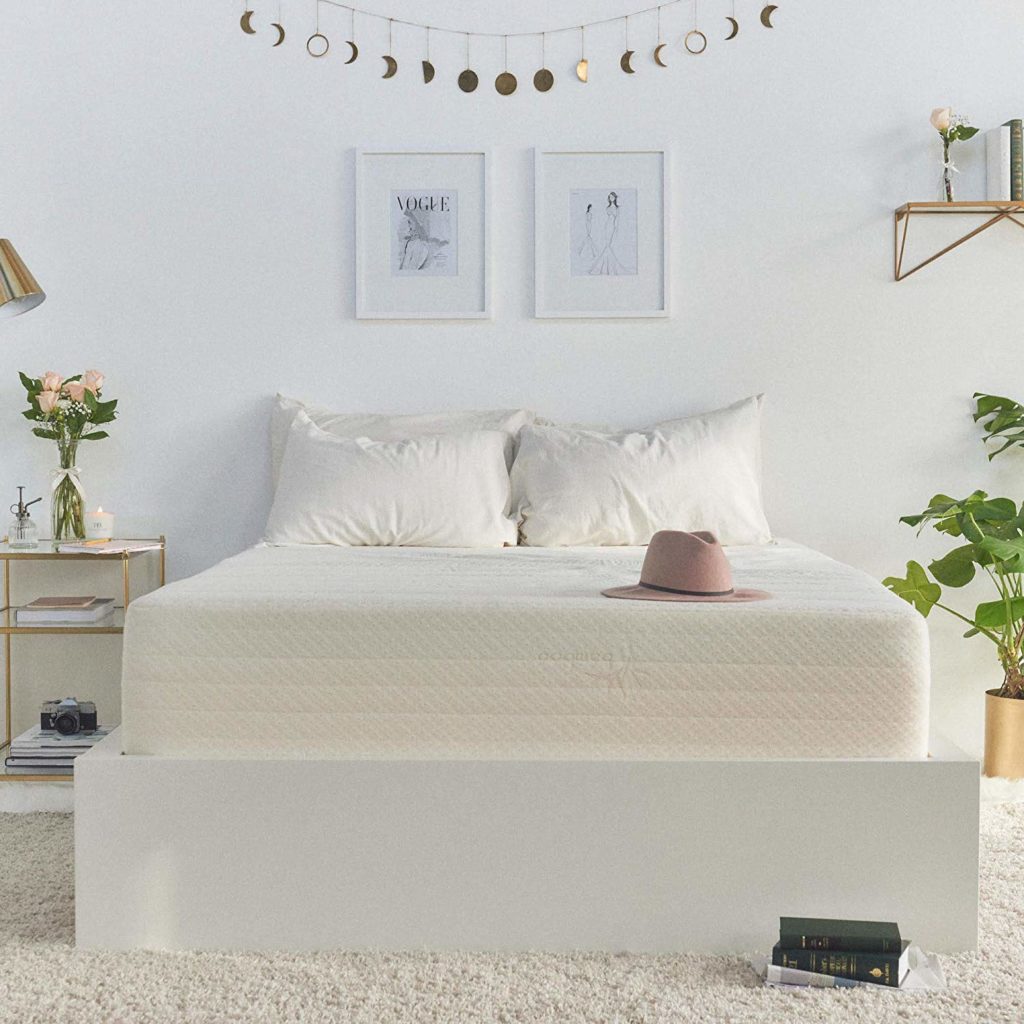 Click Here to View Price on Amazon
The 3.5-inches gel memory foam perfectly conforms to the body to relieve pressure and nagging aches while maintaining proper spinal cord alignment (and hence good posture) for restful nights.
Features
This mattress for seniors with arthritis reduces night long tossing and turning because of its custom construction.
Most notable is the natural New Zealand wool not only because of its buttery-soft nature but the moisture-wicking quality (your body remains cool during steaming hot nights and vice versa).
Also special is the design of the wool-lined zipper cover (removable) – it's made to allow the mattress to stretch in all directions to maximize pressure relief.
You'll also love the dense 7.5-Inch support base – it's firm and quite solid and should absorb your weight excellently to reduce disruptive motions and eliminate noise.
Your partner will, therefore, sleep like a log every night.
Pros
Really comfortable.
Made of safe, non-toxic materials.
Easy to clean.
Cons
Might smell at first but the odor eventually fades.
Classic Brands Ventilated Cool Gel Memory Foam mattress
The classic brands cool gel mattress provides optimal comfort and support and might improve your sleep patterns even when healing from surgery.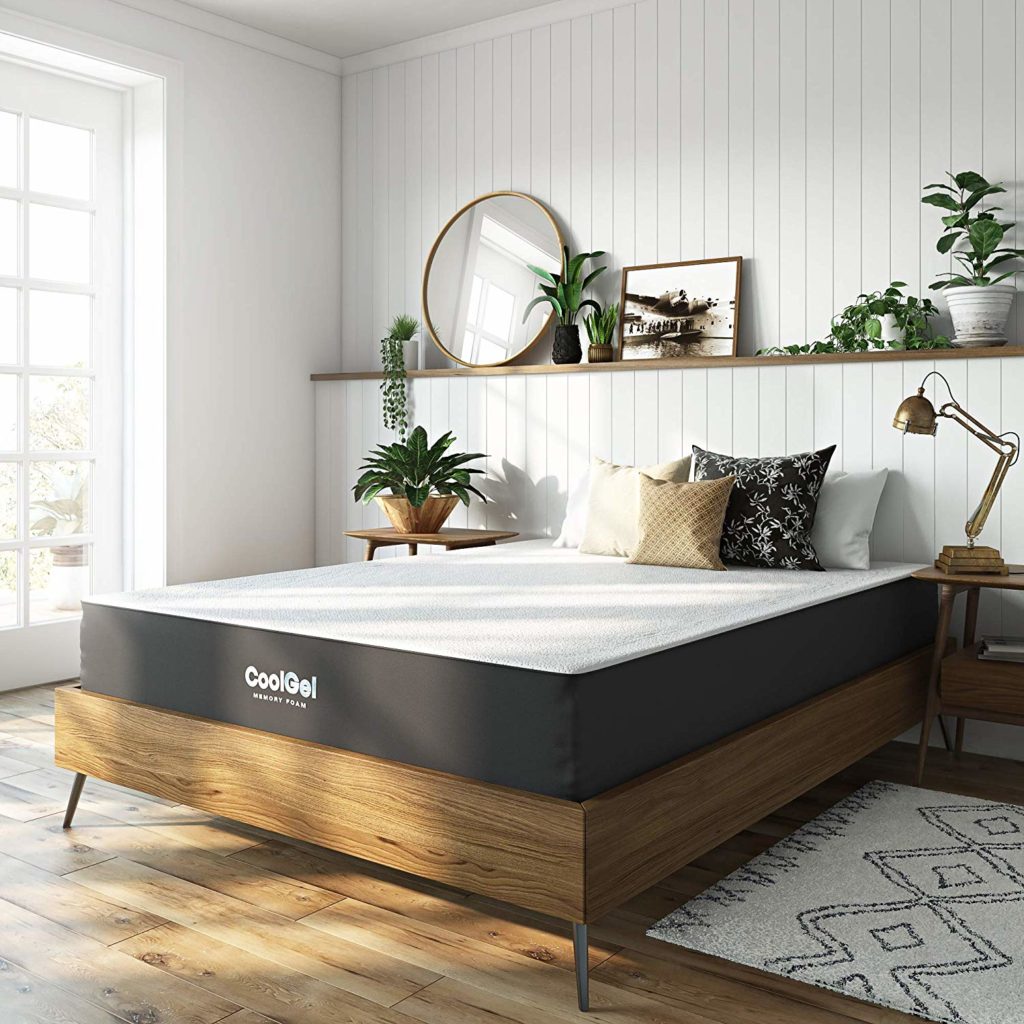 Click Here to View Price on Amazon
The high-density memory foam is infused with refreshing gel particles to create a luxurious sleeping surface and ease the pressure/pain on the back.
Features
Like the Brentwood home cypress mattress, the mattress features wonderful airflow (the two uses similar cooling gel) and you will sleep cool even during summer nights.
The mattress also has a four-way stretch knit to help optimize its conforming properties for improved relaxation through the night.
The support base (this time it's 6.5-inch deep) will help sustain its strength while providing extra rebound and bounce.
Note that the mattress offers 3 support layers giving it medium firmness.
This also helps it adjust easily to any bed frame for seniors.
It's available in a range of sizes – Twin, twin XL size, full size, queen size, king size, and California king size.
Pros
An excellent mattress for seniors with back pain
Offers 100 nights risk-free trial.
Incredibly soft.
Cons
A bit of smell in the early nights (will dissipate soon).
TUFT & NEEDLE Queen Mattress
The biggest news in this mattress for frail elderly is the proprietary foam – the freshly poured adaptive T and N foam gives it a nice bouncy effect while delivering amazing support.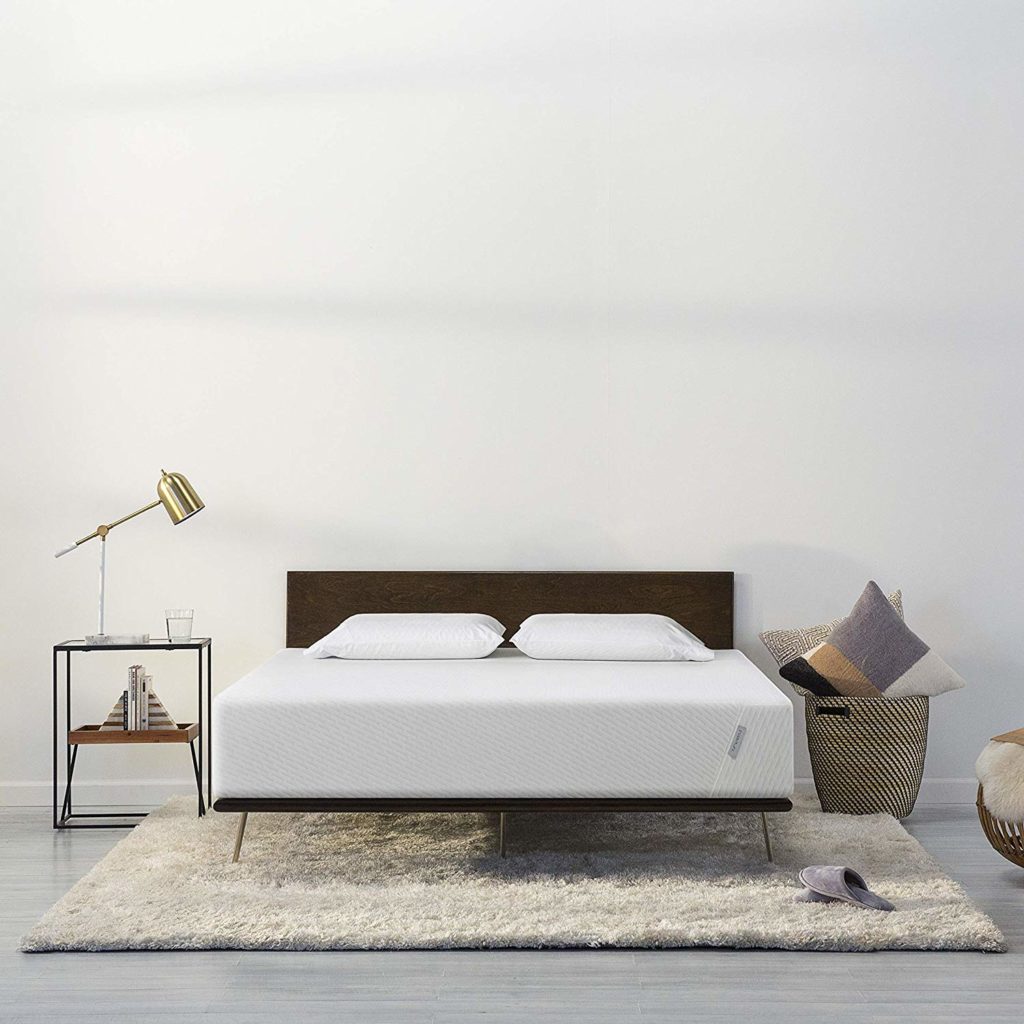 Click Here to View Price on Amazon
As a result, you can sleep in any position your body demands and get a couple of extra hours of precious shut-eye.  
Features
This mattress has everything you wish to see in a mattress for elderly seniors.
First, the high-grade foam brings great pressure relief in all the right places while producing outstanding breathability for your body to allow you to sleep soundly.
The support layer will keep your entire body properly aligned – we all know that poor posture messes sleep, increases tension, and impedes circulation.
The whole construction feels firm (but not hard) and the design holds up well even for side sleeping.
In addition, the manufacturer has again gone out of the way to ensure your safety and has exclusively used non-toxic materials, subsequently earning the prestigious Greenguard Gold and CertiPUR certifications.
You once again get a 100 night risk-free sleep trial coupled with a genuine 10-year warranty (terms and conditions apply) for actual use.
Pros
Easy to change covers.
Very flexible.
High-quality materials.
Cons
Modway Aveline 6″ Gel-Infused Memory Foam Queen Mattress
This promises to last for years thanks to the resilient open cell construction.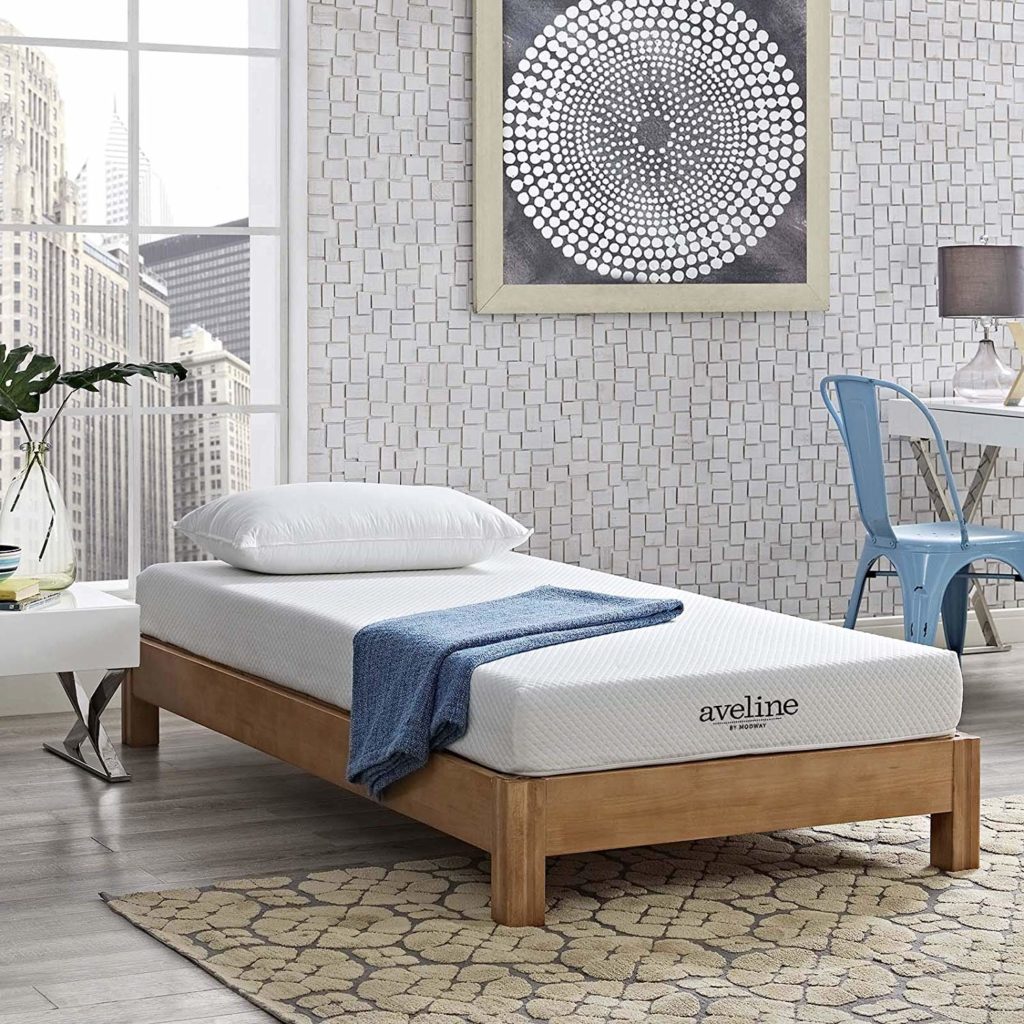 Click Here to View Price on Amazon
The memory foam is still infused with gel particles to help relax pressure in your head, spine, neck, and more.
It's a delightful queen mattress for couples seeing that it allows minimal bounce between you and your partner.
Features
This is a fantastic upgrade on traditional queen mattresses – from the welcome aches and pains relief to the more responsive base, this will make you long for bedtime.
The padding is spot on and squashier in all corners to optimize support and help you fall asleep fast.
It instantly molds itself to your body shape providing loads of comfort and aiding appropriate spine alignment.
The soft cover is waterproof and made from a material that's easy to wipe clean when necessary.
Outstanding heat dissipation, just-right firmness, and uniform distribution of weight caps off what is a very well-thought-out mattress for seniors.
Pros
It's made without harmful substances like formaldehyde or heavy metals.
Odor-free.
Retains good bounce for long.
Cons
Classic Brands Cool Gel & Ventilated Memory Foam -12-Inch Mattress
This 12-Inch mattress from Classic Brands is an exceptional all-round alternative that will suit seniors who want something pressure-alleviating along with a bit of luxury.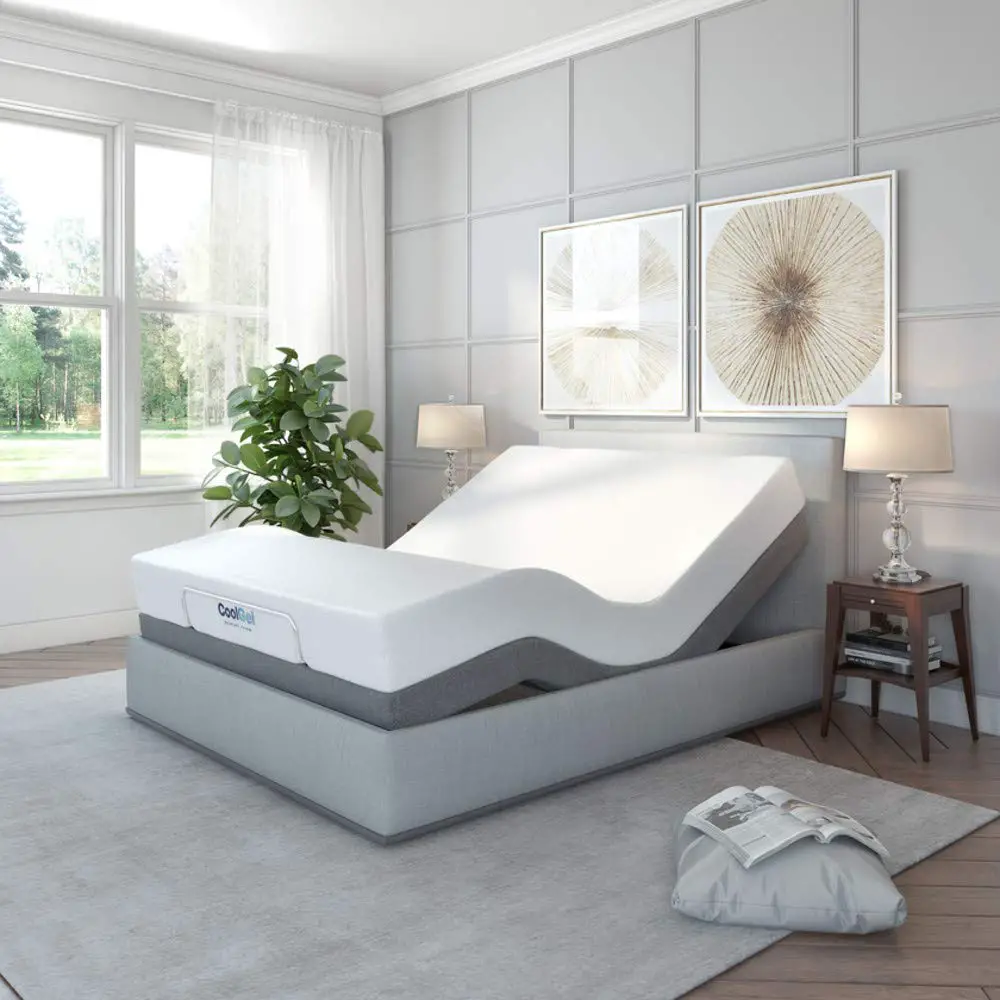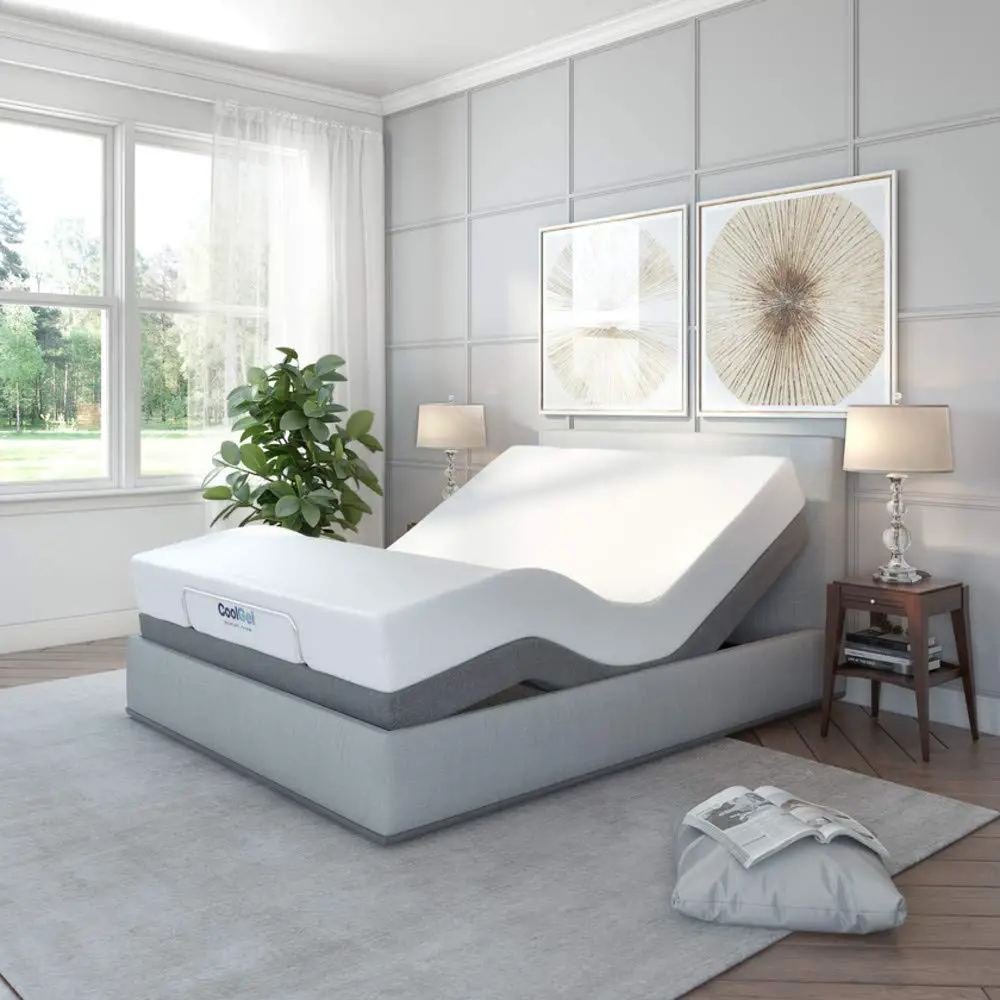 Click Here to View Price on Amazon
The high-quality memory foam contours to your body and you'll delight in the intense cooling from the infused cool gel during sweaty nights.
Features
The mattress is built with the latest sleep technology- it flaunts 2.5" cool gel memory foam (for temperature control) and 3" poly gel foam (for breathability) on top of the 6.5 inches high-density base foam.
The three team up to bring you the ultimate luxury for eight hours of uninterrupted sleep.
In all the layers, the memory foam softly 'fills in' and reshapes itself to your new sleeping posture, cradling all the contours of your body.
It does all the other essentials including soothing the usual pressure points between your shoulders, neck neck, as well as the back.
The mattress' dense composition makes it pretty tough for foreign elements to penetrate – even microscopic organisms like dust mites.
And because it's made from safe components, you can be sure that the mattress is hypoallergenic.
Pros
Brilliant pain reliever.
Soft and comfortable cover.
Firm yet lavish.
Cons
Wrapping it up
Because of the elevated support it offers, the best mattress for seniors is a perfect fit for elders suffering from issues like chronic back pain, joint pains, and aching muscles.
The key is the special materials – most molds to the natural curve of your spine and will gently hug every part of your body to massage your pressure points.
Insufficient sleep can worsen your health issues including chronic medical conditions and make pulling through the days hard and you don't want that to happen.
Restore your good night's sleep with one of these mattresses for senior citizens.