What are the best remote controls for elderly? After retiring, seniors do not have many things to do other than relaxing at home.
Home can get annoying if there are no TV series, talks, those music and football competitions, and news to watch.
With today's fast-evolving technology, most electrical appliances use remote controls. Now imagine a home with over five devices that use remote control. Your old man/woman will even get confused about which remote belongs to which device.
Having one universal remote control can make things easier. It also makes the place look neater since you will not find remote controls everywhere.
Since the elderly tend to forget fast, you do not want your grandma to keep calling you to help her find the remote. You also do not want to keep going to her apartment to help her change the channel. The solution is easy. Get her a large button tv remote.
Related: Best TVs for Seniors the Elderly
When finding an excellent remote, put into consideration the seniors. The fact that their eyes also have aged needs to be put into account. A large button TV remote would help with their straining eyes. If you want to get a TV remote for seniors, we will guide you to find one. We did some research and found out the following types of a big button remote for seniors.
Flipper Big Button Tv Remote for Elderly
Tek Pal-Large Button Tv Remote Control
Universal Big Button Tv Remote for the Elderly
It is no doubt that the elderly spend most of their time watching the news, tv-series, or even movies. The ability to change from one program to the other lies in their hands. Since sight tends to disappear with age, they need a remote control that has evident letters. Do not let them strain reading their favorite book and also strain looking for the mute button on the remote control.
The elderly need a tv button they can comfortably look at in the dark and know which button they want to press. Also, some remote controls are too small. The elderly need a significant remote control that has the shape of the hand, and that fits well. Since they keep forgetting where the satellite remote is, or where the home theatre`s remote control is, it is advisable to look for a remote control that serves all those purposes.
Best Remote Controls for Elderly Buying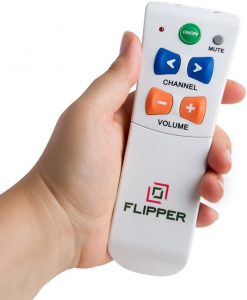 The comfort and the convenience that comes with a tv remote control is what determines which remote control to buy. If it is not comfortable to use, do not buy it. Also, if it is not easy to use, do not buy it.
We all need something we can feel good about after investing our money in. Or would you go for something you do not like?
Below is a list of what you should consider when buying a tv remote control for the elderly.
Compatibility. How many electronics do you have? Probably many, right. Imagine five of these are controlled using a remote control. Meaning you have five remote controls. Do you think your grandma will differentiate all those five remotes? There are home appliances that can be controlled by the same remote. For example, you do not need to have a separate remote control for the television and the satellite. If the two appliances can use one remote control, then get one remote control. Save your grandma the hustle of finding every remote for each device.
Ease of use. If your senior cannot understand how to use this remote control, she will keep calling you to help. You also have things to do, right? Get a secure remote control to use. There are some remotes with just four buttons; on/off, channel, volume, and mute buttons. Some remote controls have so many buttons, some that do not have a use.
Several devices it can control. If it can control the television and still control the satellite, own that remote. If it can control even more devices, that is an added advantage. Few remotes will keep your house neater since you will not have five remote controls on the table.
Size. Some remote controls are too small such that they can get lost for days. Some are too big and do not fit well in the hands. As we said earlier, if it is not comfortable, don't spend your money to buy it. Go for a remote control that you will not spend hours searching.
User support. Most of the things today come with a manual and user guide. This manual makes it easy for you to learn how to operate those remote controls. Tv remote controls that do not have a user guide or that you cannot find its guide online can be tricky to manage. You do not want to struggle to google about how to write a thesis and also strive to ask google to help you operate a remote control.
Back-light. Human beings do not see in the dark. So does your grandma. You do not want to keep reaching for the torch so that you can see those buttons well. Go for a remote control that lights in the dark. You will be able to see the pins well even at night.
Remote Controls for Elderly Reviews
We did some research to help you purchase the tv remotes for seniors. In our study, we will tell you about the tv remote control, the features, its pros, and cons. Let us get to it straight away
Say goodbye to failing to understand remote controls. This remote control is effortless to read. It is effortless to operate since it has only four buttons; the on/off, volume, mute, and channel button. Did you think such a remote existed? Flipper big button remote is the best tv remote for the elderly or even someone with low memory.


Click to View Price and Customer Reviews on Amazon
This remote control can control multiple devices. You do not want your grandma to keep confusing tv remote control with that of soundtrack or decoder. This makes it one of the best remote controls for elderly.
Flipper big button remote can control soundtracks, dish, direct tv, and even Xfinity. If you want to get your senior relative an 80th birthday gift, this is the perfect one to give.
It is easy to operate. Program up to 25 channels, go to the next or previous channel from your comfort, command the television, or the soundtrack to mute anytime you want to control them.
This remote is the most advanced in the market. It knows where to send each command and the device that should receive the power.
You can set your favorite channels with this remote and eliminate hundreds of channels that you do not need. Enjoy what you want to see.
Pros
Operates more than two devices
Easy to use
Few buttons, no confusion
Suitable for the old
Cons
Does not light in the dark
Take control of your whole home with this fantastic remote control. This one will control your television and cable box. Amazing, right? Do not deal with complicated remotes. You need this accessible mode for easy navigation and stress-free life.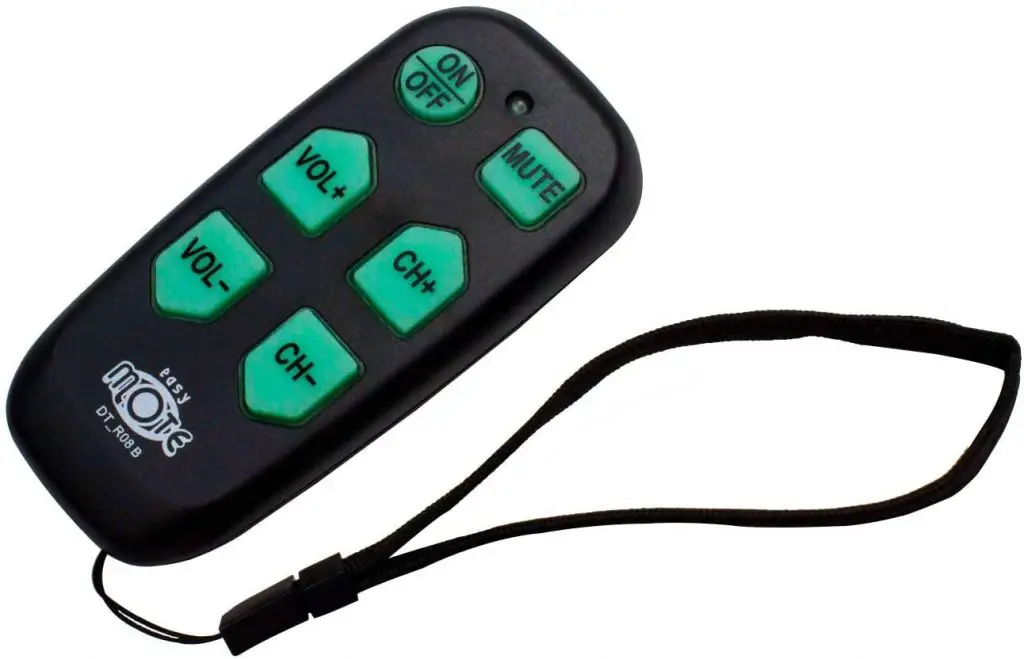 Click to View Price and Customer Reviews on Amazon
It has a sleek handheld design with six large, bright buttons and back-lit for basic tv controls. The buttons have big and bright button texts that are easily visible even in the dark. It has a wrist wrap made of a durable and comfortable material to wear, preventing misplacement.
It has a learning mode that enables you to program each button to the command you want.
 On your grandma`s 90th birthday, consider gifting her this remote. She will never stop loving you.it also the perfect gift for people with an impaired vision since it has big buttons with significant writings.
Pros
Sleek handheld design
Big letters that are easily visible
Can operate many devices
Backlit-lit buttons
Easy to use guide
Lightweight and compact
Cons 
Does not come with a battery
This Tek pal-large button is another perfect gift to give to your elder loved ones and those with poor vision. It has large buttons that have prominent writings for clear vision. It has buttons with back-lit for easy visibility in the dark. This feature is the reason why this is the best gift for the elderly and those with poor vision.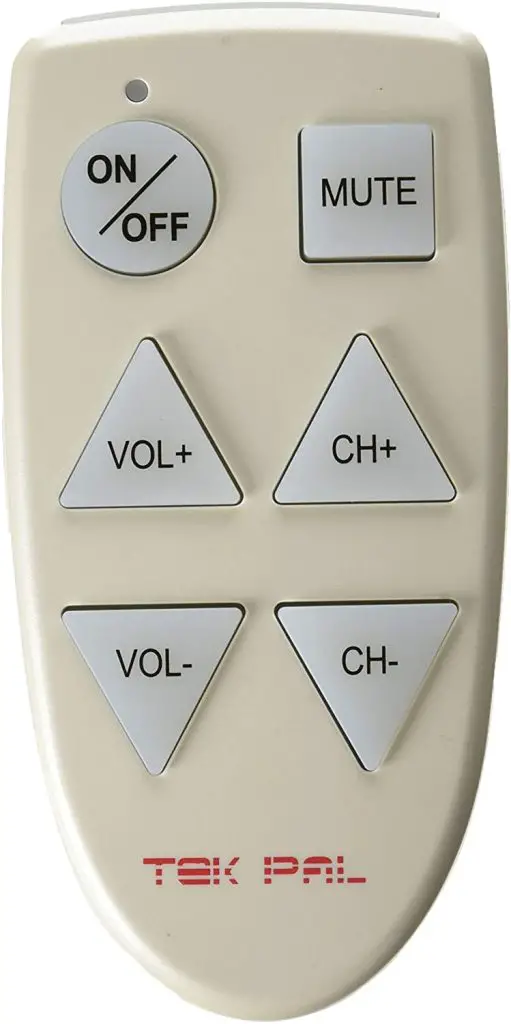 Click to View Price and Customer Reviews on Amazon
It is palm-sized hence easy to operate. It has only six buttons, and the elderly can efficiently manage.
It controls both television and satellite devices. It has six buttons that control power, volume, channels, and mute. It weighs 5 ounces, but it does not come with a battery.
Pros
Control television and satellite devices
Fits in the palm
Six buttons that are easy to operate
Weighs 5 ounce
Big button writing
Lights in the dark
Cons
Does not come with a battery
Parting shot
Now that we have made it easier for you to know what you need to look for in search of the best remote controls for elderly, it is your turn to make a choice. Make the right choice.