What are the best dating sites for seniors? Dating as a senior may be one of the best ways to have fun at this age. However, dating appears hard at first since you have loved and lived your entire life.
Dating as a senior is beneficial since it is a little different from dating as a youth. Most youths aren't always decisive about relationships, and they always end-up hopping from one partner to another without ever finding what they're looking for. When they do, they are just too late.
As a senior, you enjoy a less crowded dating space and with less fooling around. You already know what you want in the relationship.
Thanks to the available dating sites for seniors, it's easy to narrow down to that person that will be your companion during your aging.
Some cons of using dating sites
Most of the free dating sites aren't free. After signing up, they keep bombarding you with emails trying to upsell to their paid packages.
A lot of them have scammers, and the administrators don't have an effective system of moderating and identifying the real and fake accounts.
It's understandable to be skeptical about the online dating world. Despite all these, it's still possible to find love on these sites.
Best Dating Sites for Seniors
Below are some of the best dating sites for seniors.
eHarmony Dating Site
eHarmony has managed to achieve a higher success rate in connecting people who are looking for marriage partners.
For starters, they have a very rigorous sign-up system. You'll meet a list of at least 149 questions that will take at least 30 minutes to complete. Few scammers are patient enough to go through the whole process.
Once you have answered the questions, the platform suggests matches, and you can browse their profiles.
If you're on the free version, you can't communicate with other members on the platform. Better yet, if you're senior and it's your first time to find love after a divorce or death, they've got you covered. They give you access to professional advice on how to go about it. 
Thanks to their rigorous sign-up page, and screening for sex-offenders, it's one of the safest dating sites.
Pricing
There are three options to pay for membership at eHarmony.
$29.90 per month for the six months plan.
$29.95 per month for the three months plan
$59.95 for one month.
The Downside
However, it may be quite expensive.
This platform may be quite overwhelming for some seniors.
Ourtime Dating Site
OurTime is one of the best dating sites for seniors over 50.
The good thing about this site is that it not only connects lovers, they also bring together friends, pen-pals, travel buddies, or any other form of companionship you may be looking for.
They also have sister sites, SeniorsMeet and SeniorPeopleMeet. Once you join Ourtime, you automatically become a member of these other two sites, increasing your chances of finding your ideal companion.
One unique feature is the ConnectMe feature. It allows you to get to know your match better by calling each other without sharing your phone numbers.
Unlike eHarmony, this site has a very straightforward sign-up system. After filling a few details, you get access to other member's profiles. The answers you gave, as well as the short essay, will help them suggest matches.
Pricing
There's a free membership and a premium membership. If you'd like to contact the matches directly, you will have to go with a premium membership. However, in the free plan, there's a "Flirt" feature that helps you show your interest. It's the same as the like or pokes button on Facebook.
The paid plans give you access to direct communication, notification, and Profile Highlight (Value Subscription plan). Below are the costs per month.
$31.96 for one month
$15.96 per month for the six months plan.
$19.96 for six months in the Value subscription plan
The downside
Since the approval system is not strict, there are several fake profiles on this platform. Beware of scammers.
EliteSingles
EliteSingles is one of the best dating sites for seniors looking for intellectuals. Most of the members have at least a Bachelor's degree.
The site's intelligent matchmaking provides compatible suggestions that are in line with personal preferences. EliteSingles gives you guided communication as well as verify new profiles manually to ascertain that users can have a safe and enjoyable dating environment. 
Elitesingles.com is characterized best by the recommendation services it offers. The site works hard and even recommends matches eligible to senior singles; thus, you needn't browse into hundreds of unsuitable profiles. Courtesy of the scientific technology of the matching algorithm, it is rendered as one of the most effective and efficient dating sites in the industry.
Besides completing a personality test, which is comprehensive, makes it a very fantastic platform. Some of the outstanding features are the inbuilt mailboxes for private messaging and the real-life notifications that you get when other members text you. 
Pricing
$24.95 per month for the 12 months plan
$39.95 per month for the six months plan 
$49.95 per month for three months plan
$89.95 for one month
The downside
When you complete the personality test, there is no way you will adjust or tweak your answers. 
You can't view the matches' photos unless you're on the paid membership.
Match
It is also a popular senior niche dating site with an enormous membership base. The site serves people in more than 24 countries and is accessed in fifteen various languages. It's also one of the oldest dating sites, gaining a lot of credibility over the years.
They have a fraud prevention mechanism that keeps away scammers. Having been in the business for a long time, they guarantee your success in finding love in the first six months.
If you don't manage to, you won't have to pay anything for those six months. It possesses an attractive layout that has singles' photos, which are displayed prominently and also have readily available features with many advice columns.
Their system is a little different from eHarmony. Besides the five matches that they suggest, you're free to browse through more profiles.
Your answers during the sign-up process do not determine the suggestions you get. Users can also contact and mail matches through the provided messaging service. This way, users can safeguard their identities until they feel comfortable to share their details.  
Pricing
$23.99 per month for the 12 months plan
$26.65 per month for the six months plan 
$31.99 per month for three months plan
The Downside
Since it's an enormous online dating site with millions of visitors, it can be a daunting task for new members.               
SilverSingles
This is yet another great dating site for seniors over 60. Just like EliteSingles, it works great for intellectuals, but other members are also welcome.
The sign-up process is lengthy and comprehensive. They also send a maximum of 5 suggestions daily, based on how you answered the questions when joining the platform.
Therefore, if you're looking for casual meet-ups, this one may not be the best for you. It has been tailored to serve the senior population, hence the strict verification process, and the favorable user interface.
You can also mask your number until you're comfortable with sharing your information. Amongst the most exceptional features of SilverSingles is its perfect customer service. They are available to respond to your queries as fast as they can, regardless of your time zone.
Pricing:
It is free to view matches, but you have to pay to contact them.
$24.95 per month for the 12 months plan
$34.95 per month for the six months plan 
$44.95 per month for three months plan
The Downside
You can only view five matches in a day, limiting the number of connections you can make in a day.
Ways to Find Love as a Senior
The number of unmarried people keeps growing every day. This is as a result of divorce, separation, or even death.
Dating also gets difficult as you age since your friends' circle keeps getting smaller, your priorities change, or you find it difficult to love again due to your past experiences.
Before you look for a partner, you need to answer the following questions?
Are you ready to date?
There are a number of reasons why you may be hesitant to start dating at this age. Assess what you need in your life. Once you feel that you're ready to join the dating life, answer the following question.
What type of relationship do you want?
This is where you choose if you wish to be married again, or you just need a friend for companionship. Your past relationships play a significant role at this point. If your spouse offended you, are you ready to care for someone else in your life?
Set your boundaries
If you're prepared to jump in, come up with boundaries based on what you need out of the relationship. If your date doesn't respect your boundaries, that's a first sign that they are not the best fit for you.
Below are some places to find love as a senior.
Worship centers
This is one of the easiest and safest places to find a partner. Being in the same religion, and participating in the same activities means you have a lot in common. You are likely to see other people looking for the same thing you are in these meet-ups.
Senior Centers
There are millions of seniors centers globally. They bring the aged together for activities such as fitness programs, meals, and recreation. If you're just looking for friends to hang out with, there are a lot of them here. Among these friends, you may find some who would love to take it to another level.
Online Dating
This is where you'll have the most luck in finding a date. Unlike book-clubs where you may have to figure out who's into dating and who's not, the online platforms have done the heavy lifting for you. They bring together millions of seniors, who are already looking for partners, and all you have to do is express your personality, and they will suggest some matches. Also, with all the fuss about data privacy, they have enforced measures to ensure that they don't share sensitive information unless you ask them to.
A Word of Advise
The online dating space may be overwhelming. Therefore, just like you would ask for help from friends, or even from your children, seek advice when filling out the profile. By doing this, you will ensure that you bring out your most essential qualities.
 Also, some of these sites have a lot of scammers. Conduct some background checks to identify the safest ones. We have already listed five of the best sites.
Once you connect with someone, don't rush to meet-up and share other information. Be patient, and get to know them, rather than expressing your hopes upfront.
If you don't find the right match on your first date, be patient.
Final thoughts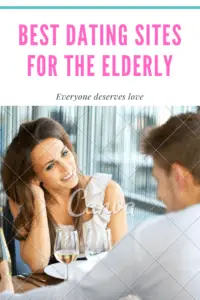 Dating as a senior isn't such a bad thing when done the right way, you won't have to spend your aging days in sorrow.
Make sure you identify if you're ready, and determine what sort of partnerships you need.
Online dating is one of the best ways to find a partner. One benefit is that there are different sites, all specializing in bringing together people looking for various partnerships.
So research what kind of platform you're joining, their safety measures, their success rate, and their subscription costs. Online dating has its downsides, too, so be safe, and be patient.