The biggest attractions in beach chairs for elderly are the handy extras such as a custom height for easier sitting/rising, zero-gravity effect (evenly distributes your weight to enhance support and relaxation), and ergonomic design to improve posture.
All these help overcome some of the issues that come with old age such as back pain and reduced flexibility while delivering ultimate comfort.
Here we introduce you to the beach chairs for elderly that will make your next trip to the beach a day to remember.
Let's first look at the common type of beach chairs for seniors.
Types of beach chairs for elderly
The most common designs are:
Loungers for seniors
These typically have a back that you can recline as you wish to either lie down on your back/stomach or sit up.
Some feature adds-on like pillow headrests to allow you to take a soothing nap along the shores.
Some are, however, a bit bulky to carry.
Folding beach chairs for the elderly
These are arguably the most portable beach chairs as they fold flat for transport.
They also fit easily into shoulder carry bags (mostly included) besides being ultra-light.
Emphasis is, however, mainly on ease of carriage and they may overlook essentials like adjusting reclines except for a few cases.
Zero gravity beach chairs
This type of beach chair for seniors smoothly glides to a more ergonomic zero-gravity position (there's no force of gravity acting on your body).
Because of this NASA-originated innovation, these chairs emulate the weightlessness enjoyed in space and are hence incredibly comfortable.
You can lock the chair safely using special locking mechanisms as soon as you adjust to your desired position (upright/full reclined).
Canopy beach chairs
These have a canopy attachment to shield you from direct sunlight as you lazily savor the jaw-dropping scenes made by the waves as they hit the coastline. 
The design allows you to raise, lower, or tilt the sun shade to either side to block the sun from all angles.
A greater number of beach chairs with canopy allow you to lay back and raise your feet for utmost comfort.
Padded beach chairs
These are reclining beach chairs but have extensive cushioning making them immensely relaxing especially if you sit for more hours (no numbness or tingling).
The seat, footrest, armrest, and even the carry strap are tremendously padded.
There's more padding on the back and the headrest too.
High back beach chairs
These are built for larger or taller seniors with back problems and feature advanced lumbar support and other soothing features such as a strap to shift the support around.
The support traditionally sits where it is needed the most- in your back.
Best beach chairs for elderly buying guide
I shall now share some useful tips to help you land the best beach chair for an elderly person.
Take into account the construction
Beach chairs are made with a variety of materials that can affect things like durability, flex, comfort, and ability to withstand harsh weather elements.
The key parts of a beach chair to pay attention to are the frame, the seat, and back as discussed next.
·         The frame
The leading options are steel and aluminum.
Steel- Steel is traditionally the strongest and most reliable though a bit heavy. Most heavy-duty beach chairs have steel frames.
Aluminum- Industrial grade aluminum also provides compelling strength and is generally lighter than steel.
·         The seat and the back
You want cozy, high-quality raw materials that last you for a lifetime and are defect-free.
Polyester (again industrial grade) and Textilene are nice options, with a mesh design more preferable because of breathability (it can get sweaty down there).
Other factors to focus on here are:
Washable fabric – some materials are easier to clean with a wet cloth.
None fraying fabric– The mesh and threads should make your beach chair for senior difficult to tear or rip.
What about weight sustainability?
Most of the beach chairs for seniors support about 200 to 400lbs.
Needless to say, the last thing you want is a chair that collapses on you as you chat with your grandchildren on the shores.
If the old man/woman is heavy, go for plus size beach chairs. Check the weight capacity indicated on the label before ordering.
Inspect the adjustability
Before you order a new beach chair, examine its all-round adjustability.
Multiple recline positions (lockable), adjusting headrest (or built-in pillow) as well as footrests, and even flexibility to create room to stretch your legs brings extreme comfort.
Look at the chair feet
Nobody wants a beach chair that sinks in the sand and it's vital that you go for chairs with flat feet or a foot design that is stable on all terrains.
Other considerations
Portability- I already explained that a foldable design is the easiest to carry.
Straightforward access- Ease of getting in/out is vital and to be on the safe side, your selected chair should stand at least neither too high nor too low off the ground.
Accessories- Special storage pockets (for keys, phone, and the wallet), cooler pouch, and cup holders are nice additions to have.
Why use beach chairs for the elderly
Because of biological reasons, aging results in a variety of physical complications among seniors including neck and back pain, bad knees, as well as joint problems.
This makes activities that have previously been a breeze to accomplish such as getting into (or out of) a beach chair and sitting for long in one position a strenuous exercise for elders.
There are other medical conditions (Thinks arthritis and such issues) that hamper their daily living.
Yet, we always want to bring our parents and grandparents to the beach for some fun time. 
In any case, there's nothing as satisfying as spending a day out in the sun with loved ones…
Beach chairs for elderly pack various improvements -back support, low height, massive cushioning…you name them- to help create a happy outing for seniors.
They should thus come high in your list of things to pack for your trips to the down coast as long as your grandpa/grandma is coming along.
Best beach chairs for elderly Reviews
I had promised to list a couple of the best beach chairs for elderly people so here they are, together with what we think about these low chairs for adults.
Tommy Bahama 2016 Backpack Cooler Chair
This Tommy Bahama Beach Chair could be what you have been missing for your summertime adventure with your sons and daughters.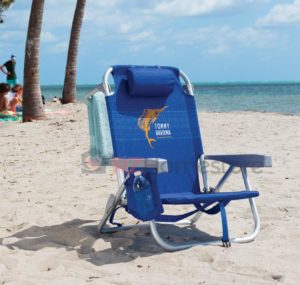 Click Here to View Price and Customer Reviews on Amazon.com
The 5 recline positions (includes layflat) and expansive sitting room make it one of the comfortable chairs for seniors looking for a 300 lbs. weight capacity beach chair.
Features
The company labels this an elderly beach goer's dream and it's hard to fault them.
To begin with, the front stands slightly over 9.0″ off the ground making it perfect for entry/exit by seniors. 
The built-in pillow adjusts wonderfully for a more restful lounging (for your head) as you sip your favorite drink (you place it on the drink holder).
Moving on, the 600D polyester fabric and rust-proof aluminum frame guarantee longevity.
There are also other convenient additions such 2 storage pouches (one insulated for cooling) and a cellphone pocket to carry your stuff.
This top quality senior's specific beach chair is super lightweight and comes in cute Tommy Bahama matching colors.
Pros
Padded backpack straps for easy carrying.
Easy to close/open.
Feels very sturdy.
Cons
Wish it could have more padding.
Cascade Mountain Tech Compact Low Profile Outdoor
This is a multipurpose outdoor chair that's suited to everything from camping to beachside basking or sporting events.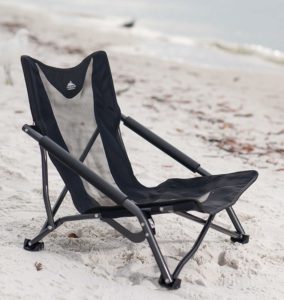 Click Here to View Price and Customer Reviews on Amazon.com
Because of the unique low profile, we recommend it for parents or grandparents who struggle to sit down or get up from standard chairs.
It sits 9-inches off the ground and supports about 250 lbs.
Features
You're looking at another extraordinarily cozy beach chair thanks to the breathable mesh and cushioned armrests.
The built is excellent too- steel /aluminum frame, a tough 500D polyester seat, and a strengthened nylon mesh back make it exceptionally sturdy.
The seat is exceedingly comfy too.
Doesn't worry about the sad- the reinforced feet help it remain on its feet on various grounds.
It weighs just 7 lbs. and folds up quick so transport should be the least of your bothers (it comes with a rugged bag to help you tote it around).
Pros
Very compact beach chair.
Lightweight.
The mesh cools your back.
Cons
KingCamp Low Sling Beach Camping Concert Folding Chair
Another beach chair winning favor with elders is the Kingcamp Low Sling beach chair.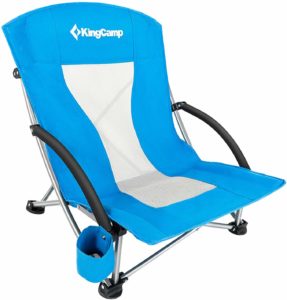 Click Here to View Price and Customer Reviews on Amazon.com
The high back offers a welcome relief if you suffer back pains and other discomforts after sitting on the shores for long hours.
The seat height stands about 7.9 inches and it's for older people weighing 300 lbs.
Features
This chair is certainly for elderly people who love the beach sunshine….
Not only is the back elongated (and meshed for cooling) but the seat stands lowly to help you sit/stand easily.
The seat angle is also pretty comfy (though not adjustable).
Other notable features are a big leg cap (for stability on sand), padded armrests (for relaxation), and the easy folding design.
The used 600D polyester fabric and a steel frame point to yet another heavy-duty chair.
Pros
A nice cup holder.
Fits into the car trunk (in most cases).
Top, top quality.
Cons
It doesn't allow adjustment.
Coleman Camping Chair
The beach chair features a low-to-the-ground design to help you stretch out your legs in the sand.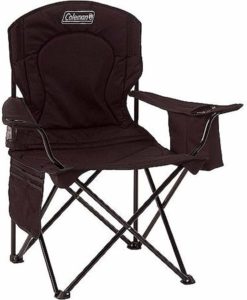 Click Here to View Price and Customer Reviews on Amazon.com
This chair weighs 5.3 pounds and also folds up easily into a travel bag for carriage.
It could be a brilliant option for senior citizens searching for beach chairs with a 250 lbs. capacity.
Features
Beach chairs with full seat support have long been popular with elders with hurting backs because they eliminate the pressure on the pain points when sat on.
This chair's backrest has made it a prominent choice for seniors searching for optimum back support.
At the same time, the softer padding on the chair arms further improves relaxation on what is a very well thought-out chair.
Coleman's innovative design is calming on your butt so you can sit for hours on end as you rewind while listening to the lapping sea waves in the serenity of the beach.
The Coleman is unsurprisingly firm (the steel frame together with the resilient fabric explains this) when you first sit down.
It comes with a handy seatback pocket, a cup holder, and a carry bag.
Pros
Long-lasting construction.
Cleans and dry it in record time.
Nice price.
Cons
RIO Beach 4-Position Lace-Up Backpack Folding Beach Chair
Rio's answer to the celebrated Tommy Bahama Beach Chair for seniors, this offers 4 easy-adjust reclining positions and is ideal if you're after pinch-free recline.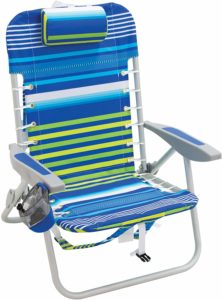 Click Here to View Price and Customer Reviews on Amazon.com
The premium-quality chair has everything else you need to make your days under the summer rays live long in the memory.
The seat height stands at 11 inches and it supports 240 lbs.
Features
The list of features in this high-end beach themed chair makes for impressive reading….
From a flexing suspension that conforms to your physique, a removable pillow (adjust the height for Neck/headrest), all the way to a just-right back height, this has it all.
Also, making it work well for seniors are the straightforward opening/closing and hands-free portability (you can adjust the backpack shoulder straps as per your wishes).
The locking bracket prevents the chair from folding/tilting while in use for safety while the aluminum frame feels very solid.
They have also added a sizeable storage pouch and cup holder.
Pros
Durable beach chair.
Delightful holders for personal items.
Peerless comfort.
Cons
Final thoughts
When you enter the golden years, you'll need beach chairs for elderly to get the most out of your day out in the sun due to the reasons I explained previously.
You now know the various types, what to look for when shopping for one, and even the leading beach chairs for seniors in the market today.
Hours upon hours of beach joy will be waiting if you get it right.